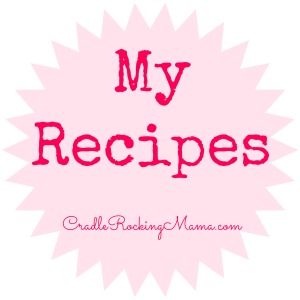 These are the recipes we use the most often.  Many are my own creation, some are inspired by others and "tweaked" to my families needs by yours truly, and some are straight re-creations of other brilliant cooks' recipes; if so, there will be a link to the original recipe in my post.  All of them are delicious, and I hope you like them!
Most are also fairly allergy-friendly; we are a dairy, egg, peanut, wheat free and fructose-limited household, so all recipes will at least be free of those offenders!  Any other allergens in the recipes are usually easily substituted.  
As always, YOU must read labels and ensure the ingredients you use are safe for your family. Never take anyone's 'word' for it regarding allergy-free ingredients – not even mine! Many of these recipes were written before I knew about some of our food intolerances, and have ingredients that are no longer safe even for us. One day I'll have time to go back and edit, but until then, always consider your own food tolerances before proceeding.
Happy cooking!
Breakfast
Potato Pancakes
Hamburger Hash
Banana Quinoa Pancakes
Homemade Breakfast Sausage
Banana Quinoa Breakfast Bake
Pancake Surprise
Blueberry Muffins
Pumpkin Hemp Muffins
Overnight Crockpot Oatmeal Banana Bake
French Toast – Vegan, Gluten-Free
Banana Muffins – Vegan, Gluten-Free
Zac's Gluten-Free Banana Muffins
Quinoa Pancakes – GF, DF, Fructose Friendly
Lunch/Dinner
The Yummiest Stir Fry Ever
Quinoa Pasta Noodles
Spinach Pesto Pasta with Pollock
Chicken Hash
Salmon Patties
Cilantro Lime Crockpot Chicken
Vegan Cheese Quesadillas
Hearty "Vegan" Creamy Chicken Soup
Chicken & Rice Casserole
Best Spaghetti Sauce Ever
Perfect Pot Roast
Cilantro-Lime Chicken Skewers
Salmon Stuffed Mushrooms
Quinoa Nuggets
Quinoa-Mustard Crusted Salmon
Zac's FPIES Meatballs
Sensational Hamburgers
Unconventional Meatloaf
Sort of Stroganoff
Tilapia-Crab Bake
Salmon Patties – Revisited!
Side Dishes
French Fries
Carrot Chips
Quinoa Battered Veggies
Hot Water Cornbread Surprise
Vegan Mac 'n Cheese
Prosciutto-Wrapped Asparagus
Sandwich Bread – Gluten & Gum Free & Vegan
Dairy-Free Creamy Mashed Potatos
Refried Beans – Fructose Friendly
Cucumber-Basil Summer Salad
Cauliflower-Egg Tortillas
Potatos au Gratin Vegan
Cornbread – Vegan, GF, Fructose Friendly
Snacks
Dried Melon*
Beef Jerky*
Banana Bread Larabars Knock-offs*
Quinoa Teething Biscuits
Crispy Butter Candy Bars
Fava Bean Hummus
Fructose-Free Guacamole
Cinnamon Seasoned "Nuts" (Fava Beans)
Quinoa Drops
Quinoa Eggbread
Salmon Pate
Desserts
Banana Ice Cream
Charming Smoothie Popsicles
Honey Lollipops
Vegan Chocolate Pudding*
Dairy-Free/Fructose-Friendly Chocolates
Gummy Fruit Treats
Coconut Milk Ice Cream
Magic Shell Ice Cream Topping
Fructose Free Glaze (For muffins or cakes)
Strawberry-Banana Popsicles
Chocolate-Strawberry Popsicles
Chocolate Fudge Popsicles
Blackberry Popsicles
Raspberry Popsicles
Vegan Nut Butter Banana Cookies
Carrot Popsicles
Vegan Sunbutter Cups
Dairy/Egg/Gluten/Fructose Free Chocolate Cake AND Frosting
Pumpkin Pie & Pie Crust – Gluten/Dairy/Egg/Soy Free
Quinoa Banana Pudding
Banana-Goat Milk Ice Cream
Quinoa Cookies
Vegan Apricot-Avocado Ice Cream
Fructose-Free, Dairy-Free "Just as Good" Cake Icing
Vegan Sunbutter Ice Cream
2-Ingredient Cookies
Wannabe Snickerdoodle Cookies – Vegan & GF
Fructose Friendly Roll-Out "Sugar" Cookies
4 Ingredient Quinoa Roll-Out Cookies
Conversation Heart Candies
Homemade Gummy Treats
Sauces
Fructose Friendly Fresh Salsa
Chocolate Syrup
Homemade Corn-Free Vanilla Extract
Homemade Stevia Extract
Vegan Southwest Queso
Fructose-Friendly, Vegan Cauliflower Cheese
Cranberry Sauce
Sunbutter (From Seeds)
"French's"-style Yellow Mustard
Taco Seasoning
Blueberry SyrupPumpkin Puree
Dextrose Dessert Decoration
Ketchup – Corn and Sugar Free
Ketchup
Beverages
Quinoa Milk
Hot Cocoa – Instant Version
Hot Cocoa – Syrup Version
Hot Cocoa – Rock the Universe Version
Sorta Horchata
Personal Care/Tutorials
Tallow Hand Cream
How to Clean Your Oil
Homemade Cloth Baby Wipes
How to Clean Your Washing Machine
How to Make A Travel Chain
Homemade Laundry Soap
How to Dehydrate Beef Broth
How We Saved Our Marriage (Part I)
How We Saved Our Marriage (Part II)
How We Saved Our Marriage (Part III)
How to Keep a Food and Symptom Journal
Perfect Homemade Dry Shampoo for Brunettes
Homemade Sea Salt Hand Scrub
Practical Preserving
How to Freeze Cauliflower
How to Dehydrate Cauliflower
How to Dehydrate Potatos (Part I)
How to Dehydrate Potatos (Part II)
How to Can & Freeze Apricot Puree
How to Freeze Blueberries
How to Dehydrate Basil
How to Make Cucumber Chips
How to Dehydrate Eggs
Dehydrator Recipes denoted with an asterisk (*).