AND
So I was looking around for some novel ways to use spaghetti squash recently, and stumbled upon Beard & Bonnet's Hot Water Cornbread recipe.  Well, butter my butt and call me a biscuit, Mama!  My southern roots just vibrated with happiness!
One thing about FPIES that really ticks me off is the fact that my sweet little Zac can't seem to handle corn.  CORN, PEOPLE!!  I'm from the SOUTH!  Cornbread is like AIR to me!  I mourn the loss of a big ol' pot of black-eyed peas (cooked with bacon and jalapenos – drool!) served over a steaming hot wedge of homemade cornbread for my sweet Zac.
One day, he will know such culinary joy.  
Until then, I have to keep it away from him.  BUT…my darlin' Jed can eat cornbread all he likes! (As long as I modify it to be fructose-friendly, of course.  Which means we'll have to trial the black-eyed peas first.  Bummer.)
And is there really anything better than fried cakes of any stripe?  I mean, really!
Well, Beard & Bonnet have a whole slew of delicious looking recipes, most of which I cannot make for my family thanks to allergies or intolerances (at least not without major modifications) but the Hot Water Cornbread recipe didn't take too much tweaking to work!
So here's what you do:
You have to have some spaghetti squash to start with. I made mine for dinner the day before; my favorite way to cook up spaghetti squash is to slice it in half lengthwise, scoop out the seeds and fibrous bits, coat the inside with olive oil, shake on some salt and pepper and plop it face down in a shallow baking dish.  Add a 1/2 inch of water or so to the dish and throw it in the oven for about an hour at about 375.
When it's done, take it out, turn it over, and use a fork to "spaghetti" up your squash!
For the record, at that point, you could serve some spaghetti sauce over it, season it up and serve it as a side dish, serve it as the base to a stir fry, or use it in some Hot Water Cornbread Patties!
Now, on to the Cornbread Surprise!
Get some water heating on the stove.  You'll need 1.5 cups of hot boiling water for this recipe.
While the water is heating, get your other ingredients all together. You'll need cornmeal, salt, maple syrup and fat in addition to the spaghetti squash.
Mix all your dry ingredients together.
Add the fat (I used olive oil; lard or butter would be better!) to the boiling water until melted and mixed.
Then mix your wet ingredients into your dry ingredients and stir until combined.
Toss in your spaghetti squash and mix it well.
Then you'll need to get a frying pan and pour some oil/fat into it to heat up.  You want it hot before you put the cakes in!
Now, at this point you'll need to shape them into smallish patties and fry them, but here's a tip: these suckers are sticky!  Coat your hands in oil before you even try this, or they'll be almost impossible to scrape off your hands!
Once you're oiled up, shape 'em, fry 'em, and eat 'em!  And in between drooling bites, thank the ladies of the South for their delicious recipe, and the folks at Beard & Bonnet for deciding to add a little "surprise" to the dish!
This was a big success at the dinner table.  Both Jed and Darrel loved them!
In fact, they liked them so much I got to thinking…what else could I throw some spaghetti squash into?
Well, obviously, pancakes!
So here's how I made this into a strictly breakfast dish:
My basic pancake has changed over the last couple years; egg, dairy and gluten are out, so pancakes are a little trickier than your basic Bisquick mix!
I use millet flour, rice flour, tapioca starch, baking powder, maple syrup, vanilla, almond milk and some cinnamon for my basic, quick morning pancakes now.
Simply mix your dry ingredients together, add your wet ingredients, and stir it together!
Then take a picture of your adorable toddler "helping" in the kitchen…
And toss in the spaghetti squash to mix.
Once again, get a frying pan ready to go with some hot oil.  I always pour out my pancakes with a 1/4 cup measuring cup.
Let these cook for at least 3-5 minutes before you mess with them.  The edges should look golden brown before you flip them!  I usually see at least some bubbles on the surface of these pancakes, but I didn't when I added spaghetti squash.  So that won't clue you in to the need to flip your pancakes.  Just look for the edges.
Let the second side cook for at least 3 minutes before you dish it up.
And when you do?  You'll be impressed with how gorgeous these pancakes are!
Jed loved them!  He ate two whole pancakes and didn't even use up all of the maple syrup!  Usually, the maple syrup is gone before half of one pancake is done with, so these must be especially flavorful and moist!
So there are two unique ways to use up your leftover spaghetti squash, and both are delicious and potentially allergy friendly.  Can't beat that!
__________
HOT WATER CORNBREAD SURPRISE
– 1 c. spaghetti squash
– 2 c. cornmeal
– 1 1/2 c. boiling water
– 2 tsp. sea salt
– 1-2 tsp. maple syrup
– 2 T. fat (olive oil, butter, lard, etc.)
Boil water.
Add your fat to the water until dissolved and mixed.
Mix your dry ingredients together.
Add the hot water to the dry ingredients, add the maple syrup, and stir until combined.
Add spaghetti squash to the mixture and incorporate.
Shape into patties (oil your hands first) and fry.
Enjoy a delicious slice of the South!
__________
BASIC PANCAKE SURPRISE
– 1/2 c. millet flour
– 1/2 c. rice flour
– 1 tsp. tapioca starch
– 1 tsp. baking powder
– 1/4 c. maple syrup
– 1-2 T. vanilla
– 1-2 tsp. cinnamon
– 1/2 to 3/4 c. almond milk
– 1 c. spaghetti squash
Mix all ingredients in a bowl.  Add almond milk as necessary to get the right consistency.
Measure out 1/4 c. of batter into a frying pan.  Fry until edges are golden brown and flip.
Cook the other side for about 3-5 minutes.
Drizzle or serve with maple syrup and enjoy!
(If you omit the spaghetti squash, these are a pretty delicious breakfast pancake all on their own! And as always, you can sub out any flour that you'd like if rice isn't safe for you.)
__________
How do you use your leftover spaghetti squash?
__________
This post shared with: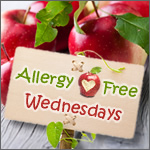 and