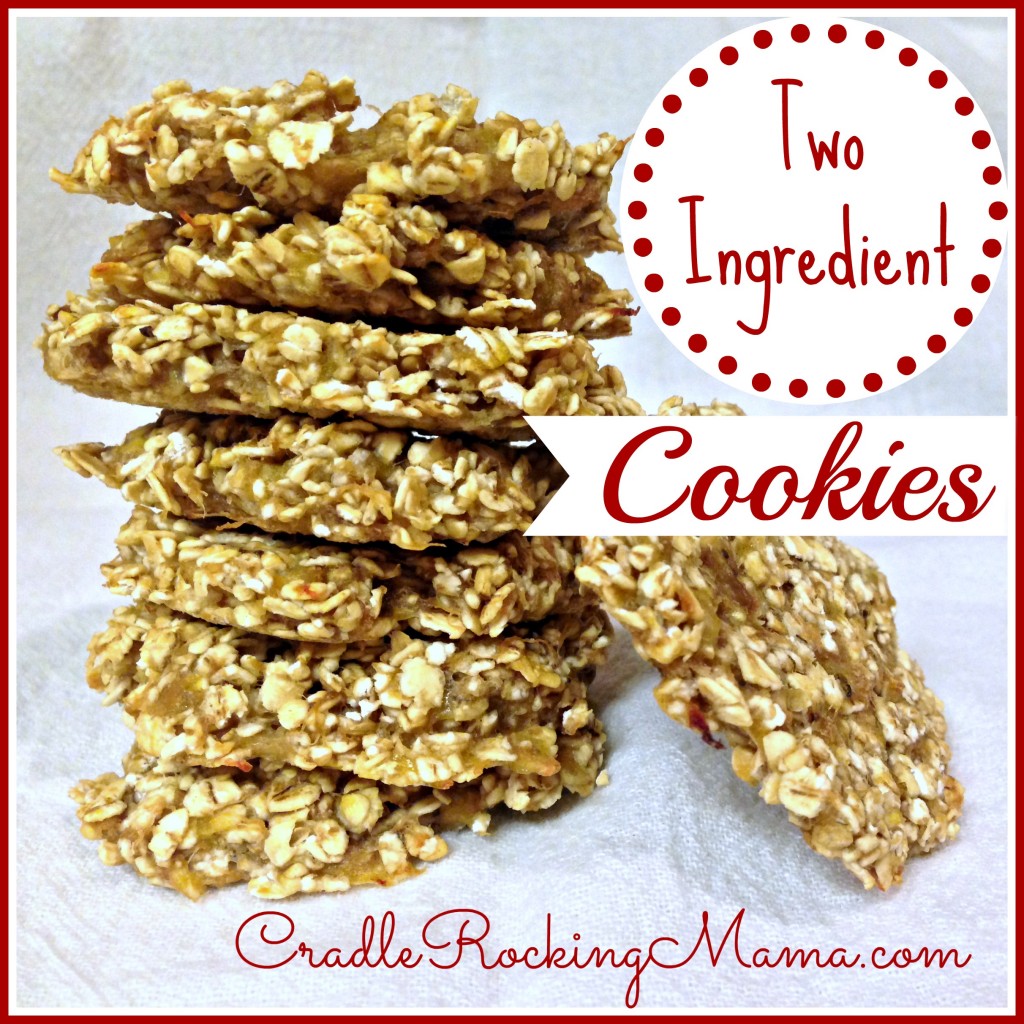 …and what to do with leftover oatmeal!
Since we're trialing oats right now, and Zac has gotten used to eating cookie-like items every day, I knew there had to be a way to make oatmeal cookies for him.
After all, he's got eggs, goat milk, goat milk butter, and quinoa to add to the oats, so surely a cookie could be had, right?
Only…I really thought it would be extra nice if BOTH boys could eat the cookies. With Jed's IgE to egg to consider, that made matters a bit more tricky.
Fortunately, the Simple Veganista had a solution: bananas! (And she was inspired by the Burlap Bag, who, I discovered after making these a few times, makes them almost exactly the way I did! I missed the credit the first time I read the Simple Veganista's recipe; this is why you should always read the original inspiration recipe in a blog – you'll always learn something new and find a new blog to follow!)
Anyway, both boys can eat bananas! The only downside is that in order for both boys to eat the cookies, I have to use Zac's special bananas in the recipe. Good thing I ordered 100 pounds of them last time, right?
So here it is:
Mash up the bananas in a bowl. The Simple Veganista says to use 2 ripe bananas; since we use tiny little Mysore (apple) bananas, I use 5 or 6 of those, depending on the size.
We also have to freeze all our bananas so they don't spoil. Thawing them out and then mashing them works, but once I didn't have enough time to let them thaw completely so I dumped them in the VitaMix. Frozen, pureed bananas worked just fine!
Then add the oats. Stir it together well, and ta-da! You have cookie batter!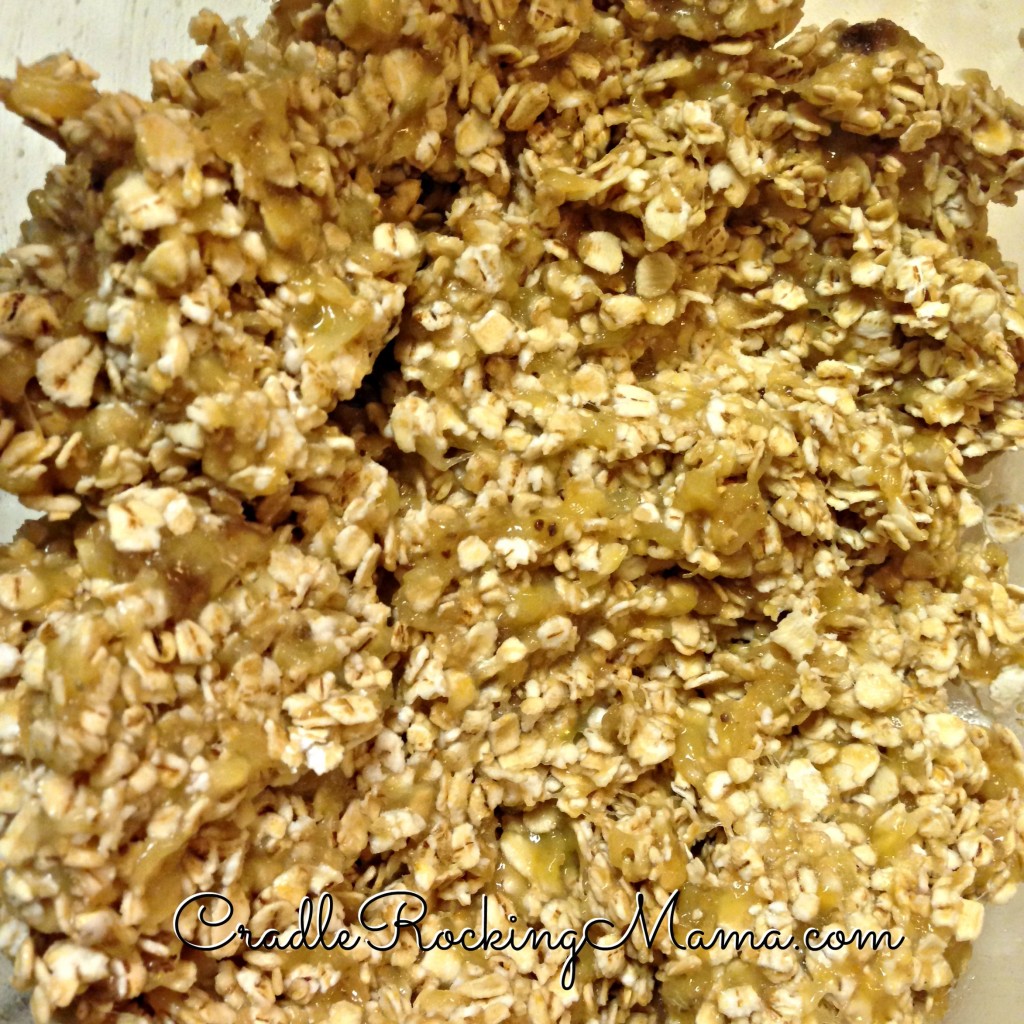 At this point, you could get creative. The inspiration recipe calls for 4 ingredients: banana, oats, chocolate chips, and cinnamon. So you could add those, as well as any other add-ins you would like. Coconut flakes, vanilla, raisins, and walnuts all come to my mind. (Just remember to use ingredients that are safe for your dietary needs, of course!)
I scooped the batter on the parchment lined cookie sheets and got 16 cookies out of it. They made cute little cookie balls.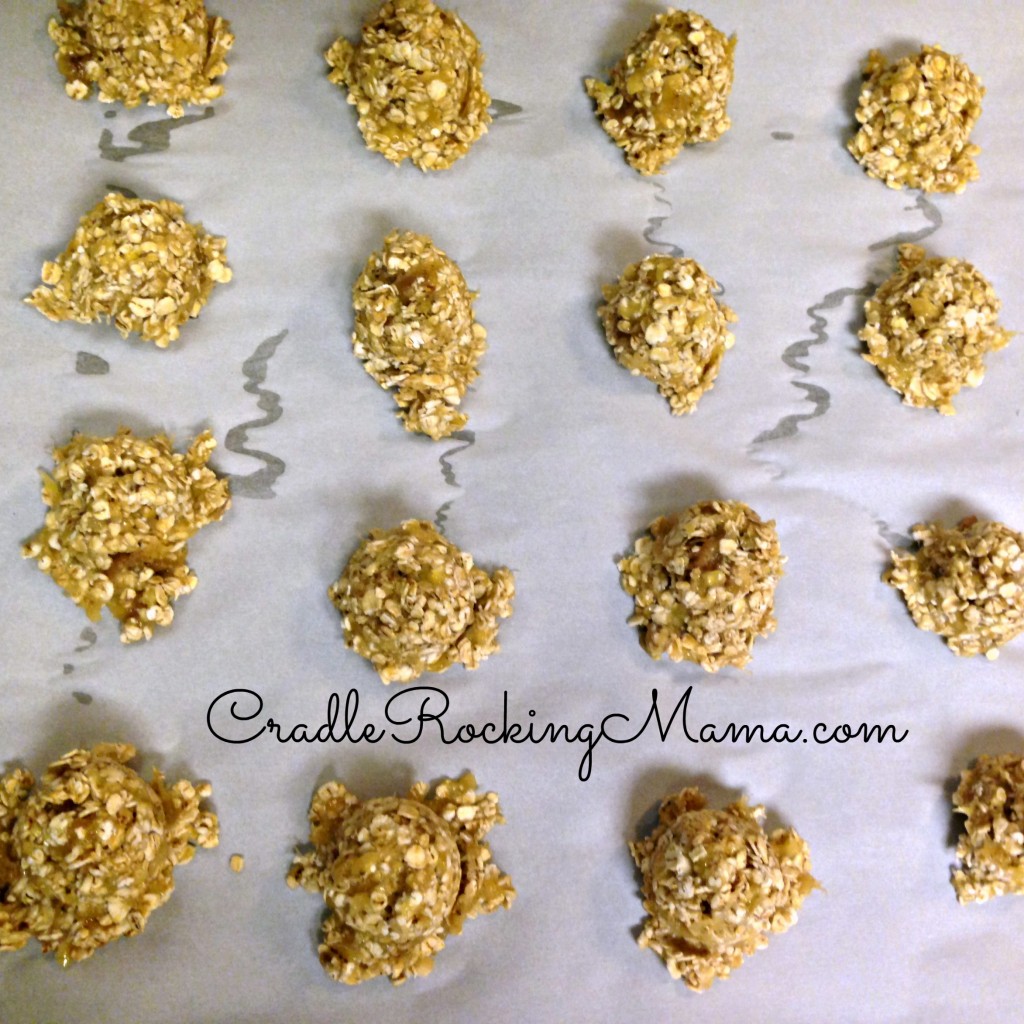 But my kiddos are particular, and for them, a cookie isn't a cookie unless it's fairly flattened. So I flattened them.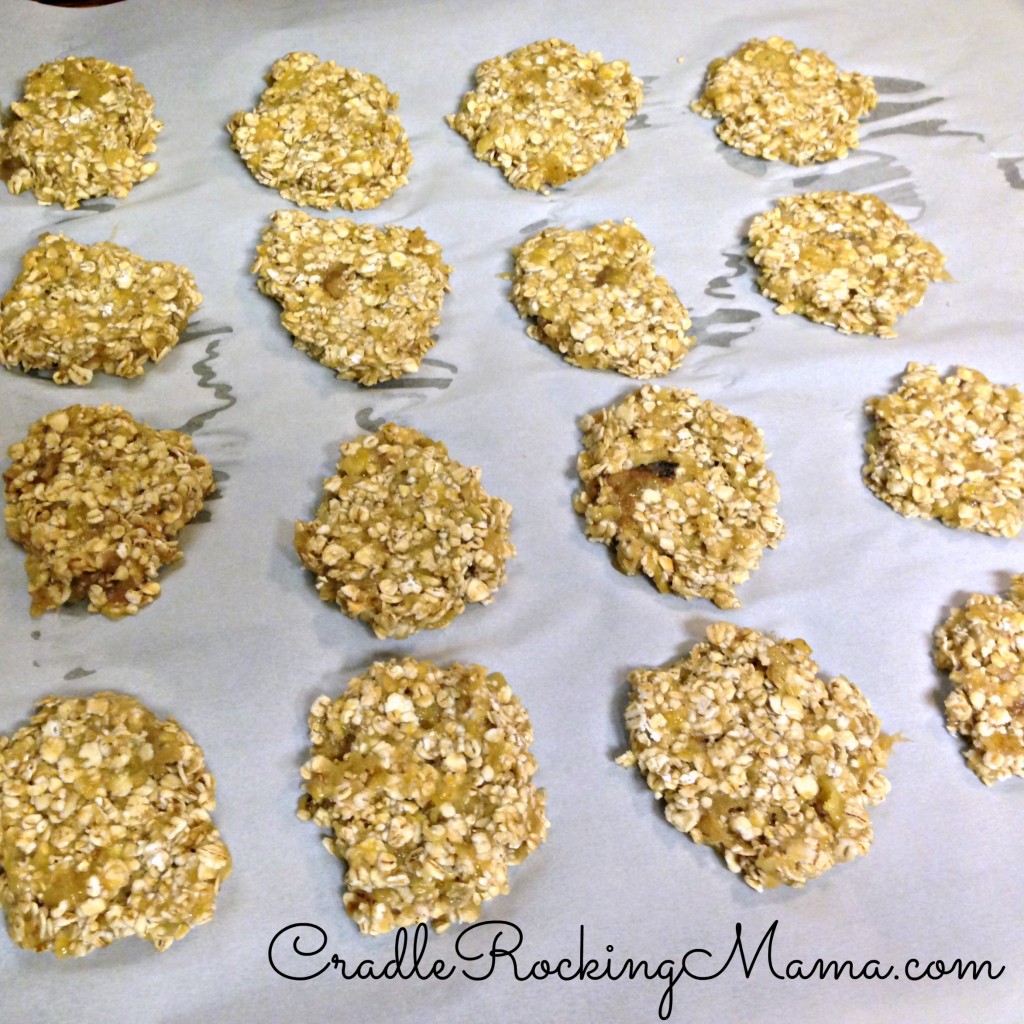 Then they went in the oven and came out delicious, moist, edible cookies!
They weren't a traditional cookie; they almost taste more like a bread bite than a cookie. But unless you think a cookie has to be crisp, you'll like these very much!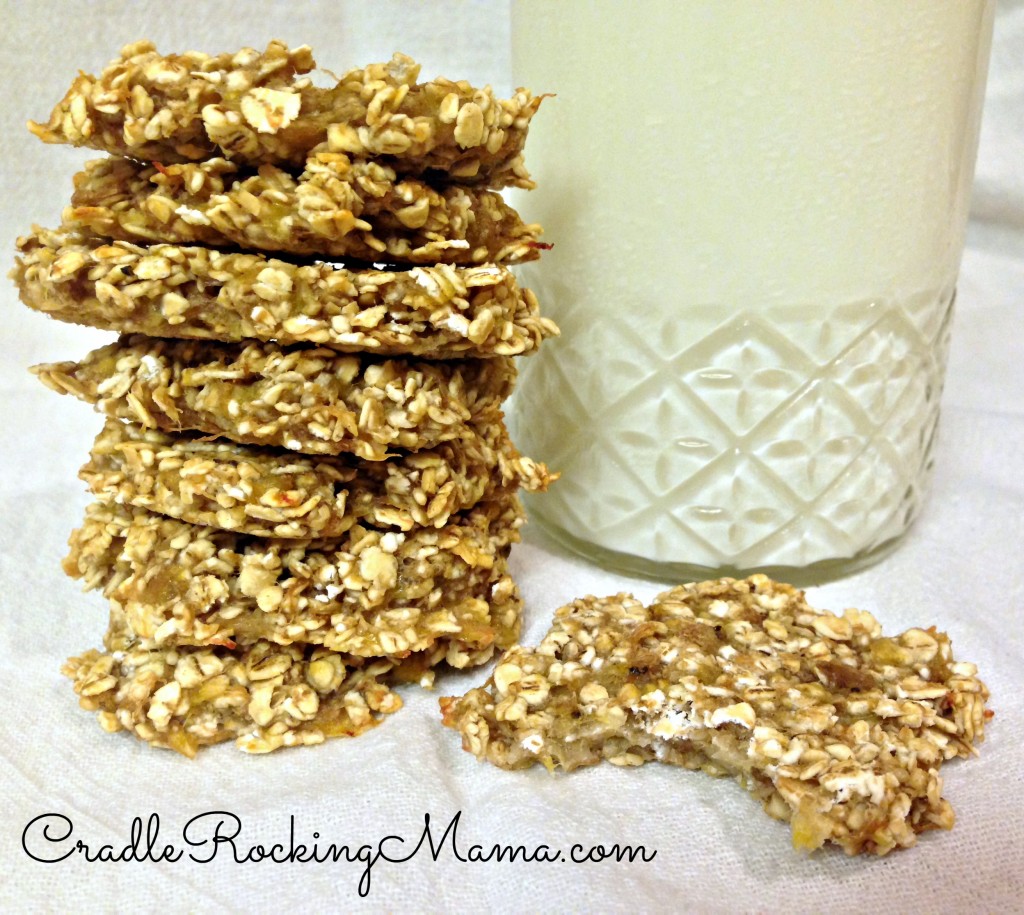 Really, they're very good! Both my kids can't eat enough of them!
Sometimes I end up with a little too much banana and not enough oats; to make these extra nutritious I toss in some quinoa flakes until the batter seems "right" to me.
Oh, and make sure to use ripe bananas! I read the comments on the Simple Veganista's recipe, and it seems the only people who had trouble with the recipe were ones who didn't use fully ripe (as in probably nearly spoiled) bananas.
Since there's no added sweetener to this recipe, you want the bananas fully ripe for maximum sweetness.
Some people had luck with not-fully-ripe bananas, but then added some maple syrup or jam to the recipe to add some sweet. But keep it simple and just wait til those bananas are about ready to toss before you make your cookies.
Yesterday morning I made these with a slight alteration that worked beautifully. 
Once again, my  bananas weren't completely thawed so I threw them into the VitaMix. On a whim, I decided to add a handful of cauliflower (about 1/3 c.). Since it all pureed together, you couldn't even tell there was cauliflower in the bananas!
After adding the oats and a little extra quinoa flakes (1/4 c.), I followed the recipe as usual.
I made a double batch, which turned out to be 38 cookies. The kids INHALED them! The entire 38 cookies was gone within 5 hours.
That is a very successful tweak, I'd say!
Whichever way you make them, these are fun and very easy, not to mention delicious and nutritious. I love treat recipes that I can happily give my kids for breakfast!
Oh! Remember when I mentioned that Zac and Jed wouldn't eat their oatmeal for breakfast one morning?
(Surely I'm not the only mother whose children refuse a bowl of yummy oatmeal, right?)
Well, here's the solution: bake it!
Instead of scooping all that delicious oatmeal into the trash (or eating three bowls of oatmeal for breakfast – you know you've done it!), dollop the leftover oatmeal onto a parchment lined cookie sheet…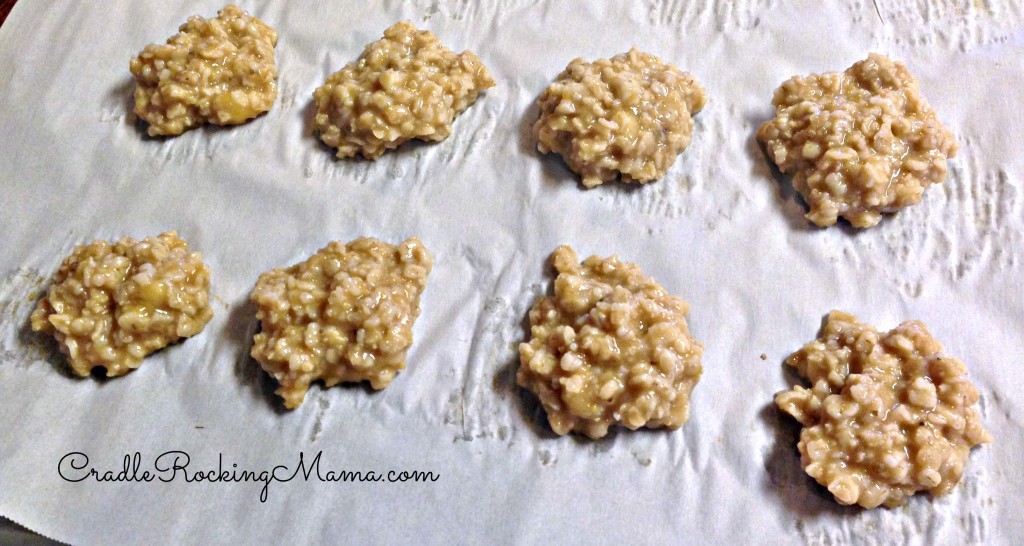 And bake it!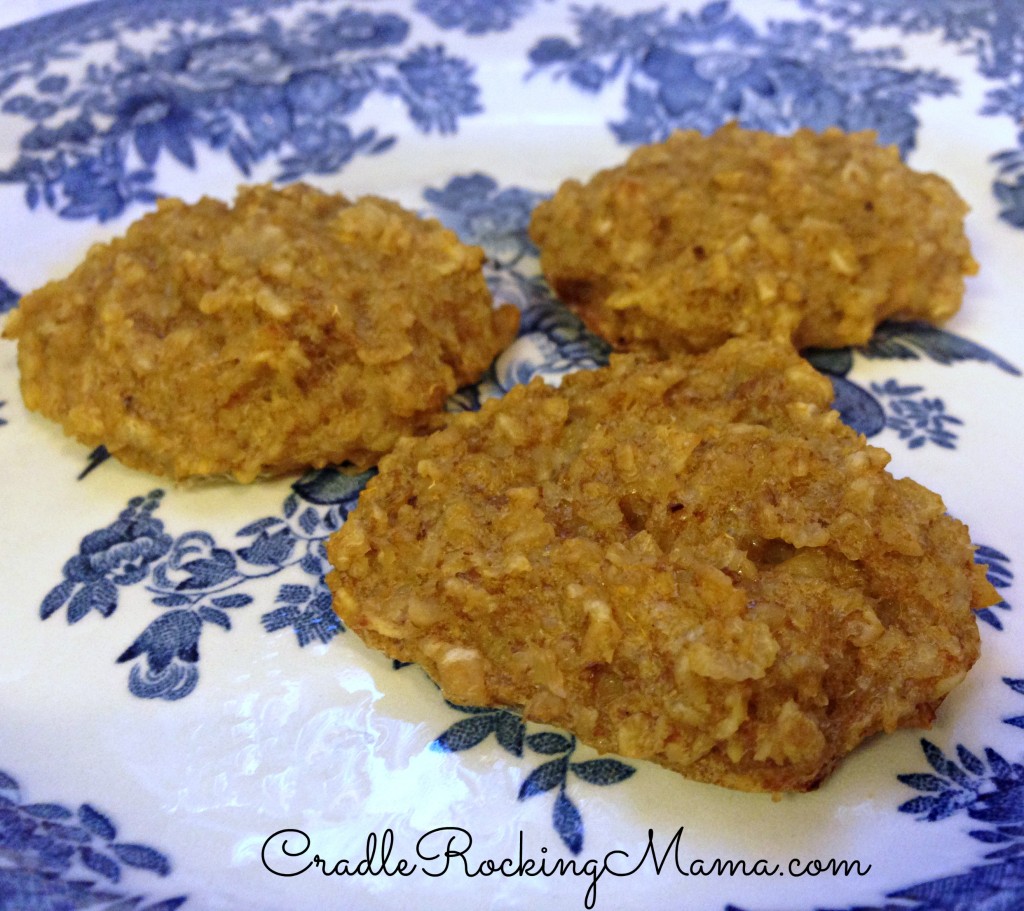 They wouldn't eat the oatmeal, but they ate ALL the oatmeal cookies. Go figure.
Because oatmeal is so moist, these took a long time in the oven. Probably 40-45 minutes by the time it was all said and done.
But the oatmeal got eaten by the kids and not by Darrel, so it's worth it in my book.
If oats are safe for you, these are both well worth your time! Enjoy!
2 Ingredient Cookies
These delicious cookies, inspired by the Simple Veganista, are simple and healthy. Enjoy!
Author:
Cradle Rocking Mama (Carrie Summers)
Recipe type:
dessert, cookie
Ingredients
2 ripe bananas
1 c. oatmeal
Instructions
Pre-heat the oven to 350 degrees Fahrenheit.
Line a cookie sheet with parchment paper.
Mash the bananas in a bowl.
Add the oatmeal.
Add any optional ingredients (coconut flakes, chocolate chips, cinnamon, raisins, nuts, vanilla, etc.)
Mix together.
Scoop the batter onto the cookie sheet.
Bake for 15-20 minutes.
Enjoy your healthy treat!