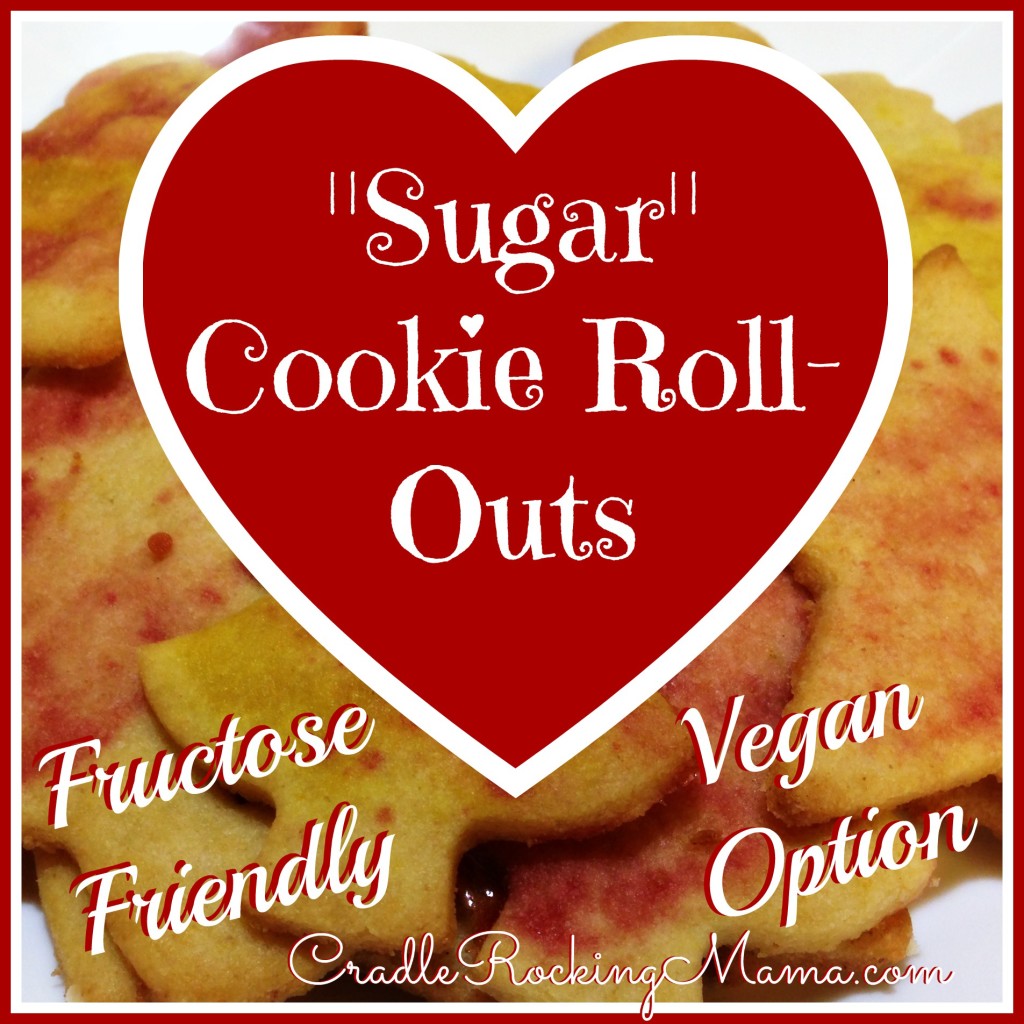 This recipe makes me so happy. It also happens to thrill my 4 year old son, who had never experienced a "sugar" cookie roll-out in his life until I created this cookie for him.
While Jed can now have goat milk, he still has to avoid eggs, wheat, sugar, and anything "fructose-y".
That pretty much rules out almost every sugar cookie roll-out recipe I have ever read!
With just a little bit of tweaking and playing around, though, I found a way to provide an authentic tasting, completely roll-able and cut-able, wheat-free, sugar-free, and egg-free cookie for my excited little boy.
Before I share the how-to, there are a few notes about the ingredients.
As-is, this recipe is NOT top 8 allergy free or Vegan. However…
This recipe can be made top 8 allergy free by simply using egg replacer instead of egg (as I did) and eliminating the almond extract. (If you don't have any nut concerns, though, I recommend keeping the almond extract in the recipe; it really makes the cookie pop!)
You can also make this recipe entirely vegan by using egg replacer instead of egg, non-dairy milk instead of milk, and palm or vegetable shortening instead of tallow (though I'd encourage you to look in to alternatives to both, since neither are very good to use).
Being wheat-free doesn't necessarily mean gluten-free, but this recipe does happen to be gluten-free…as long as you make sure to use gluten-free flours.
With all that said, let's move on to how to make these delicious little gems!
Start by measuring all the dry ingredients and sifting together in a bowl: millet flour, quinoa flour, baking powder, and salt. I'm treating the dextrose just like sugar, which is typically considered a "wet" ingredient.
If using an egg replacer, go ahead and get that ready. (Actual egg replacer requires mixing and letting sit for a few minutes before using.)
When I used to make traditional cookies, it was common to "cream" the butter before adding other ingredients. I decided to do the same with the tallow, mostly to make sure it was fluffy and would incorporate well. So go ahead and toss the tallow (or shortening) in the mixer and beat it until loose and "fluffy".
Add the rest of the wet ingredients: the egg replacer, milk, vanilla extract, almond extract, and dextrose. Turn the mixer on until all ingredients are blended together fairly well.
Slowly add the dry ingredients a bit at a time until fully incorporated.
Ta-da! You've got cookie dough!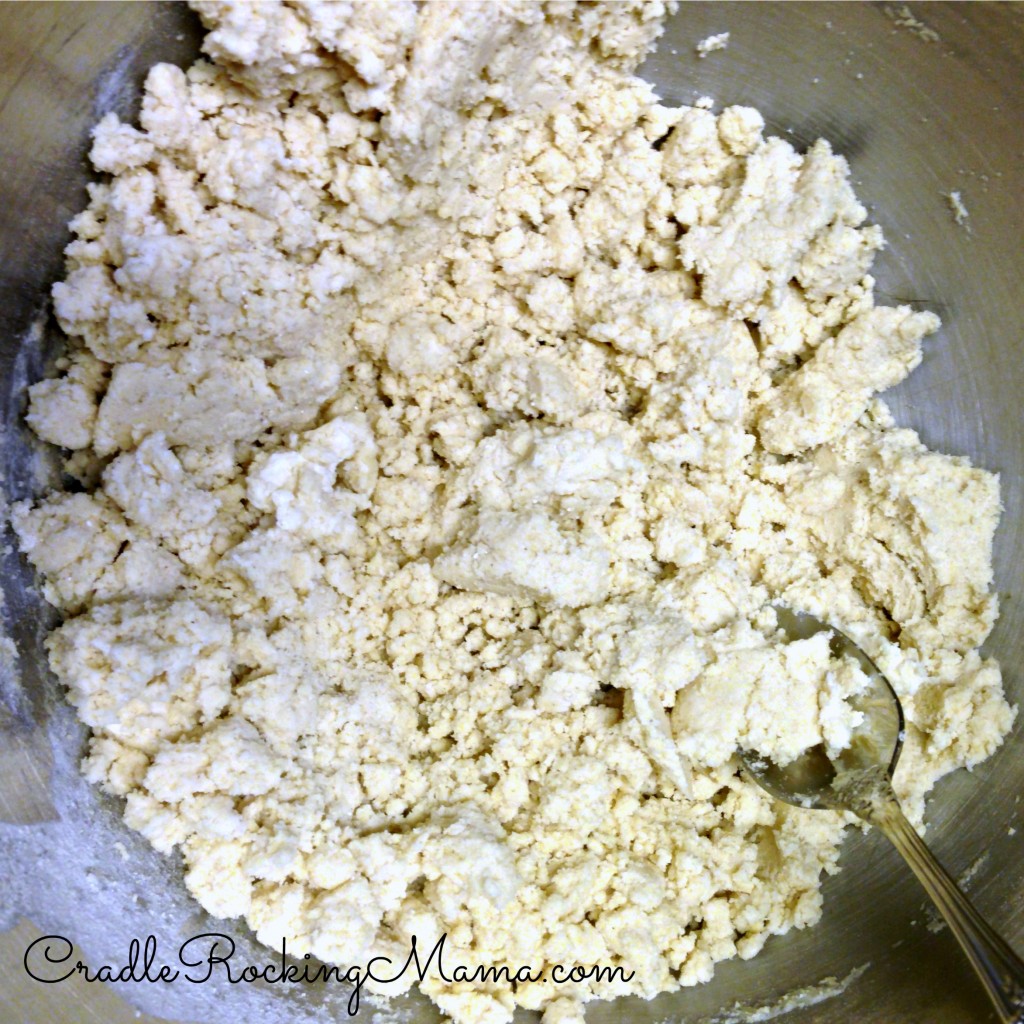 With traditional sugar cookies, the dough works best when wrapped up and chilled before rolling. So I wrapped up this dough…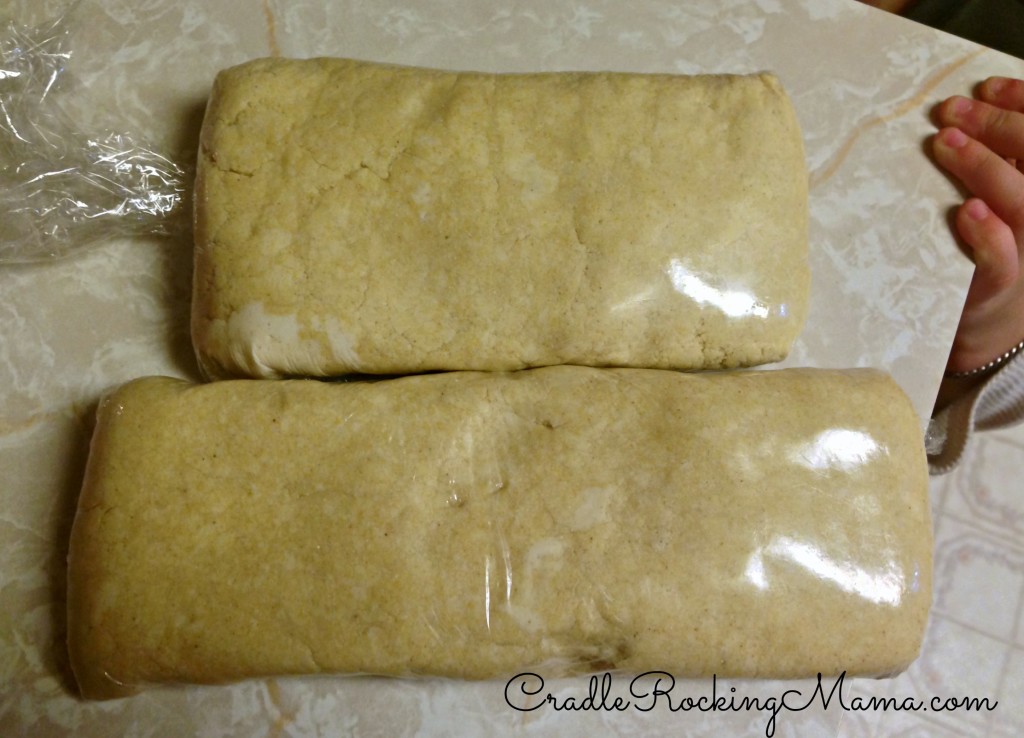 and chilled it in the fridge for half an hour before rolling it out.
Let me just say one thing about that: don't waste your time! When this dough was chilled, it was incredibly crumbly and did NOT want to hold together when being rolled. After it had warmed up a bit on the counter, though, it rolled beautifully and acted just like regular sugar cookie dough.
So don't bother wrapping and chilling; just lightly flour your work surface and begin rolling the dough out in small batches.
Now the fun begins!
It's always good fun in involve the kids in any kitchen activities, but for roll-out cookies it is absolutely a requirement. Bring in the kiddos!
Jed LOVED rolling out the dough, and had a blast cutting out shapes, too.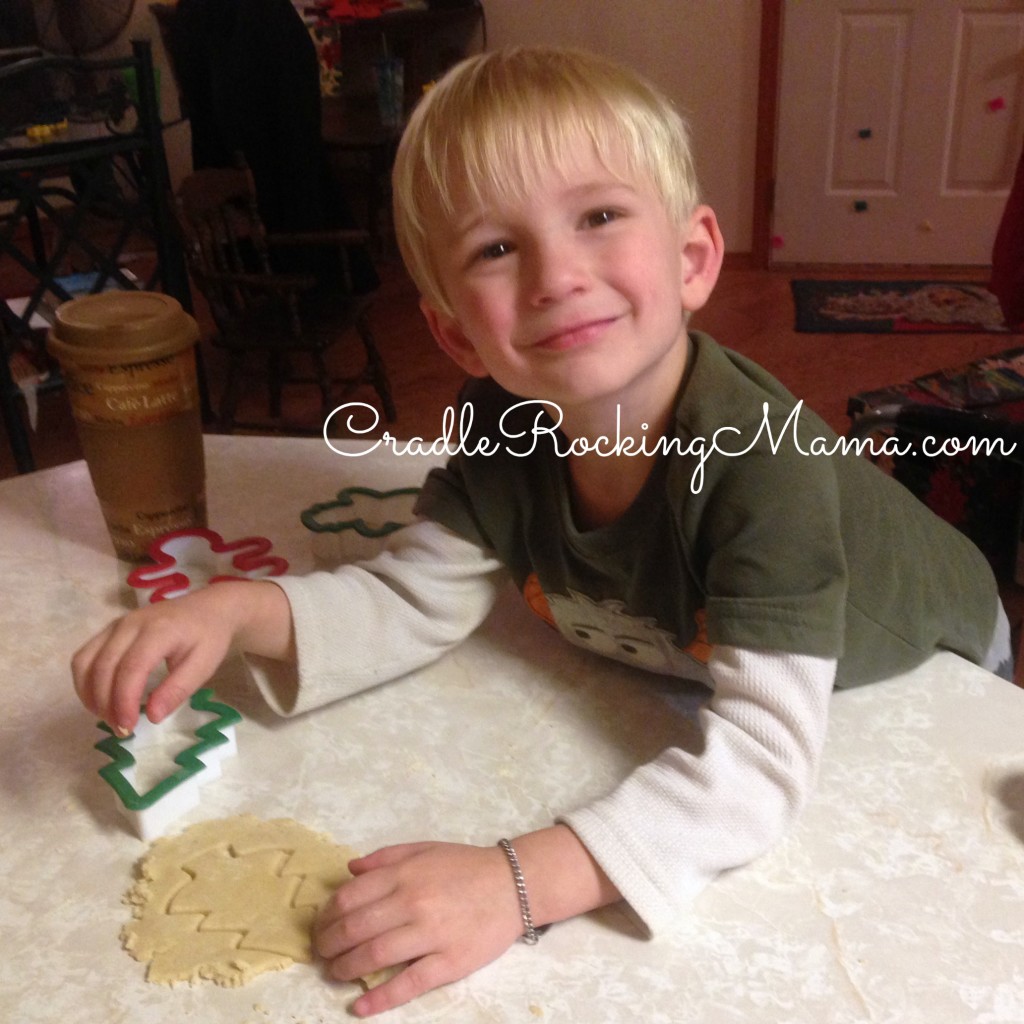 Just like regular roll-out cookies, simply use a spatula to lift the cut out cookies onto a parchment lined cookie sheet.
Then you've got a nice blank canvas for your kiddos to decorate with safe cookie sprinkles (click here for a fructose-free and food dye-free sprinkle decoration). Jed really brought out his creative side during this part!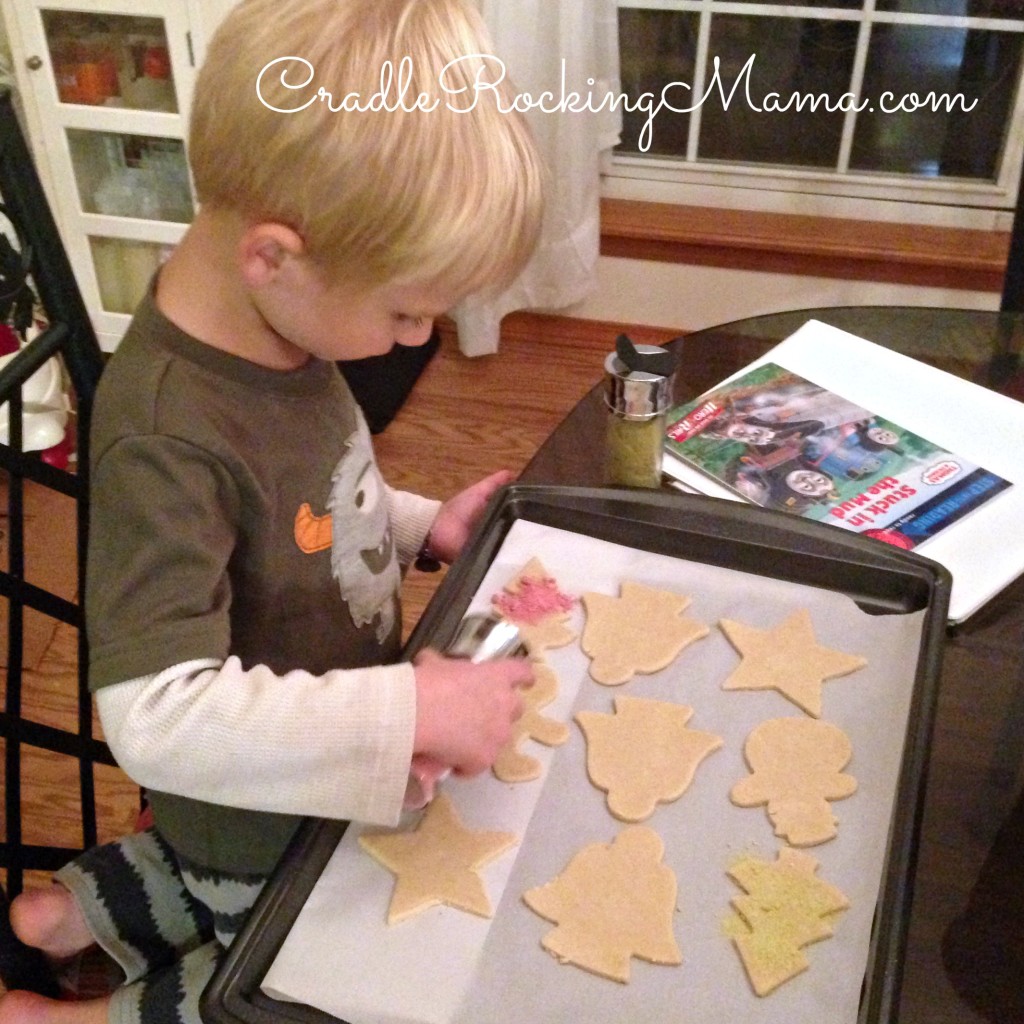 Here's the cookies covered in sprinkles, ready to pop in the oven: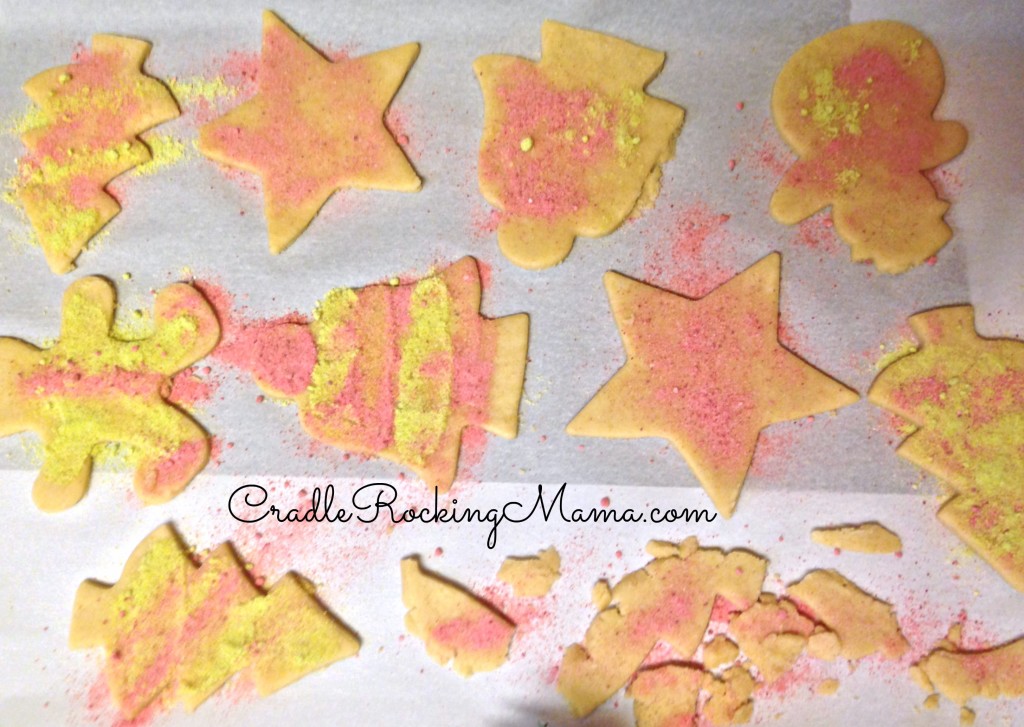 If you read the post about the sugar free dessert decoration, you'll know that these photos are (obviously) from Christmas. Just imagine hearts instead of gingerbread men, and you'll be able to see what will happen when you make these for Valentine's Day!
You'll also know that I commented that the colors came out a lot more pale and delicate than I hoped they would be. HOWEVER. While the green all but disappeared on the cookies when baked, the red sprinkles did something awesome: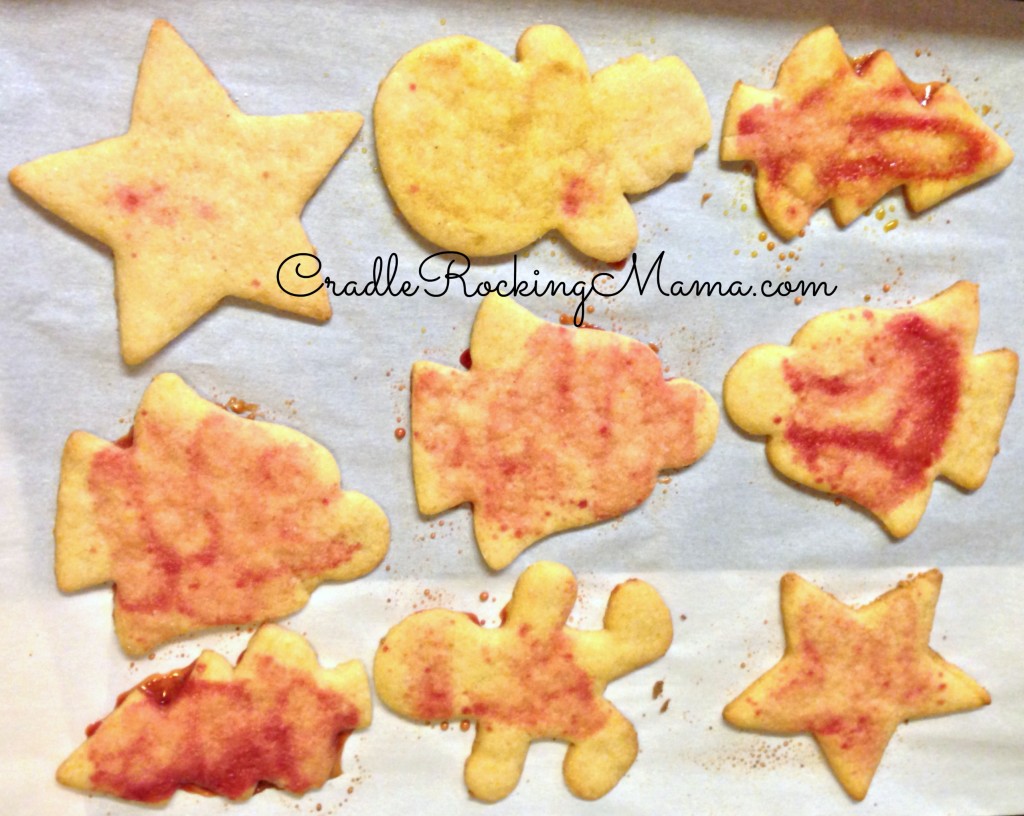 It melted and got darker in the oven! So, yay! The red colored sprinkles work beautifully to decorate the cookies. (These were Jed's works of art. Quite good for a 4 year old who has never been able to do this before!)
Decorating aside, these cookies just need to be tossed in the oven for 8-12 minutes to come out flaky, crispy on the outside and soft on the inside, and absolutely perfect in your mouth!
If you have to avoid dairy, eggs, wheat, sugar, and thought you were destined to spend the rest of your life "sugar cookie roll-out denied", I hope you'll try this recipe and discover the solution to being able to have "sugar" cookies on holidays again!
Happy Baking!
Fructose Friendly Sugar Cookie Roll Outs
These "sugar" cookies are dairy free, egg free, wheat free, and fructose friendly...but they taste fantastic! An absolutely necessary addition to your allergy friendly holiday recipe collection.
Author:
Cradle Rocking Mama (Carrie Summers)
Recipe type:
dessert, holiday cookie
Ingredients
1¼ c. dextrose
¾ c. tallow (or shortening)
¼ c. milk
1 tsp. vanilla
1 tsp. almond
1 egg or 1 egg replacer
1½ tsp. baking powder
1 tsp. salt
1½ c. millet flour
¾ c. quinoa flour
Instructions
Add the millet flour, quinoa flour, salt and baking powder to a bowl. Sift together.
Put the tallow (or shortening) in a mixer and blend for a minute or so until loose and "fluffy".
Add the rest of the wet ingredients to the tallow and mix until combined.
Slowly add the flour mixture until the dough comes together.
Lightly flour a large work area; portion out small batches of dough and roll out gently on the floured workspace.
Using cookie cutters, cut out the dough into shapes.
Use a spatula to lift the cut cookies and place on a parchment lined cookie sheet.
Continue rolling out and cutting the dough until you run out of dough.
Heat the oven to 375 degrees.
Let your kids decorate the cookies!
Pop the trays of cookies into the oven and bake for 8-12 minutes, until lightly browned on the edges.
Remove trays from the oven and let cool completely.
Enjoy your allergy and fructose friendly, delicious roll out cookies!
Come back soon for a 4 ingredient quinoa roll-out cookie recipe!
If you like this recipe, please share it! To get more great recipes like this in your in-box, subscribe so you don't miss a thing!
---
This post shared with: