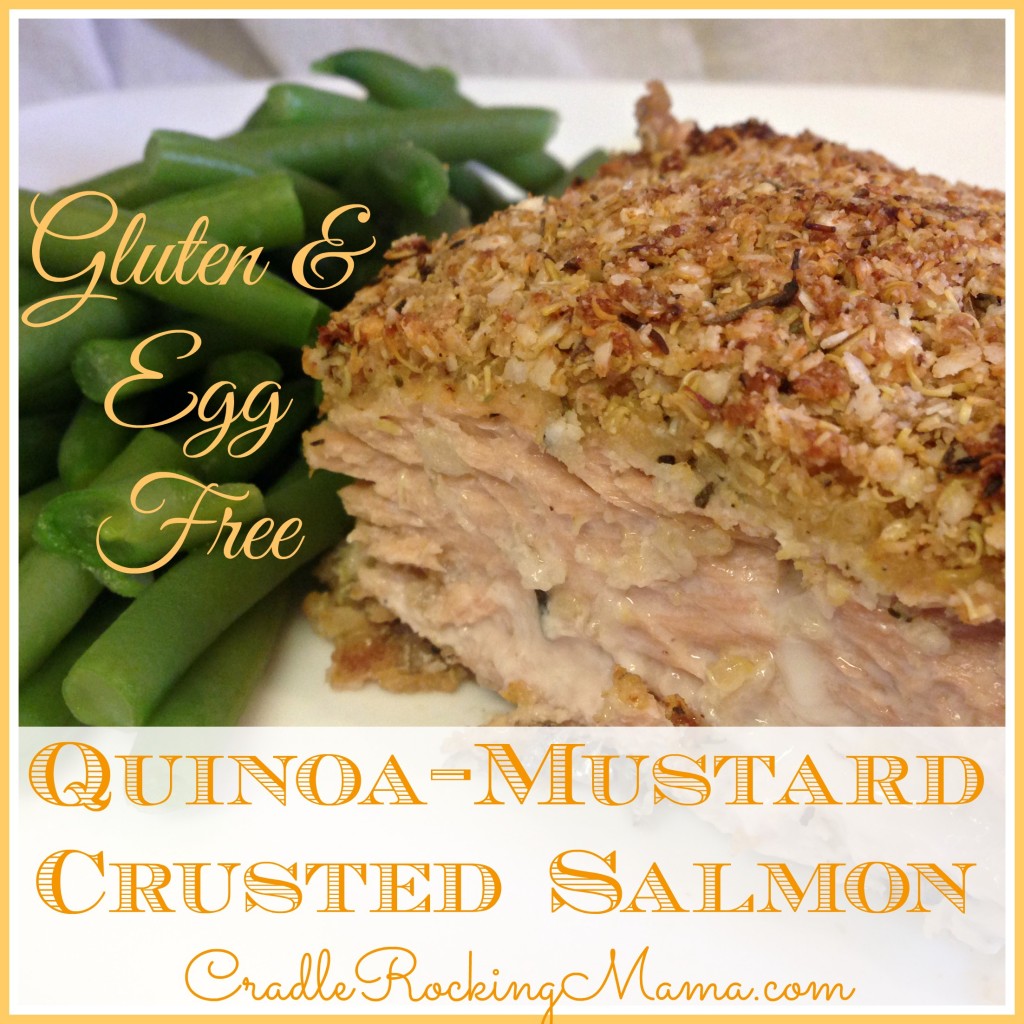 One fabulous side benefit of having a fun-filled weekend away from home is two small children whose sleep schedules are completely thrown off!
Children who don't go to sleep until nearly midnight don't leave their mama a lot of time to write coherently, after all. I decided it was kinder to simply not post yesterday than subject you the ramblings I'd managed to string together.
While I was too tired to write much of any worth the last few days, my tiredness didn't stop the necessity of feeding my family. Surprisingly, I managed to whip up a recipe that thrilled Darrel and even made the ever-increasingly picky Jed somewhat happy! So I thought I'd share it with you today.
Sometimes the best dishes are the most simple, and this one certainly fits that bill.
Quinoa-Mustard Crusted Salmon. Yum!
So here's what you do:
Get a big ol' salmon fillet. Mine was about 2 pounds; a bit of overkill for my small family, but I was tired and not thinking. Oh, well. It makes good leftovers, too! If you decide to cook a smaller amount of salmon, you probably want to reduce the crust ingredients proportionally.
Thaw the fillet and lay it skin side down in a baking dish. I usually drizzle some olive oil in the dish first to help with sticking.
Pat the top of the fillet with paper towels to remove excess moisture.
Gather your spices in a bowl. You'll need ground mustard, sea salt, pepper, thyme, and some Old Bay, if you want.
Add quinoa flakes and mix together.
Pour on some lemon juice and olive oil and mix thoroughly until well blended. Even though it was thicker and slightly chunky, it reminded me of moist sand.
Then simply use your hand to smooth that lovely crust over the top of the salmon fillet!
Put it in the oven to bake; 15-20 minutes is usually enough for salmon, but if you have a particularly thick fillet you may need to go longer. You'll know it's done when it flakes.
Serve it up with the veggie of your choice, and enjoy a delicious version of salmon that is moist, tender, and downright yummy!
Man, that looks delicious!
Quinoa-Mustard Crusted Salmon (Gluten & Egg Free)
A delicious, moist, crusted salmon sure to satisfy at dinnertime! No eggs or flour required!
Author:
Cradle Rocking Mama (Carrie Summers)
Recipe type:
gluten-free, egg-free, fructose-friendly
Cuisine:
seafood, dinner, entree
Serves:
7-8 full servings
Ingredients
1¾-2 lb salmon fillet
1 c. quinoa flakes
3 T. ground mustard
1 T. sea salt
1 tsp. pepper
2 tsp. thyme
1 tsp. Old Bay seasoning
2 T. lemon juice
¼ c olive oil
Instructions
Thaw the salmon fillet.
Spread some olive oil in a baking dish and lay the fillet skin side down on the oil.
Blot excess moisture from the fillet with paper towels.
Heat the oven to 400 degrees F.
Add all the dry spices to a bowl.
Mix the quinoa flakes in to the spices and stir until combined.
Add the lemon juice and olive oil to the quinoa/spice mixture and stir until all dry ingredients are moistened.
Using your hand or a spoon, spread a thick layer of the crust mixture over the salmon fillet.
Bake for 15-20 minutes; salmon is done cooking when it flakes up on a fork.
Enjoy your delicious dinner!
What's your favorite method of cooking salmon?