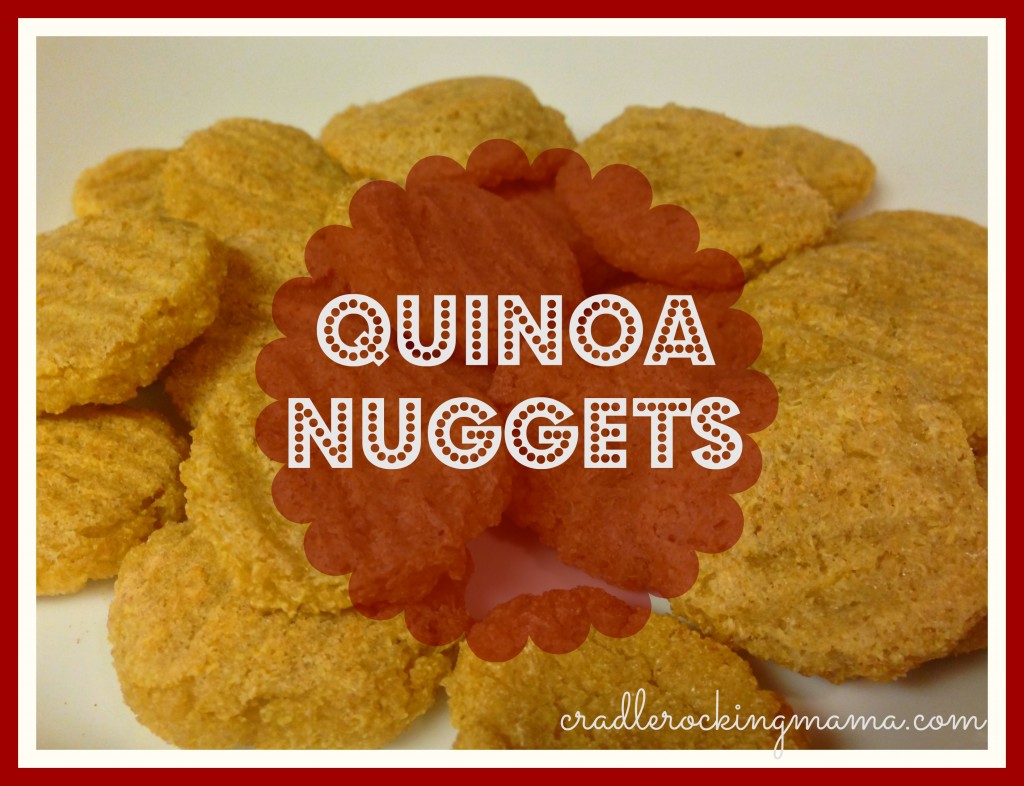 When I shared our glorious quinoa pass, I was bombarded with cheery congratulations from tons of people. (Thanks again!)
One of those lovely folks, Wendy, shared on my Facebook page that she makes quinoa nuggets for her kids. Her instructions were simple: "Puree cooked quinoa with Real Salt, a little turmeric, garlic powder and onion powder. Form into little flat coins and bake them on parchment until slightly crunchy, flipping halfway through. You can add chopped or pureed veggies to the mix for a more complete meal. They might freeze well but they go too quickly at my house."
When I read that, I sort of drooled a little. Doesn't that sound delish?
While I'm ecstatic over Zac's quinoa success, he still has only one safe food…so her recipe can't really be done as is in my kitchen – yet.
Still, it is a great idea, and served as a fabulous inspiration for my own version of Quinoa Nuggets!
For Zac, I made them very plain. They're just pureed quinoa!
It's really simple, so here's the basic instructions, and, as Wendy indicated, if you have any safe seasonings, flavorings, or veggies, feel free to add to this!
Cook up some quinoa seeds. In case you don't know, quinoa cooks a lot like rice does. Add twice as much water as you do quinoa seeds to a pan, bring to a boil, drop to a simmer and cover with a lid. Let cook for 15 minutes or so, until all the water has absorbed and the seeds are nice and puffy.
Then toss it in a food processor and puree it!
Then get out a baking sheet and cover with parchment paper.
Take small spoonfuls of the quinoa puree and roll into balls between your palms. Lay the balls out on the baking sheet.
Then use your fingers or the back of a spoon and press down until they look like, well, chicken nuggets!
Some of mine were a little more 'wet' than others and I had to use some quinoa flour to keep them from sticking to my spoon, so that's a quick fix if you find your quinoa balls are too sticky to work with.
Then pop them in the oven and bake!
I set the temperature at 375 and cooked for 20 minutes on one side, then flipped them all over and cooked for another 15-20 minutes.
They're really good! Soft on the inside and a little crispy on the outside, and Zac ate 2 cups worth of quinoa in 2 days!
Well, he had some help.  We're having to physically ban Jed from the nuggets, as he seems to think they're delicious, too! As with the quinoa crackers, he grabs nuggets and brings them to Zac – one for Zac, one for him!
Darrel was even impressed with them; he liked the taste, but mostly he liked that they're a great finger food, like the crackers, but they're a vehicle for Zac to ingest larger quantities of food more easily than the crackers allow.
However, as I said, these nuggets are rather…plain. Bland. Boring. Which isn't really surprising, right? I mean, it's just pureed quinoa after all.
So get creative! This is a good 'base' recipe to start you off, and you'll be limited only by your imagination. 
For my part, I plan to try these with a finely shredded potato, sea salt, black pepper, and maybe some browned off ground beef added…and I might try frying mine instead of baking them! I'll let you know how they turn out.
**UPDATE**
Since I first posted this recipe, Zac found a second safe food: pork! So I have now made these by adding 1/2 c. of cooked pork roast to the food processor before rolling them into nuggets.
They turn out beautifully, but they don't need to cook as long as the plain quinoa nuggets! I've been doing 18 minutes on one side, and only 5 minutes on the other. If I cook them the full 35 minutes, they get a little overdone and dry.
So there's another option for you to try with your meat of choice! Enjoy!
Quinoa Nuggets
Highly adaptable, this is the basic recipe base for a quinoa nugget. Add almost anything to make these however you would like!
Author:
Cradle Rocking Mama (Carrie Summers)
Recipe type:
snack, finger food, appetizer, main course
Ingredients
1 c. uncooked quinoa seeds
2 c. water (or broth)
Instructions
Cook the quinoa seeds according to directions.
Puree the cooked seeds in a food processor.
Heat the oven to 400 degrees, and line a baking sheet with parchment paper.
Take small spoonfuls of the puree, roll into balls, and lay on the baking sheet.
Using your fingers or the back of a spoon, press the balls into flattened, nugget shapes.
Put the baking sheet into the heated oven; cook for 17-20 minutes.
Remove from oven, flip the nuggets over, and cook for another 15 minutes.
Enjoy your healthy little nuggets!
I'd love to hear how YOU spruce up your quinoa nuggets! What would (or do) you add?
__________
This post shared with: