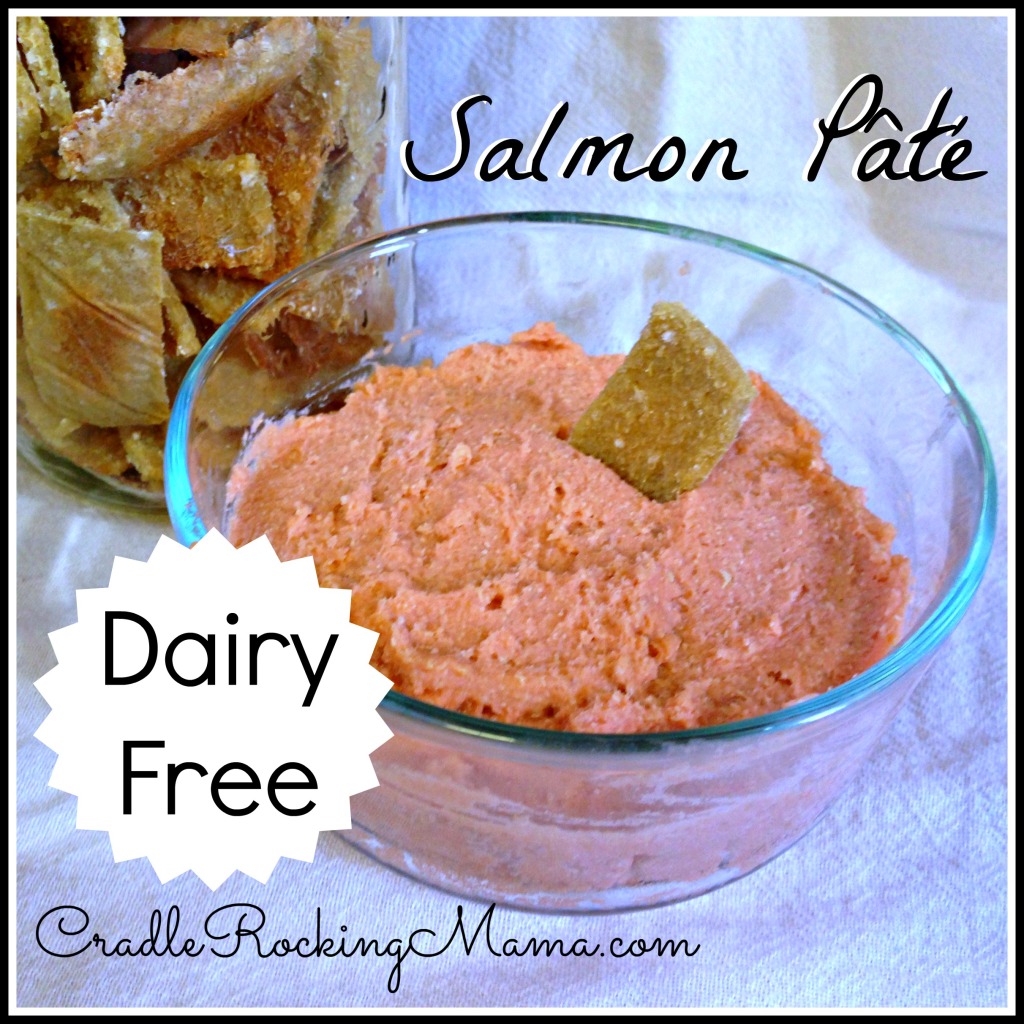 Every year for Thanksgiving, my family traditionally lays out a plate of "snacks": stuffed celery sticks, black and green olives, and pickles are always present, and sometimes other little goodies make an appearance.
It's just enough to take the edge off the hunger brought on by all those delicious cooking smells, but not enough to fill you up before the feast.
This was the first year my severely food allergic/intolerant 2.5 year old, Zac, could actually eat a meal with the family for Thanksgiving, and I wanted something for him to snack on before the meal.
Something delicious. Something new. Something fun.
Fun and new are hard to come by when you've only got 11 safe foods, though.
So I focused on the latest semi-addition to his diet: salmon.
We are trialing salmon on him to see if he can tolerate it, and surely there had to be something I could make for him that was fun, new, delicious, and more of a snack.
My inspiration came from making quinoa nuggets for him one day when I added some chicken meat. Once it was pureed together, it looked an awful lot like the pâté's I've seen in the past.
Maybe I could make Zac a pâté!
Traditional pâté is meat, seasonings, and cream cheese. Just out of curiosity I looked for dairy-free recipes, and found a wide variety of options…most of which had a top 8 allergen or typical FPIES trigger.
Soy, cashews, and beans were commonly used in dairy-free pâté's
Since none of those are safe for Zac, yet, I decided to give my quinoa theory a try.
IT WORKED!
First, some notes:
If you have histamine issues, don't use smoked salmon. I used regular, fresh salmon that I baked just before making the pâté.
This could work with ANY meat, really; so if salmon isn't safe or your favorite, feel free to substitute.
I didn't add ANY flavoring to this other than sea salt. No seasonings or herbs at all. Zac can't have any of that yet (except sea salt, of course). So I'm not going to give amounts in the suggested seasonings and herbs because I didn't try it yet.
This is mostly a great pâté base…add whatever seasonings, herbs, or other additions you prefer!
The quinoa is measured by volume, but the salmon is measured by weight. Use a kitchen scale to get the right amount of salmon for the pâté.
Now, on to how totally easy this is to do!
Bake some salmon and cook some quinoa. I've been baking the salmon for 20 minutes at 350 degrees.
Dump your quinoa and salmon (and any additions you are using) in a food processor.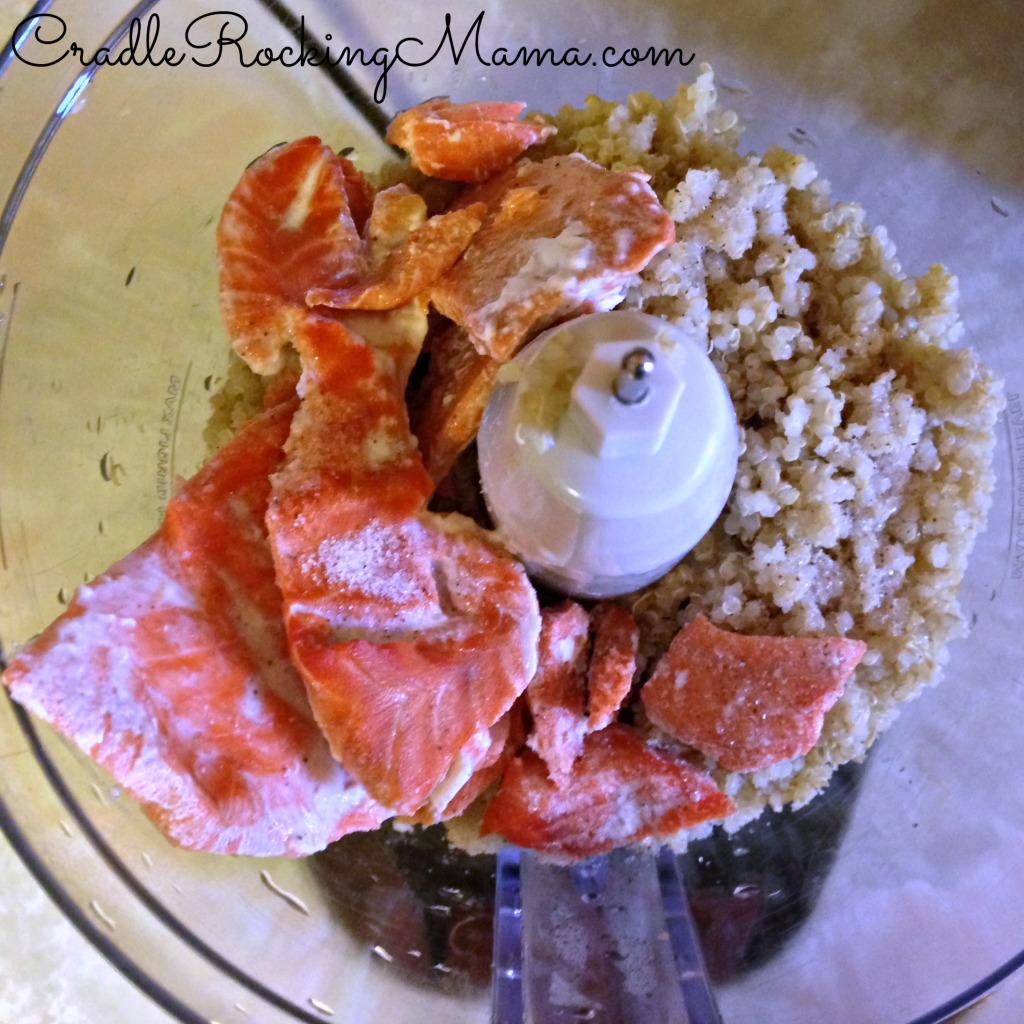 Turn it on.
A few minutes later, you've got pâté!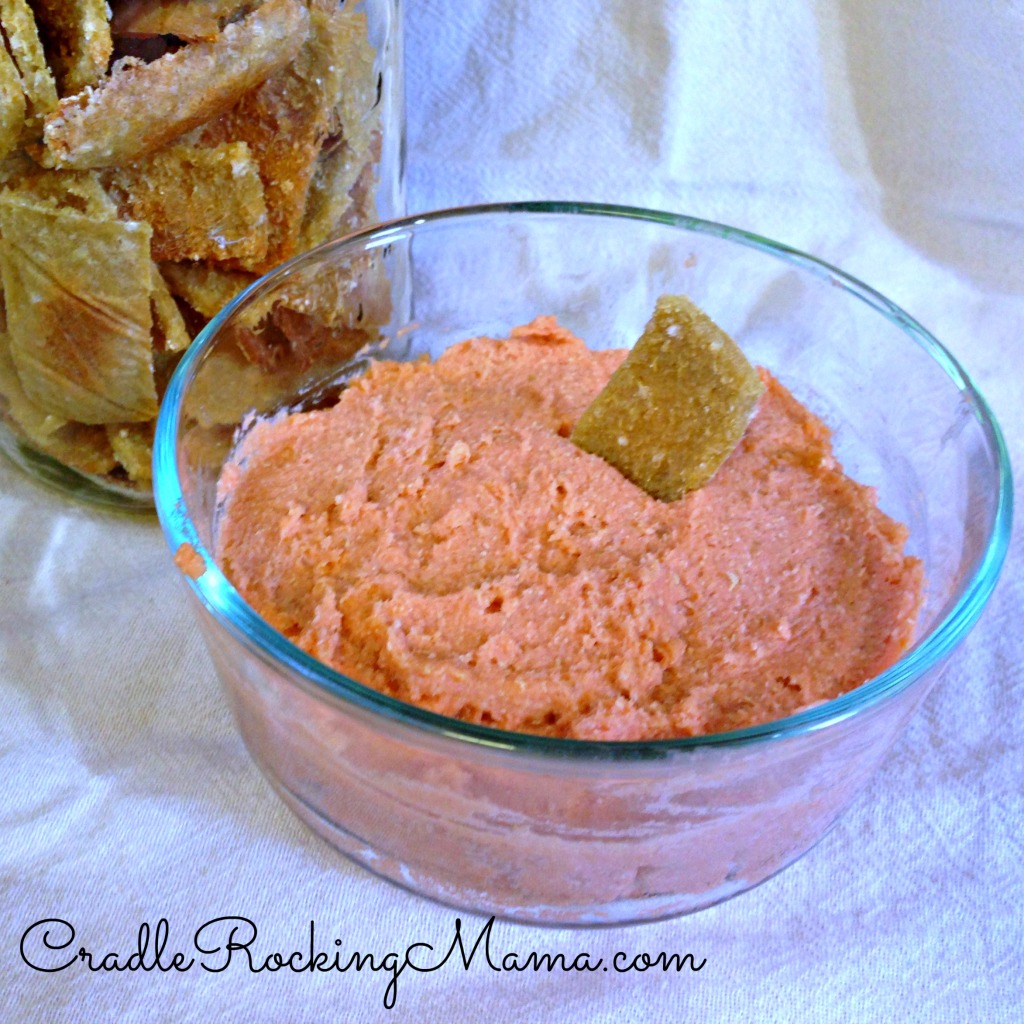 So. Easy.
So. Good.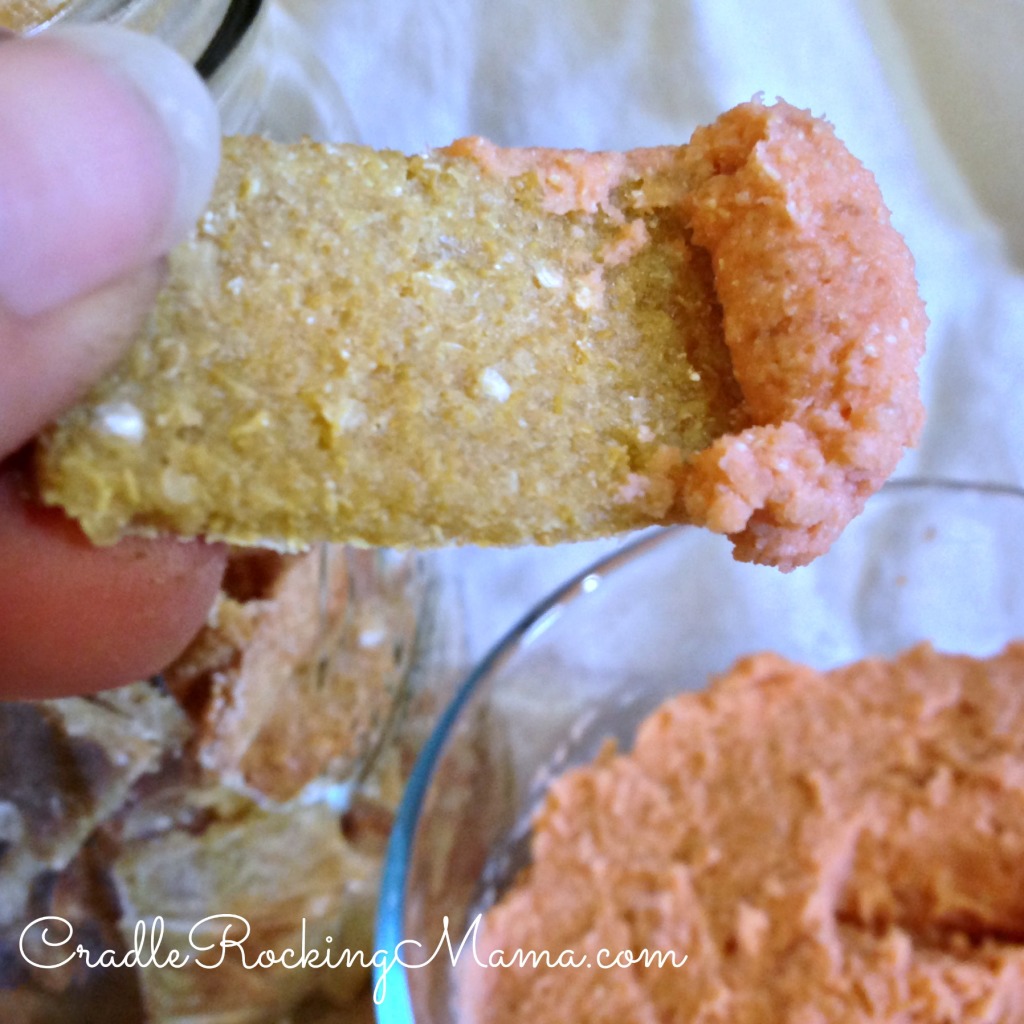 I made a batch of quinoa crackers for Zac to eat with his pâté, and he couldn't get enough of it!
We gave him a taste as soon as it was made, because he was being nosy and wanted to see what I was making. However, we still needed to relocate to Grandma's house for dinner, so I put it away immediately so we could load the car.
He cried, y'all! 
At Grandma and PopPop's house, I gave him back the bowl of pâté. He refused to let go of it! He carried that bowl of pâté everywhere he went: the kitchen…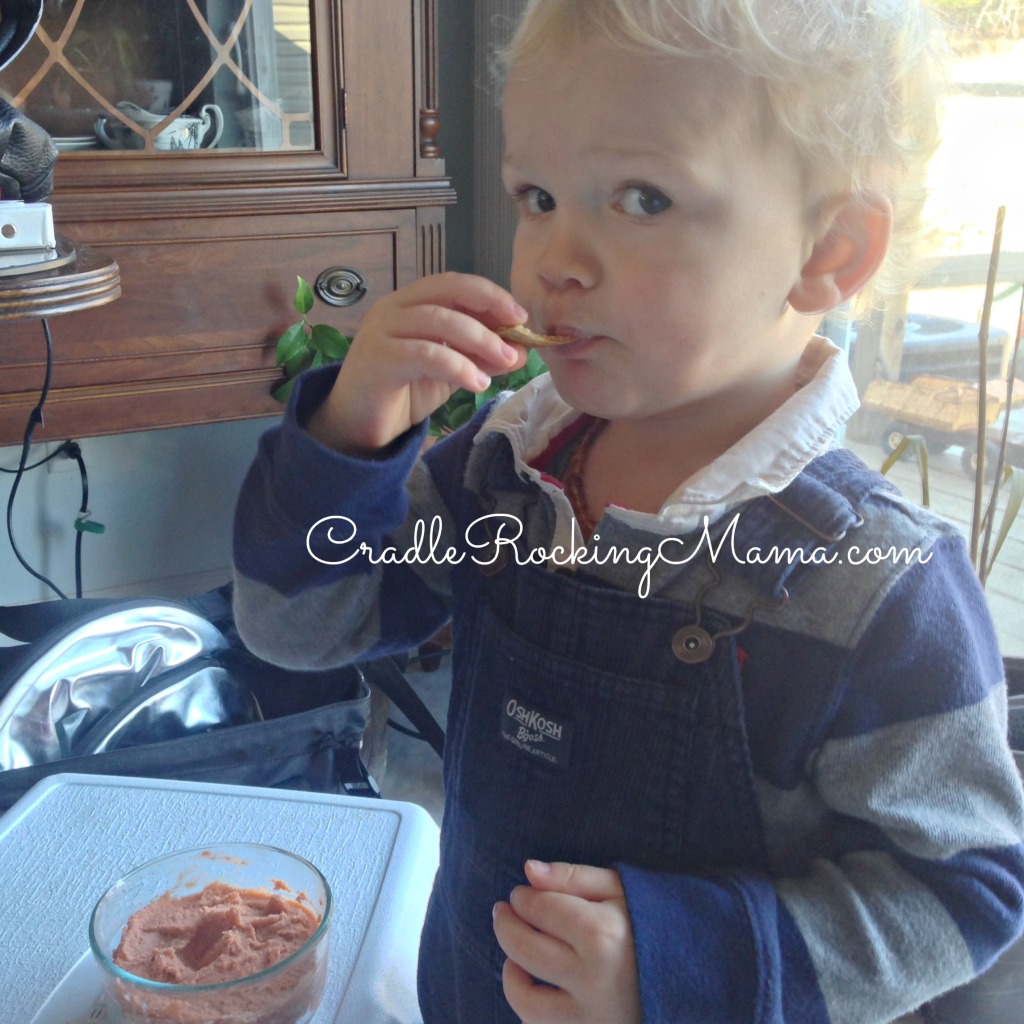 the porch…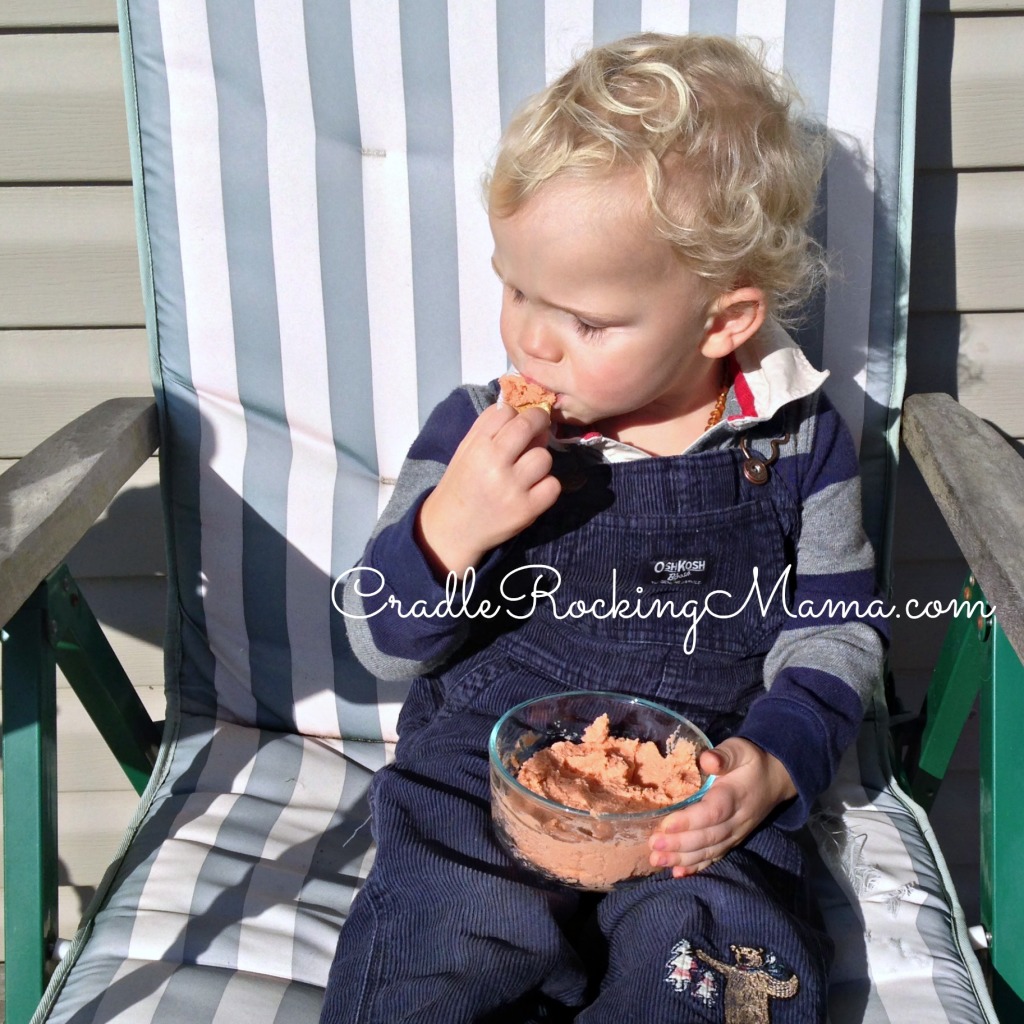 and everywhere else he wandered until dinner was ready.
Make a Mama's heart happy, y'all!
Once he has more safe foods, I am absolutely going to tweak this a bit. Some oil/fat would probably be good, some lemon juice, maybe some dill…the options are nearly endless. 
But my Mom and Darrel both said this had the texture of a pâté, and, while fairly bland due to the lack of seasonings and herbs, was actually more tasty than they'd imagined it would be.
So get creative and make your own delicious, healthy, dairy-free, top 8-free pâté!
Oh, and join us in rolling our eyes at our kiddos unusual food tastes. My 2 year old chows down on pâté…what's next? Caviar?
Salmon Pate
Delicious, top 8 allergy-free pâté base, easily adjusted with whatever seasonings you prefer.
Author:
Cradle Rocking Mama (Carrie Summers)
Recipe type:
appetizer, dip
Ingredients
4 oz. cooked salmon
1 c. cooked quinoa
1 tsp. sea salt
lemon juice (to taste)
dill (to taste)
garlic (to taste)
any other herbs you wish
Instructions
Bake some salmon. (Approx. 20 minutes at 375 degrees)
Cook some quinoa (follow package instructions).
Put 1 c. of quinoa in a food processor.
Weigh out 4 ounces of salmon and add that to the food processor.
Add whatever seasonings or herbs you wish to use.
Process until smooth.
Scrape into a bowl.
Serve with crackers or bread.
Enjoy an easy, delicious, allergy-free treat!
---
What are your favorite flavoring additions to pâté?
---
This post shared with: