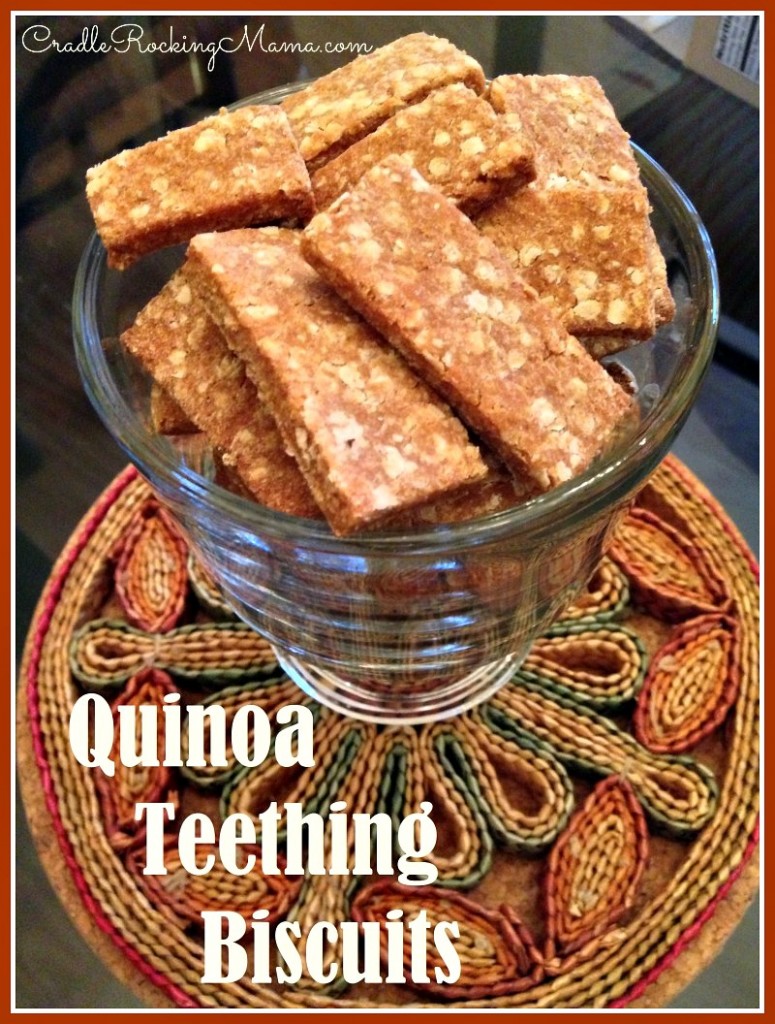 When we started trialing quinoa, I got very excited. I knew that quinoa would offer a lot of variety in Zac's diet (and, eventually, mine), and to start with I wanted to make him his very first teething cracker.
I had seen a few recipes for homemade teething biscuits before, but when it came time to make this I just "winged it", so I don't know how much this will resemble other teething cracker recipes out there. All I know is that it worked, and Zac LOVED it! (By the way, I have heard of teething biscuits and teething crackers – anyone know what the difference is? I'm using the terms interchangeably!)
It's so simple, too!
We started Zac's quinoa trial with cooked quinoa flakes. I followed the directions on the box and wound up with 1 cup of cooked quinoa. His trial only used 1 tsp. of quinoa for the first day, so that was a lot of quinoa shoved in the fridge!
Cooked quinoa flakes are very moist, of course, so I added quinoa flour to help turn it into a dough.
That wasn't quite enough to get the consistency right, so I added some uncooked quinoa flakes and mixed it together and voila! A dough!
I rolled it out somewhere between 1/8th and 1/4th of an inch thick on a sheet of parchment paper. It was really sticky, so I actually used a sheet of parchment paper on top, too. That kept things nice and neat!
After it was in a nice, flat piece, I cut it into small rectangular shapes with a pizza cutter.
Then, just to be tidy, I pulled away all the odd shaped pieces and re-rolled and re-cut them until I had mostly neat little rectangles to cook.
At the time, I was making a pot roast, which is cooked at 300 degrees. Since I don't have a nifty double oven, I just threw the crackers in at the same temperature, hoping it would work. Turns out, some time between 45-60 minutes at a low temperature made them PERFECT.
I let them cool on a cooling rack for a few minutes, then took the whole sheet of parchment paper off the cookie sheet and let them cool the rest of the way.
Thanks to pre-cutting them, they snapped apart into cute little rectangular crackers just the right size for Zac's little mouth!
Jed even started snagging them off the counter, asking for "More crackers, peese, Mommy!" Darrel tried them and said they were a really good cracker; he remarked that they didn't even have any of the aftertaste that quinoa items can sometimes have.
So this is a definite winner in my house! I hope it works well in yours, too!
(And I really hope Zac can handle quinoa when we reintroduce it later on…he LOVED these crackers!!)
Quinoa Teething Crackers
Make a healthy, tasty teething cracker for your baby! (Or to snack on by yourself)
Author:
Cradle Rocking Mama (Carrie Summers)
Serves:
2.5 dozen crackers
Ingredients
1 c. cooked quinoa flakes
⅔ c. quinoa flour
½ c. uncooked quinoa flakes
Instructions
Preheat oven to 300 degrees Fahrenheit.
Cook a batch of quinoa flakes per package instructions. (Mine suggests ⅓ c. flakes and 1 c. water.)
Portion out 1 c. of the cooked quinoa flakes in a bowl.
Add the quinoa flour and uncooked quinoa flakes to the cooked quinoa flakes in the bowl and mix together completely.
Lay dough on a sheet of parchment paper; lay another sheet of parchment paper on top and roll the dough out to a thickness between ⅛th and ¼th of an inch.
Using a pizza cutter, cut the dough into whatever shapes and sizes you would like.
Slide the sheet of parchment paper on to a cookie sheet, remove the top sheet of parchment paper.
Place in the oven and cook for 45-60 minutes, depending on how brown and crispy you would like them.
Hand your baby a healthy, wholesome teething cracker to gnaw!
Do you have a great, allergy-friendly teething cracker recipe? Please share your tips!
__________
This post shared with:
Healing With Food Fridays, Thank Your Body Thursday and Real Food Wednesdays.