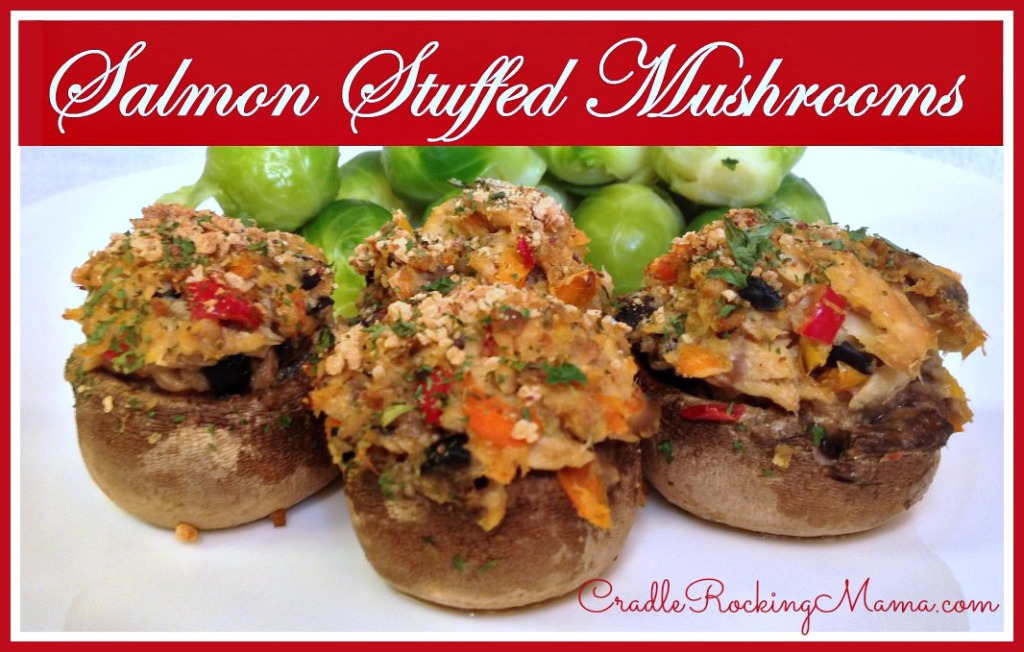 There's no fabulous story behind this recipe. I just got bored with the dinners I've been making and started throwing things together in the kitchen! It's a bit of an interesting combination, but in the end it turned out pretty delicious.
The grocery store had some gorgeous mushrooms this week, so I bought some without any idea what I was going to do with them. When dinner came around last night and Salmon Patties popped into my head, I suddenly decided I wanted to use the salmon to stuff some mushrooms, instead.
So here's what I did:
First I washed the mushrooms, then I removed the stem. (Jed liked helping with this part; he slammed the mushrooms stem end down on the counter until I begged for mercy!) Then I lined a cookie sheet with parchment paper and laid the mushrooms out.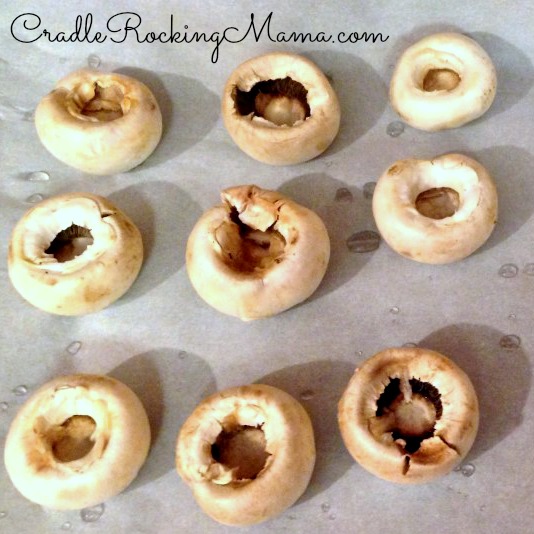 Then I got the stuffing ready. Once again, I just used canned salmon, so I drained it, picked out the obvious bones and tossed it in a bowl.
Then I grabbed some mini sweet bell peppers and cleaned them up. Those went into my StarFrit manual food processor (really can't tell you how much I love that thing!) for a first chopping.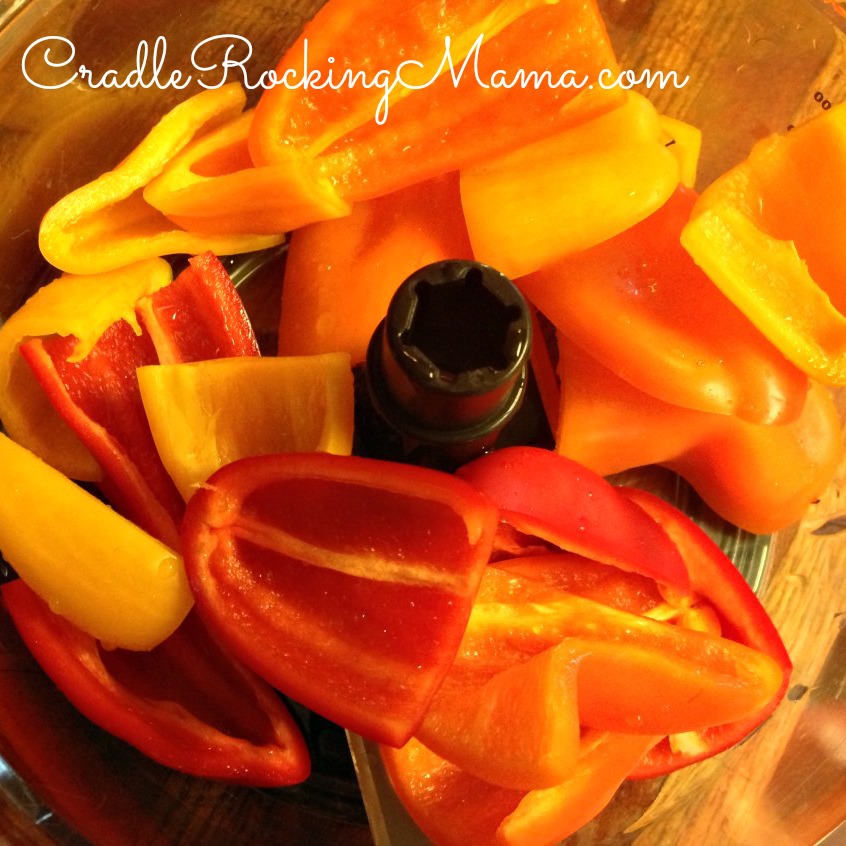 Jed had been snacking on olives, but was finally tired of eating them. So I tossed the remainder in with the peppers and chopped them up, too.
The whole mess got tossed on top of the salmon, and I stirred it all together.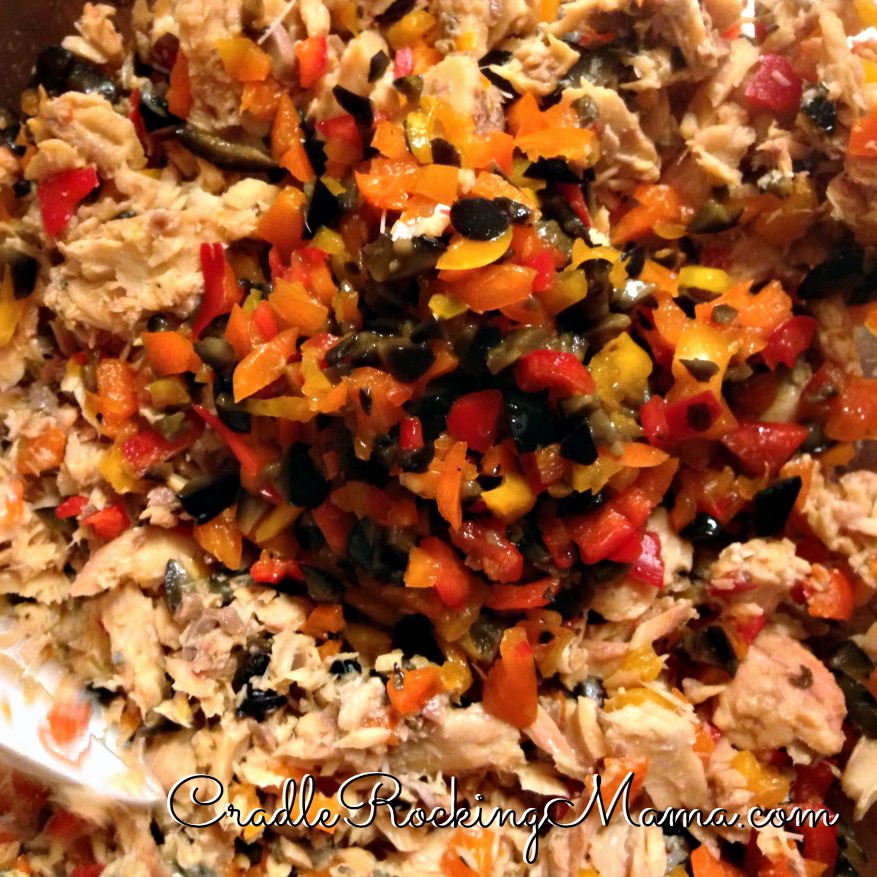 Initially I planned to make a quinoa batter for this, similar to the one I used in the Salmon Patties. Going for efficiency, I figured I'd just add the flour and the water to the mixture and make it all at once. After adding the flour, though, I realized it didn't need any extra water; there was enough moisture from the salmon and the veggies that it made a nice, sticky stuffing.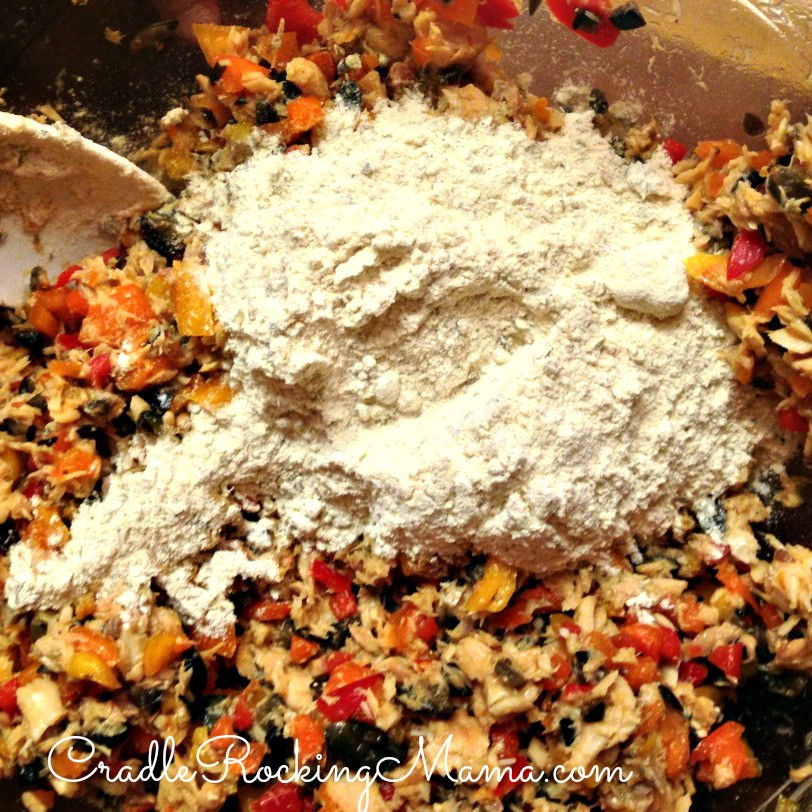 After adding some seasonings, I stirred it all up and here's what it looked like: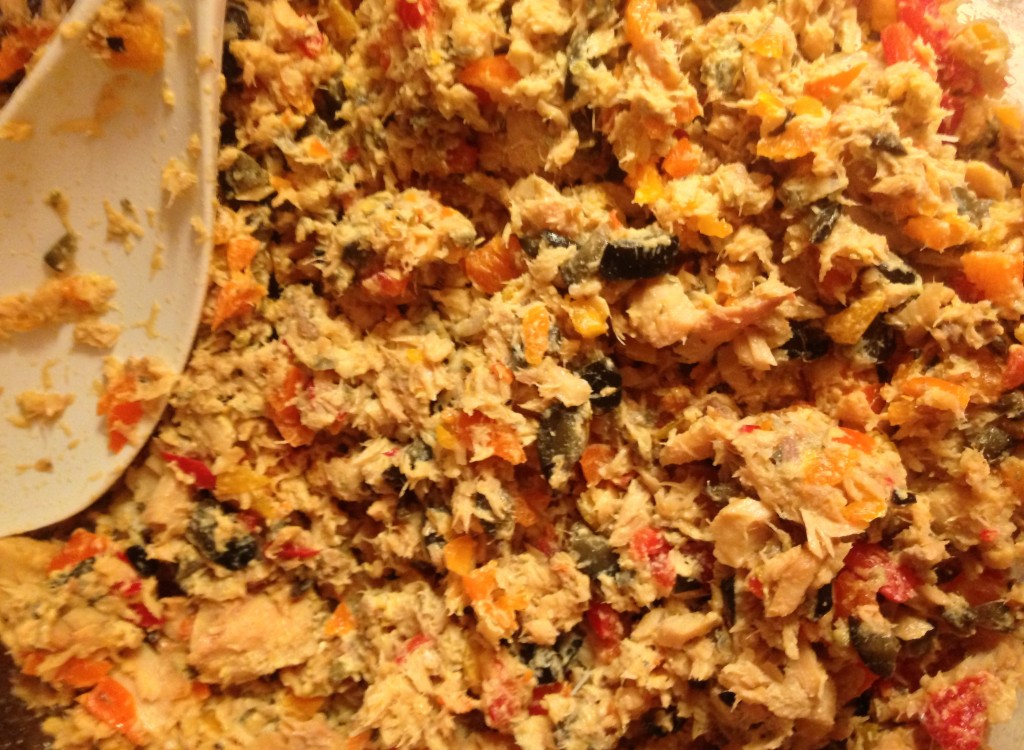 One tip on cooking with kids: don't let them help you when they're hungry! They're apt to sneak bites of things that will gross you out…like the raw stuffing for the mushrooms. Ew, Jed!
Then I simply used a spoon and stuffed the mushrooms. This was a great task for Jed – he loved pressing the stuffing mixture in to the holes!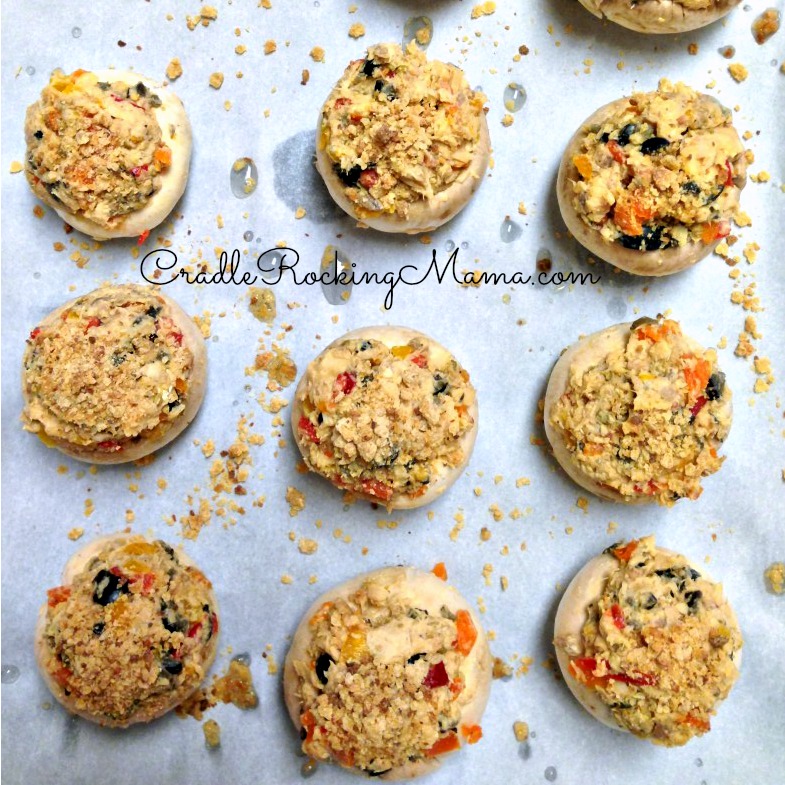 Remember those quinoa crackers I made for Zac? Well, they were going to go bad, so I thought I'd try to use them somehow. I ground them up and voila! Perfect little "bread crumbs"!
So I sprinkled some quinoa cracker bread crumbs on top of each mushroom, sprinkled a little parsley (to make them purdy), and, at Jed's insistence, gave a tiny shake of Old Bay seasoning as well.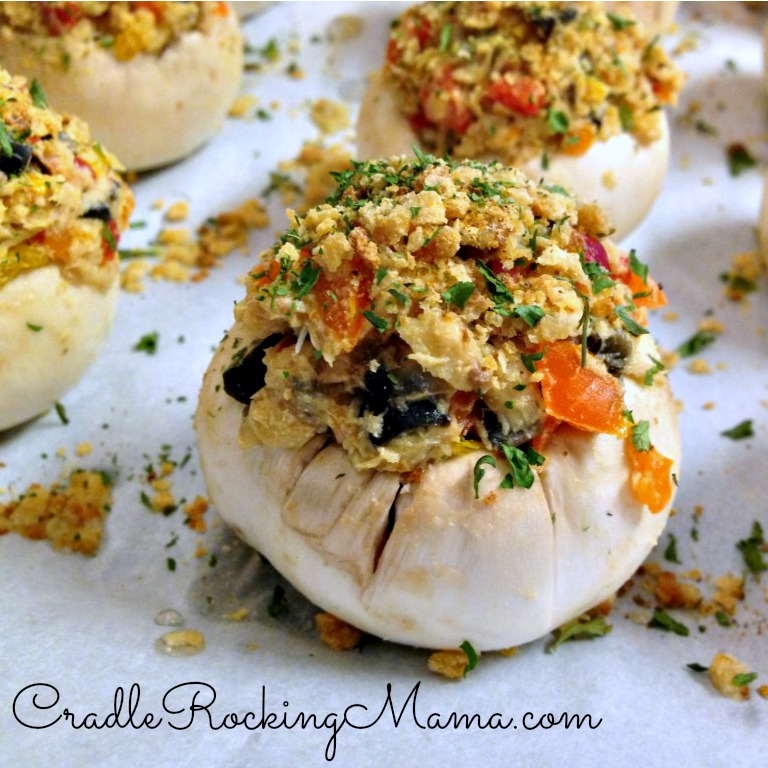 Then they went into the oven and came out looking like this: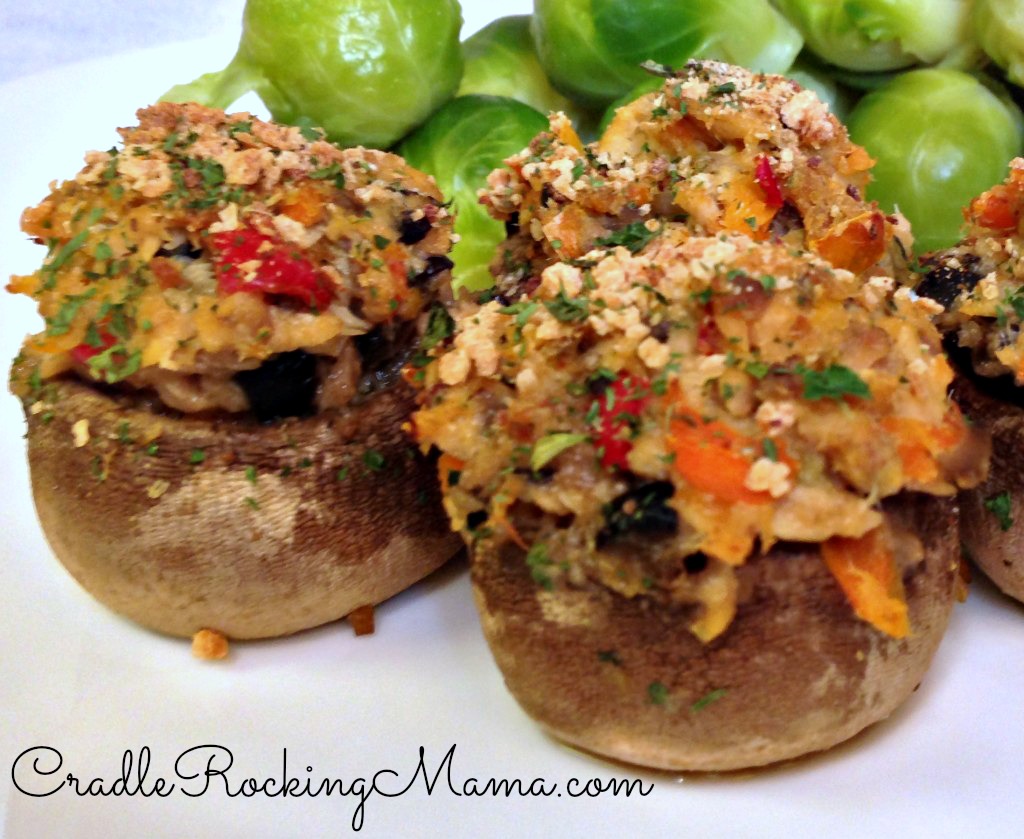 Not bad for a total kitchen experiment!
The Verdict? Darrel really liked them! He went back for more and said to keep this recipe around. Jed, well, he's three. And suddenly picky. The child ate the RAW stuffing while we were making dinner every chance he got, but when presented with his plate decided he didn't want to eat at all.
Sigh…I thought kids were supposed to want to eat when they helped make the meal? Stupid "experts".
The worst part is that I know if we serve it to him tomorrow, he'll scarf it up. Three is SO MUCH FUN!!
Well, he'd better get used to them; Darrel will want them again and this is a nice change-up from our 'routine'. Try them – you'll be surprised! These were great for dinner, but they'd be excellent as an appetizer, too.
Salmon Stuffed Mushrooms
These delicious little bites work as a dinner entree or as an appetizer, depending on how many you eat!
Author:
Cradle Rocking Mama (Carrie Summers)
Recipe type:
appetizer, entree
Ingredients
1 can salmon
½ can black olives
8 mini sweet bell peppers
24 medium sized mushrooms
sea salt
black pepper
onion powder
½ c. quinoa flour
parsley
bread crumbs (or crushed quinoa crackers)
Old Bay Seasoning (optional)
Instructions
Pre-heat your oven to 350 degrees.
Wash and de-stem the mushrooms; lay out on a parchment lined cookie sheet.
Clean and de-seed the peppers, chop in a food processor.
Add the olives and chop some more.
Mix the veggies in a bowl with the salmon.
Add the quinoa flour, salt, pepper, and onion powder (alternatively you could actually chop up a real onion with the peppers and olives. I was feeling lazy.)
Stir until well combined.
Stuff the mushrooms, heaping the stuffing on top.
Sprinkle each mushroom with bread crumbs, parsley, and Old Bay, if using.
Bake in the oven for 25-30 minutes.
Serve and enjoy!
What do you stuff your mushrooms with?
---
This post shared with: