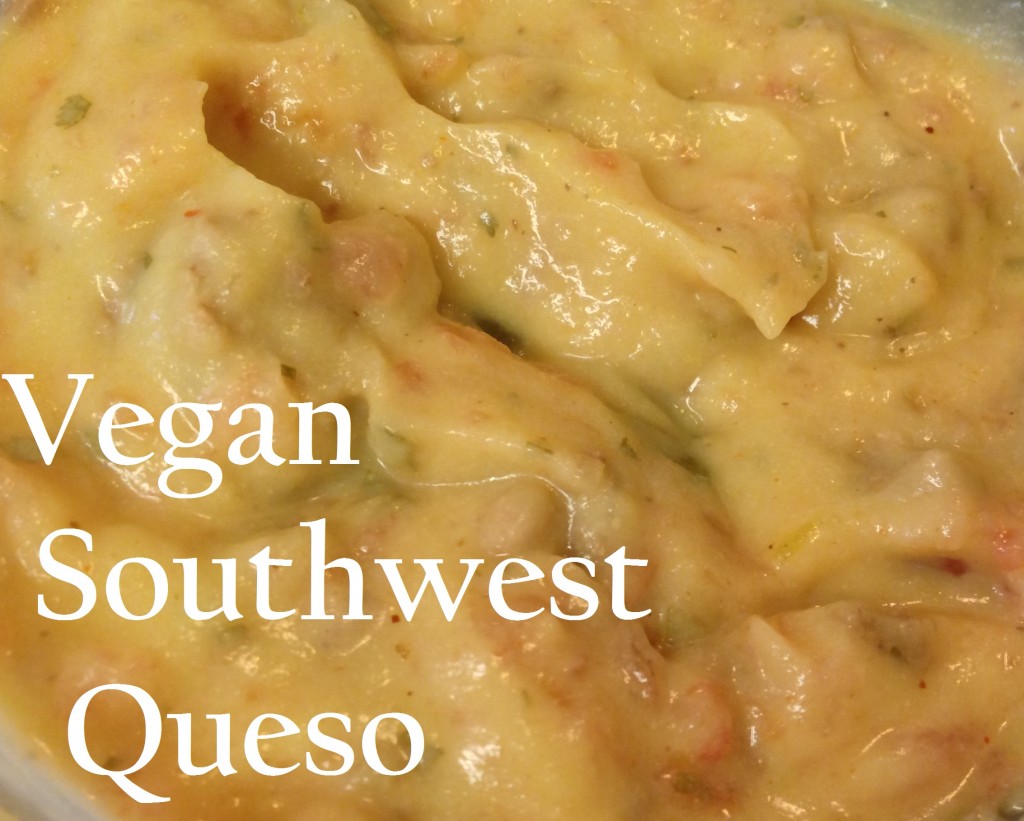 Cauliflower, oh cauliflower…why did it take me so long to fall in love with you?
Sometimes in the kitchen, you discover something cool that is very useful – for one  recipe.
Some kitchen discoveries, however, continue to excite you with the many ways they can be reinvented.
Such is the case for the cauliflower cream sauce I first used as the base for my "Vegan" Creamy Chicken Soup. I reinvented it to become a delicious, dairy-free Mac 'n Cheese recipe for Jed, and now I turned it into a Vegan Southwest Queso for chips!
In fact, I first made it this time as a "cheese" sauce to pour over broccoli for dinner one night, and used the leftovers to make the cheese dip. Talk about a versatile recipe!
I didn't take pictures as I went because I honestly was just re-making something I've already shared with you. So I'm going to cheat and re-use the photos from the Vegan Man 'n Cheese post.
I made it almost exactly the same; however, we've since learned that Jed actually does NOT tolerate coconut milk, so I will share the small adjustment I made to the recipe for the fructose malabsorbative folks. Turns out, coconut milk is not necessary for this to turn out creamy and delicious! Instead of adding 1/2 c. of coconut milk, I just added water. Worked like a charm.
For this, since it was originally supposed to be a sauce for broccoli, I just started with half a head of cauliflower. I steamed it on the stove…
And dumped it back into the pan with the water and started pureeing!
Then I added the same spices and pureed those in as well.
And there's your basic cheese sauce, appropriate for Mac 'n Cheese or as a topping on broccoli.
It worked great as a cheese sauce for broccoli, but we had plenty of leftover sauce, and no leftover broccoli! So the next day I decided to see how it worked as a cheese dip.
At first, all I did was heat it up. Darrel said it tasted – and I quote – "Fine."
Well, come on, folks – I can do better than "Fine"!
I made some of my Fructose-Friendly Fresh Salsa last week and still had just a little left in the jar. So I tossed about 3 heaping T. of salsa into the cheese, stirred it up, and suddenly this "Fine" dip went to "Wow! That's really good!"
Oh, yeah, baby. That's what Mama likes to hear!
After some coaxing (he's in a picky toddler stage) Jed started eating it. He didn't care whether he dipped corn chips or potato chips into it – he just liked the dip! "Yummy!" He said.
So that's FOUR uses for this cauliflower concoction, and I couldn't be more thrilled with a recipe that fills so many voids in my dairy, soy, freaking-everything-free kitchen!
Vegan Southwest Queso
This vegan queso dip will surprise and delight...it tastes amazing!
Author:
Cradle Rocking Mama (Carrie Summers)
Recipe type:
appetizer, dip
Ingredients
½ head of cauliflower
¼ onion (optional)
¾ to 1 c. water
½ to 1 c. nutritional yeast
1 tsp. mustard powder
1 tsp. paprika
2-3 tsp. sea salt
3 heaping T. of salsa
Instructions
Chop the cauliflower and onion and place in a steamer basket.
Add water and the steamer basket to a pot on the stove; steam until fork tender.
Dump the steamed veggies into the pot of water.
Using an immersion blender, puree until smooth. You may need to add more water to achieve the consistency you want.
Add your seasonings (except the salsa) and blend with the immersion blender.
Add the salsa and mix together with a spoon.
Pour into a bowl and dig in with some chips!
Do you have a recipe that is incredibly versatile? Share it, please! 
__________
This post shared with:
Frugal Ways, Sustainable Days, Thank Your Body Thursdays, Healing With Food Fridays and Real Food Wednesdays.