So, remember when I shared my "vegan" creamy chicken soup and said the cream base would probably pop up again?  Well, POP!
With a few additions, it turned out to be the perfect "cheese" sauce for a vegan Mac 'n Cheese!
So here's what I did:
Once again, you'll start with steaming some cauliflower.  I used a whole head.  If you want, you could add some onion to this.  (We think Jed had a minor fructose reaction to it the last time I made it, though, so we omitted the onion this time for trialing purposes.)
After it steamed, I poured off the water from the bottom of the pan into a measuring cup.  Fortunately, it was almost exactly the 1 1/4 cups of water I needed!  I poured it back in the pan, added the coconut milk and the cauliflower, and put the immersion blender to good use.
Meanwhile, I started cooking the pasta.  I used Ancient Harvest corn/quinoa elbow noodles; they worked great, but you will either need to pour half the sauce over the noodles or use two boxes of the noodles – I poured the noodles into the sauce and had to cook a whole other box to make the sauce/noodle ratio correct!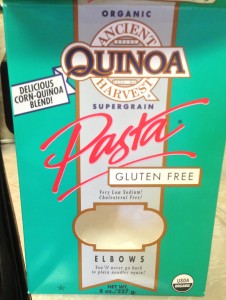 Once you've got a beautiful cauliflower puree…
…go ahead and get your seasonings ready to go.  For this recipe, I use nutritional yeast, mustard powder, paprika, and sea salt.  The seasonings are what really make this into a "cheesy" sauce, primarily the Nutritional Yeast.  It just won't work without it! I use Bragg's nutritional yeast, because my health food co-op carries it, but you can find it online if you can't find it locally.
One other thing – the amount of salt this recipe needs is apparently based on the person eating it!  I've tried cutting it down, but every time I do, Darrel winds up adding salt to his dinner before he can say he likes it!  So start small and see if you think it tastes okay to you before going to the higher end of things.  (But keep the salt shaker ready at the table!)
Then dump them in and mix it up!  I just kept using the immersion blender for this part – it was already dirty, so why make myself have to clean another utensil, right?
Then mix your sauce and noodles together and Voila!  Vegan Mac 'n Cheese!
I've served this plain, and I've added ground beef to it to make it a one-pot meal – both work great!  My next experiment is to bake it – I'll let you know how that turns out!
Jed likes it, and so does Darrel, and I'm so happy I can finally serve my son  Mac 'n Cheese for dinner!
Vegan Mac 'N Cheese
Author:
Cradle Rocking Mama (Carrie Summers)
Ingredients
1 head cauliflower
1¼ c. water (use water from steaming cauliflower for best flavor)
½ c. coconut milk (optional, you could use more water instead or an alternative milk)
1 c. nutritional yeast
2 tsp. mustard powder
1 tsp. paprika
1-3 T. sea salt
1 lb. safe pasta noodles
onion (optional)
ground beef (optional)
Instructions
Chop the cauliflower (and onion, if using) into large chunks; place in a steamer basket.
Add water to a pot and insert steamer basket.  Steam the cauliflower.
Cook the pasta noodles.  Cook the ground beef, if using.
When the cauliflower is fork tender, pour off the steamer water into a measuring cup.  Add the cauliflower, 1¼ c. of the steamed water, and ½ c. of coconut milk (or alternative milk or water) to the same pan.
Blend it until smooth with the immersion blender.
Add your seasonings and blend together.
Mix the sauce with the noodles. If adding ground beef, do so now, as well.
Enjoy a healthy, vegan mac 'n cheese!
(This recipe is only vegan if you do NOT use ground beef, of course!)
---
This recipe shared with: