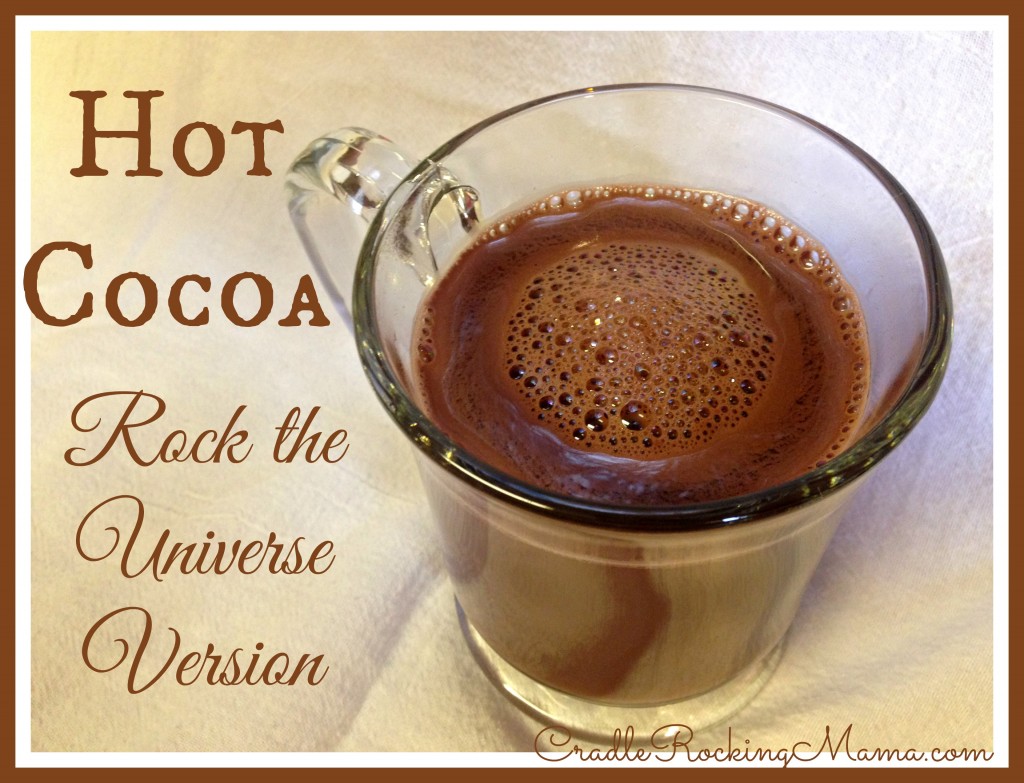 One month ago today I shared the first of my hot cocoa concoctions: Instant, Dairy and Fructose Free Hot Cocoa! In that post, I mentioned a "rock the universe" hot cocoa that we'd used, but had to shelve because coconut was the main component. Since Jed has Fructose Malabsorption, coconut is 'out' of our family diet.
However, I received several requests for that recipe because, come on – who wouldn't want to know how to make a universe rockin' hot cocoa?
Honestly, y'all, Darrel and I personally have no issues with dairy whatsoever, and have drunk various hot cocoa's our entire lives…and even WE both think what I'm about to share with you is THE BEST hot cocoa we've ever had. Hands down.
And it's dairy free! And refined sugar free! And soy free!
Does it get better than an allergy friendly recipe that tastes better than the original versions? 
I think not. 
So here it is, by demand: Hot Cocoa – Rock the Universe Version.
When I originally found this recipe, we had not been dairy-free for long. I was still a total noob in the kitchen, so I made NO modifications to the recipe. Thankfully, this recipe needed no additional modifications, thanks to the tweaks already performed by Katy She Cooks.
As a side note, I can't begin to express my joy about this recipe. This was one of the first recipes I found that so expertly replaced dairy in our lives that it made me have HOPE that one day, we would not struggle with being dairy "deprived". 
Dairy intolerance was the first step of our journey into the land of "you can't eat that", and it shook us to our foundations. We had NO IDEA how to survive without dairy! Both Darrel and I were big cheese and butter fans, and milk rarely went bad in our house.
Quite honestly, we had no idea how to cook anything that didn't have dairy added at some point in the process. 
Finding this recipe was like breathing new life into my kitchen and my soul. It encouraged me; if someone out there could make something THIS good to replace something I'd always considered a dairy 'dish', then maybe, just maybe,  I could make delicious foods that didn't rely on cow milk to satisfy our tastes.
Within a short time, I was experimenting on my own in the kitchen and finding all sorts of neat tricks and treatments to create delicious foods…and recipes like this one were the impetus of that creativity.
I think, in some ways, I'm hoping to be that catalyst for others with my blog. Our food journey has taken us FAR beyond just being dairy-free! Others in our position might not have been 'eased' into it the way we were, and might need some inspiration to get their own kitchen legs underneath them.
Oh, I hope I've done that for someone.
Anyway, back to the recipe! Again, this isn't my creation, so I urge you to visit Katy's site for the full recipe. But I will show you what I did to make it!
You start by making a tonic of coconut milk.
Add your whole can of coconut milk, water, maple syrup and vanilla to a pan…
and whisk it until it is well blended. If it's not blending together well, you may have to heat it some, but that's not necessary at this point.
Leaving one cup of the tonic in the sauce pan, add the cocoa powder, salt, and maple syrup. (She uses sugar at this point. You can do so, but I always used maple syrup. I just liked the flavor better.)
Stir until everything is dissolved, then add some more of the original coconut tonic back in. Stir and heat until it's the temperature you like, add the vanilla, and ta-da!
Hot cocoa that will knock your socks off, rock your universe, and make you wonder why anyone would ever make hot cocoa with cow milk again! 
---
What do you think – am I exaggerating how good it is or do you agree this is the best thing you've ever tasted?