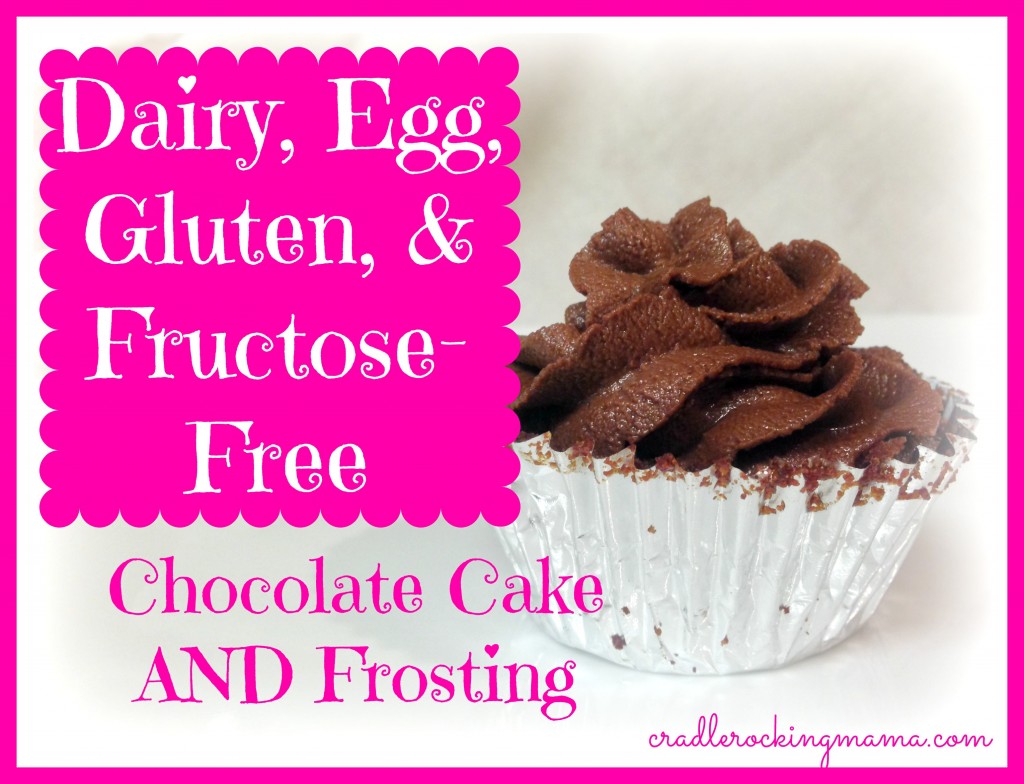 (Edited Post Notes: I know, I know – I said this was Vegan, originally! Obviously, it is clearly NOT a Vegan recipe once you read through it. What can I say? My tired Mommy brain thought writing "dairy, egg, gluten, and fructose-free" looked too cumbersome and made the decision that being dairy and egg free was vegan – without considering the rest of the recipe! Major head slap moment. Sorry for the confusion, but I've fixed it everywhere in the post now. We really need to coin a term that means "dairy and egg free", don't you think? Thanks for understanding!)
__________
Edited 6/25/2014: I've since created a MUCH better frosting/icing recipe! Check it out here!
__________
Call off the dogs, the hunt is over!
It's safe to say I'm pretty good in the kitchen, but one thing has stumped me this year: how to make a cake frosting with no dairy and no fructose.
The boys birthday cake was yummy but downright sad looking. It wasn't even just plain old yummy – it was "yummy for an allergy free cake" yummy…which we all know is code for "it kind of sucked but it was better than I thought it would be when you take all the good ingredients out".
That is just not  good enough! I've been on a mission ever since to find a way to make my boys a birthday cake next year that fits ALL the dietary restrictions: no dairy, no egg, no corn, no rice, no fructose, no wheat. Also, one that looks pretty would be preferable.
I think I finally found the solution to that nearly impossible task!
I went through several batches of cupcakes in this process, and the end recipe is a very simple variation of the Wacky Cake. That's easy enough to find anywhere, right?
But the frosting…Oh, the Frosting! That's where I'm particularly pleased!
This is an altered version of the traditional buttercream. It ices well, pipes beautifully, holds its shape and is exactly what a frosting is supposed to be – and it has NO sugar, NO fructose, and NO dairy!
In fact, I think you'll be shocked at the 'secret ingredient' I used to replace butter!
See, with Fructose Malabsorption, coconut is often a problem. It is for Jed; so using coconut oil or coconut mana isn't really an option. We also have suspicions of palm, which rules out a palm shortening.
I suppose I could have just used a regular vegetable shortening, but frankly, those skeeve me out. We try to avoid soy wherever possible, and the processing they use for vegetable (soy) shortening makes it one of the most unhealthy foods on the planet. Not to mention Zac is FPIES to soy, and I'd like to create a food that *might* one day be safe for him.
Since we also can't have dairy, what's a Mama to do?
The answer?
CHICKEN FAT.
I kid you not.
Remember when I shared about cleaning your fats to use in beauty care recipes and cooking recipes? I cleaned the chicken fat 5 times until it had no more little bits in it and had an almost flavorless taste.
Then I chilled it and used that instead of butter in the frosting recipe – and it works beautifully!
Anyway, that's the backstory…on to the recipe!
So here's what you do:
For the cake, mix your dry ingredients together well.
Then mix your wet ingredients together.
Then mix your wet ingredients into your dry ingredients and stir until just combined…don't stir too long!
I made cupcakes out of this, so I have to be honest: I don't know how well this will perform as a layer cake. I was so excited I had to share it anyway, and it works great as a cupcake recipe!
Make sure you fill your cupcake liners no higher than 3/4 of the way. They tend to want to 'overflow' and then sink. (Told you I went through several batches!)
So fill your cupcake liners…
Bake at 350 for 30 minutes, until a toothpick comes out clean.
Voila! Cupcakes done!
Let them cool completely, then frost them.
While the cupcakes bake is an excellent time to get your frosting together.
It's almost the same process as a traditional buttercream, except you don't really have to 'cream' your fat before adding the sugar. Chicken fat doesn't ever get terribly hard, and being chilled in the fridge gives it just the right texture.
As for the 'sugar' part of the recipe, I used straight dextrose powder. To make it perfect for a frosting, I turned it into powdered dextrose by grinding it in a coffee grinder with a tiny bit of Arrowroot Starch. The texture was perfect!
(And since I was making a chocolate cake with chocolate frosting, I didn't sweat it that there were still some coffee grinds in the grinder when I started. In fact, I took it a step further and used actual brewed coffee instead of water for the frosting when the time came – after all, chocolate and coffee go together, right?)
So for the frosting, I had a bowl full of homemade powdered dextrose, to which I added cocoa powder. Then I sifted that together well.
After sifting, I added the chicken fat, vanilla, and slowly added brewed coffee and water until it reached just the right consistency.
Divine!
I know this sounds improbable (and maybe even disgusting), but I promise it works like a charm! Darrel said it tasted just like chocolate frosting is supposed to taste, and even after being told chicken fat was in it said he couldn't detect the hint of it at all. Jed, of course, LOVED his "Happy Party Cakes" and sneaks cupcakes as often as he can.
Now, you can have this at room temperature for a short while, but it really will do better if you store the cake in the fridge. So yes, it will do fine for a half hour or so on the table at a birthday party, but before the photo op starts and after it's mostly been served, stick it back in the fridge. If the chicken fat melts too much, it won't hold its shape very well.
So try it – it might be just the answer for your dairy/soy/egg/wheat/fructose concerns at birthday party time!
__________
DELICIOUS DAIRY/EGG/GLUTEN & FRUCTOSE-FREE CHOCOLATE CAKE AND FROSTING
Cupcakes
– 3/4 c. almond flour
– 3/4 c. millet flour
– 1 c. dextrose
– 1/2 tsp. sea salt
– 1 tsp. baking soda
– 3 T. cocoa powder
– 1 tsp. vanilla
– 1/3 c. oil (I used olive oil)
– 1 T. white vinegar
– 1 c. cold water
Preheat oven to 350 degrees.
Mix together your dry ingredients and sift together well.
Mix together your wet ingredients in a separate bowl.
Pour the wet ingredients into the dry ingredients and blend until just combined – do not over mix!
Pour batter into cupcake liners in a muffin pan up to three quarters of the way to the top. Do not overfill!
Bake for 30 minutes, or until a toothpick inserted in the center comes out clean.
Frosting
– 1 1/3 c. dextrose
– 1 tsp. arrowroot starch
– 3 T. cleaned chicken fat
– 1/4 c. cocoa powder
– 4-8 T. coffee or water as needed for consistency
Using a coffee grinder, grind the dextrose and arrowroot starch until you've made a "powdered sugar" texture powder.
Add cocoa powder to the powdered dextrose and sift together well.
Add the chicken fat and 2-4 T. of the coffee or water and begin whipping the ingredients together.
Add more coffee or water as needed until it reaches a smooth, spreadable, but firm texture.
Store in the fridge until ready to use, then frost your cupcakes or cake as usual!
Enjoy having a "creamy", fructose free frosting for your cake!
__________
Have you ever tried something like this? What did you think? Do you have any fructose free frostings you're fond of?
__________
Real Food Wednesdays, Thank Your Body Thursdays, Healing With Food Friday, Frugal Days, Sustainable Ways and Let's Get Real.