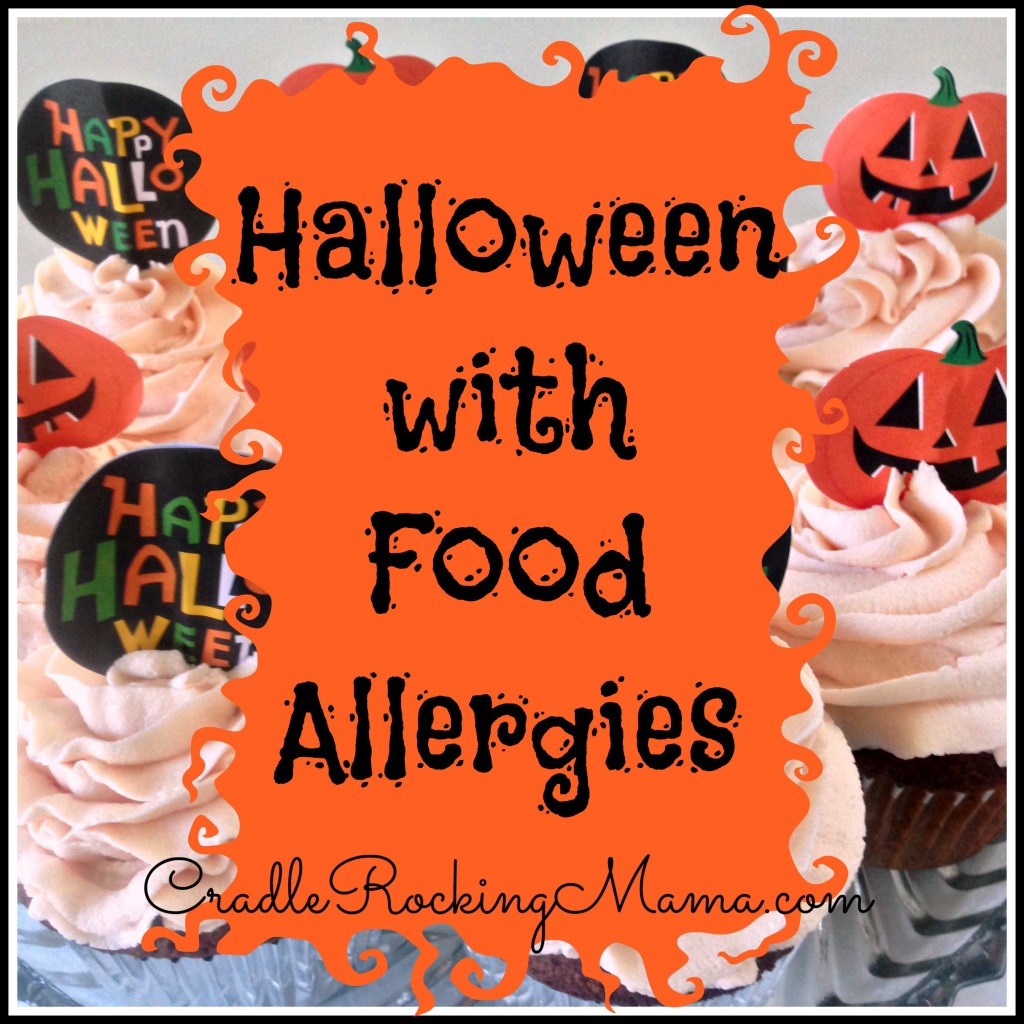 The "trick" in "trick-or-treat" can mean an entirely different thing for families with food allergies.
It's a real challenge to navigate holidays when your kiddos can't eat traditional treats. It's worse on Halloween, where one of the biggest parts of the holiday is for kids to run around mooching goodies from other people!
It is possible, however, for food allergic children to celebrate Halloween safely and with a ton of fun!
For starters, this year a new initiative has begun for food allergy kiddos. The Teal Pumpkin Project is all about offering alternatives. Read more about it at FARE.
Basically, anyone who wants to participate needs only to grab a pumpkin, paint it teal, and leave it out where the traditional Jack-o-lantern usually resides. This will send a message: non-food treats are available here!
Then make sure you have some non-food treats handy to distribute. Small glow-sticks, whistles, stickers, and cheap plastic toys are just a few suggestions.
It's a wonderful initiative that is appreciated and welcome, but it doesn't solve the problem of how to keep YOUR kiddo from receiving unwanted trigger foods (unless you only go to houses with a teal pumpkin on the porch!) For that, you have to get a little creative.
One idea is to go around your neighborhood just before Halloween night and hand out letters and a special treat bag explaining your child's food allergy, describing the costume they will wear, and asking if the residents would please give the special treat bag instead of their planned goodies when your food allergy kiddo stops by.
Another option is to instead drive your kids around to family and friends houses, where safe treats are available and there's no risk that a neighbor might forget the special treat request.
And there's always the option to give your children a "candy buy-back" plan. The kids go trick-or-treating, come home with their goodies and turn the whole kit and kaboodle over to Mom and Dad. In exchange, they get a cool toy, some money, or some safe treats.
For us, we don't really go trick-or-treating. We live rather far out in the country, so going door to door would either require driving long distances between houses, or driving in to town and mooching in a strange suburb. Not pleasant options for us.
Instead, we go to Halloween parties.
The trick there (pun intended), is that all the candy available for the kids is entirely unsafe for my kids. Traditional store-bought candy is chock full of egg, cow milk, sugar, corn syrup, and food dyes…which means neither of my kids could safely eat any of it.
So I bring homemade treats for my kids.
If you also need to bring safe treats for your kids to a party, or want safe treats to exchange for unsafe candies after Halloween night, get creative and plan ahead. You CAN provide delicious goodies for your kids!
I'll share with you what I made this year.
For starters, I'd noticed in the bulk candy section that chocolate covered nuts were proudly positioned right next to the sugary confections. Well, that's easy enough!
I made a batch of my homemade chocolate…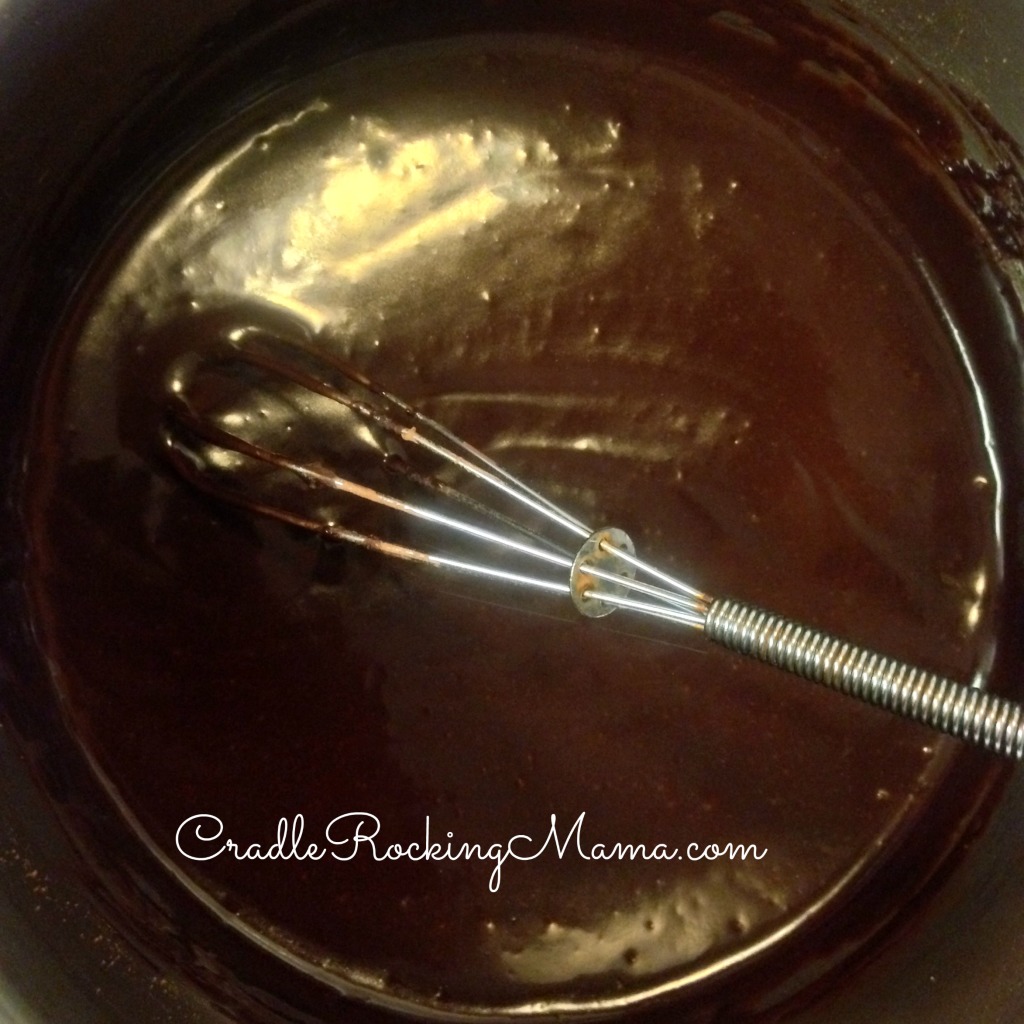 …dumped in 1 1/4 c. of pecans…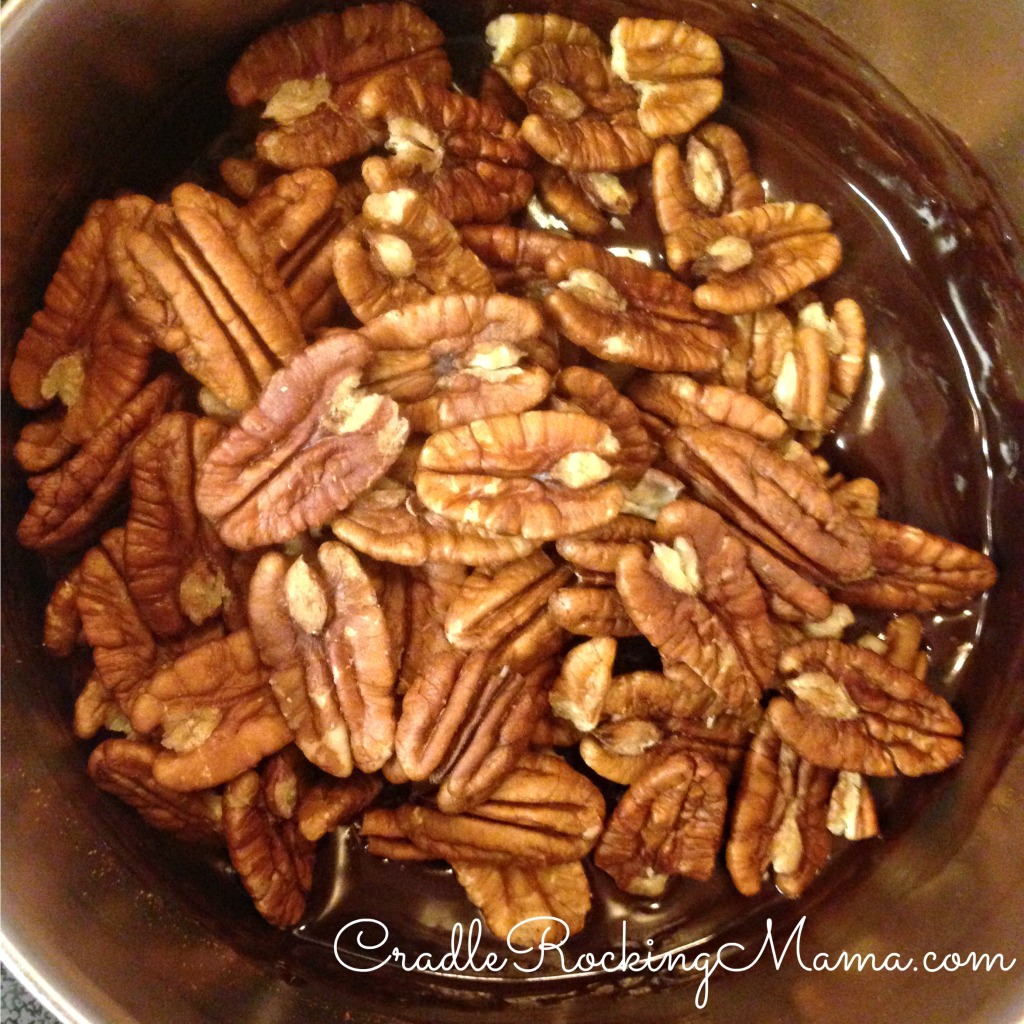 …stirred it around until the pecans were completely covered…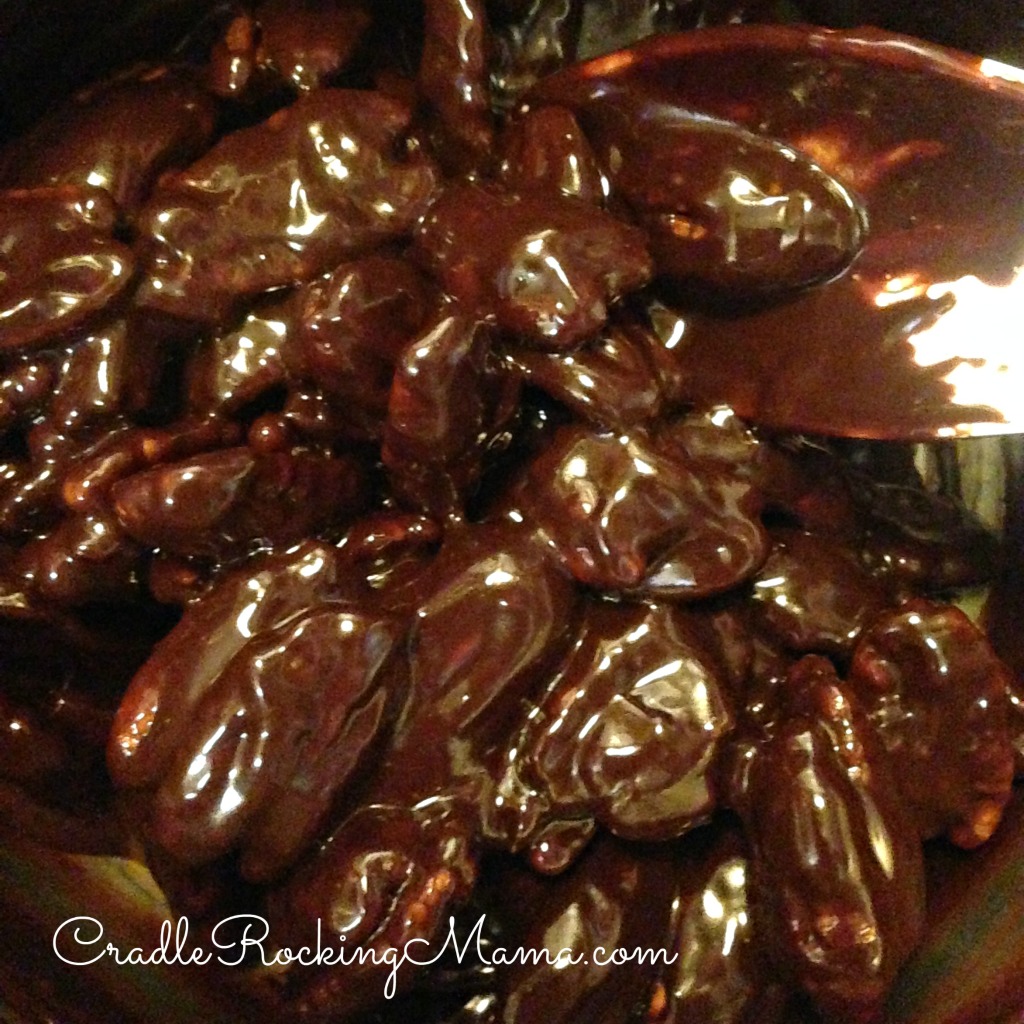 …and laid them out on a parchment lined cookie sheet. I tried to spread them out a bit so they wouldn't be huge clumps, but I had to be careful not to accidentally wipe all the chocolate off them while I did so. So, there are some clumpy bits.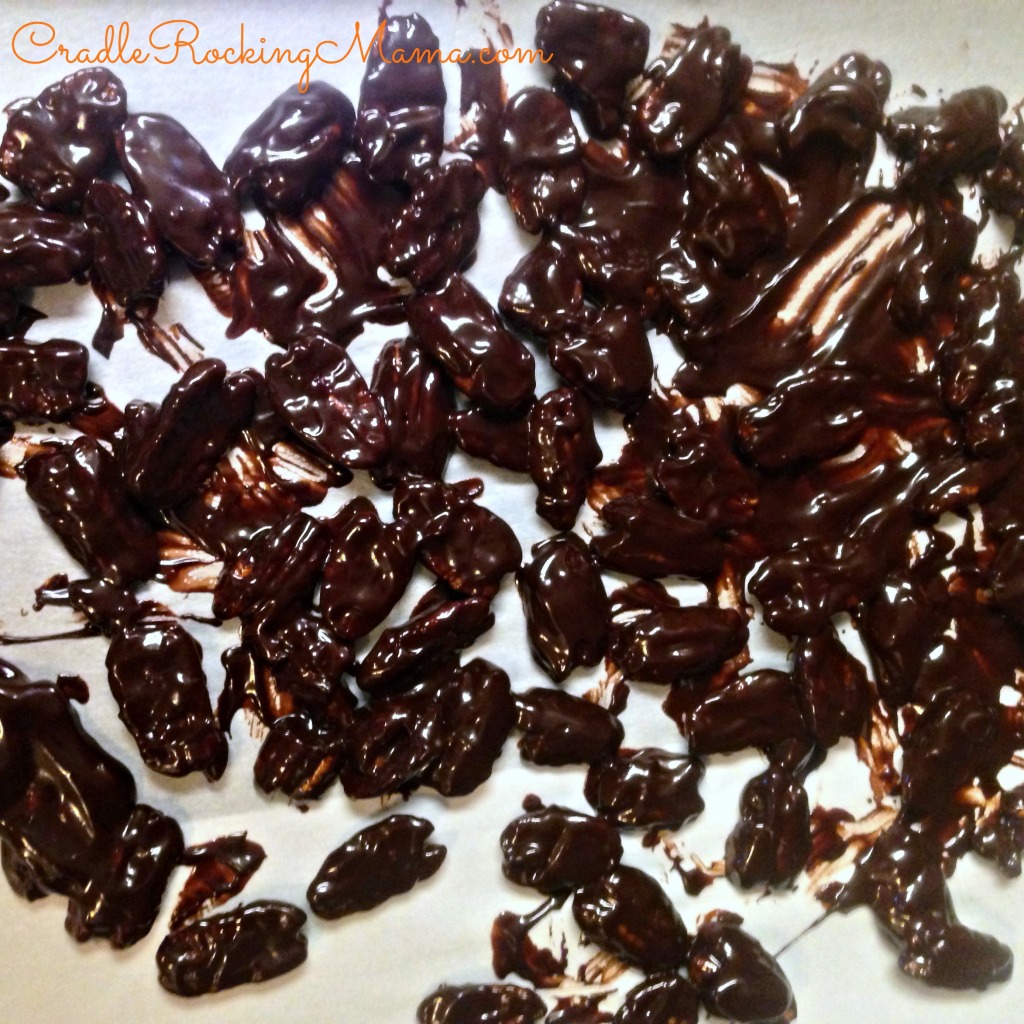 We were running a little behind on getting to our party, so I stuck the whole sheet in the freezer to set. After about two hours, I simply popped the chocolate covered nuts off the cookie sheet and voila! A yummy, gourmet style treat for my oldest son!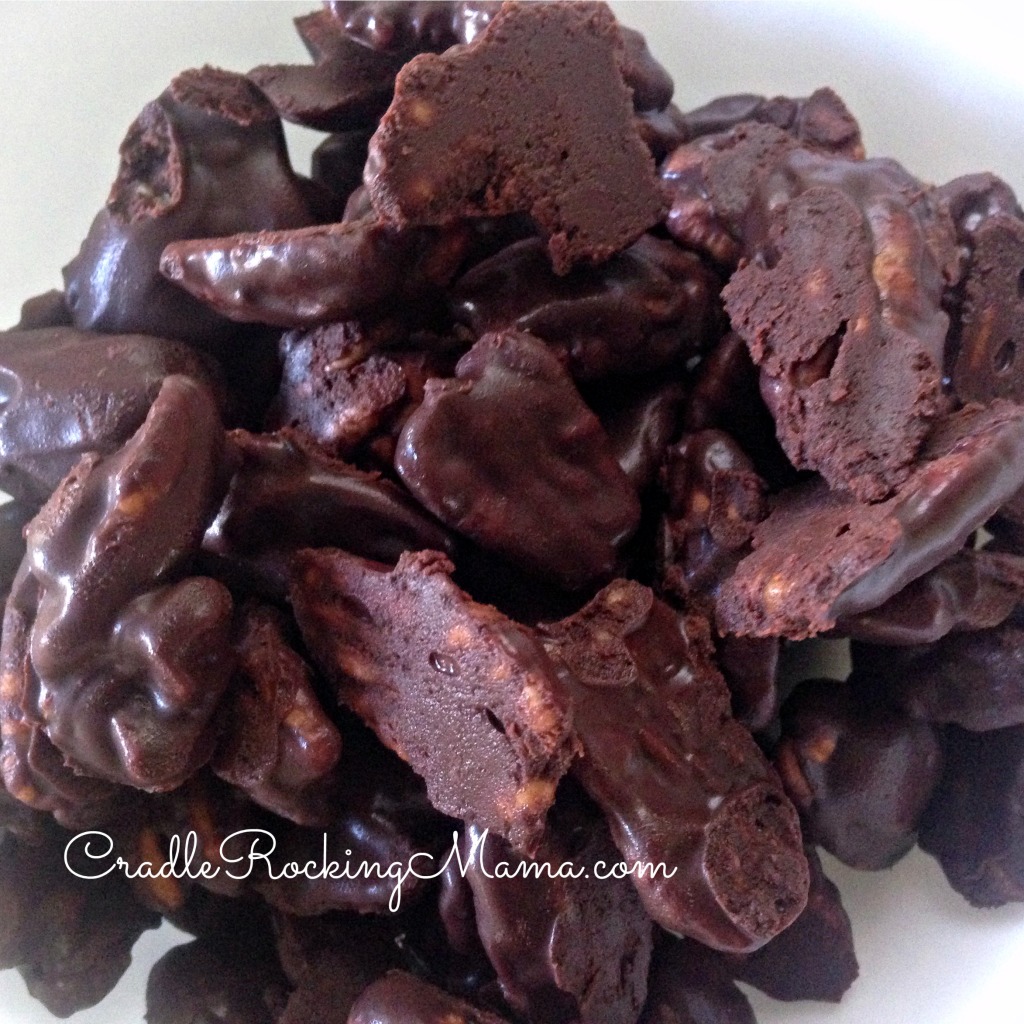 They definitely store better in the fridge; I still haven't mastered the art of chocolate making, even after a year. My chocolate tends to melt easily at the touch. Keeping them in the fridge gives someone a little longer snack time before their hands are covered in chocolate! (Not that that's a bad thing, necessarily!)
If nuts are unsafe for your kiddos, you could always make simple homemade chocolates without the pecans.
I also made a tray of homemade fruit snacks for Jed. This time I used raspberries instead of strawberries, and he LOVED them! He kept asking for his "red food". (No pictures, but they look just like the ones I made last time.)
Both of those treats could easily be placed in a treat bag, tied with a twist tie or bow, and given to your kiddos on Halloween.
For a party, though, you can't go wrong with cupcakes!
I made a batch of cupcakes using my dairy/soy/egg-free cake recipe, and iced them with my fructose-free, dairy-free icing recipe.
In case you are new here, I shared a frosting recipe using chicken fat in the cake recipe. Despite how that sounds, it is really quite good! However, my second recipe is a MUCH better icing, and it uses tallow instead of butter or chicken fat. It's absolutely delicious, and no one who has tried it can tell the difference between it and a traditional buttercream!
This time, I was lucky enough to find India Tree food coloring! I was aiming for orange icing, but I got a rather pale, peach-ish colored icing.
Natural food coloring isn't as vibrant as synthetic dyes, apparently.
It's very pretty, though. Well worth the money to buy these, if you avoid food dyes!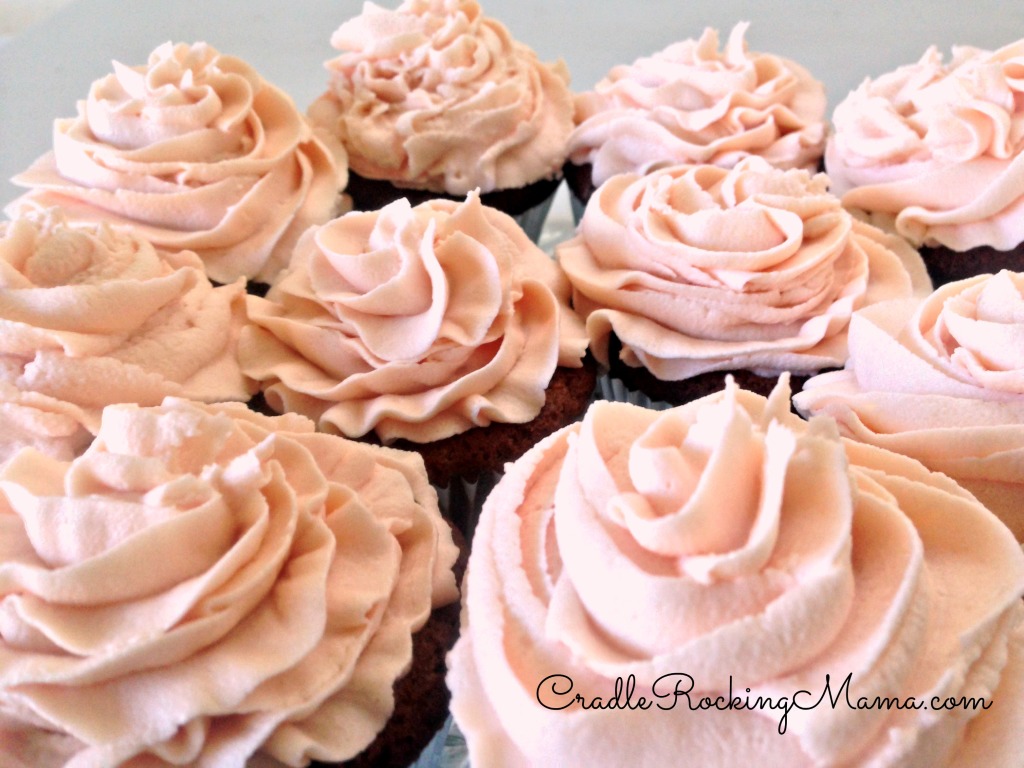 For just a dollar I bought these little Halloween cupcake decorations, and they really made them festive. My son loved eating his "pumpkin cupcakes"! (Now, that's a good idea – pumpkin flavored cupcakes! I'll try that next year.)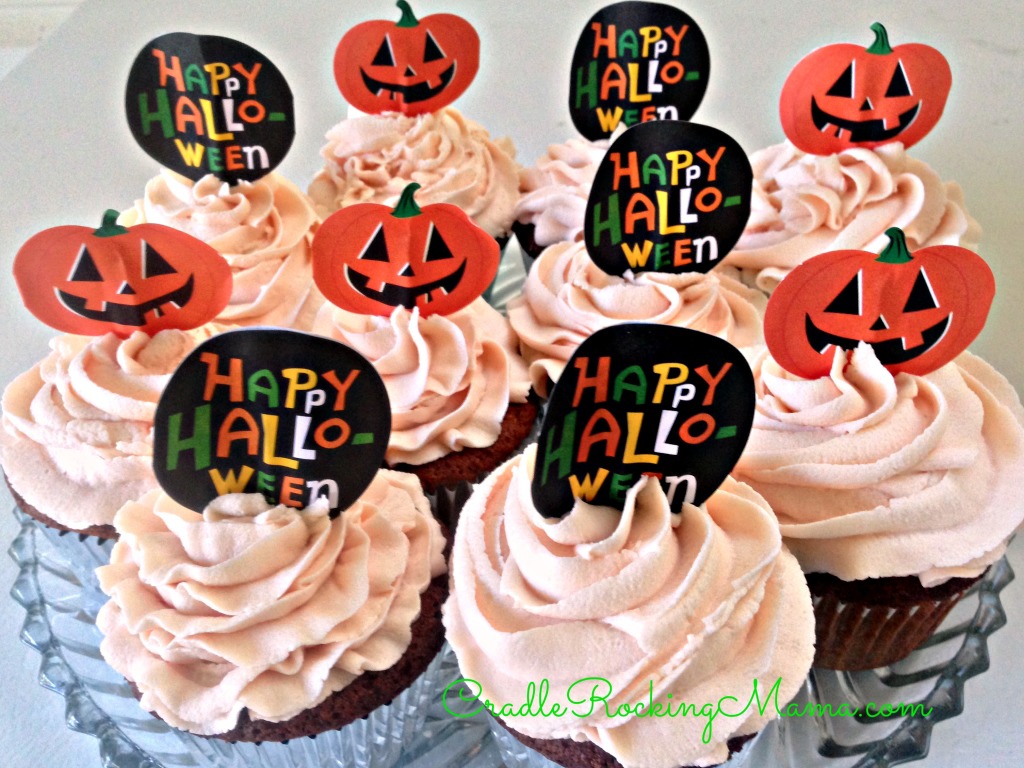 The real trick to celebrating holidays safely with your food allergic kids is to focus on the simple things. For example, Jed loves licking the beaters (which is food related, but still a simple joy that can easily be allergy free).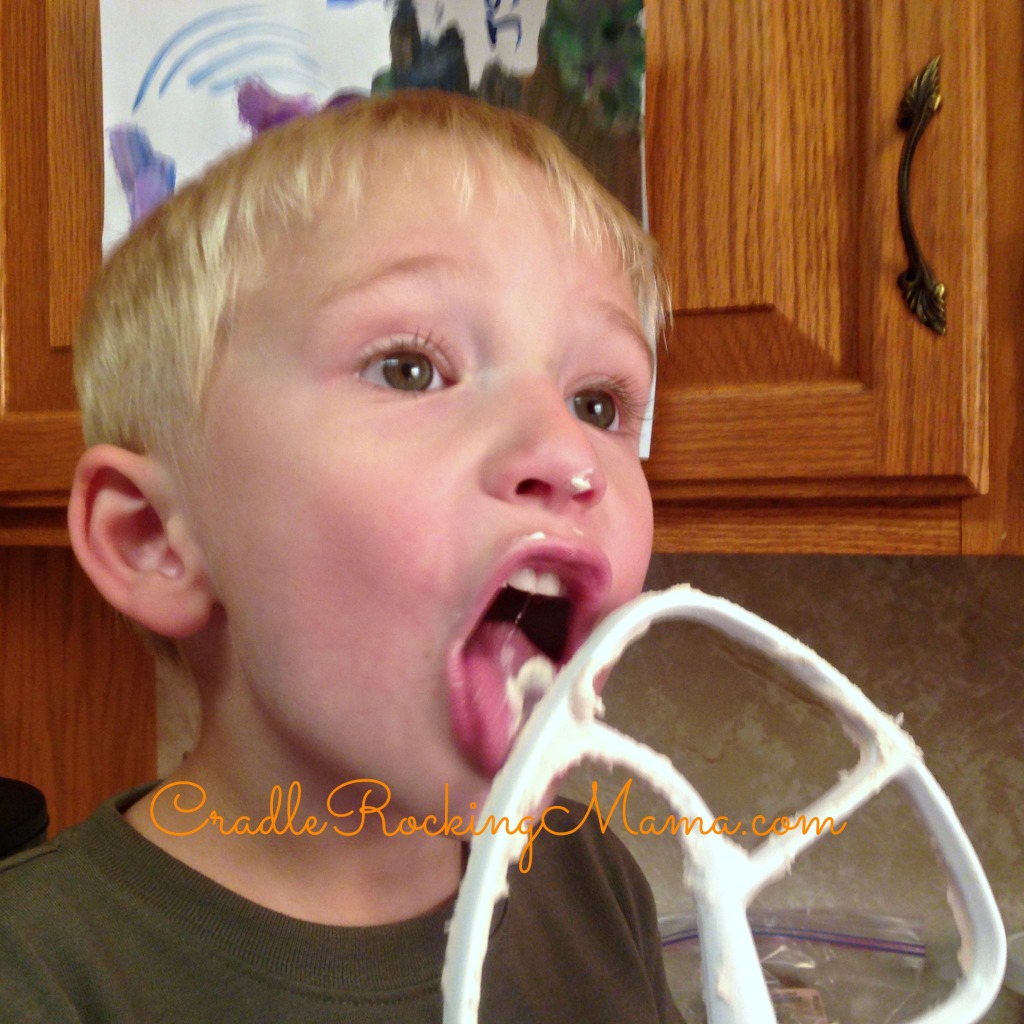 And carving the pumpkin is great fun for everyone!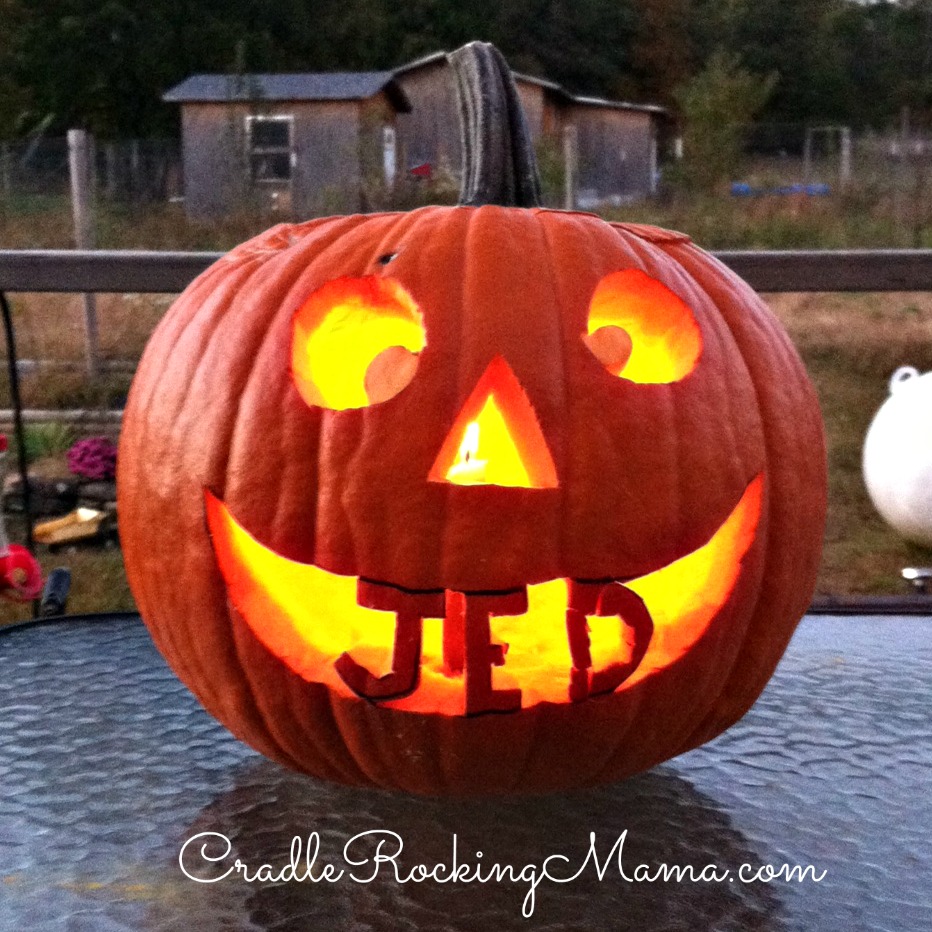 And dressing up in a costume is always a recipe for a good time. Especially if the costume means you get to roar or bark at will!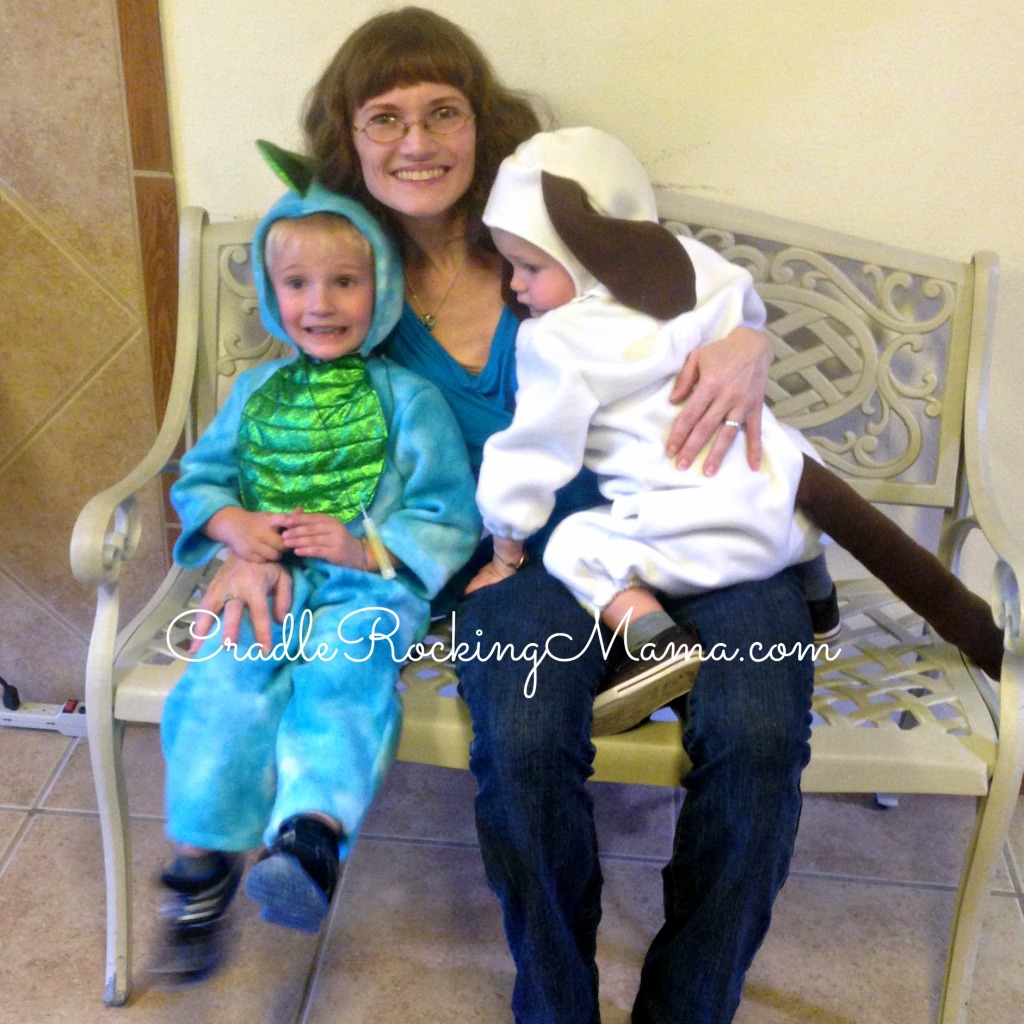 The kids had a blast at the party, too. There were lots of kids to play with, lots of games to play, and plenty of room to run around.
After the first fifteen minutes had passed, neither kiddo even NOTICED food or candy any more! They were more interested in playing and acquiring "loot" – all of which was not food.
So there are a few ideas you can perhaps utilize to make this Halloween safe and lots of fun for your food allergic kiddo.
What are your new favorite Halloween traditions with your kids?