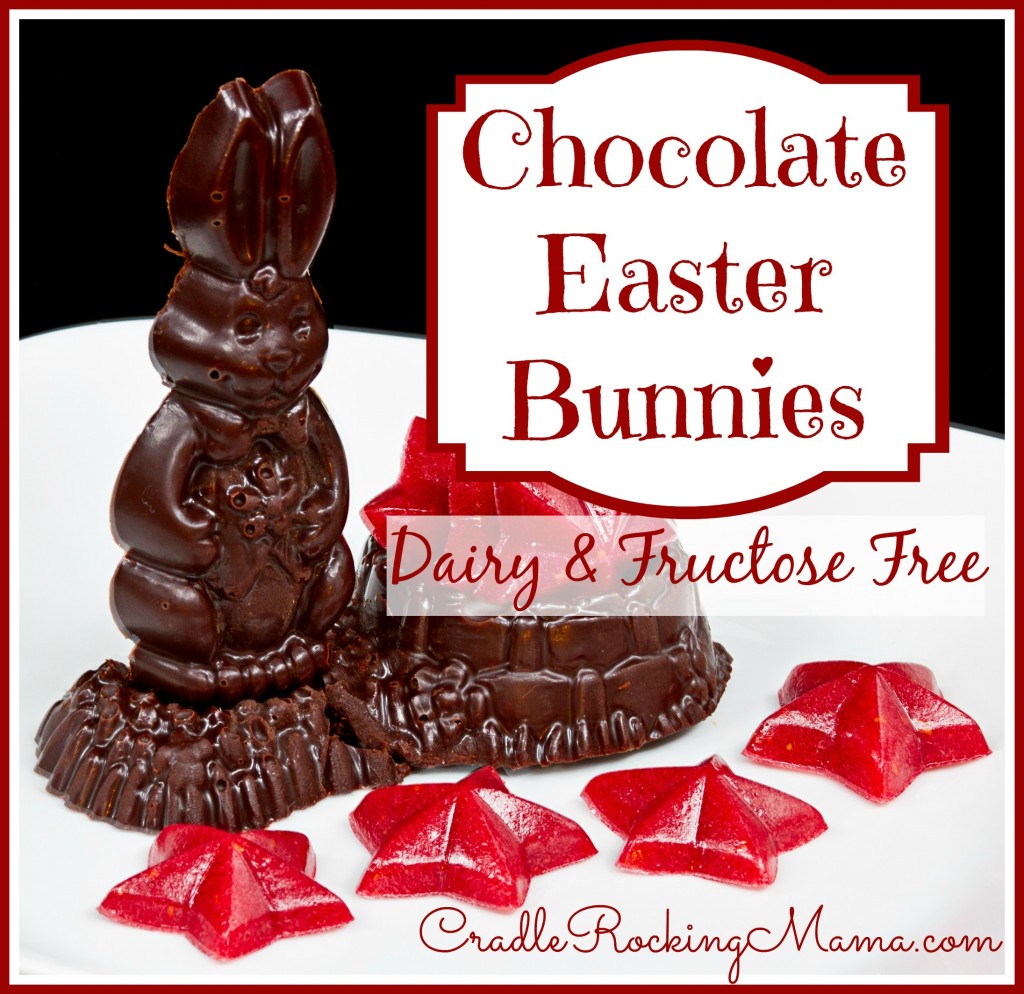 In February, I had a miserable time trying to make some Valentine's Day chocolates for Jed.  The poor child has never had a chocolate bar in his life, and I was determined to make some for him!  I failed, but I vowed I would keep trying until I got it right.
I DID!
I totally have to give a shout out to my friend for her wise counsel on chocolate making and her fabulous recommendation on where to buy cacao butter!  Thank you!!
In the end, I sort of…blended two different recipes to make the chocolates.  Here's what I did:
First I got my ingredients ready to go.  Both recipes I merged seemed to indicate that once the cacao butter was melted, you'd need to work fast, so I wanted everything pre-measured.
The cacao butter came in a large chunk, and my friend had told me that being even slightly off in your cacao butter measurements made a huge difference in how well your chocolate would set up, so it needed to be exact.  I used a knife to scrape the edges of the chunk until I had tiny little bits of cacao butter to measure out, and that worked really well!
I added a pinch of sea salt to the cocoa powder because I had read that a little salt really  makes the chocolate POP in flavor.  And I added some vanilla to the maple syrup because, well, vanilla makes almost everything better!
I set up a double boiler on the stove and put the cacao butter in to melt.  Every recipe I've ever read about making chocolate is very clear on this point: DO NOT BOIL YOUR CACAO BUTTER!  It needs to be melted, but only just!
As soon as the butter is melted, take it off the heat.
Add all your remaining ingredients and whisk until smooth and shiny.
Pour into molds (or a parchment paper lined edged pan) and let set.
Voila!  Homemade, delicious chocolates!
My recipe only made enough for two bunnies and one base, plus two little bits that I poured out just so Darrel could taste test for me.  In my opinion, the chocolate sets better in the molds when it's not terribly hot in the pan.  The little bits I poured out, I had to reheat a bit in order to pour, and they didn't come out as nice and firm as the bunnies and base did.
Darrel's verdict?  Really good!  He said it's somewhere between a milk and a dark chocolate, but the texture was just right, and the sweetness was just right.  Actually, he said we could probably drop the amount of maple syrup by a little and still be okay, but that it wasn't too sweet.
In all these many months of an elimination diet, and in all the cooking I've done since it started, I have yet to truly be tempted to eat something not on my "ok" list…until these chocolates!  I REALLY wanted to taste them!
But, I'm kind of a chocoholic, so maybe that's it.
I really hope Jed likes his first chocolates…he has no idea how much cocoa powder and maple syrup I went through trying to get this right for him!
__________
So did you see those star shaped red treats with the chocolate bunny in the last picture?  Well, chocolates are great (are they ever!) but on Easter, I always like Jelly Beans.
It's the only time of the year I eat them, so it's kind of a special thing for me.  I won't be able to eat any this year, but I hoped I could come up with something sort of like them for Jed.
I found An Organic Wife and her Homemade Fruit Snacks, and thought those sounded just like what I was hoping to make!
I followed her instructions almost exactly, though I used maple syrup instead of honey (to make them fructose friendly).  These were really simple and very wholesome, but since I basically followed her recipe with just that one substitution, I won't write the recipe here…click here for the recipe, and you might want to browse while you're there – she has lots of things that looked very healthy and yummy!
So, here's how it works:
Get out your fruit and put it in a pan on the stove.  I used a combination of 1 cup strawberry, 1 cup raspberry, and 1/2 cup rhubarb, just because I was feeling adventurous and had them in my freezer.  (Why did I have rhubarb?  I don't know!)
You can use fresh fruit or frozen, and I opted for frozen.
Add some lemon juice and set it to medium heat.  Cook it until the fruit is softened, then puree it with an immersion blender.  (My little immersion blender has been getting quite the workout the last few days!)
Add your maple syrup (or honey, if that's okay for you) and stir.  Then S L O W L Y add the gelatin to the fruit, while whisking constantly. Cristina, the Organic Wife, was very clear on this point: add it slowly so it won't clump.
I thought  I was adding it slowly.  Apparently, my "slowly" and her "slowly" are different creatures, because I got clumps.  I had to dig a few out with a spoon, and beat the rest into submission with my whisk!
Save yourself the trouble and add the gelatin slower than molasses in January, m'kay?
Once it's all mixed together, start pouring it into molds.  You can also pour it into a parchment paper lined pan with an edge, if you don't want to use molds.  Then it comes out in nifty little cubes!
Let it set in the fridge for a few hours and ta-da!  Really healthy fruit snacks!  Let's see that close up again, okay?
Darrel said they were sort of rubbery, but when asked more specifically he said they mostly resembled gummy bears more than jelly beans.  
Oh, well.  Jed hasn't ever had any of these things, so he'll probably think they're pretty awesome!
They sure looked good to me, and Darrel did say they tasted good, just not what he expected.  He did mention that he thought the straight strawberry flavored ones would probably be tastier.
So I'll be making another batch of Fruit Treats before Easter morning!
Dairy and Fructose Free Chocolate Easter Bunnies
Delicious, REAL chocolates - without dairy or fructose! Make candies for any time of the year, but use bunny molds for a real chocolate Easter bunny.
Author:
Cradle Rocking Mama (Carrie Summers)
Recipe type:
dessert, fructose free, dairy free, soy free
Ingredients
½ cup cacao butter
4 T. cocoa powder
4-6 T. maple syrup
pinch of sea salt
1 tsp. vanilla
Instructions
Put your cacao butter in a double boiler on your stove and heat it slowly over medium heat until just melted. Immediately remove from heat.
Add the remaining ingredients to the cacao butter and whisk until smooth and shiny.
Pour into molds or onto a parchment paper lined pan with an edge.
Let set in the fridge for at least half an hour.
Enjoy some delicious, and really fairly healthy for you homemade chocolate!
When this elimination diet is over with, I'm making a huge batch of this chocolate and adding some puffed rice to it to make a crunch bar, and maybe one batch with some orange added for flavoring, and another batch with some cherries, and I may actually do one with some chopped walnuts or pecans!  I may go a little crazy because this stuff is too delicious and easy to ever go back to store bought chocolates again!
Whew! I really hope these recipes can help you give your little ones treats they've never had before this Easter.  I'm so filled with anticipation over seeing Jed's face when he gets candies for the first time in his life, I think I'll enjoy them more than he will!  
Do you have any fabulous candy recipes that are safe for food allergic and Fructose Malabsorbative kiddos?  Please share!
Have a Joyous and Holy Easter Weekend!
__________
This post shared with: