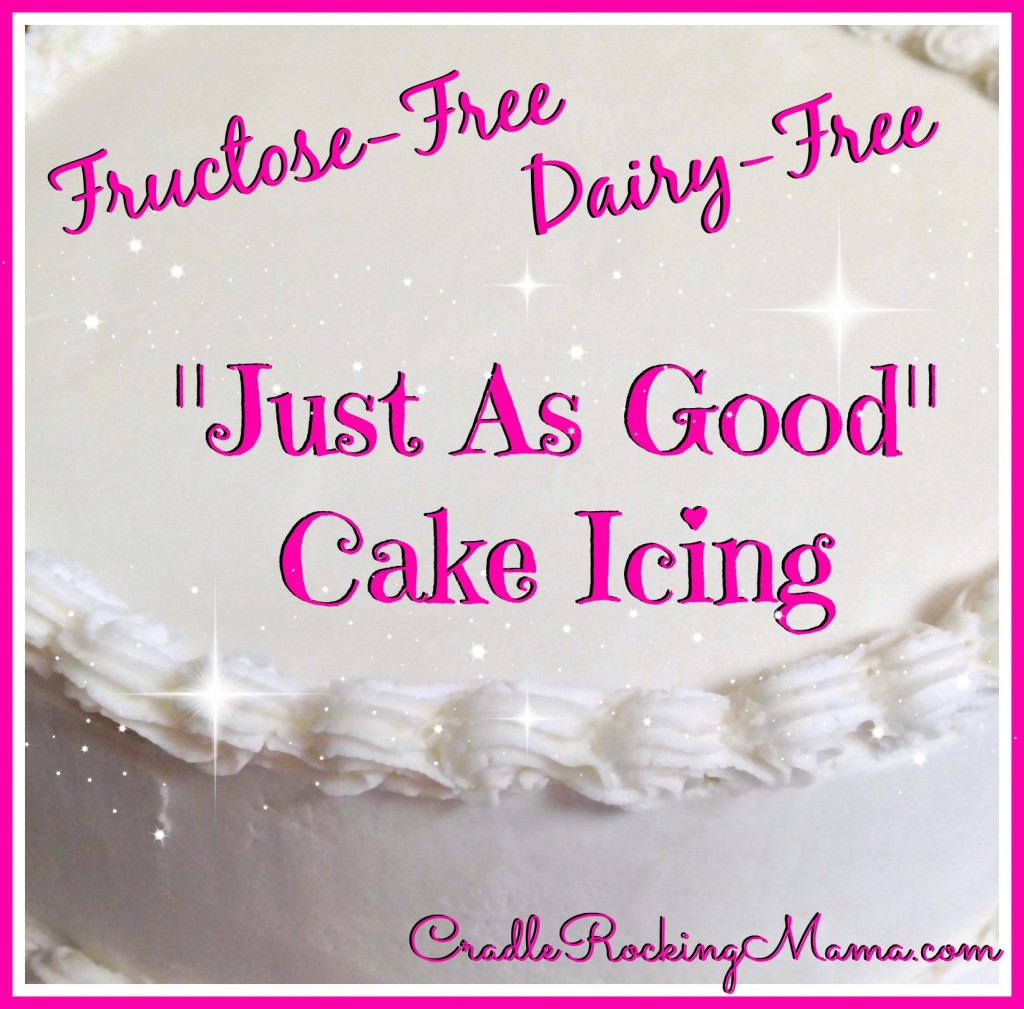 A while ago I shared how to make a cake or cupcake icing with no fructose and no dairy, and said it was awesome.
I was mistaken.
It was just okay.
THIS is awesome! Spectacular, amazing, stupendous, delectable, perfection.
Okay, I'm running out of adjectives. So here's the story:
Last weekend was the double triple birthday party for my boys. Jed turned 4 and Zac turned 2 a few weeks ago.
I knew Zac couldn't have a traditional birthday cake, and planned to make him a variation of the banana quinoa breakfast bake. Once again, though, I was determined to provide something resembling a normal birthday cake for my cow-milk-free, fructose-free, soy-free, egg-free son.
Running short on time this year due to insane amounts of cauliflower freezing and returning to work, I accepted that I would simply make my previous cupcake recipe.
At the last minute I decided to make a cake instead of cupcakes.
I really don't know why; despite years of tutelage from a mom who could make a living off her stunning wedding cakes if she so desired, I – quite frankly – suck at making pretty cakes.
They always taste delicious, but look like they fell off a truck.
I've tried, but I could never seem to do what mom was telling me to do. It was like I had "cake block" or something.
For whatever insane reason, though, I figured I'd give it another shot.
The allergy-free cakes came out of the oven and were laid out to cool. It was time to make my icing.
Traditional buttercream icing is powdered sugar, butter, water, and whatever coloring or flavoring you want to add.
Jed can't have large quantities of sugar, can't have cow butter (and I don't know if goat milk butter would perform as well – even if I had made enough for the icing!), and we avoid petroleum based food anything at all costs.
So how do you make icing with those restrictions?
Creativity.
Take some dextrose and arrowroot starch and grind it in a coffee grinder until it has turned into powdered dextrose. It looks just the same as powdered sugar.
Dump that in to your mixing bowl, and then grab your fat.
In my previous icing recipe, I used chicken fat. It's what I had, and it worked okay.
This time, I didn't have any chicken fat. But I DID have some beautiful, freshly cleaned tallow in my fridge!
I set it out to soften at room temperature and used that instead of butter or shortening.
Why would I not just use that lovely vegan palm shortening you can buy pre-made instead?
Two reasons: one, it's apparently really horrible environmentally, and two, some fructmal people have a hard time with Palm and coconut. Jed is one of them.
So tallow it is!
I added cold water and vanilla and turned on my mixer, and lo and behold, I got icing that looked every bit like the icing my mom used to make me out of butter and sugar!
Not only did it look identical, it performed the same!
For the first time in my life, I got a crumb coat to work!
Isn't it gorgeous?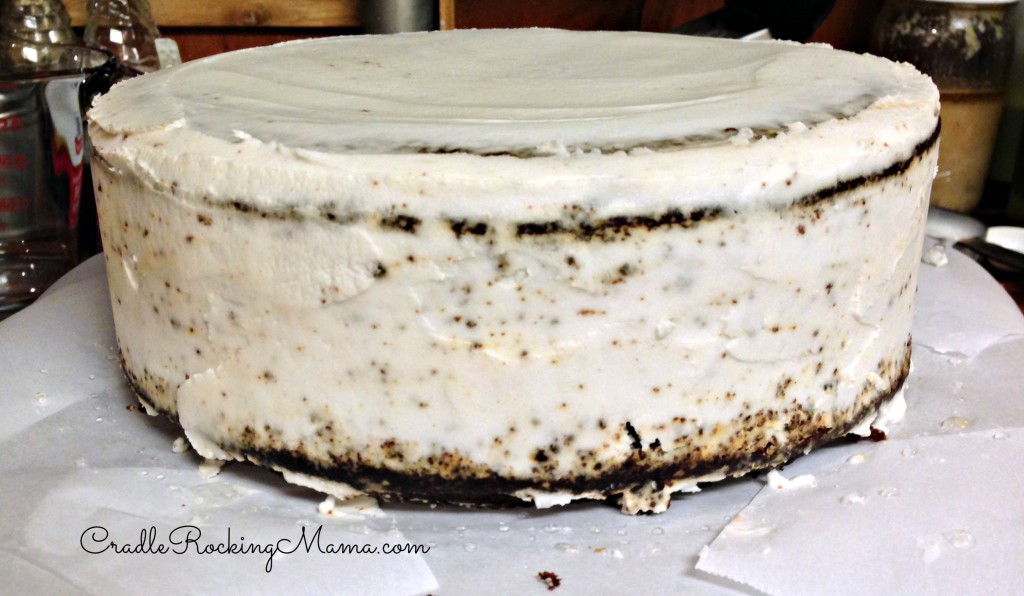 Once I had the crumb coat done, the cake went in the fridge to set up and I went to bed.
The next morning I got up and made more icing. Then I finished icing the cake.
It was really hard to not break out into happy dances in the kitchen while I iced the cake, because every step was coming out PERFECT.
NEVER in my life have I made a cake that looked remotely edible!
It's the best birthday gift I gave myself this year!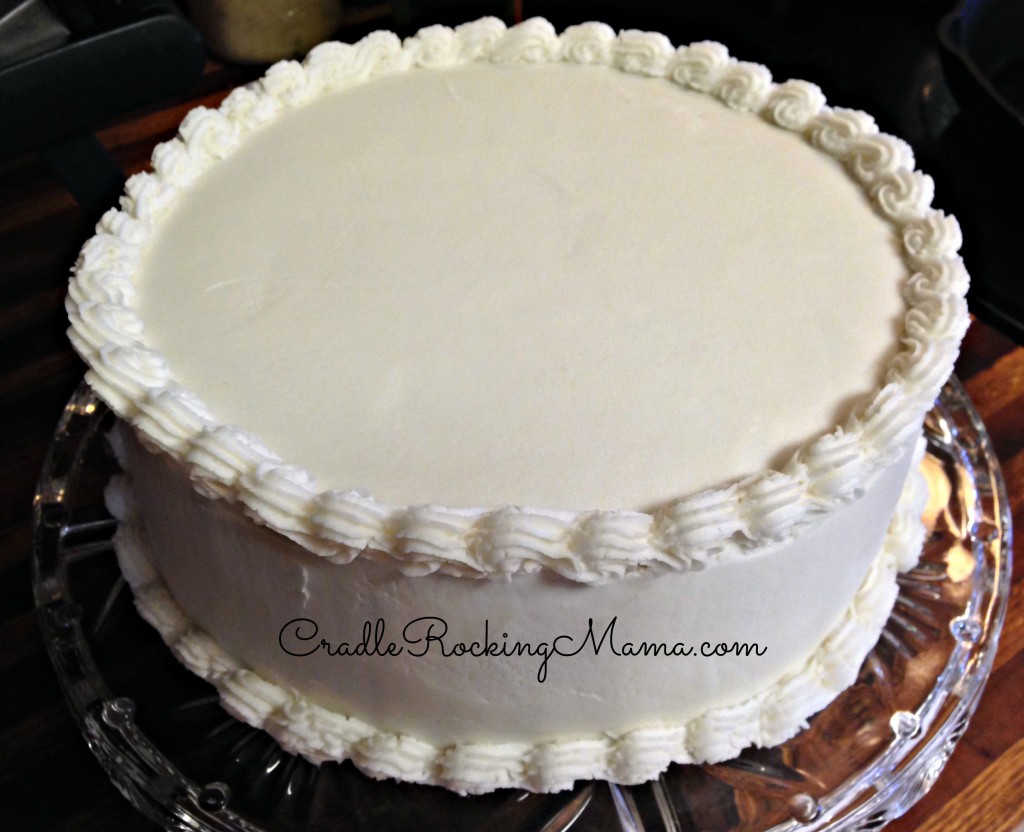 Even better was when I was able to let Jed partake in the traditional kid activity of licking the beaters! Just days shy of his 4th birthday, it was the first time he'd ever really been able to do that!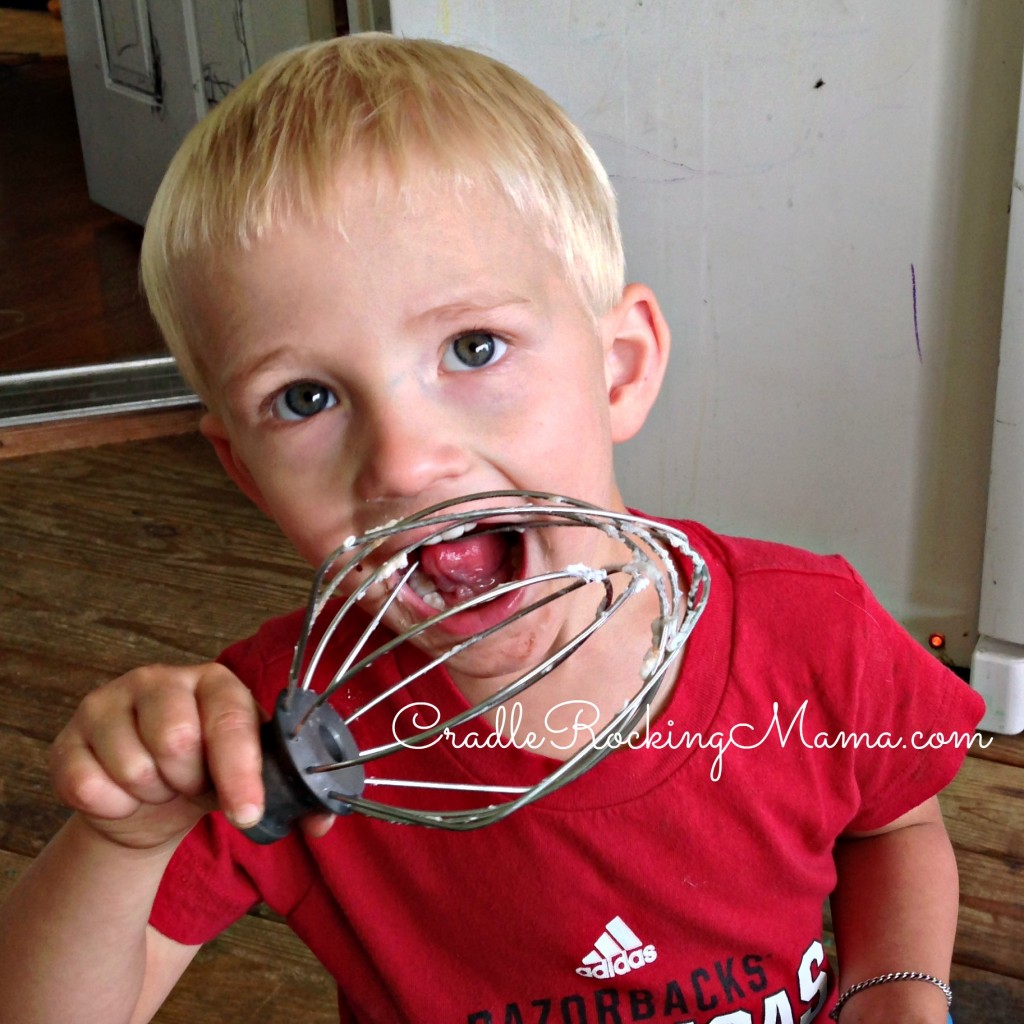 When I was done with the cake, I decided to go one step further and color the remaining icing to write "Happy Birthday Jed" on the top.
Again, though, we don't use food coloring.
I used beetroot powder, instead.
I've been experimenting with other things in my kitchen lately, and one of those experiments required I dehydrate beets and powder them up. So I just happened to have some laying around!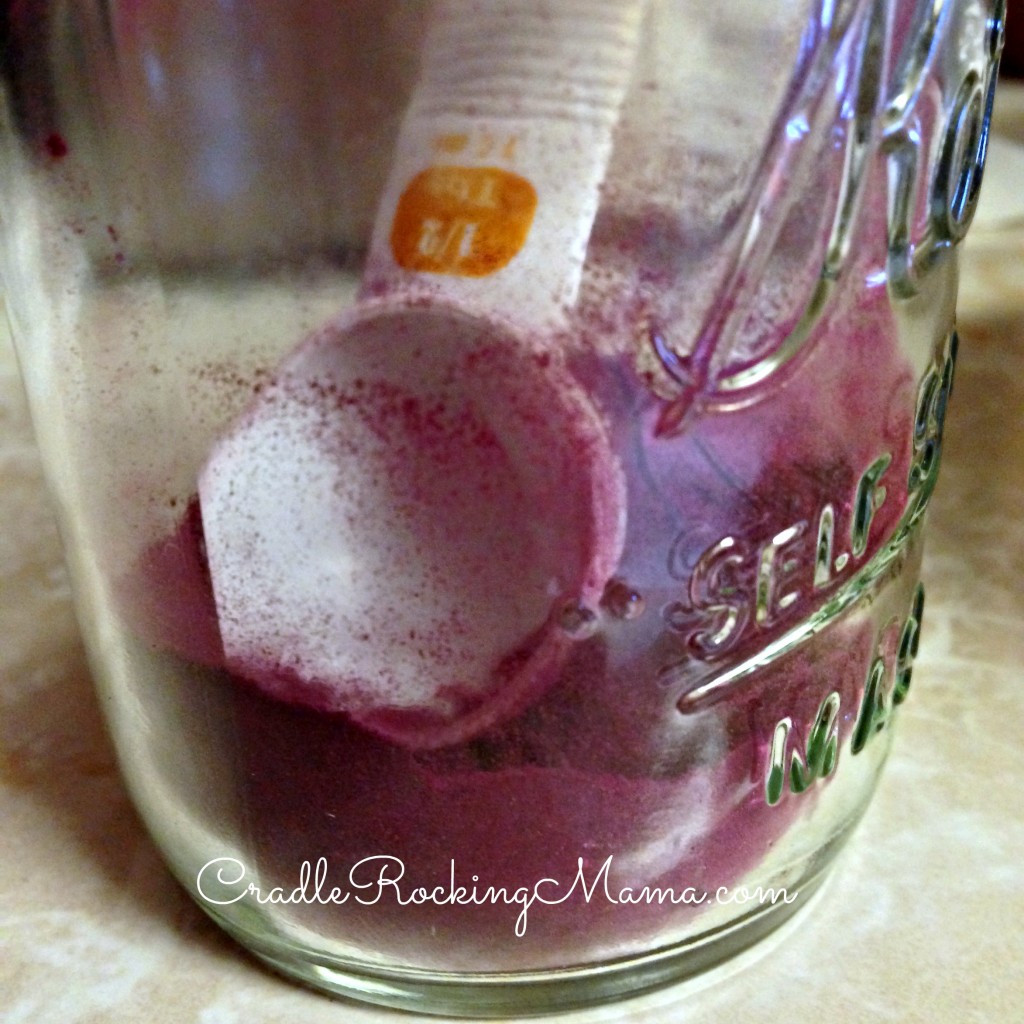 I started with 1/2 T of beetroot powder for about 2 c of icing. That made a fairly nice pinkish-mauve color.
I added another 1/2 T and got a definite pink.
Another 1/2 T and it became a pinkish-purple, and I called that good enough.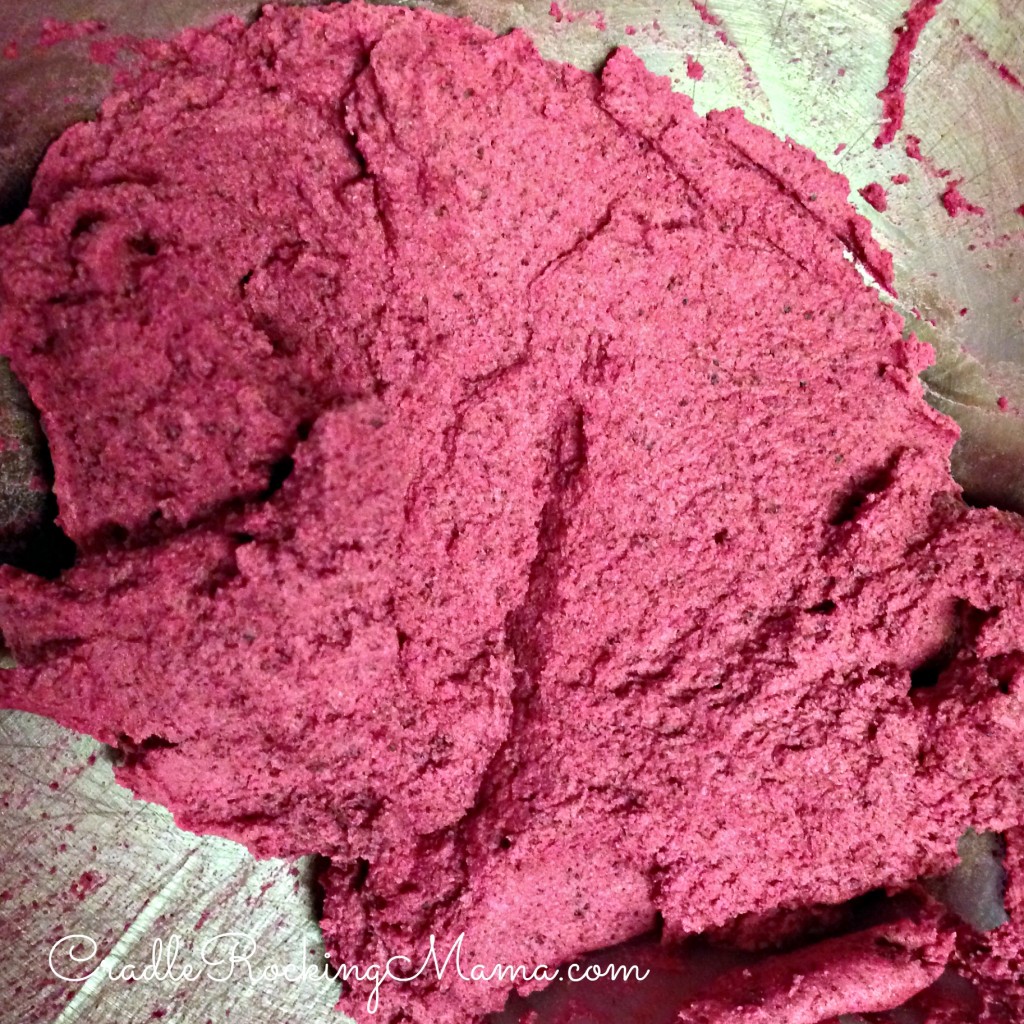 With adding 1.5 T of powder, I had to add a bit more water to the icing to keep the consistency right. Unfortunately I don't know exactly how much I added, as I was just dribbling drops in as I went.
If you use powdered veggies as a food coloring, just keep in mind you'll need to increase the liquid content as well. Add slowly, stirring as you go, to keep the consistency of the icing firm but spreadable.
For the first time in his life, my son got a real birthday cake that looked gorgeous and tasted great that I made for him from scratch!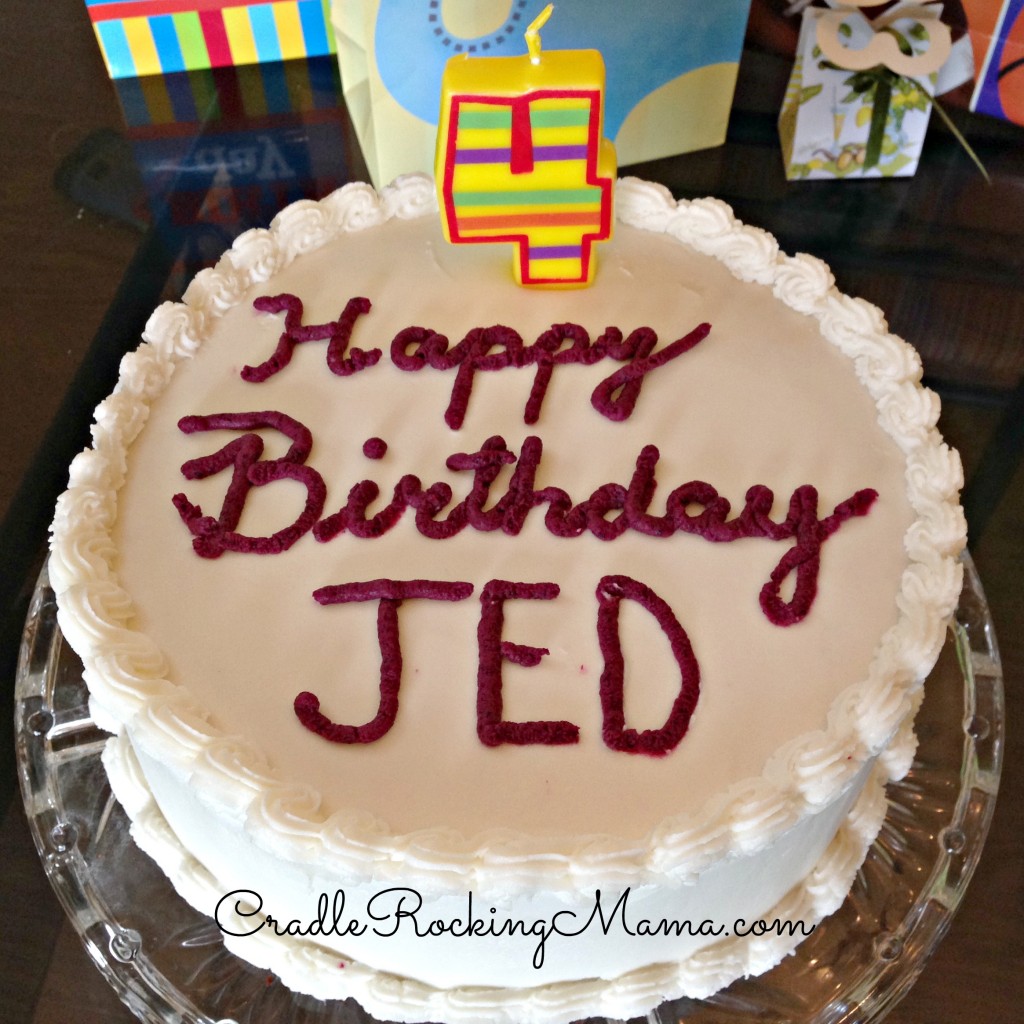 To my chagrin, I noticed that almost everyone left icing behind on their plates when done eating. After all my hard work, I had to know WHY? Why didn't my family like the icing?
Turns out, my family is not a fan of the so-sweet-it-hurts-your-teeth traditional buttercream icing.
For years, without my knowledge, Mom had added one extra thing to her icing to make it sweet, but not sickly so.
Lemon juice.
Apparently adding 1 T of lemon juice or so to the icing when you make it cuts the sweet just enough.
Curious, I put a little of my icing on my tongue and – Holy Moly! That's way  sweeter than the icing I remember from my youth!
So now I know to add a little lemon juice to my icing for a sweet we can all enjoy.
If you also need to keep the sugar content down, and avoid food dyes, and can't use dairy, I hope one or all of these tricks will help you make your family gorgeous birthday cakes!
Happy baking!
Fructose-Free, Dairy-Free "Just As Good" Icing
You won't know the difference when you taste this cake icing made with no fructose, dairy, or artificial colors! A must-have addition to and FructMal or butter-free kitchen!
Author:
Cradle Rocking Mama (Carrie Summers)
Ingredients
2⅔ c. dextrose
2 tsp. arrowroot starch
6 T. cleaned tallow
1 T. lemon juice
½-1 T. vanilla
3-7 T. cold water
powdered veggies for coloring (optional, to preference)
Instructions
Using a coffee grinder, grind the dextrose and arrowroot starch until you've made a "powdered sugar" texture powder.
Add powdered veggies to the powdered dextrose and sift together well. (Optional. If you need white icing at first and only want to color a small amount for lettering or decoration, you can add this later.)
Add the tallow, lemon juice, vanilla, and 2-4 T. of the water and begin whipping the ingredients together.
Add more water as needed until it reaches a smooth, spreadable, but firm texture.
Enjoy having a "creamy", fructose free, dairy free frosting for your cake!
__________
This post shared with: