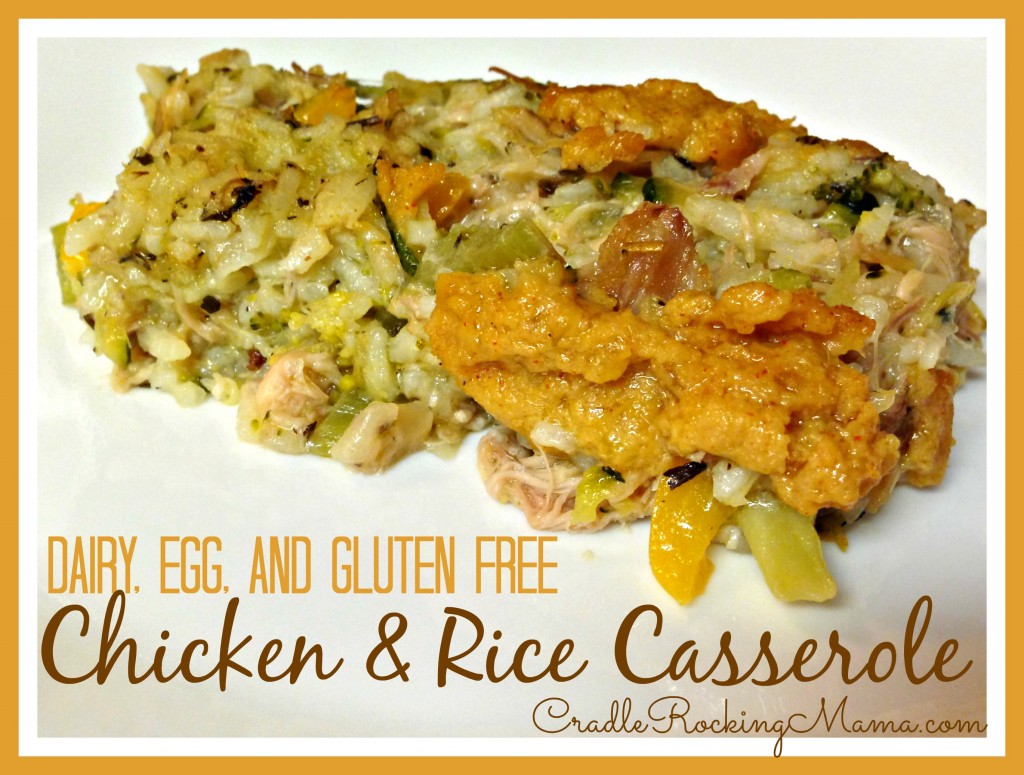 Well, it's been a little serious here lately, what with probiotic trials, paper eating, and Mommy Meltdowns, so I'm lightening it up a bit with a new recipe today!
When Jed was first diagnosed with MPI (Milk Protein Intolerance) I struggled mightily in the kitchen.  ALL of my limited cooking skills were centered on milk, cheese, butter, oh, and did I mention DAIRY??  Every casserole I knew had a can or two of Cream of ____ soup added; every dish I made required a generous handful of cheese on top.
So early on, I searched for some casseroles I could make dairy-free, and I found a pretty decent Chicken and Rice Casserole to try.
I modified it a bit, and it was a HUGE hit with the family!  We all loved it!
Now, with Jed's fructose issues, I've had to modify it quite a bit more.  I was worried it wouldn't be the same, but my boys still inhaled it and pronounced it "delicious!"  Whew!
This probably won't be safe 'as-is' for an FPIES family, but if Zac passes quinoa, I'm willing to modify the casserole again!
So here's what you do:
Cook the rice.  I like to use broth for the liquid, but water will do just fine.  (I didn't take a picture of that because, well, it's rice.) *UPDATE: this works well half and half rice and quinoa, so feel free to try this with entirely cooked quinoa!
Heat up some fat in a pan.  The original recipe called for butter, but that's a no-go for us dairy free folks.  I used to use Earth Balance Buttery Spread, but I haven't trialed it on Jed yet and am not sure it's safe for his fructose issues.  Since I was eliminating such a flavorful addition to the casserole, I saved some lovely chicken fat in the fridge to use instead.  It did exactly what I hoped and imparted tons of flavor to the dish!
Then toss in your veggies.  This time I used celery, broccoli, onion, bell pepper and zucchini because it is what I had in the fridge and we were trialing Jed on onion at the time.  (Turns out zucchini is on the 'avoid' list for fructose, so we trialed 2 veggies that night!) In the past I've thrown in carrots, garlic, peas, and yellow squash, so really, use whatever veggies you'd like!  Cook the veggies until they are soft.
Add your flour.  The original recipe just used regular ol' all-purpose; us allergy folk use strange things like millet and quinoa.  I used quinoa flour, and it worked beautifully!
After you've mixed the flour around a tad, dump in your liquid.  Water works, but broth is better.  Stir it up until the flour isn't clumpy, then cook it a little until it starts to thicken.
Throw in your chicken.  You could certainly modify this to use a different meat, or even make it a veggie casserole with some nuts added for protein!  I used chicken, though.  (I usually cook up a big batch of chicken in the crock pot and shred it, then portion it into 2 cup servings in Ziploc baggies to freeze.  Then I'm ready to go whenever I need some shredded chicken for a recipe.)
Oh, and at any point you like, you can toss in some seasoning.  Sea salt and pepper, of course, but also basil, parsley, thyme, oregano…whatever floats your boat!
Next you mix your rice in with the veggie sauce and mix it well.
After that, pour your mixture into a casserole dish (spray it with some sort of cooking spray first; I make my own homemade "Pam" with olive oil and water in a misting bottle) and pop it in the oven!
*At this point, you could easily pop this in the freezer.  I often make a double batch just to be able to have a quick, ready to go meal for later.  To heat after freezing, simply cook it for about twice as long!  Seriously, could this recipe be any better?
I decided to use the last little bit of my homemade cheese as a topping on one part of the casserole to see how it worked and if it tasted okay.  It worked, and it tasted great!  So that's an option if regular cheese or the vegan cheese is okay for you.  I added it about 15 minutes before I took the casserole out of the oven.
Looks great!
Dairy, Egg & Gluten Free Chicken & Rice Casserole
This is a delicious casserole - with no dairy, egg or gluten at all!
Author:
Cradle Rocking Mama (Carrie Summers)
Recipe type:
dinner, casserole
Ingredients
2 c. rice (or quinoa)
2 c. cooked and shredded chicken
½ c. fat (oil, butter, schmaltz)
¼ c. flour
1½ c. liquid (water, broth)
veggies (to taste - probably no more than about 4 c. total)
onion & garlic (if they're safe)
Instructions
Cook rice.
In another pan, heat your fat and add your veggies, onion and garlic. Cook until softened.
Add the flour and stir. Mix the liquid in until the flour has no clumps. Cook until thickened a bit.
Add chicken and stir. Toss in whatever seasonings you'd like.
Mix in the rice completely.
Grease a casserole dish and pour the mixture in. Bake at 350 degrees F for half an hour (a little longer won't hurt it!)
If you'd like, add some cheese to the top about ten minutes before removing the casserole from the oven. (Bread crumbs would probably be good, too!)
Enjoy!
This post shared with: