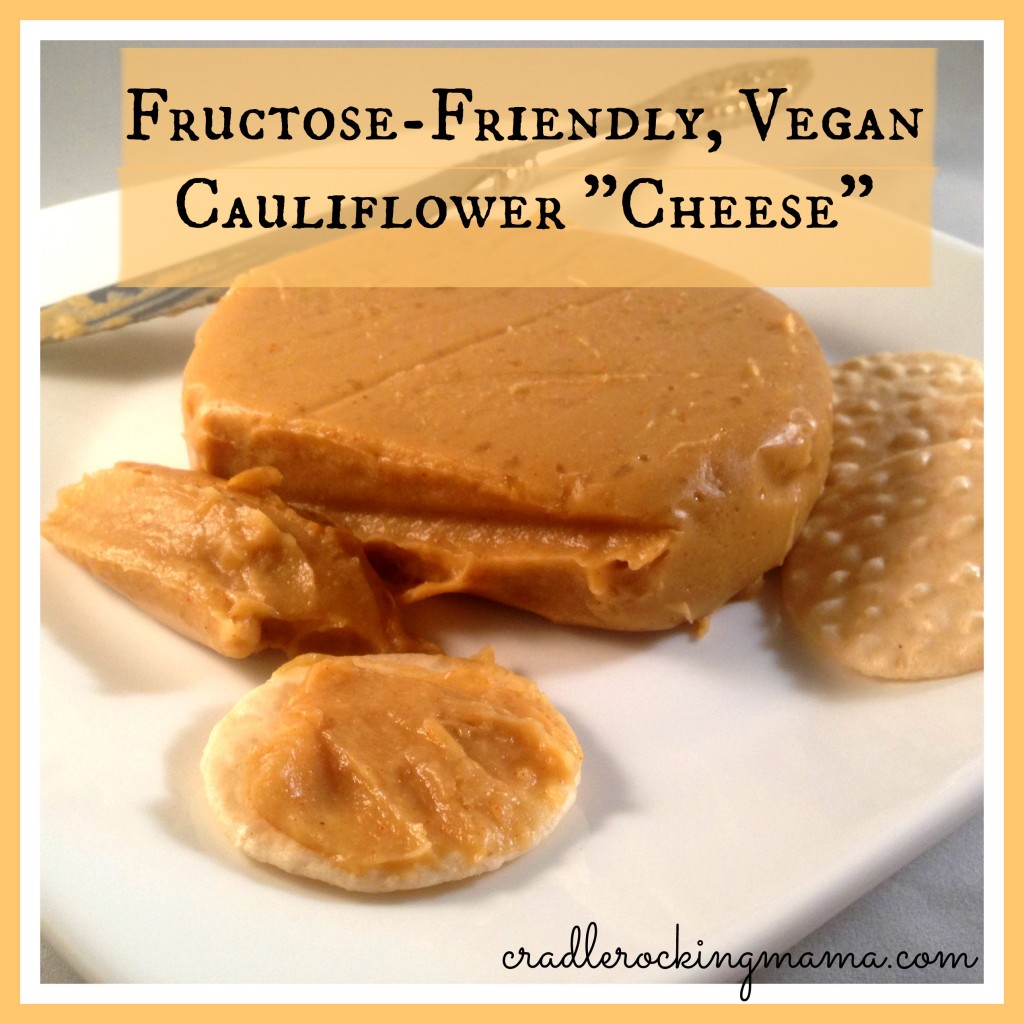 Oh. My. Word. Y'all.
I'm happy dancing in my kitchen right now.
Ok, so you know how I shared that awesome recipe for vegan cheese that I'd found? The one made from coconut milk?
I love that recipe.
Sadly, we had to retire it, thanks to Jed's Fructose Malabsorption. He can't 'do' coconut without having a total meltdown and tummy cramping, so…no more vegan cheese for him!
Until two days ago, when, just as a mental exercise, I tried to think how I could make a bacon cheeseburger for Jed.
Grass-fed beef patties? Check!
Safe bacon? Check!
Lettuce and tomato? Check!
Bread? Not yet, but one day I'll get it.
Cheese? Well, maybe if I…
And the tweak hit my brain, and it was like a ray of light enveloped me and a choir started singing "ahhhh!"
Cauliflower.
I knew that if this tweak worked, cauliflower would officially take its place as the Royal Ingredient of my kitchen.
Cauliflower has been crowned, y'all.
In fact, the cauliflower worked so well, I think it works even BETTER than the coconut milk did in the original recipe!
You're gonna love this one: dairy free, fructose friendly, and melts beautifully.
Here goes:
I wanted to make a small batch of this at first, because it was a total experiment. If it went wonky, I didn't want to have wasted too much. But I didn't know how much cauliflower I would need to net the required amount of puree, so I just went ahead and steamed a whole head of cauliflower.
While that was going on, I gathered the rest of my ingredients.
The original recipe calls for two cans of coconut milk; each can is probably about 15 ounces (standard), which I noticed was almost exactly 2 cups of liquid. Since I wanted to make a half-batch, I just halved everything else and planned to use 2 cups of the cauliflower puree.
Once again, I cannot stress enough: with this recipe, mise en place is essential!
When the cauliflower had fully steamed, I pulled out the steamer basket and poured the water from the pan into a measuring cup. Wouldn't you just know it? Exactly 2 cups of liquid!
In the end, I needed that full 2 cups to create the right consistency in the cauliflower puree.
Once it was pureed as smooth as I could get it, I added some bacon fat to the mixture. I wasn't sure if the "full fat coconut" requirement was a clue that this recipe needs some fat to make it work, so I thought I'd give that a shot. Since I don't use liquid smoke, I figured the nice flavor of bacon fat would add a little extra boost to the end result. (To make this Vegan, of course, simply omit the bacon fat and use a Vegan fat in its place!)
Then I poured it into a measuring cup and – another small miracle – it was exactly 4 cups of puree!
So then I poured 2 cups of the puree back into the pan and followed the rest of the instructions.
I poured in the vinegar, salt and agar flakes and whisked constantly as the mixture boiled gently.
*Please note: the cauliflower puree likes to splatter and pop as it boils! Move anything off your stove top you don't want to have cauliflower splatters, and maybe keep your little kids away from the stove while you do this. 
After 15 minutes, it had thickened beautifully.
I quickly took it off the stove and did something I should have done before I'd even started: lined a small bowl with parchment paper.
Then the pot went back on the stove, and I added the paprika, nutritional yeast, and tapioca starch one at a time, incorporating each ingredient thoroughly.
Then I whisked until I thought my arms would fall off for another 5 minutes until it had thickened even more, and finally poured the concoction into the parchment paper-lined bowl.
After about two hours, I carefully pulled it out of the bowl using the parchment paper, set it on a plate and voila! A lovely soft, spreadable "cheddar cheese"!
Darrel and Jed both tried it and liked it. Darrel said it tasted just like the original recipe, but it was nice that it wasn't as oily. 
After the taste test, I put it in the fridge to harden a bit and sure enough, a few short hours later it hardened into a block that – while tricky – could be grated.
I think we'll be having quesadillas tonight!
I love cauliflower, and I love finding ways to make things that are dairy free and fructose safe for my son. I hope you like this!
(Oh, and with the other half of the cauliflower sauce, I made another delicious batch of Vegan Mac 'n Cheese for dinner!)
Vegan Cauliflower Cheddar "Cheese" - Fructose-Friendly!
Vegan? Dairy-intolerant? Then you will LOVE this recipe. Make yourself an excellent cheese substitute that will satisfy the biggest cheese-eater!
Author:
Cradle Rocking Mama (Carrie Summers)
Ingredients
½ head of cauliflower
1 c. reserved water from steaming cauliflower
½ T. bacon fat or safe Vegan fat
1.5 T. agar flakes
½ tsp. white balsamic vinegar
2 T. tapioca starch
½ tsp. paprika
1 tsp. sea salt
2 T. nutritional yeast
Instructions
Cut the cauliflower into chunks and place in a steamer basket.
Add 1.5 cups of water to a pan and place the steamer basket in the pan.
Steam the cauliflower until tender.
While the cauliflower is steaming, gather the rest of the ingredients and line a glass bowl with parchment paper (or oil it well).
Once the cauliflower has steamed, reserve 1 c. of the steamer water and use it to purée the cauliflower.
Add the fat to the cauliflower purée and incorporate fully.
Measure 2 c. of cauliflower purée and put in a pan. Bring to a gentle boil.
Add the vinegar, sea salt and agar flakes and begin whisking.
Whisk and gently boil the mixture for 15 minutes until thickened.
Add the paprika, tapioca starch, and nutritional yeast one at a time, incorporating each ingredient fully.
Whisk constantly for 5-10 more minutes, until the mixture thickens even more.
Pour the mixture into the lined (or oiled) glass bowl.
Let sit for two hours to cool and firm.
At that point, it is a spreadable, soft cheese that may be used. If you prefer a harder cheese, it can be placed in the fridge for easier slicing and grating.
Enjoy your fructose and dairy safe cheese!
What's the Royal Ingredient in your kitchen?
__________
This post shared with: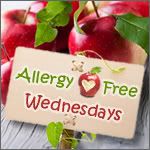 and Real Food Wednesdays.