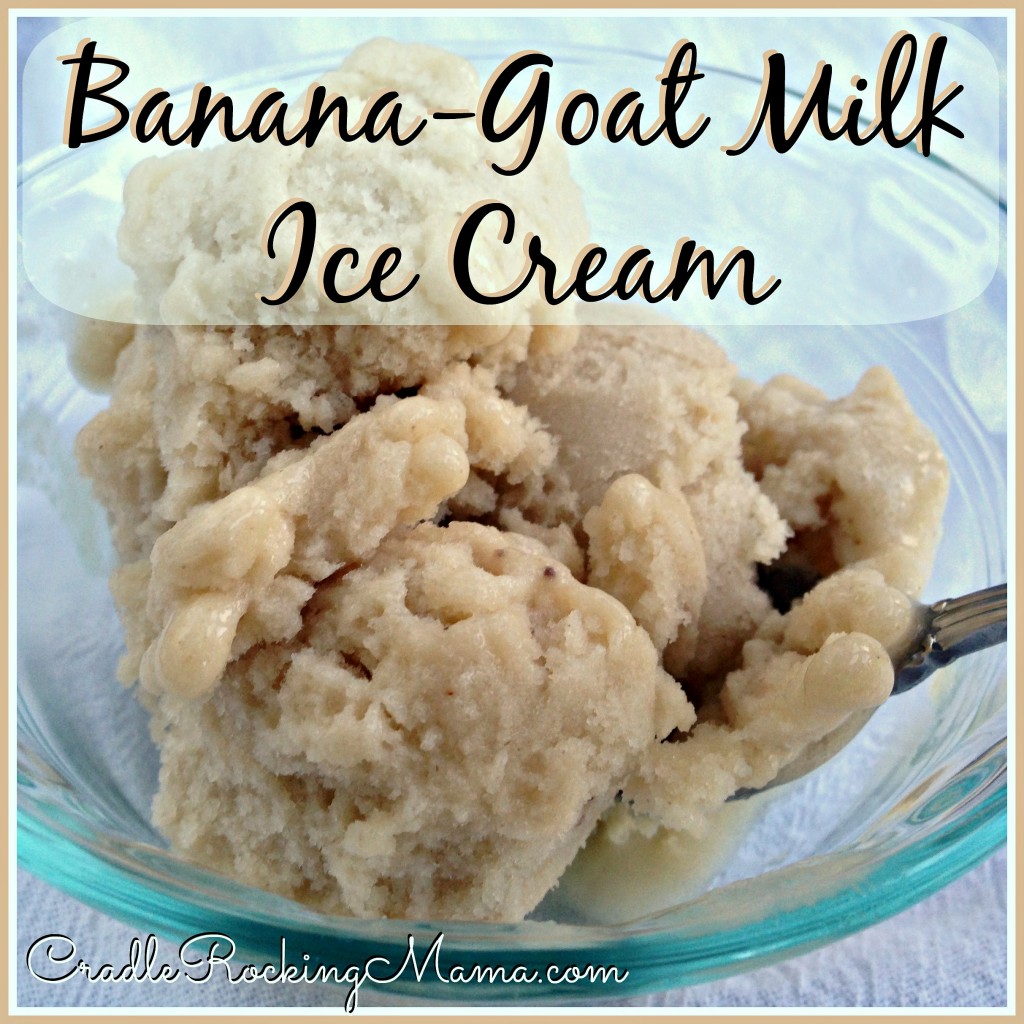 Last year I shared about Banana Ice Cream.
It truly is an awesome little treat, especially for the dairy intolerant/allergic!
However, with the addition of goat milk in our diets, I was excited about making 'real' ice cream for my family.
Only one problem: goat milk doesn't have as much "cream" as cow milk does. And the cream is what I always used (pre-allergy days) to make delicious, creamy homemade ice cream.
Sure, I could let the goat milk sit in the fridge for days at a time, scooping off the cream that rises to save for ice cream. But come on – if I'm going to go to all that trouble, I'm going to make butter, not ice cream!
So the goat milk ice cream I had made so far was good, but very crystalline. And if I re-froze it (because, let's face it, toddlers often don't finish the food they're given), it turned into just frozen milk.
Okay to eat, but not exactly what I think of when I think of ice cream, you know?
Now that bananas are in our diet, I knew I could make Zac some Banana Ice Cream, and I did. He loved it!
But I'd still like him to eat more goat milk, and now that I know too many bananas can trigger a fructose reaction in him, I'm hesitant to give him too much straight Banana Ice Cream.
So I experimented.
And, as I texted my friend the first night I tried it, "Bananas+Goat Milk in the ice cream maker=HEAVEN IN MY MOUTH!"
It's creamy!
It's smooth!
It's rich textured on your tongue!
It is banana flavored, but not as overwhelmingly 'banana' as straight Banana Ice Cream.
And it gives us a creamy treat without quite so many bananas, hence, less fructose to wonk me and my boys out!
SCORE!
It's also really easy.
Take one part goat milk to one part banana. I did 1 c. of goat milk and 1 c. of peeled bananas. Don't mash the bananas, just drop them in the measuring cup until they're roughly to the same measurements as your goat milk.
Throw them in a blender and process until smooth.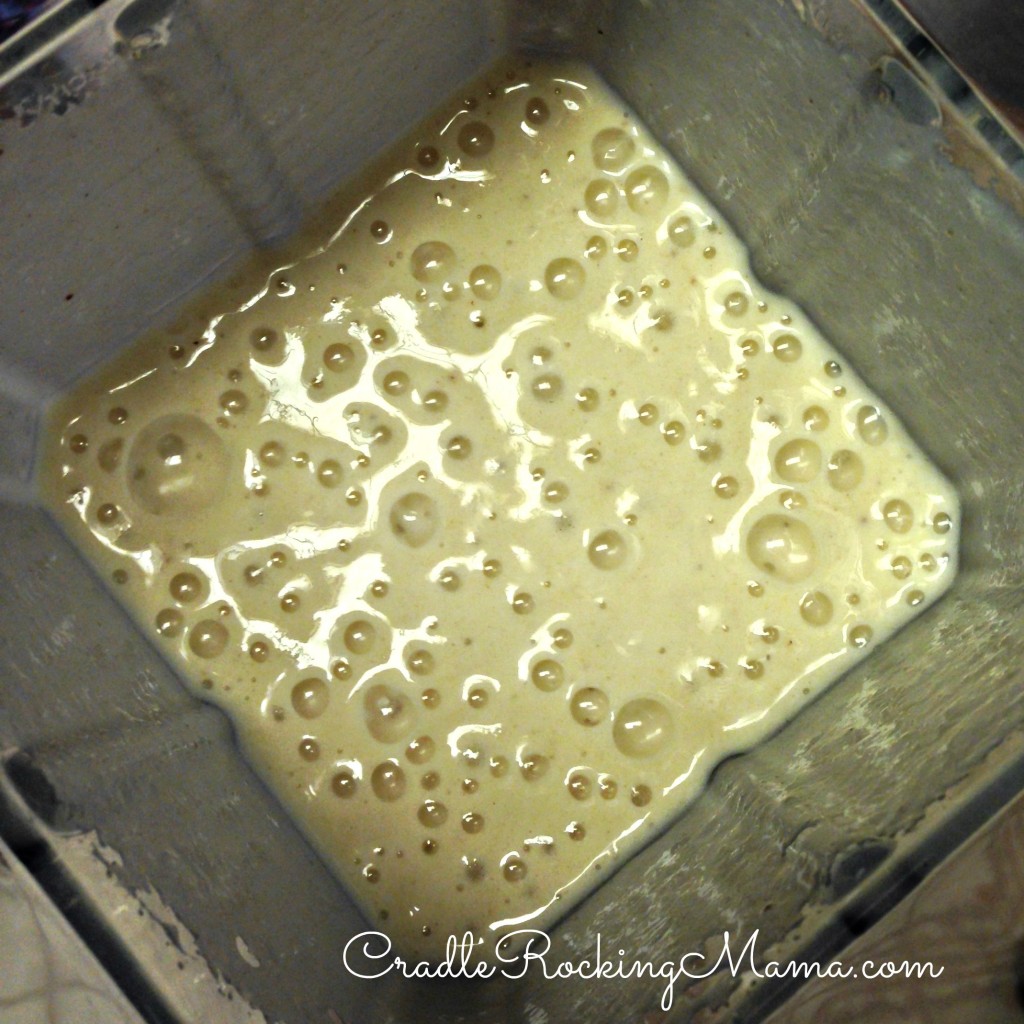 Pour it into your ice cream maker and turn on.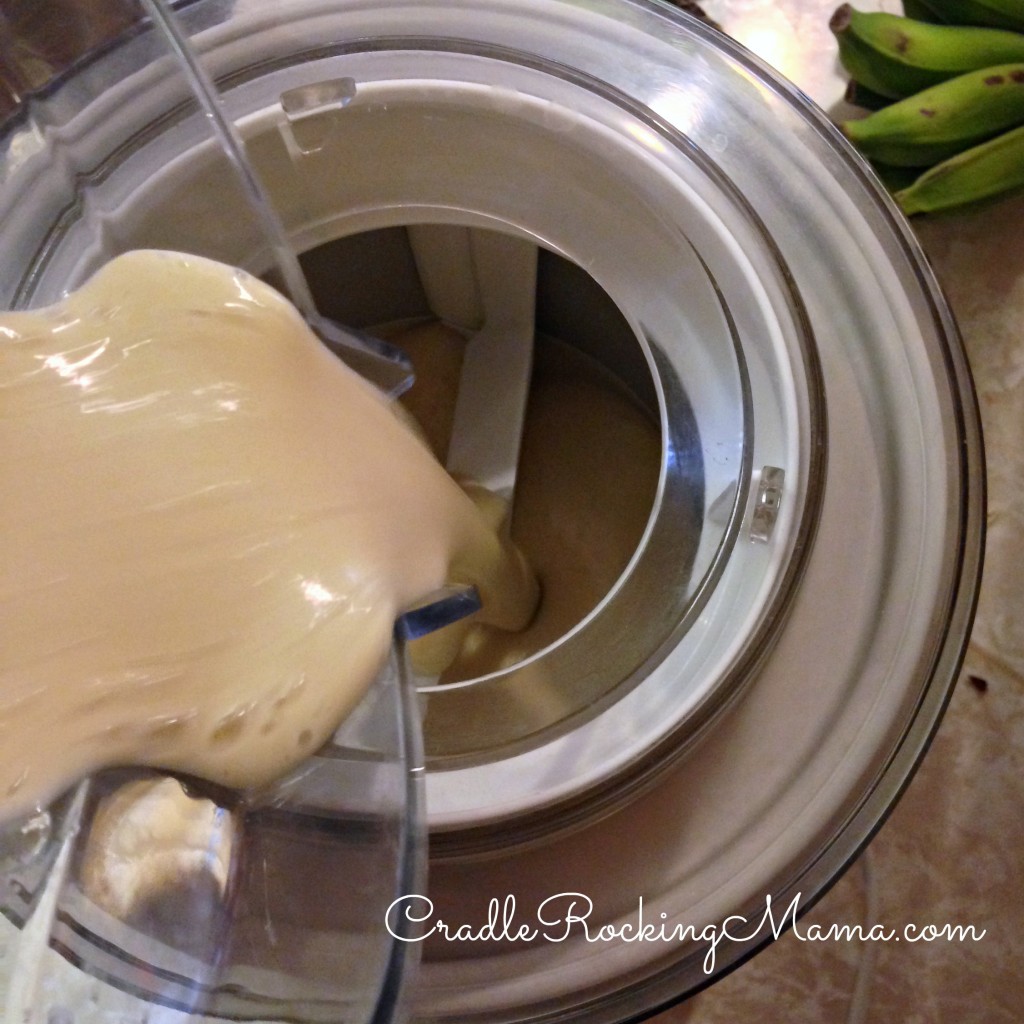 15-30 minutes later, you've got soft-serve ice cream!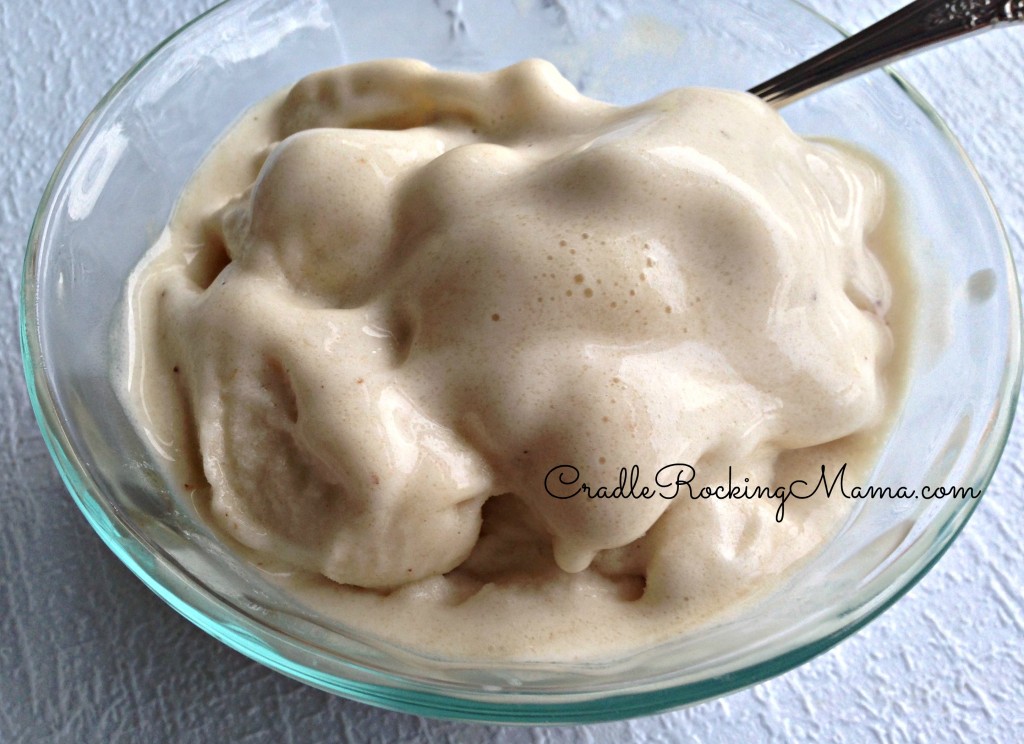 So. Stinking. Good.
I made too much to eat the first night, so I put it in a container and froze it. It does turn out a tad more crystalline after being in the freezer than right out of the ice cream maker, but if you let it defrost just a bit, it turns creamy again.
And it kind of scoops. See?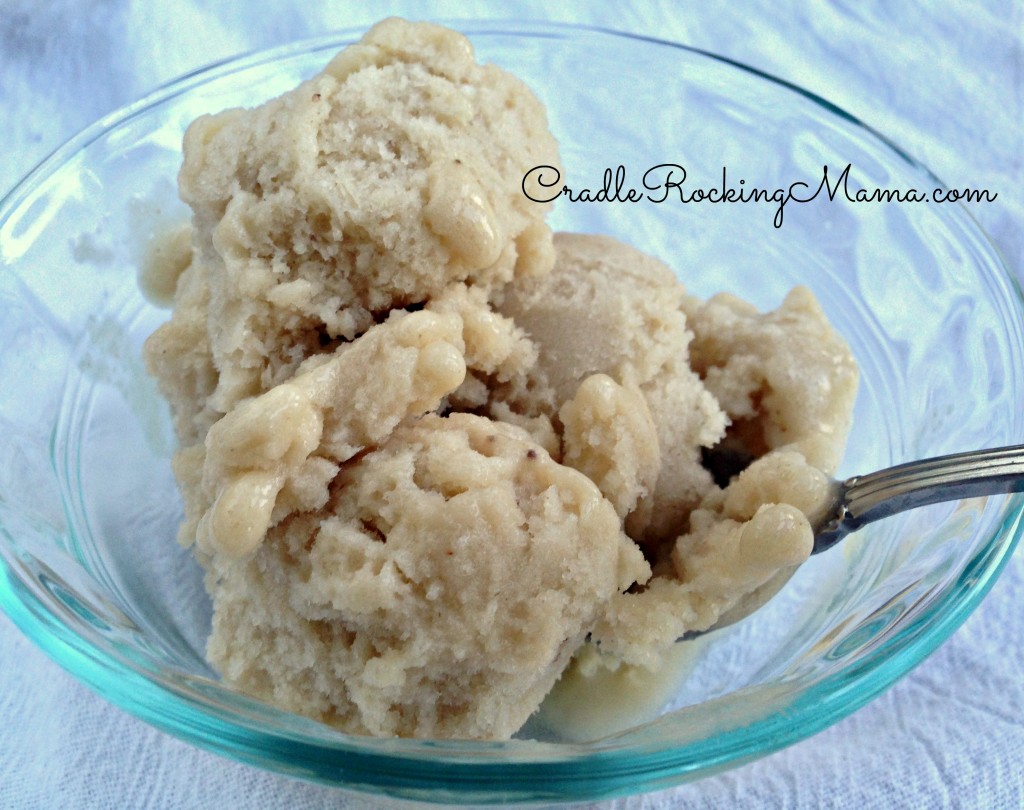 Now, I'm sure you could just use straight cow milk for this, or, frankly, any milk substitute. But I didn't try it that way. If you do, let me know how it turns out, okay?
I'm also sure you could also add cocoa powder to this to make chocolate-banana-goat milk ice cream, but that's not on our particular safe list yet so I didn't try it. Feel free, though! With the 1 c. "parts" measurements I used, I'd probably try 1/4 c. of cocoa powder to start and see if it needed more.
With or without cocoa, though, this is a great dessert for anyone!
Enjoy!
Banana Goat Milk Ice Cream
A creamy, delicious treat for hot summer days!
Author:
Cradle Rocking Mama (Carrie Summers)
Ingredients
1 part goat milk
1 part peeled, whole bananas
cocoa powder (optional, for chocolate ice cream)
Instructions
Put the goat milk, bananas, and cocoa powder in a blender. Process until smooth.
Pour into your ice cream maker. Turn on.
After 15-30 minutes, enjoy your delicious, healthy dessert!