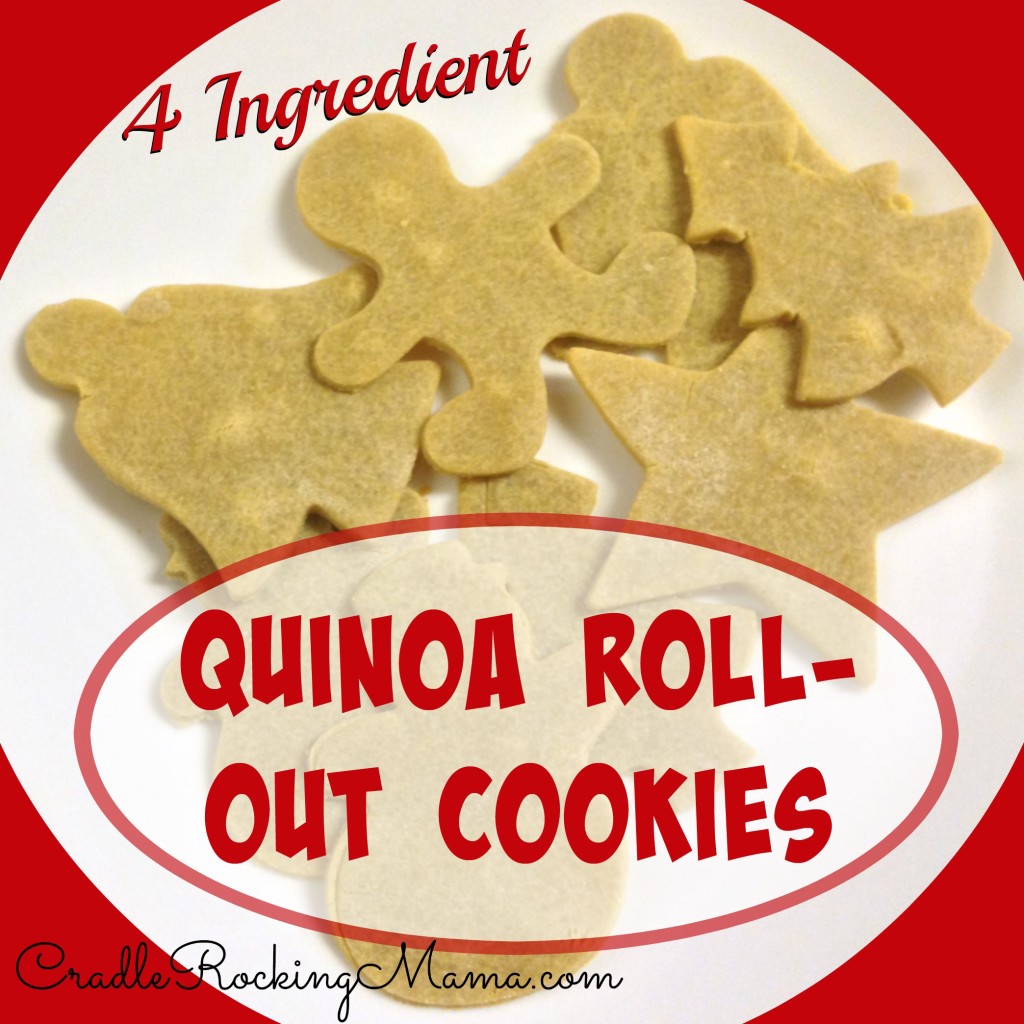 Right off the bat I will tell you that this recipe does NOT taste like manna from Heaven. Unlike the "sugar" cookies I created for Jed, these cookies taste like a dry cracker. After all, there isn't any sweetener in them at all!
But for people on a restricted diet, with limited ingredients and limited options, these can at least satisfy the urge to participate in holiday cookie creating, if nothing else. 
They certainly did that for Zac!
My sweet boy finally, after two and a half years of life, got to actively participate in a festive kitchen activity that resulted in something he could eat.
That's worth it in my book. Maybe this will serve the same purpose for you!
This roll out cookie uses only 4 ingredients, and it rolls and cuts out perfectly fine. The end texture is spot on for a roll out cookie, and when I sprinkled some stevia on my cookie it tasted pretty good! 
Without the stevia, well…dry cracker. Not bad, but certainly not a cookie!
You can also make these dairy free, if you prefer. Just use an alternative milk and a vegetable shortening, tallow, or lard instead of butter.
I didn't try it with an egg replacer, but if you try it that way, you could even make these vegan, gluten-free, and top 8 allergy free. (No promises that it will work out at all with that many substitutions, though!)
Anyway, it's insanely simple to make. 
Put all your ingredients in a bowl. Mix well until combined.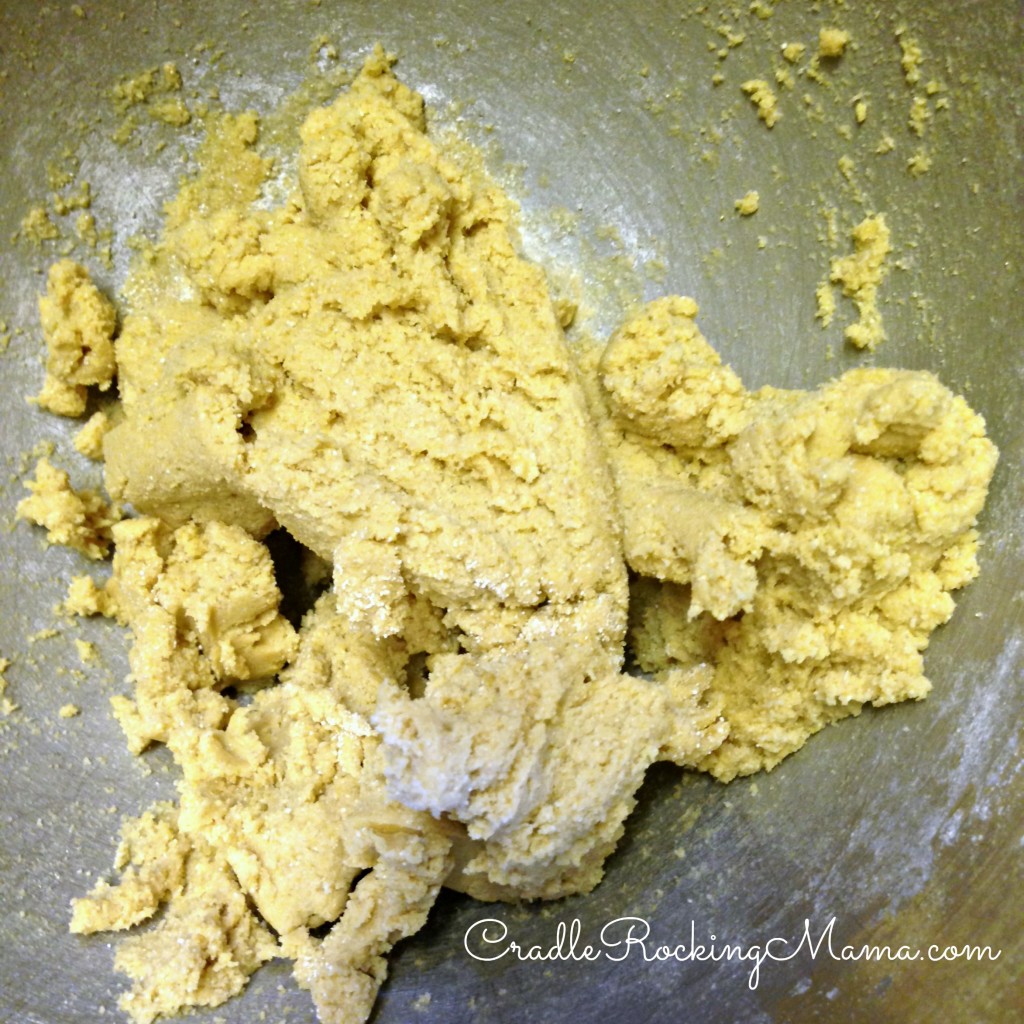 Ta-da! Batter!
I made both these cookies and Jed's "sugar" cookies on the same day, basically simultaneously. So, just as with Jed's cookies, I wrapped this dough in plastic wrap and stuck it in the fridge to chill.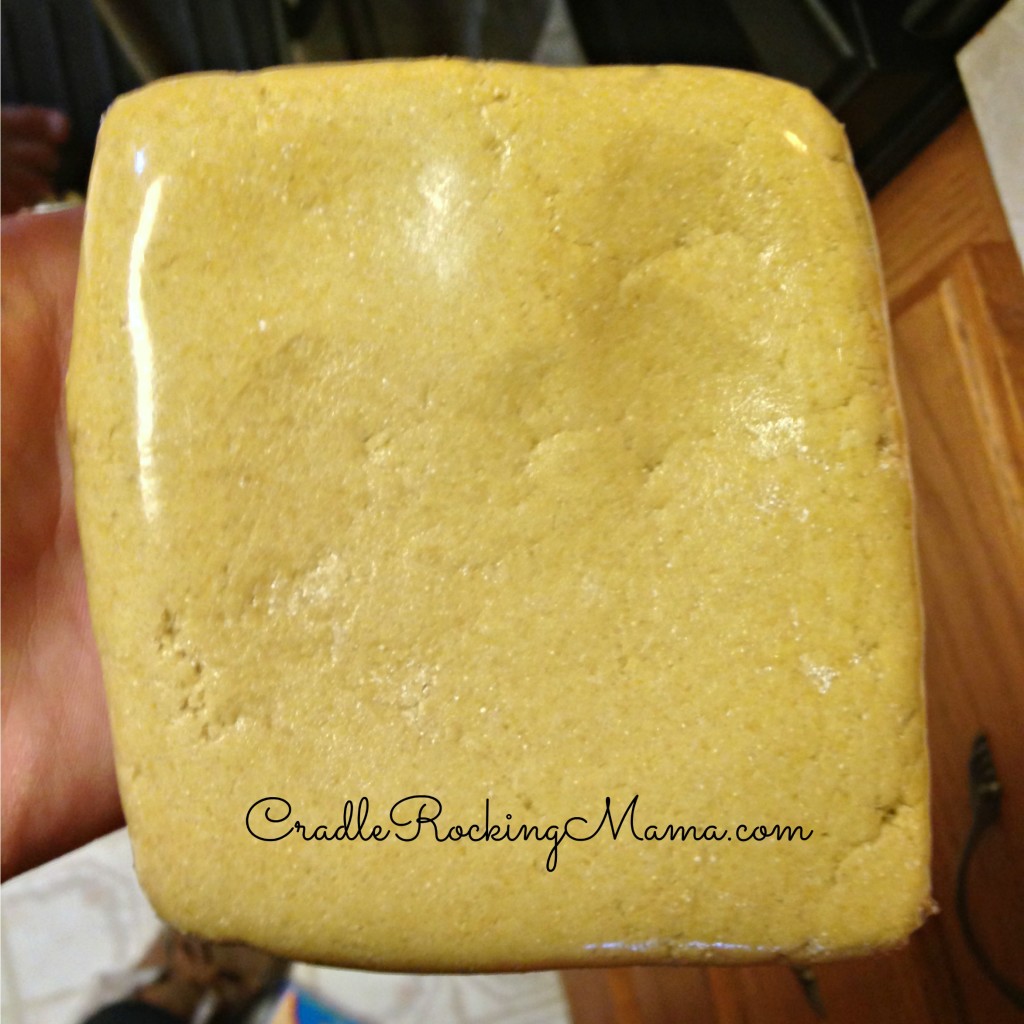 And just as with Jed's cookies, I'll tell you to skip that step. This dough, when chilled, didn't want to roll out easily and crumbled into a mess. At room temperature, it handled much better.
So no wrapping and chilling required!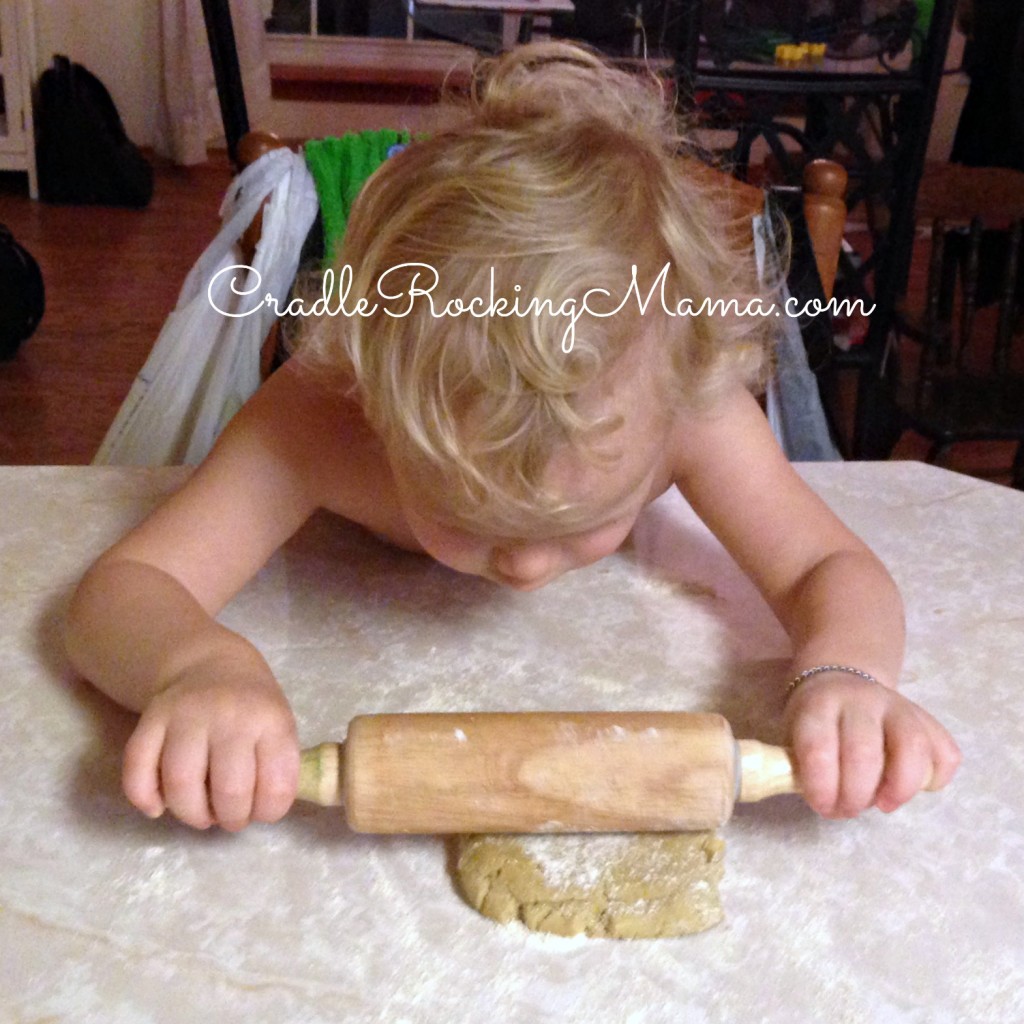 Then the fun part! Call in your kitchen helpers, lightly flour your work surface, and let them roll out some dough. 
Zac has never had a chance to do this before in his life, and he loved every minute of it!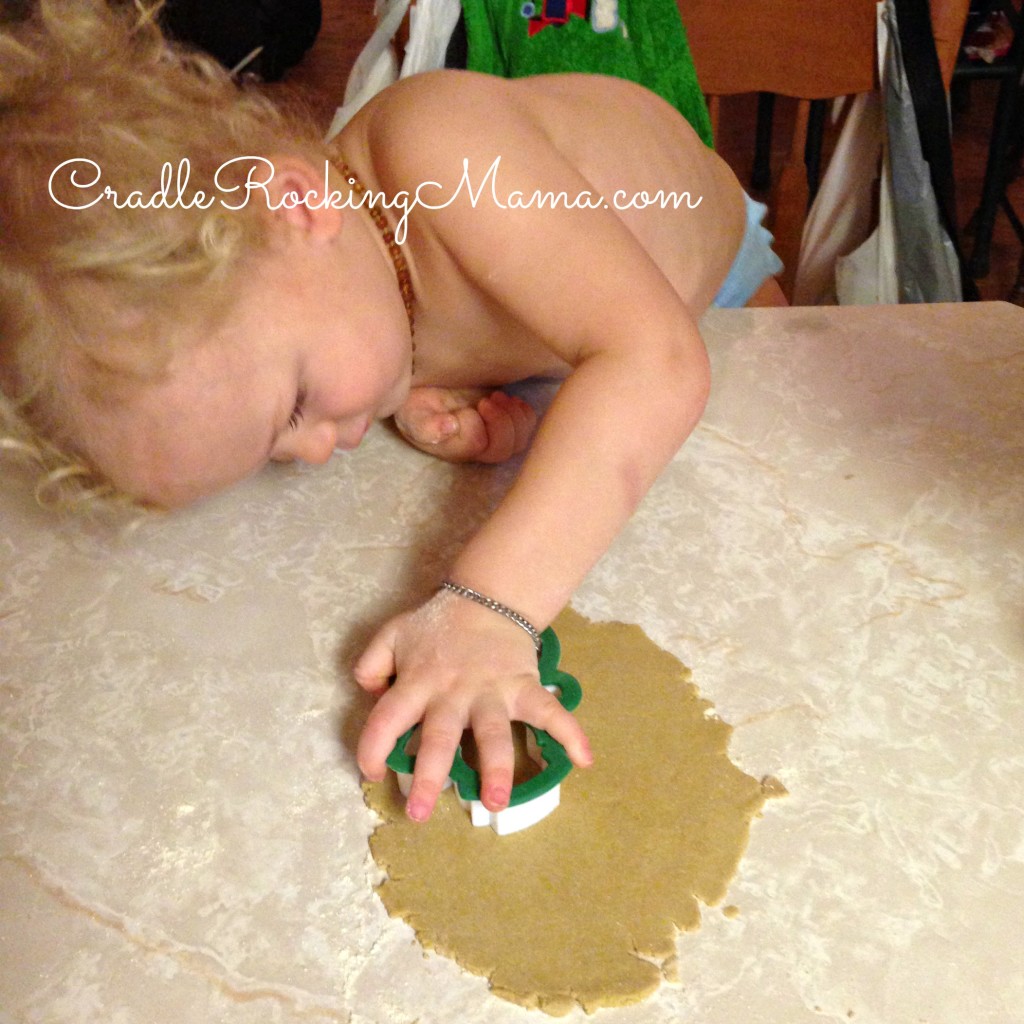 Once the dough is rolled out, grab your cookie cutters. Again, these pictures are from Christmas, so just imagine using heart shapes instead for your Valentine's Day cookies.
This was another task Zac adored. If I even tried to help him with placing the cookie cutter on the dough, he became highly indignant. If he had the words, he'd have been saying "Mommy, back off! ME do it!"
No problem. I just rolled out the dough more frequently than I had planned to.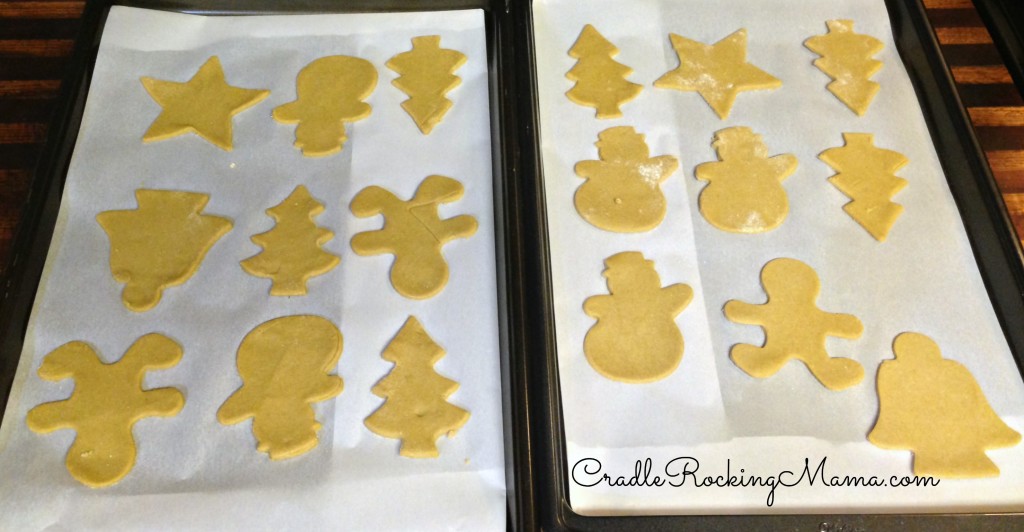 Once the dough is rolled and cut, use a spatula to move the cookies to a parchment lined cookie sheet.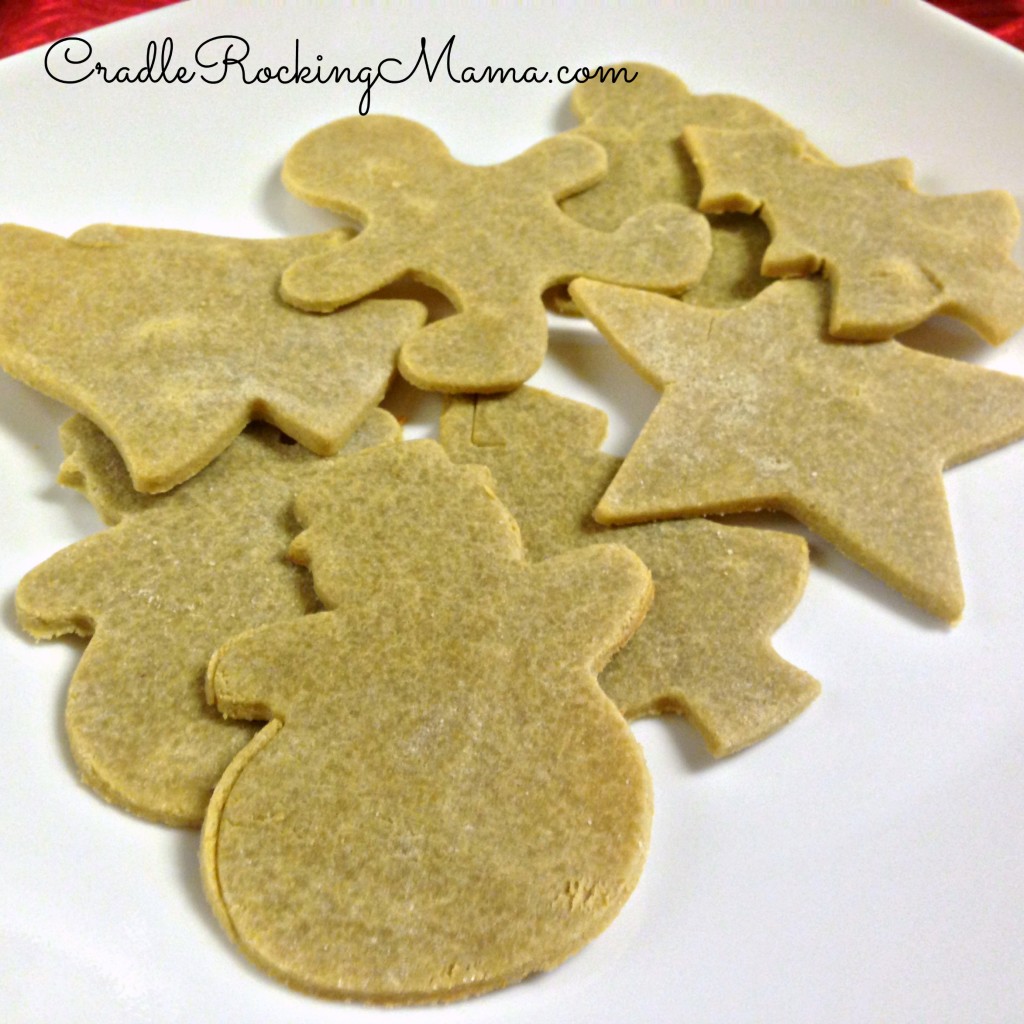 Bake at 375 for 8-12 minutes, and voila! Totally tasteless cookies!
But cookies that will make your food intolerant/allergic child feel like they're part of the festivities, which makes them the most delicious things in the whole danged world. 
If stevia is safe for you, I'd strongly encourage you to add some stevia to this recipe. It will make them taste like an actual cookie. As stevia varies greatly in strength, I hesitate to suggest an amount. I use KAL stevia, and with that brand, I would use 6 scoops of stevia to start with.
Happy Valentine's Day! I hope all your loved ones get to feel included in the festivities. Hopefully this recipe will help!
Quinoa Roll Out Cookies
These simple and plain roll-out cookies are ideal if you're on a restricted diet!
Author:
Cradle Rocking Mama (Carrie Summers)
Ingredients
1¼ c. quinoa flour
4 T. goat milk butter (regular butter, shortening, lard or tallow would also work)
2 T. milk (goat, cow, almond, hemp, etc.)
1 egg
Stevia (optional, to taste)
Instructions
Pre-heat the oven to 375 degrees Fahrenheit.
Put all your ingredients in a bowl; mix until well combined.
Lightly flour your work surface and roll out the dough in small batches.
Using a cookie cutter, cut out cookies.
Lift the cookies with a spatula and place on a parchment lined cookie sheet.
Continue re-rolling the dough, cutting out shapes, and traying the cookies until you run out of dough.
Bake for 8-12 minutes.
Remove from oven and let cool on the counter.
Enjoy your totally bland, but totally inclusive roll-out cookies!
If you like this recipe, please share it! To get more great recipes like this in your in-box, subscribe so you don't miss a thing!