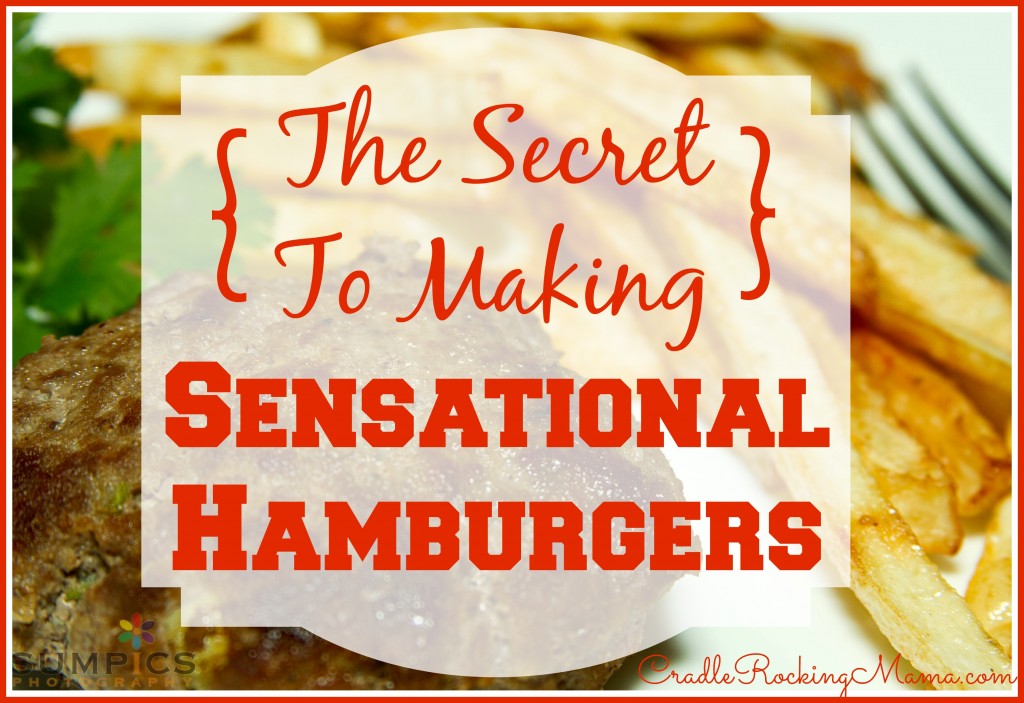 After 19 months of eating nothing but beef on my TED, I've made a lot of hamburgers.
A LOT.
So many, you'd think I would be sick of them by now. I'm not, though, because I discovered the true secret to making sensational hamburgers!
If you browse online, you'll find a ton of recipes on "how to make the best hamburger ever!" – or some such claim.
Many of those recipes truly are delicious!
Most of those recipes include ingredients a food allergic family can't use.
All of those recipes are pretty much out for a TED mama.
So what's a girl who can only eat beef to do?
I'll tell you!
There is a secret to making delicious, moist, tasty burgers, but you don't need 20 ingredients or a special way of cooking to accomplish the goal.
Ready for the secret?
Add something moist.
Ta-da! That's it!
(I know – it's ridiculously simple, right? Why do so many chefs have to make things complicated?)
Seriously. In all this time, I've made burgers for myself, Darrel and Jed, and the only thing that has truly made a difference in the tastiness of my burgers is whether I added a moist ingredient to the meat or not.
What do I mean by a "moist ingredient"?
Well, here's a list of just a few of the things I've tossed in to ground beef for a tasty hamburger:
Chopped celery
Chopped onion
Garlic
Shredded carrots
Shredded zucchini
Cooked quinoa
Chopped bell pepper
No sauces. No complicated combination of ingredients. Just whatever moist veggie I had on hand (and was safe for whoever's particular diet) got shredded or chopped and tossed in the beef.
The end result is always sensational!
Of course you toss in some sea salt and pepper, and any other seasonings you can have and prefer, but as long as you add a moist ingredient you can bake, pan fry, or grill your hamburgers and they will make your mouth stand up and cheer!
One interesting thing if you decide to add quinoa: when the burger cooks, the quinoa on the inside makes the burger nice and moist, but the quinoa on the outer edge crisps up to give a kind of crunchy coating to your burger.
It might not be what you expect when you think "burger", but it's interesting and actually pretty good!
So there you have it: the secret to sensational hamburgers (without going crazy over reading labels)!
Now, if they are safe for you, by all means feel free to add whatever BBQ sauces or pastes you would like. But the way I'm suggesting is not only fool-proof, it's ALSO a way to make your burgers healthier AND sneak some veggies in to your families diet!
I'm thinking that's a Win-Win-Win!
So happy hamburger making, y'all!
The Secret to Making Sensational Hamburgers
The true secret to making a sensational hamburger? Add a MOIST ingredient! Simple and delicious!
Author:
Cradle Rocking Mama (Carrie Summers)
Serves:
4 large patties or 6 to 8 small ones
Ingredients
1 lb. ground beef
½ c. of a moist ingredient shredded or chopped (carrot, onion, garlic, celery, bell pepper, quinoa, zucchini, etc.)
sea salt (to taste)
black pepper (to taste)
Instructions
Take your thawed ground beef and put it in a bowl.
Chop or shred your moist ingredient.
Add the moist ingredient, sea salt and pepper to the ground beef and mix it well with your hands.
Form the mixture into patties.
Cook the burgers however you prefer on medium heat: pan fried or on the grill. *Be sure to pre-heat regardless of which method you use for cooking!
Cook the patties for about 8 minutes on one side, then flip and cook for an additional 5-8 minutes on the second side.
Enjoy your delicious, sensational burgers!
What's your favorite moist ingredient to add to a hamburger patty?