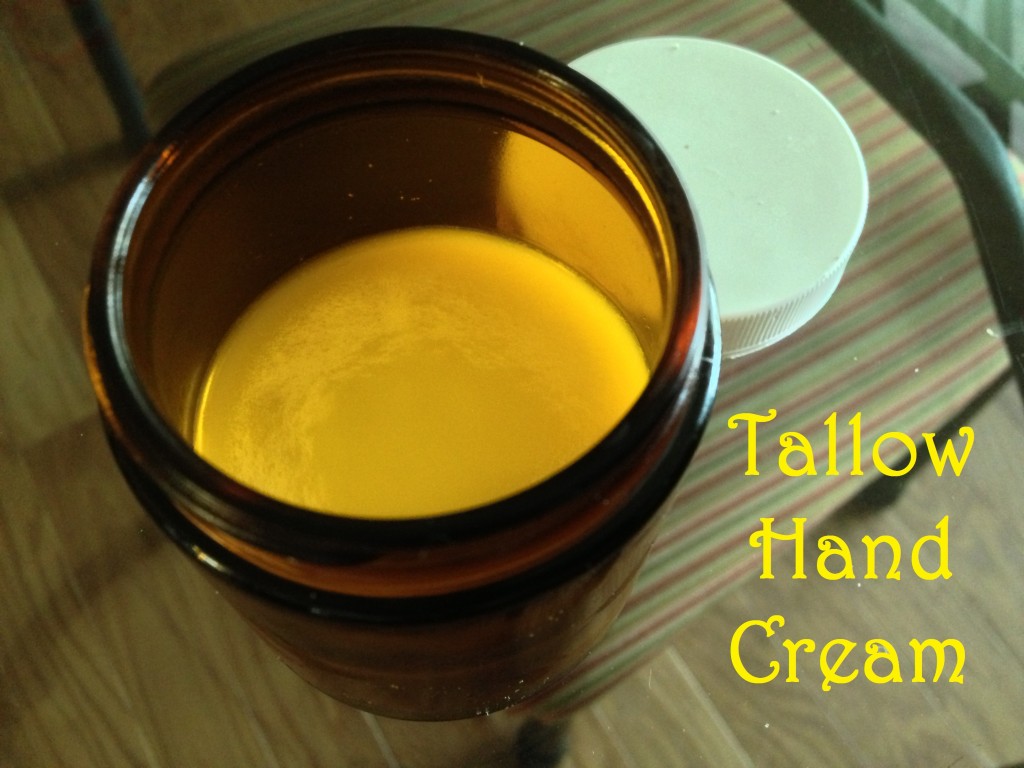 Last August I wrote about Zac's reaction to Aveeno hand cream. The oats just did him in. Consequently, I became terrified of beauty products! Since then I've searched for as natural and basic products as I can find for EVERYTHING…especially after he once had a mucousy diaper from my hair! (Why did he eat my hair? Who knows!)
Along the way, I learned about tallow.
Tallow, in case you don't know, is rendered beef fat. Sounds gross, but actually it's totally awesome! I couldn't possibly do a better job explaining tallow than the Mommypotamous does, so I'm just going to link back to her post explaining the wonder that is tallow.
Basically, tallow is a fat that most resembles natural human skin sebum, meaning it's less likely to clog pores, less likely to cause irritations, and most likely to make you look younger!
Can I get an A-men for that?!
So I'd had her idea on the back of my brain for a long time; I'd even made sure to request the fat from the cows we had butchered so I could render it and make hand cream and moisturizer for myself!
Somehow, though, spending time in the kitchen working on a beauty product never made it high on the priority list, what with needing to spend so much time in the kitchen doing other things…like feeding my kiddos.
One day a few weeks ago, though, I was getting ready to make some soup with my homemade beef broth. I'd poured off the broth into mason jars to cool in the fridge, and when I cracked the top of the thick layer of fat that had hardened on top it broke into nice, neat pieces.
It was fate.
I'd never managed to get such nice, thick pieces of tallow out of my beef broth before, so I'd never considered using it for hand cream. Besides, the tutorials I'd found online said not to use the fat from broth because it is too liquidy and therefore will go rancid much faster than pure tallow.
Still, even with that knowledge in my mind I decided to give it a shot. If it only worked for a few weeks, at least I'd have practiced how to do it before I started messing with the "good stuff", right?
So over to the stove I went, and it's so stinkin' easy I can't believe I didn't do this sooner.
Here's what you do:
Since I was using fat from broth, I rinsed it under warm water and patted it dry. My Mom later asked me why I didn't "clean" the fat first. I was totally lost – what did she mean by "cleaning it"?
She then explained the way women of ages past would freshen their oils and fats by cooking it with water several times until all the food residue was removed and the oil was as fresh and pure as it could be. It isn't something I've ever done or even seen done, but I plan to try it with my next batch of hand cream. So bookmark this post, if you're interested! I'll update it then.
**Update! I followed Mom's advice the next time I made this and wrote a whole post on how to clean oil. You can find it here.**
Then I dropped it into a double boiler to melt.
In the end, I had just at 1/4 cup of melted tallow.
According to one recipe I found online, you should add some olive oil to your tallow hand cream to make it more spreadable. I didn't have the quantities they suggested, but I used ratios to figure out I needed a little over 1 tsp. of olive oil for my project.
I'd also read that you might want to add some essential oils to avoid any "beefy" smells. Normally, I'm all about the vanilla in my beauty products…but I didn't have any more vanilla essential oils. What I *did* have was Tea Tree, Peppermint, and Spearmint essential oils.
In the spirit of "why not?" I decided to use them all! Tea tree is supposed to be very good for skin, and while I'm sure the mints are good for you in some way, mainly they just smell a whole lot better than Tea Tree oil does.
I only put a few drops of each – and I mean that literally! Two to three drops is all it takes!
After all the extras were added, I mixed it up with a spoon and poured it into a jar I had on hand. For this jar, I really need to make more of the cream, or I need to find smaller jars! But this sufficed in a pinch, and works just fine.
Then I set it in the fridge to set, and after about an hour, this is what I had:
If I store it in the fridge it gets harder, and I have to sort of press to swipe any out. If I keep it at room temperature, it's softer and I have to be careful not to get too much.
A little goes a long way with this stuff! I've used it now on my hands and face, and they both feel like a babies butt when I'm done! Extra bonus: no greasiness or "rubbing it in" waiting period – it absorbs beautifully into the skin!
And turns out? Tea tree and mints was a pretty good combo of oils to use! After using it on my face one morning, some lovely mid-30's zits I'd gotten cleared right up, and I got an instant mood boost from the invigorating mints! (Note to self: don't use this before bedtime!)
I've been using this for about three weeks now, and it's still just fine. The consensus seems to be that the hand cream made from pure tallow (i.e. not broth tallow) will last for 6 months at room temperature. In respect to that, I usually keep mine in the fridge. I'm pretty sure I'll use this up before it goes bad, though at 3 weeks it's still perfectly lovely. I wouldn't press it, though. If you try this and it gets a funky smell, go ahead and chunk it.
After all, as easy and cheap as it is to make, there's no reason not to just make yourself a fresh jar! Besides, I can't wait to experiment with different essential oil combinations to see what I like best!
Try it! I think you'll like it!
Tallow Hand Cream
This hand cream is heavenly and healthy. Give tallow a try and see how well it works!
Author:
Cradle Rocking Mama (Carrie Summers)
Recipe type:
personal care
Ingredients
¼ cup melted tallow
1⅛ tsp. olive oil
2-3 drops essential oils
Instructions
Melt your tallow in a double boiler. Do not boil it!
Add olive oil and essential oils; blend well.
Pour into glass jar and let set in the fridge.
Enjoy the most perfect hand cream you'll ever have!
Notes
This recipe can be very quick to make if you already have cleaned tallow ready to melt. If you don't, it will take considerably longer to clean the tallow until it is ready to go. My suggestion? Make sure you clean some tallow and have it ready to go. You can freeze it or even can it to have on hand whenever you need some clean tallow for anything!
Have you made tallow hand cream before? What oils did you use for scent?
__________
This post shared with: