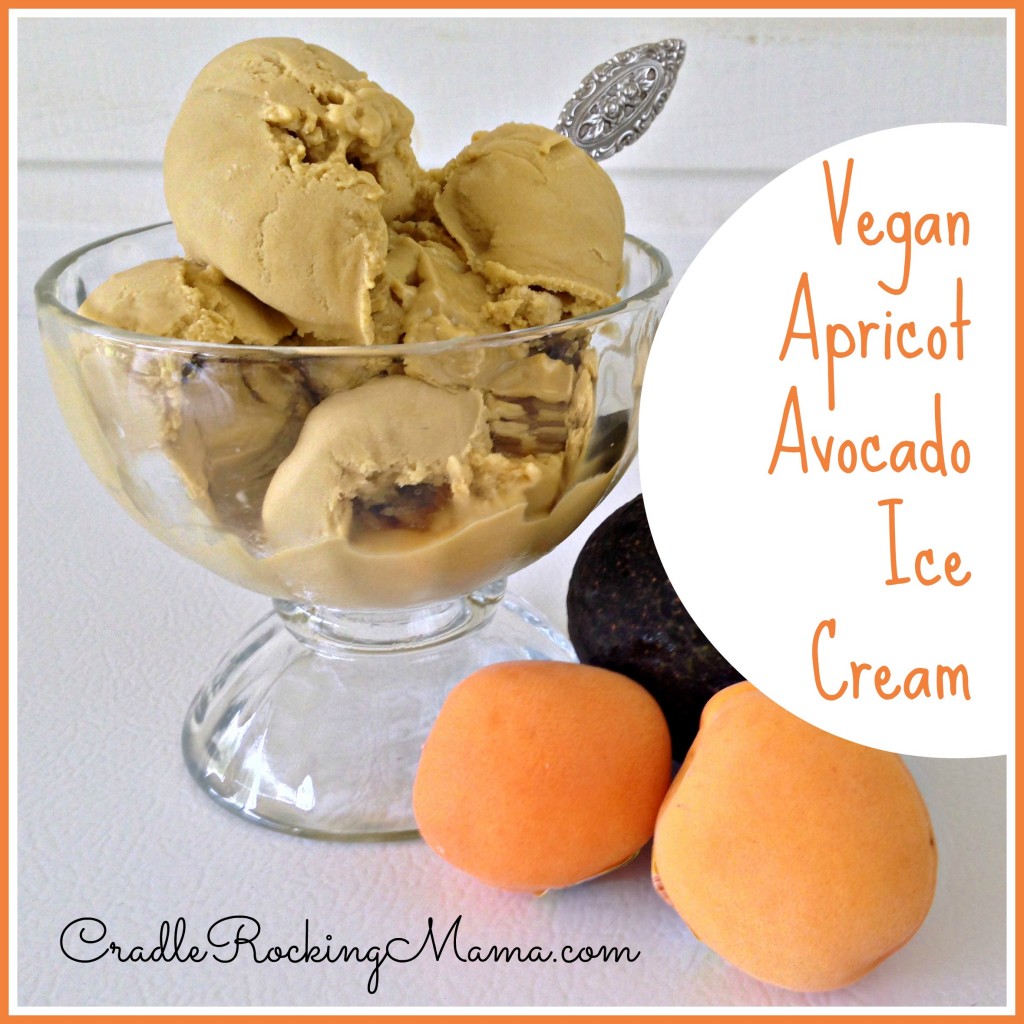 Finding apricots is exciting for me; I have another food to experiment with in the kitchen! It was a little overwhelming at first, though. I've never used apricots before and had no idea where to start.
So I googled. One of the most appealing ideas for Jed was to make an ice cream. This recipe from Deliciously Organic sounded delicious!
Except that Jed can't have honey, heavy cream, or coconut.
So I took that recipe as inspiration and made some changes.
(Remember, tweaking is fun!)
In the end, I'm very happy with what came out – even if the color isn't quite as pretty as the inspiration recipe!
Take 3 apricots, slice them in half, and remove the pits. Toss the apricots into a saucepan with water.
Turn on the heat, and simmer until the apricots get soft (about 8-10 minutes).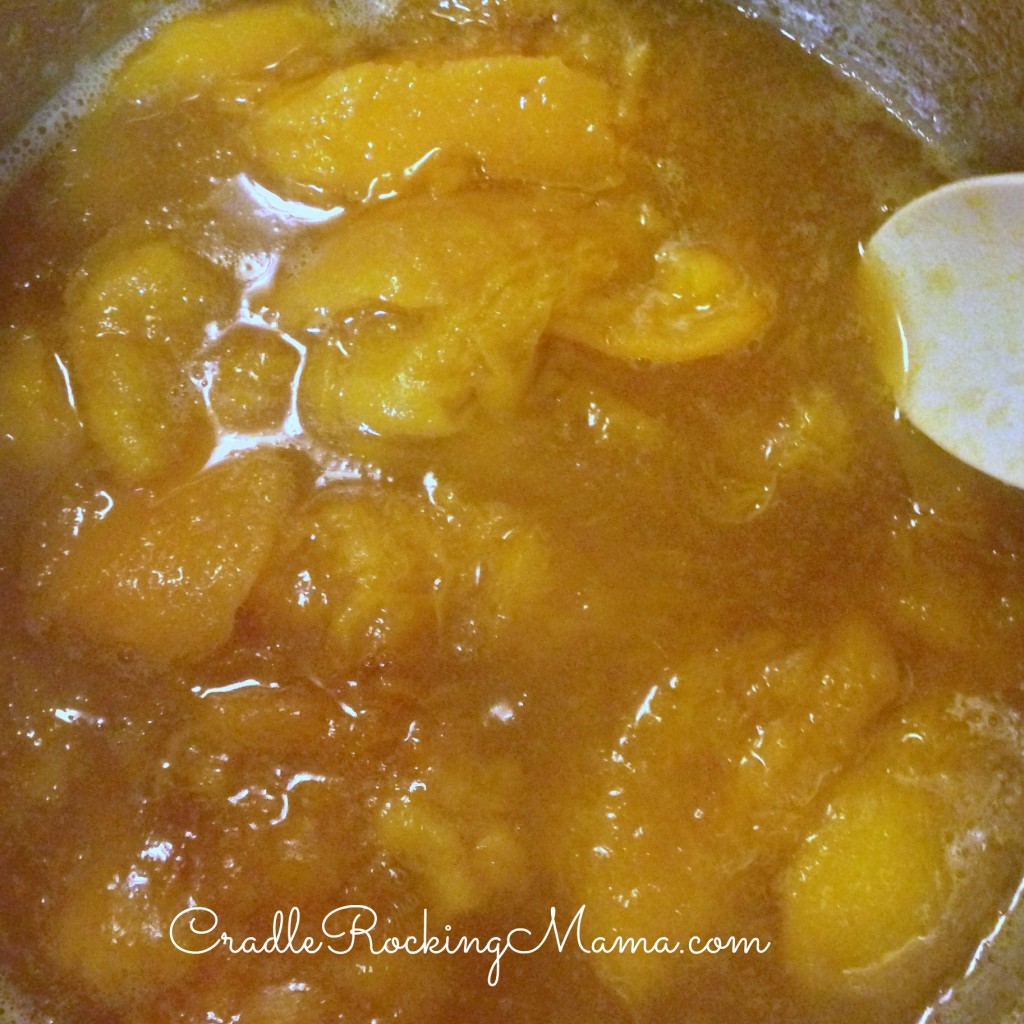 Once they're nice and soft, take the pan off the stove and let cool on the counter.
Then grab an avocado, slice it in half, remove the seed, and scoop that lovely flesh into a blender.  Add the maple syrup, lemon juice, almond extract, milk and the softened apricots.
I didn't actually have any almond extract when I made this, so it's a totally optional add-in. Everywhere I've read says almonds and apricots are a great flavor combo, though, so if nuts are safe for you, please try it!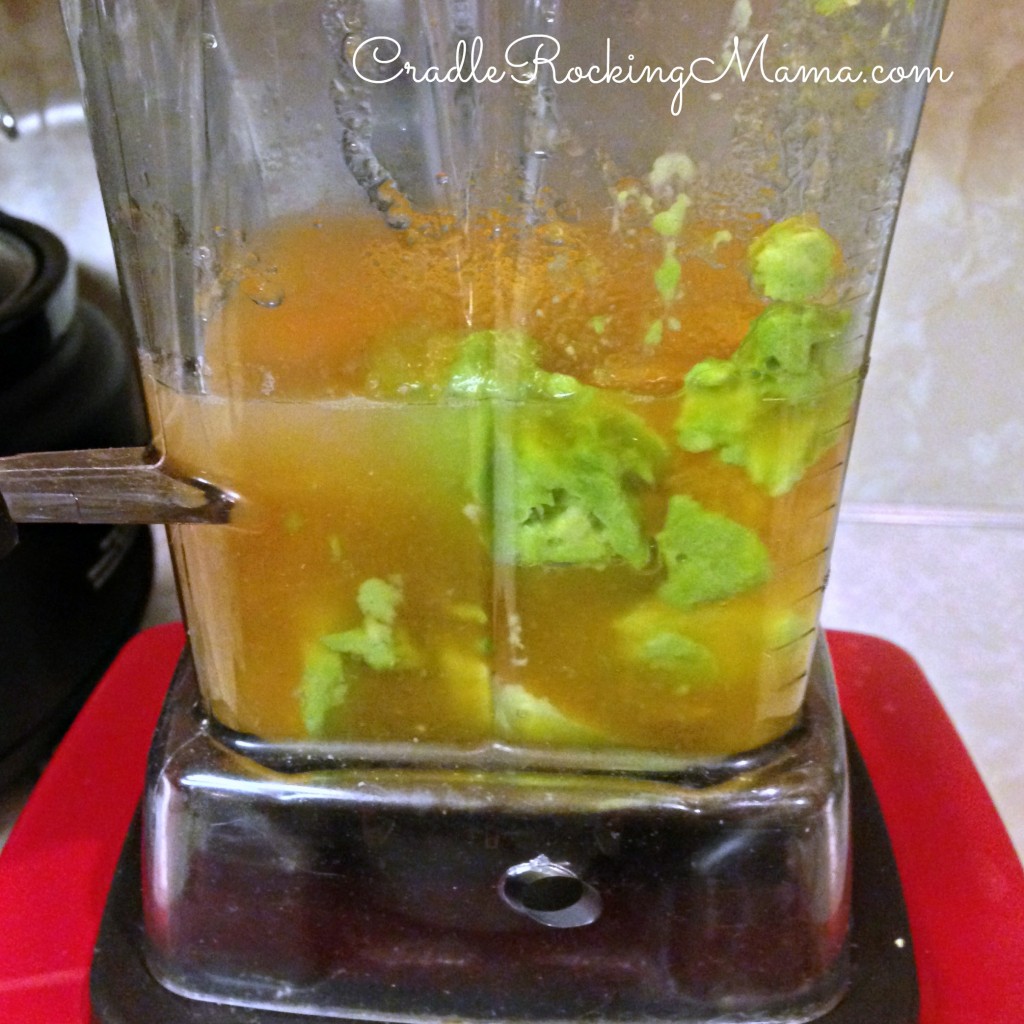 Turn it on and process until smooth. When it's nice and creamy, pour it into a jar or bowl and stick in the fridge to cool down.
I don't know what I expected when I did this, but I really wasn't thinking. The avocado contributed its lovely green hue to the gorgeous apricot color, and it came out a funny yellow-green color.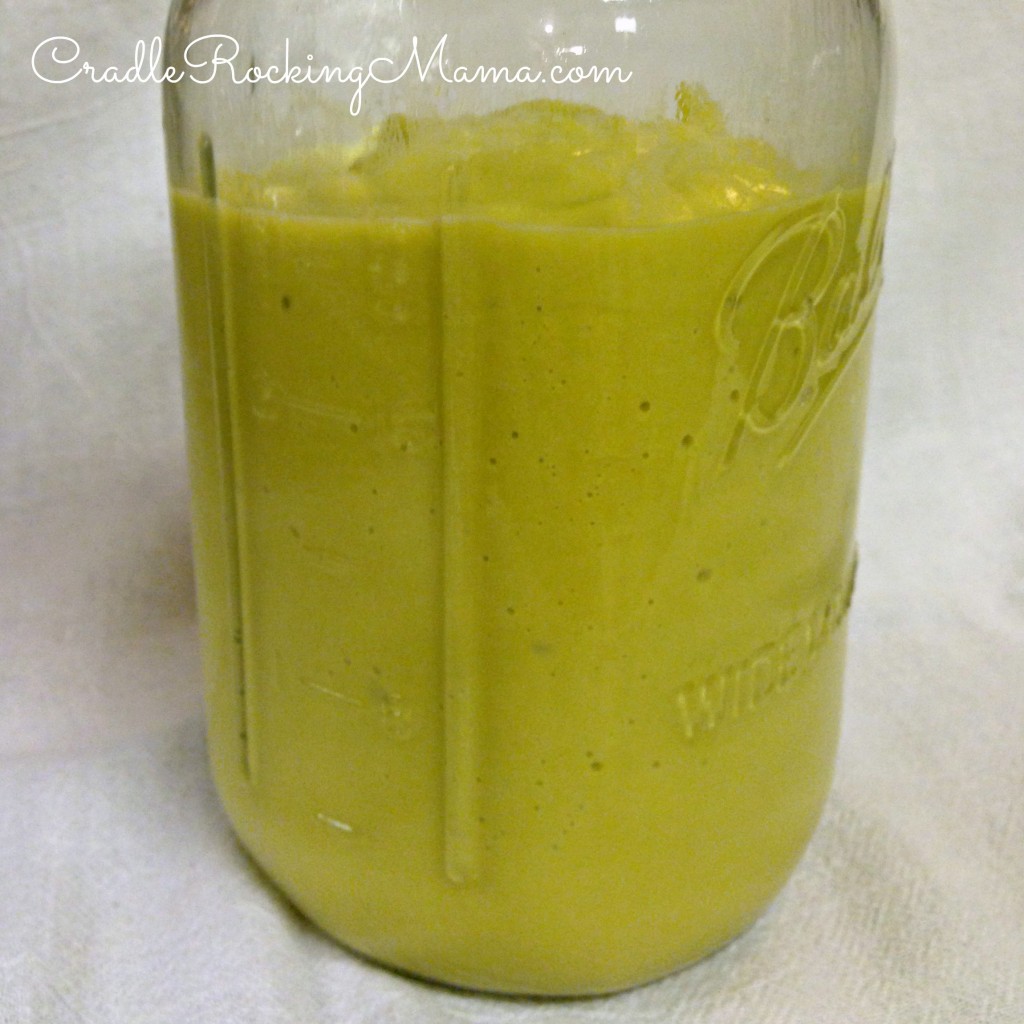 Not quite what I expected! But not the end of the world. To make sure it didn't taste as odd as it looked, I dabbed a little on a spoon and raced over to Darrel.
"Here," I said, as I shoved it in his mouth. "Try this."
Good sport that he is, he took it without complaint or comment.
I knew I had a winner when his eyes widened and he said "Hey! That's pretty good!"
OK. I can get over the color if it tastes that good, can't you?
Once it's chilled in the fridge, get out your ice cream maker and dump everything in. Do whatever you do to make your ice cream maker work, and about 20 minutes later, you'll have ice cream!
Jed was asleep when I did that part, so I dumped it all in a glass bowl and stuck it in the freezer for him to eat the next day.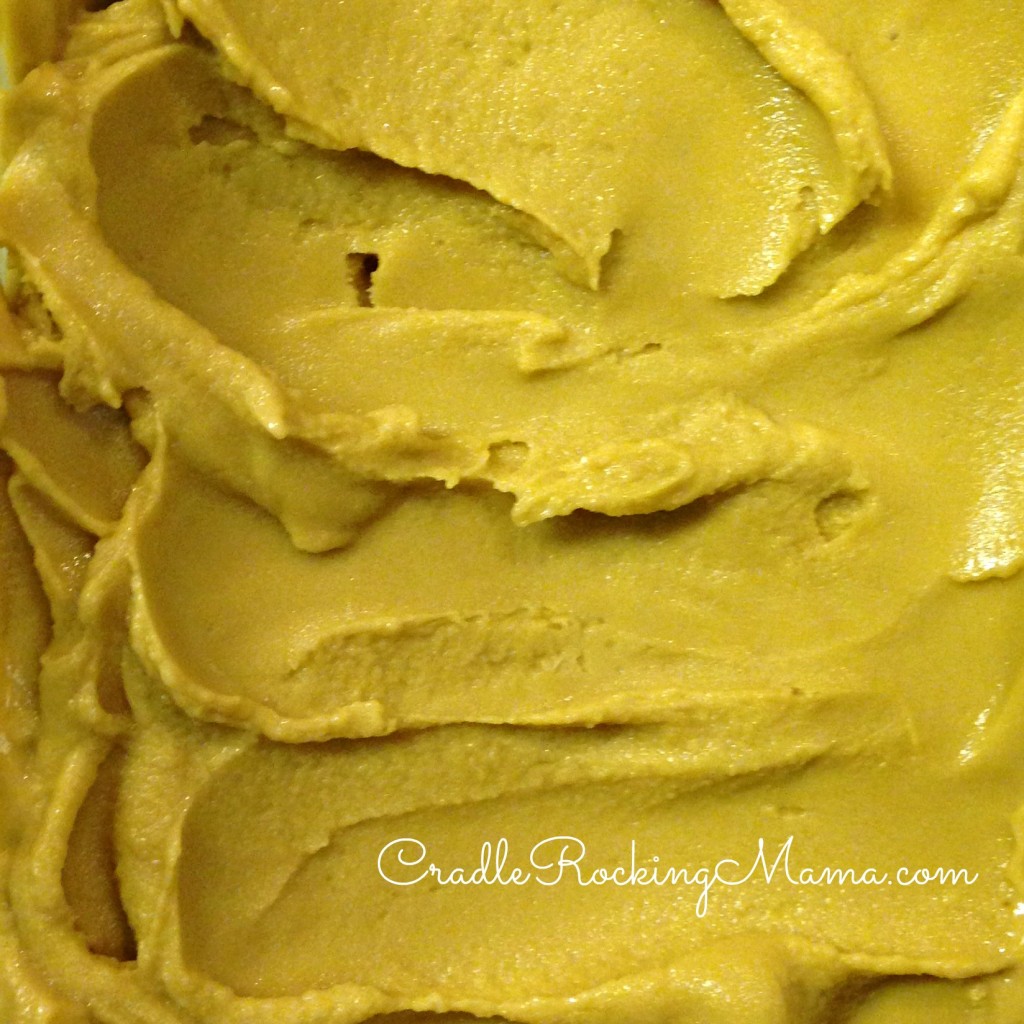 Good news! The next day, it scooped! (I just don't have pretty scoops in my pictures because, frankly, I've always stunk at scooping pretty scoops of ice cream.)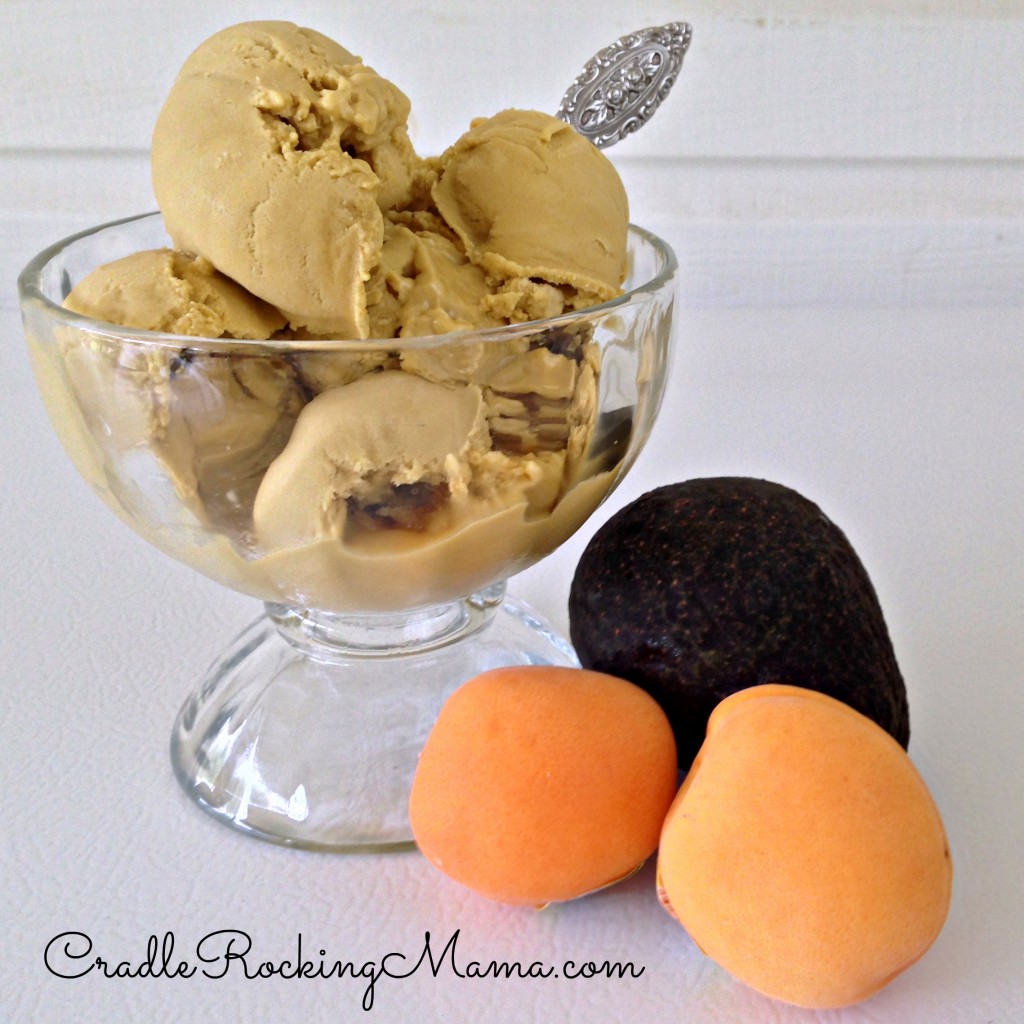 When Jed got his bowl of ice cream, he liked it. You'd never know that if you simply listened to his words, though! Just to give you a taste of what it's like to live with the most argumentative and contrary child on the planet, here's Jed eating his Apricot-Avocado Ice Cream:
Yup. "This tastes bad to me." Eat another big bite. 
Right.
(And I do actually have video of Jed arguing with me that the sky is NOT blue!)
So if you can't do cream or coconut and would like a sweet apricot treat this summer, give this a try!
Hope you like it!
Vegan Avocado-Apricot Ice Cream
This delicious ice cream may not look like a typical apricot ice cream, but it more than makes up for that in taste, texture, and nutrition!
Author:
Cradle Rocking Mama (Carrie Summers)
Ingredients
3 apricots
¼ c. water
¼ c. maple syrup
½ c. milk (whatever is safe for you, or just water)
1 avocado
1 tsp. lemon juice
1 tsp. almond extract (optional - omit to make top 8 free)
Instructions
Slice the apricots in half, pop out the seed, and put in a sauce pan with the ¼ c. of water.
Bring to a simmer until the apricots are softened, about 8-10 minutes.
Add the maple syrup and stir.
Remove from heat and let cool.
Cut the avocado in half, remove the seed, and scoop the flesh into a blender.
Add the milk, lemon juice, almond extract, and apricots to the blender.
Process until smooth.
Chill in the fridge for at least 3-4 hours.
Pour into your ice cream maker and follow manufacturer instructions.
Enjoy your healthy, unique summer treat!