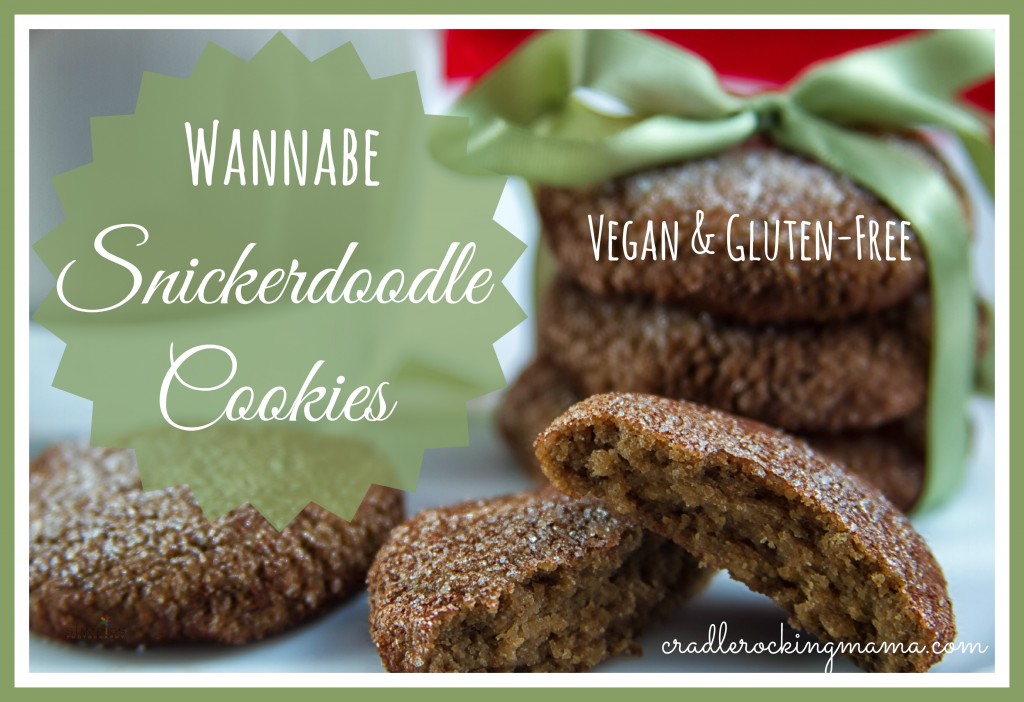 We are still snowed in.
Well, actually, we're ICED in, which is worse.
Theoretically, we could leave the house. We couldn't safely leave until about 11:00 a.m., and we'd have to be back by about 4:00 p.m., or else we'd risk getting caught on icy roads as the temperature re-freezes all the stuff it melted during the brief warmer hours, but for all intents and purposes, we're still stuck at home.
Why does this warrant mentioning? Because I'm going to ask you for a little tolerance in this recipe.
Jed has suddenly decided he wants to eat bananas again. Being a typical toddler, he'll go through food phases. Before the storm, I bought a big bunch of bananas for my Christmas Cookie Baking Plans, thinking 8 bananas would be enough because Jed no longer seemed to want to eat straight bananas…and then Jed ate all but ONE of those bananas this weekend.
So I had ONE shot to get my desired recipe right. I got close…REALLY close. But I can't actually try it again at this time because, well, bananas and cookies just aren't worth the danger of hitting the streets right now.

But we're heading in to Christmas, and it's time to bake those Cookies, so I'm going to share what I did and what I plan  to do to make it all better in the next batch (when I can) so you can try it either way for yourselves.
I wanted a Snickerdoodle-type cookie. With Jed's FructMal, I've had a hard time finding ways to make my standard Christmas cookies. While Snickerdoodles were never on my regular cookie rotation for Christmas, considering our restrictions they seemed a good addition.
I mean, does anything say "winter" more than something covered in cinnamon and sugar?
As is typical for me, though, I wanted to try and make these cookies healthier than a typical cookie. So I started with my Vegan Nut Butter Banana Cookies as a starting point and went from there.
I had just mashed up the banana and added the sunbutter when Zac started crying, so I interrupted my cookie making to go nurse him.
When I got back, I could tell the banana was starting to discolor, so to save the recipe I worked fast.
So fast, I didn't take step by step photos of each ingredient going in. I think it's pretty self-explanatory, though, so I can't imagine that will deter anyone from being able to successfully make these cookies!
Facing my banana and sunbutter mix, I started throwing things in the bowl that I thought would make a good cookie.
I added cashew milk, sorghum flour, rice flour, baking powder, arrowroot starch, and vanilla.
Once it was all stirred together, I'd created a dough that looked and felt a lot like a typical cookie dough!
I considered adding some more spices and flavorings to the cookie dough, but since I planned to completely coat the outside with cinnamon and sugar, and banana and sunbutter have fairly distinct flavors, I held off.
Next time, I won't.
This time, though, all I did next was to simply use spoons to scoop out enough dough to roll into approximately 2 inch balls, then rolled them in a cinnamon-sugar mix to coat.
Each ball went on a parchment lined cookie sheet, and then I used my fingers to press each cookie down a little bit so it wasn't so rounded and looked more like a cookie.
They seemed a little…plain looking, so I took some of Darrel's vanilla sugar (just some regular sugar with vanilla beans stuck in the jar; he uses it for his coffee) and sprinkled the tops.
Much prettier!
Then I baked them for 13 minutes and took them out to let them cool.
Jed was already asleep by that point, so the first taste test went to Darrel. He had a hard time telling me what he thought of them! In the end, he said they didn't have enough sweetness to them, and that the biggest problem was that they weren't as good as they OUGHT to be.
Since he knew they were coated in cinnamon and sugar, he expected something a little more WOW…and these just didn't quite hit WOW.
It was making me insane; not being able to taste my creations leaves me completely in the dark as to what I need to do to fix any problems that arise!
So I did a "wine-tasting" taste test! I took a small bite, leaned my head forward, and chewed it a bit before spitting it out and rinsing my mouth like crazy – making sure I never swallowed a bit of it.
Turns out, he was exactly right.
The texture of these cookies was excellent! They're soft, chewy and a little crumbly, which is just what I like in a cookie. The cinnamon-sugar coating was really good, too.
But the insides were just…boring. They need a little 'something extra' in the dough to make them really WOW.
The next morning, I gave some to Jed to try. HE LOVED THEM! By 3:00 p.m. he'd eaten half the cookies I'd made! Whew! Glad to know the intended "audience" for these cookies is a fan!
Next time I have bananas, I plan to add some maple syrup and cinnamon to the cookie dough, and maybe switch out the rice flour for almond flour. I think that will fix the boring-ness of the cookies. 
However, if you have a kiddo that hasn't been able to indulge in much along the lines of "cookies and treats" in their lifetime, I expect these cookies will make them very happy!
They look more like Gingersnaps than Snickerdoodles, but the important part is: they look like regular cookies! The texture is like a regular cookie! And with a few tweaks, I'm confident they'll taste just as good as regular cookies! (All of these are difficult to achieve when going Vegan and gluten-free, you know.)
Oh, and one little note about the sugar:  Darrel encouraged me to use sugar whenever I can in recipes because it's so much cheaper than dextrose. With FructMal, straight table sugar in small quantities is usually okay; the glucose balances out the fructose, so as long as you don't overindulge, most FructMal people can handle small quantities of table sugar.
Since I knew I just wanted a coating on these cookies, I went with straight sugar. If you're terribly sensitive to Fructose, you'll probably want to use dextrose instead of sugar on your coating.
So, these are worth giving a try. Though you might try it with my anticipated tweaks to really make these excellent!
When I get more bananas, I will make these again and I'll update you with my new findings.
Until then, happy baking!
---
Wannabe Snickerdoodle Cookies (Vegan & Gluten Free)
Moist, crumbly, perfectly yummy cookies your kids (and you) will love!
Author:
Cradle Rocking Mama (Carrie Summers)
Recipe type:
dessert, Christmas cookies
Ingredients
1 small banana
½ c. sunbutter
½ c. milk (we used cashew milk)
2 tsp. vanilla
⅔ c. sorghum flour
⅔ c. rice flour (I plan to use almond for my next attempt)
1 tsp. baking powder
1 tsp. arrowroot starch
For the coating:
⅓ c. sugar
2 tsp. cinnamon
(For my next attempt:
¼ c. maple syrup
1½ tsp. cinnamon
The added liquid will probably mean a slight increase in flour quantity, as well.)
Instructions
Set your oven to 350 degrees.
In a bowl, mash the banana completely.
To the banana add all the liquid ingredients: sunbutter, milk and vanilla. (And maple syrup if attempting my planned tweaks.)
In another bowl, mix your dry ingredients together: the flours, baking powder, and starch (and cinnamon if doing the tweaks).
Pour the dry ingredients into the wet ingredients, stirring until cookie dough forms.
In a small bowl, mix the cinnamon and sugar until well combined.
Using spoons, scoop out small portions of cookie dough and roll into approximately 2 inch sized balls.
Roll the balls of dough into the cinnamon sugar mix, coating completely.
Place each cookie on a parchment lined cookie sheet.
Use your fingers to gently press the cookies into a slightly less rounded shape; dust tops with sugar if so desired.
Bake for 12-14 minutes at 350 degrees.
Enjoy your healthier version of a wannabe snickerdoodle cookie!
Here's your chance to chime in: what additions would you make to take this cookie dough from "meh" to "WOW"?
---
This post shared with: