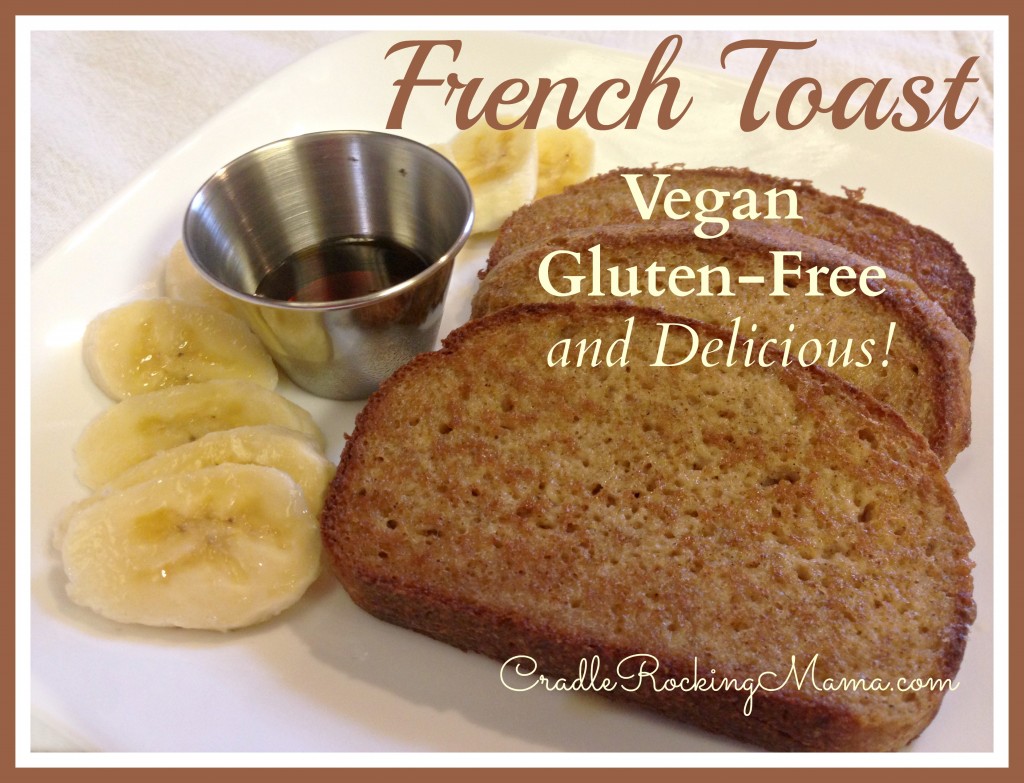 I just love this recipe. It's quick and easy to make, and gives me a new breakfast option for Jed. Or dinner. Either way. (You know "breakfast for dinner" is always a winner!)
French toast was always a favorite of mine, and I sorely missed it when we first had to go dairy and egg-free.
Fortunately I soon learned how to make vegan French toast, and Jed, Darrel and I all enjoyed this recipe immensely for a couple of years.
Then came fructose malabsorption, and we had to omit wheat from our collective diets. It seemed like French toast was out again.
Recently, though, I found the most delicious gluten-free sandwich bread ever, and realized Jed and Darrel could have French toast again!
So I dug out my old recipes and gave it a shot with our new sandwich bread…and it worked beautifully!
If you are dairy, egg, wheat and fructose free, take heart: French Toast is back on the menu!
Here's how you do it:
First, of course, you'll need to make safe bread (or buy safe bread, if you're lucky enough to have a store bought option).
Then make up your batter. Put the milk, starch, maple syrup, vanilla, salt and cinnamon in a shallow dish. If you can have nuts, I also add a little almond extract; it really kicks it up a notch!
Whisk all the ingredients together until they're well blended with no clumps.
Heat a skillet or griddle and add some oil, or spray with a non-stick spray.
When the skillet is ready to go, cut a slice of bread, dredge it in the batter on both sides, and lay it in the skillet.
Repeat for as many slices of toast as you want to make.
Cook each slice for a few minutes over medium heat until lightly browned. Flip and repeat on the other side.
Stack up your toast on a plate, and serve with whatever accompaniments you like. We prefer a ramekin of maple syrup for dipping and some fruit.
Enjoy your delicious, vegan, gluten-free, fructose-friendly breakfast!
Oh, and as a side note, I've seen vegan French toast that uses a banana purée batter. I'm sure it is delicious! But this is still a recipe worth adding to your recipe collection, just in case you ever find yourself banana-less!
French Toast - Vegan & Gluten-Free (and Delicious!)
This is so good, you'll never know this french toast isn't the traditional recipe!
Author:
Cradle Rocking Mama (Carrie Summers)
Ingredients
1 c. milk
2 T. arrowroot starch
2 tsp. maple syrup
1 tsp. vanilla
cinnamon to taste
1 tsp. almond extract
pinch of sea salt
gluten-free bread
Instructions
Make a loaf of gluten-free sandwich bread (or buy it if you're really lucky).
Put all ingredients (except the bread) in a shallow dish and whisk until well combined with no clumps.
Heat a skillet or griddle on medium heat; add oil or spray with cooking oil.
Dredge a slice of bread in the batter on both sides and lay on the griddle.
Flip when the toast is lightly browned, just a few minutes. Cook the other side.
Serve with syrup, fruit, or even plain!
Enjoy your delicious French toast!
Hope you like it! Happy breakfasting!