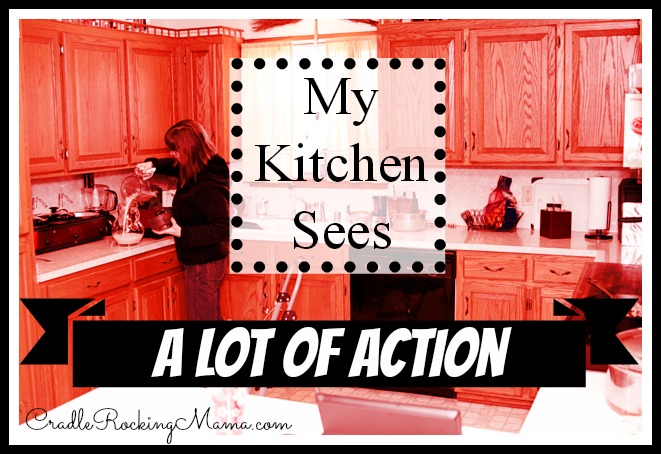 After I shared our "Day in the Life of FPIES", I got a lot of comments about how much time I spend in the kitchen and how focused we must be on food all the time. So I thought it would be fun to document everything we cooked for a week just to see if an FPIES/Fructmal Mama/family really does spend more time in the kitchen than most people.
Here is everything we cooked last week from Sunday to Saturday. Let me know if you think this is a lot of cooking or if I whine more than I should about how much time in the kitchen we spend!
Sunday:
One loaf of bread
Double batch hamburger hash
One serving of hash browns
One package of pork sausage
Two trays of quinoa tortilla bread
Pitcher of quinoa milk
One steak
Heated up one serving of quinoa for me
Heated up a bowl of quinoa for Zac
Heated up two 1 oz. servings of pork for Zac
One batch of candy bars without chocolate
Chicken, carrot and bell pepper stir fry w/ leftover mac 'n cheese
Strained off pork broth that had cooked overnight
French fries for a snack
Ran the dishwasher twice
Monday:
Double tray of quinoa tortilla bread
More quinoa milk
Heated up leftover sausages
Heated up 1 oz. serving of pork for Zac
Made a triple batch of hamburger hash
Hash browns with chopped up leftover sausage
2 hamburgers for Jed
Heated up dinner leftovers from Sunday night
Made a mix of Quinoa and ground beef stir fried in olive oil
Ran the dishwasher twice
Tuesday:
Made a double batch of hamburger hash
Made a pan of bacon (in the oven of course)
Three hamburgers
Cooked a steak
Made millet flour brown gravy w/fresh sliced mushrooms
Fresh green beans w/red bell pepper and mushrooms
Tray of quinoa biscuits
Quinoa/hamburger stir-fry mix for me
Bowl of rice cereal for Jed
Ran the dishwasher once
Wednesday:
Bowl of rice cereal for Jed
Steak and hash browns for my breakfast
Turkey sandwich w/ potato chips
Cut and served a bunch of candy bars
Heated up leftovers from last nights dinner
Ground beef/quinoa stir-fry mix for me
French fries for a snack
Being worn out from the reaction caught up to me today; I didn't feel well and was very tired so went for leftovers as much as possible.
Thursday:
Rinsed and cooked a pot of quinoa (3 cups)
Piece of toast with sunbutter
Turkey sandwich w/ chips
Quinoa stuffed peppers
T-bone steaks
Big pot of mashed potatos
Homemade lemon-lime soda
More Quinoa/ground beef stir-fry mix
Ran dishwasher twice
Jed ate two bananas, too!
Friday:
Bowl of rice cereal w/ banana
Double hamburger hash
Sirloin steak
Leftover mashed potatos
Cooked another package of sausages
Ran dishwasher once
Another wiped out day; Jed ate lots of quick foods (leftovers, bananas, candy bars).
Saturday:
10 pieces french toast
Heated up leftover sausages
Sliced bananas
Heated up 1 oz. of pork and quinoa for Zac
Steak and Hash browns
Pot of quinoa (4 cups)
Spaghetti squash
Pork chops
Green beans
Steak for me
Heated up more pork and quinoa for Zac
French fries as a snack
Cleaned out our deep fryer
Ran dishwasher twice
And of course, several times every day, I fed Zac bowls of quinoa. I only mention this because I may or may not have documented it each time, since all that involves is scooping quinoa from the big pot in the fridge into a smaller bowl for him! It doesn't really feel like food preparation because it's so easy!
So what do you think? Is that a lot of cooking or pretty normal for you, and are you an FPIES family or not?
I feel like it's pretty normal; maybe even a little lightweight. I didn't cook up any bones for beef broth this week, or dehydrate the broth. I also didn't make any beef jerky or potato chips from scratch this week. And I couldn't claim credit for the pork roast because I cooked that right before my "document the week" began!
Also, we had a bit of a rough week and a few days I just didn't get much sleep, so, I was tired and went for our version of convenience food for a couple days there.
I should also point out that I am not the only person who did all this cooking. Some of these items were cooked entirely by Darrel on days that he was home. This was just to show what is cooked in our house in a week – not necessarily who cooked it! (Thank you, honey!)
__________
Have you ever written down everything you've cooked in a week? What did it tell you about your lifestyle?