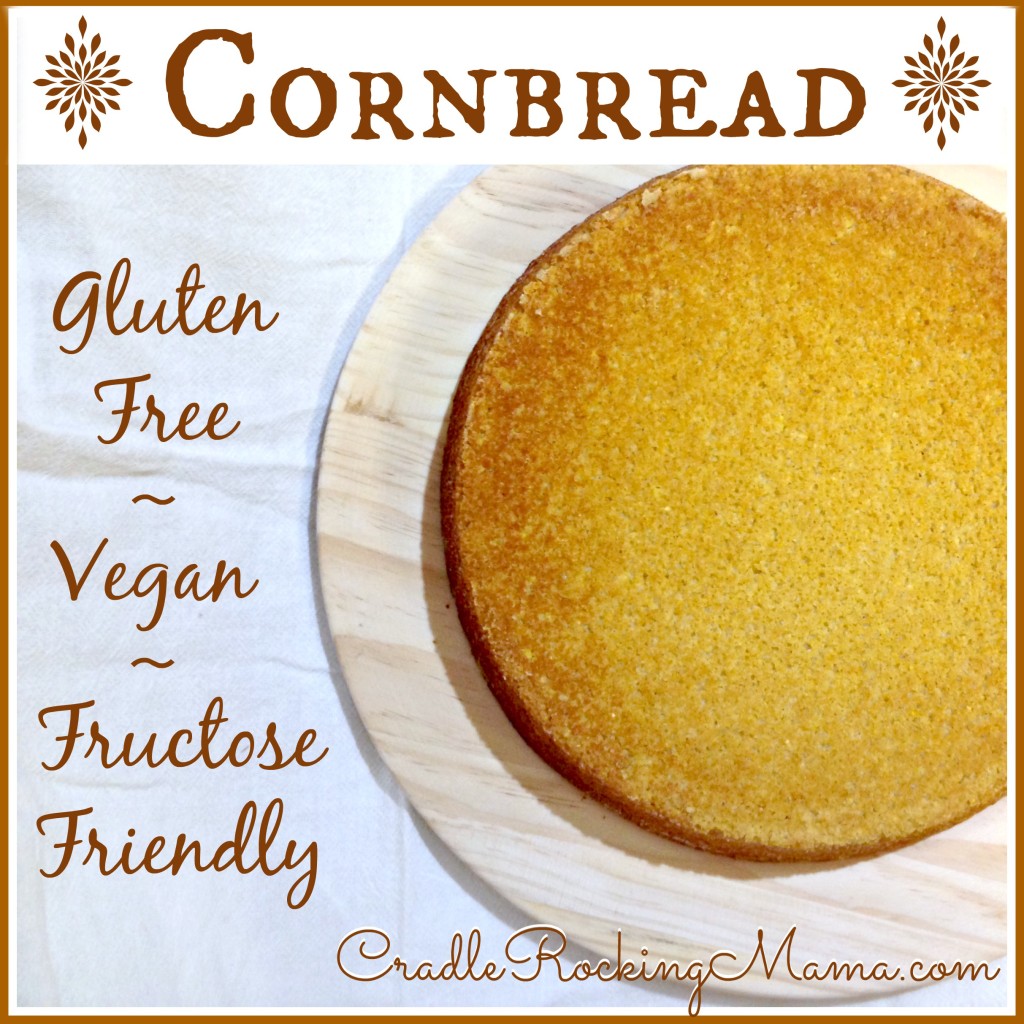 I suspect that if you're born in the South it is somehow genetically implanted in your DNA to have a love of cornbread.
Maybe that's an exaggeration, but it is undeniable that Southerners are fond of cornbread!
Even being born and raised in the South, I'll admit to having "cheated" on my cornbread in my single days. I used the Jiffy mix.
I know. It's awful. But it tasted so good! 
And all I had to do was add an egg and some milk to make myself a delicious pan of cornbread.
Obviously, Jiffy was one of the first thing to go when Jed turned up with egg and milk allergies.
Fortunately, I found a lovely recipe for egg and dairy free cornbread that we all adored, and the three of us ate that for two wondrous years.
Then we learned about Jed's fructose issues, and  once again, I lost a delicious recipe from my cookbooks.
New Year's Day tradition requires eating cornbread and black-eyed peas in our family, so I decided to put some effort in to making a cornbread safe for Jed: no dairy, no egg, no wheat, no sugar.
Let me tell you – no one will ever know this is an "alternative" cornbread! My Mom, Dad, Darrel and Jed all chowed down on this and loved it! 
Jed loves it so much, in fact, that I've had to make a second pan of it just for him.
Being corn-free for Zac isn't really that hard for me, most of the time…but I have to admit I stared longingly at this cornbread and prayed for a safe corn trial outcome in the future. Mama wants to eat some cornbread!
Sigh. I'll restrain myself. But there's no reason why you should!
So here's all you have to do to have an allergy safe, fructose friendly cornbread on your own dinner table:
Start by greasing and flouring an 8 inch cake pan. I used a paper towel with some olive oil to wipe down the inside of the pan, and dumped a few T. of millet flour on top. A few shakes and taps, and the pan was ready to go.
Get your oven heated to 425 degrees Fahrenheit.
Then dump your dry ingredients into a bowl. I used millet and buckwheat flour for this recipe, but I'm fairly sure you could sub out any other gluten-free flour in their place. (Let me know if you try and how it turns out!)
The second time I made this, I ran out of cornmeal. Ack! I only had half a cup. So I used half a cup of polenta to finish off the required amounts of cornmeal. It worked just fine! The taste was perfect, but I did notice it was a little thicker and heavier than with just plain cornmeal. Try to use straight cornmeal, but don't worry if you have to pull off a substitution like I did. It will still work.
If you don't have to worry about fructose, you can use regular white sugar instead of dextrose. (Or honey, or maple syrup…) If you do that, you'll need to adjust your sweetener down to 1/4 c.
Add your wet ingredients (oil and water) and mix together quickly. The baking powder will make the batter rise fairly quickly, and it just works better if it does most of its rising in the pan. So work fast! But make sure you get all the dry ingredients incorporated.
Scoop all that lovely cornbread batter into the prepped cake pan, and pop it in the oven.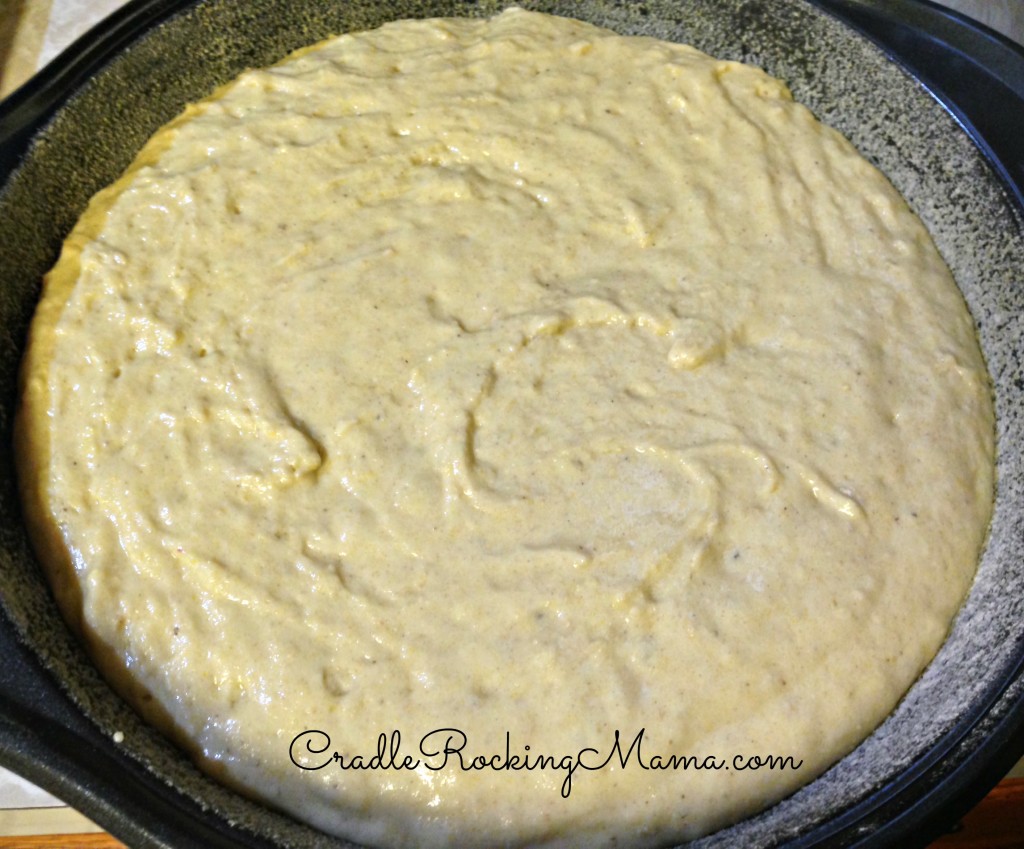 20 to 25 minutes later, when the top of the cornbread just starts to get a little golden brown-ness to the crust, take it out of the oven to let cool on the counter.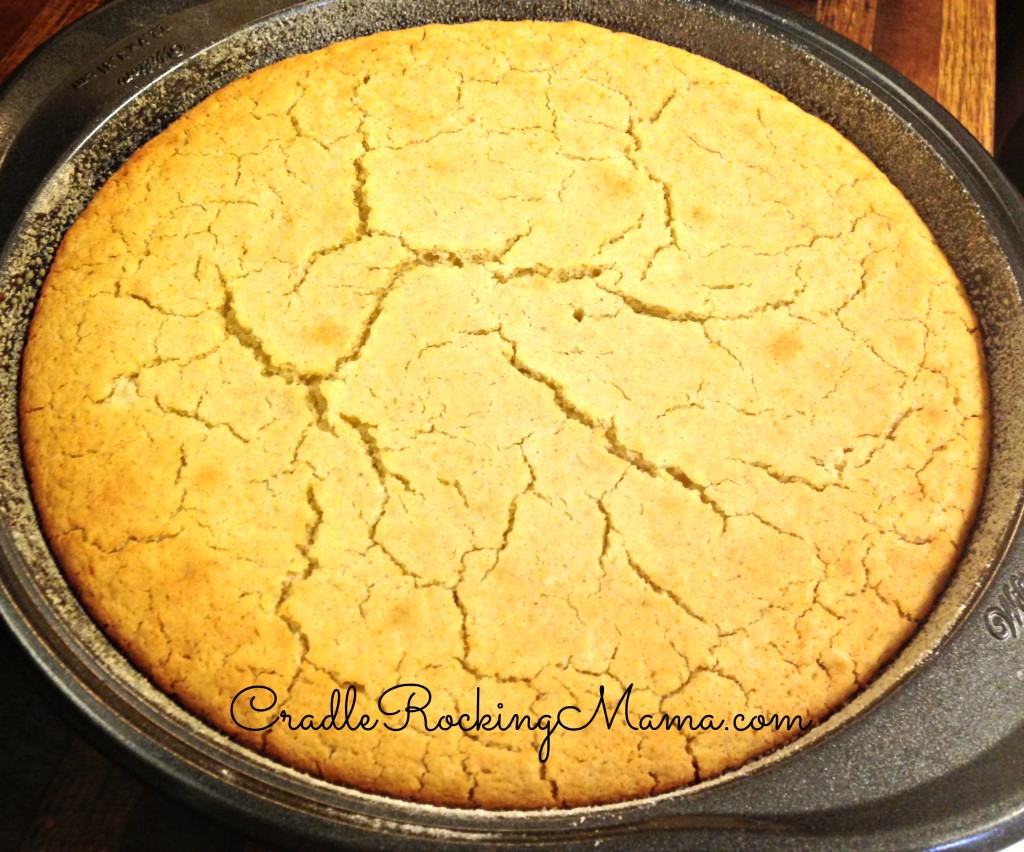 I usually let it cool for at least 10 minutes before cutting.
You can remove the cornbread from the cake pan by putting a plate on top of the pan and flipping the whole thing over (if you want to make it pretty for your dinner table), or you can just cut and serve straight from the pan. Whichever floats your boat.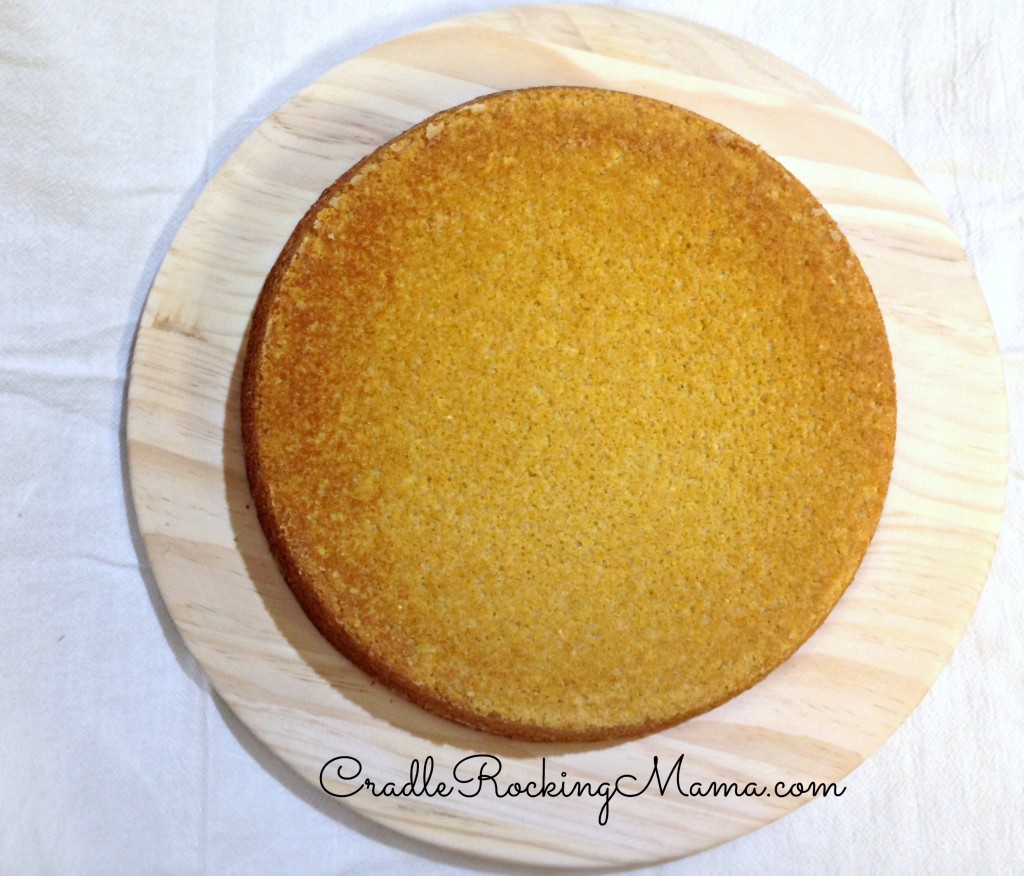 Either way, it's delicious as-is.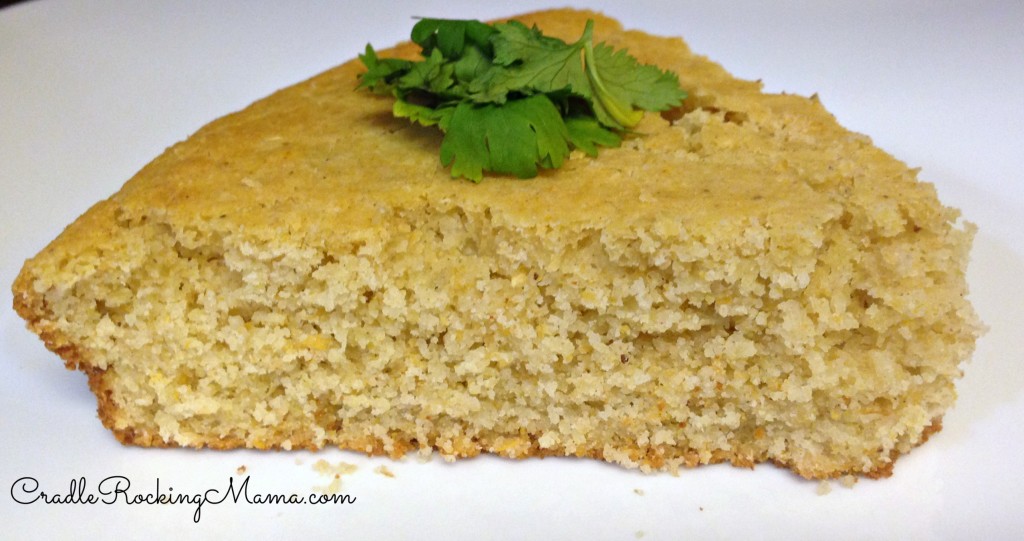 But it's especially good with some black-eyed peas on top!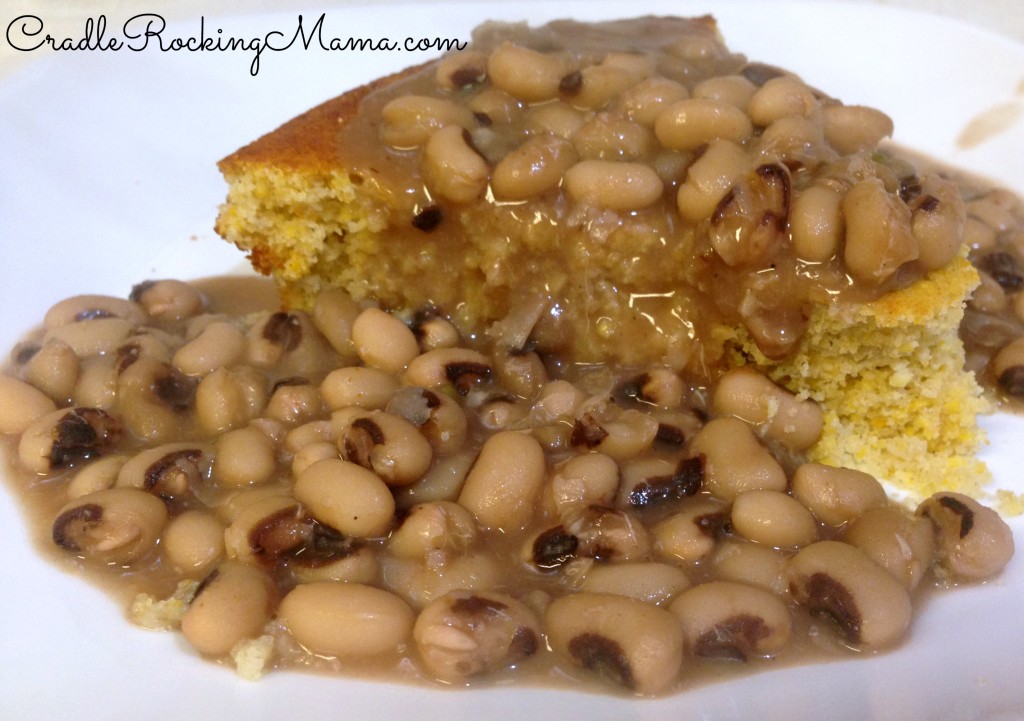 Or pinto beans. Whatever you can tolerate. 
Yum!
Enjoy your cornbread!
Cornbread - Vegan, Gluten-Free, and Fructose Friendly!
No one will ever know this is allergy-free, vegan, gluten-free and fructose-friendly! Bring delicious cornbread back in to your allergy restricted kitchen!
Author:
Cradle Rocking Mama (Carrie Summers)
Recipe type:
side dish, bread
Ingredients
1 c. cornmeal
½ c. buckwheat flour
¼ c. + 2 T. millet flour
2 T. arrowroot starch
⅓ c. dextrose (or ¼ c. sugar)
5 tsp. baking powder
½ tsp. sea salt
1 c. + 2 T. water
⅓ c. oil
Instructions
Preheat oven to 425 degrees.
Grease and flour an 8 inch cake pan; set aside.
Combine all the dry ingredients in a bowl. Add the water and oil and mix quickly.
Pour into the prepared cake pan.
Bake for 20-25 minutes.
Remove from oven and let cool on counter for at least 10 minutes before cutting.
Enjoy your delicious cornbread!
---
This post shared with: