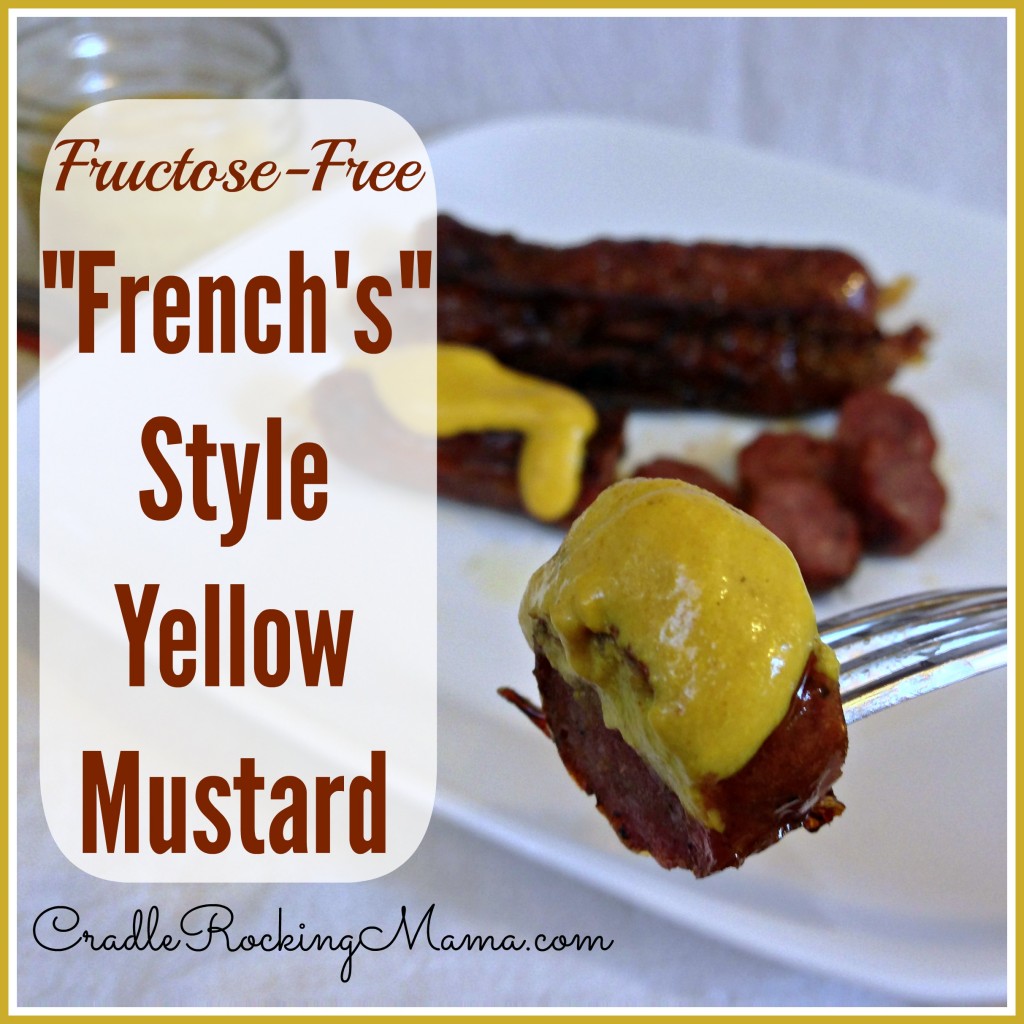 Jed, as you may know, has fructose malabsorption. Trying to find foods that are safe for him is quite a challenge – particularly things like sausages, hot dogs, bacon…and condiments.
All of those things are typically chock-full of fructose, not to mention fun things like "natural flavors" and "seasonings".
We don't eat "mystery ingredients" if we can avoid it.
The poor thing has basically had to give up all sauces, and that's just really crappy for me.
After all, how many of you can only convince your toddler to eat a food once it is liberally doused in a tasty sauce? Can you imagine taking away that option? How hard would it be to get them to eat?
Exactly.
I finally found a safe sausage link for Jed. Beeler's sausage links became his absolute favorite food! He would eat 6-8 sausages at a time – no sauces necessary!
Hallelujah!
Then my food co-op changed suppliers, and their new supplier doesn't carry Beeler's sausages.
Emergency!!
I searched everywhere local, and couldn't find a replacement sausage. I looked online and found nothing.
In a panic, I called Christina at Traeger Ranch to ask about her sausages.
The ones she has ready made were no good for Jed (though undoubtedly delicious) because of garlic powder. BUT, she said she could have sausages custom made with my own recipe very easily.
I just love Christina!
So I sent her a copy of the ingredients in the Beeler's sausages and, after hearing me say that the only thing I wished was that they used a different sweetener, she made a special trip to buy maple syrup for Jed's sausages to replace the sugar in the ingredients list.
Did I mention that I love Christina?
Anyway, the sausages finally arrived to much cheering and excitement in our household.
(Oh – little side note. Christina addressed the box to Jed, so he could see that these were for him and take "ownership" of the new sausages. How cool was that? Jed was thrilled to get his very own package!)
I cooked them up for Jed the next morning and…he didn't like them.
Argh!
Darrel tasted the sausages and said they were very good, but didn't taste like the Beeler's sausages, so maybe that's why Jed didn't care for them.
I tried to get Jed to eat the sausages several more times, and each time he would eat a few more bites…but never managed to eat a whole sausage.
One day Darrel wistfully commented that maybe they'd be more appetizing to Jed if we could put some mustard on them.
We double-checked the single, lonely bottle of French's mustard in our fridge and verified that it was no good for Jed.
It didn't matter. I knew there HAD to be a way to make a mustard that was safe for Jed!
After reading a ton of mustard recipes online (really? There are that many ways to make mustard?) I combined a few recipes and came up with this: a fructose-free, "French's"-style yellow mustard.
The verdict?
Jed started scarfing down sausages like they were air, occasionally shouting out "I love this! I just love it!"
And I did a little happy dance of joy in the kitchen.
Darrel says it doesn't have the tartness of the original French's mustard, but that it most definitely is a mustard – and a good one at that.
So try it for yourself. If you're fructose-free, you get another condiment in your kitchen! If you're not fructose intolerant, you eliminate some "natural flavorings" from your kitchen.
It's a win either way.
Plus, it's insanely simple:
Put all your ingredients in a sauce pan.
Put the pan over medium heat and bring to a boil. Reduce the heat to a simmer, and cook for about ten more minutes. Stir it frequently so it won't burn or clump!
It will thicken as it cooks; after about ten minutes, take it off the heat and let it rest for about a minute. Then just cover and let sit until cool.
Store it in a jar with a lid in the fridge and use it anywhere you like mustard!
Keep in mind, this only makes about 1/4 of a cup (2 ounces) of mustard, so you should be able to use it pretty quickly. I don't know how long this will keep in the fridge for, but as it is a fresh, real food item, I'd suggest checking it after a few weeks before slathering it all over your meal.
Doesn't it look delicious? And I don't even like mustard!
I was planning on this being a "Frugal Friday" post…but after running the numbers, it is NOT the more frugal option. 
Generally speaking, homemade items are more economical than store bought; but looking on Amazon, I can buy two 30 oz. bottles of French's mustard for $10.99, which makes it a mere 18 cents per ounce.
The mustard alone for this two ounce recipe cost me 48 cents; that's not accounting for the other ingredients that would surely bump it up to over 55 cents per batch.
I was a little upset that I wouldn't have a Frugal Friday post today, until it occurred to me that I DID have a Frugal Tip to share.
Sometimes, you have to decide what value to assign to things beyond just the monetary.
That single, lone jar of French's mustard we still had in our fridge? I bought that for Jed's first birthday party. Y'all, he's about to turn FOUR. And it was still sitting there in my fridge.
It probably would even taste just fine, thanks to the mystery ingredients that preserve it! (Yes, I threw it away. Ew.)
I don't know about you, but when I started to think about that a bit, I got very grossed out.
The plain ingredients to MAKE mustard are shelf stable and will be perfectly healthy to use for long periods of time (if stored properly, of course). And the final product is much healthier for my family, not even considering the fact that Jed can actually USE this product thanks to it being fructose-free!
That's worth the extra 10 cents per ounce in my book. 
So there you have it: a recipe, and a philosophy. I didn't expect it, either! 
Hope you like the mustard!
Fructose-free "French's"-style Yellow Mustard
Make your own yellow mustard - no preservatives, no fructose, no gluten, just plain yumminess!
Author:
Cradle Rocking Mama (Carrie Summers)
Recipe type:
condiment, fructose-free, top 8 free
Ingredients
4 T. ground mustard
3 T. vinegar
4 T. water
¼ tsp. millet flour
⅛ tsp. turmeric
pinch of salt
pinch of tapioca flour
pinch of paprika
Instructions
Put all ingredients in a sauce pan.
Whisk ingredients together and place over medium heat.
Bring to a boil, then reduce heat and simmer for about 10 minutes. Stir frequently!
Remove the pan from the heat and let sit for at least a minute.
Cover the pan and let cool completely.
Store in a lidded jar in the fridge.
Enjoy your healthy homemade mustard!