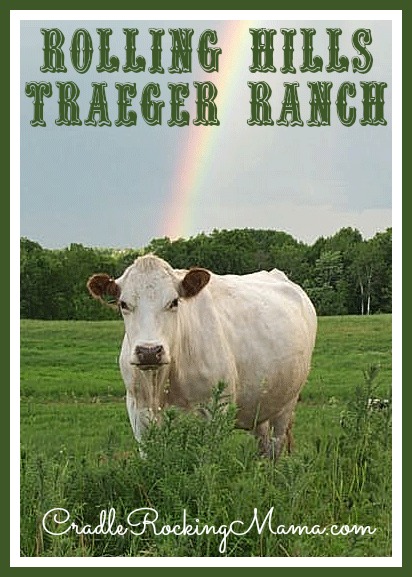 When it came time to consider another meat trial for Zac, I admit to being at a bit of a loss.
My awesome lamb guy only raises lambs.
We're pretty confident chicken (so probably turkey and other poultry) is a trigger, so we didn't want to go there.
Game meats are supposedly good, but as sensitive as Zac is we were unsure of animals who may have eaten anything – including corn – while they wandered the woods.
What's left?
Then one of my friends shared how her son, another sensitive reactor like Zac, had been doing really well on pork.
So of course, I asked for the contact information to her pork source!
My friend shared with me, and now I'm sharing with you…because whether or not pork proves safe for Zac, this lady is awesome and deserves some pats on the back (and business) for her efforts!
Christina Traeger runs Rolling Hills Traeger Ranch in Minnesota. She raises chickens, beef, duck, turkey, goose, and pork; all free-ranged as much as possible, fed soy and corn free feeds when necessary, antibiotic and hormone free, and sustainably raised.
That's what I'm talking about! Animals raised the most humane way possible, and the most healthy way possible! Gotta love this lady!
I've now chatted with Christina by phone several times and exchanged many messages online, and she is the real deal. She is concerned about the food supply the way it is these days, and wants to do her part to make eating healthy and safe for everyone – especially those who are sensitive to corn and soy.
She was happy to ship meat to us, and it arrived still frozen in a styrofoam insert.
This pork roast was beautiful and unique; I told Darrel I was glad I didn't currently have a beef roast cooked up because I was likely to mix up the meats!
As with heirloom vegetables, heritage breeds of animals that are not fed corn and soy have different qualities. Christina's Berkshire hogs have meat that is red in color when raw, and cooks up more of a reddish-brown.
It certainly doesn't look like the washed out, pale looking white meat of grocery store pork!
It smells heavenly when cooking, too. The aroma of the roast I cooked was on par for deliciousness to cooking up a pan full of bacon…and our roast was cooked with no seasonings or vegetables at all!
I wish we lived closer so we could go visit Rolling Hills and Christina. Maybe someday we can go for a visit to see her ranch in action.
Until then, though, we will order as much as we can in meats from this wonderful rancher with a conscience.
If you want to eat some delicious, humanely raised, GMO-free meat, I strongly urge you to order from Christina and Rolling Hills Traeger Ranch. You won't be sorry!
Find her online at GrillinMeats, or at Love British Whites.
She's on Facebook here and here.
And her contact info is directly below:
Christina Traeger
38468 210th Ave
Ogema, MN 56569
320-293-2995
Like I said, even if pork doesn't prove to be safe for Zac, this lady is amazing and I wanted to share with everyone a fabulous source of Good Meat.
Frankly, her prices are so good that we will continue to buy as much as we can from her just for Darrel and Jed!
Happy grilling!