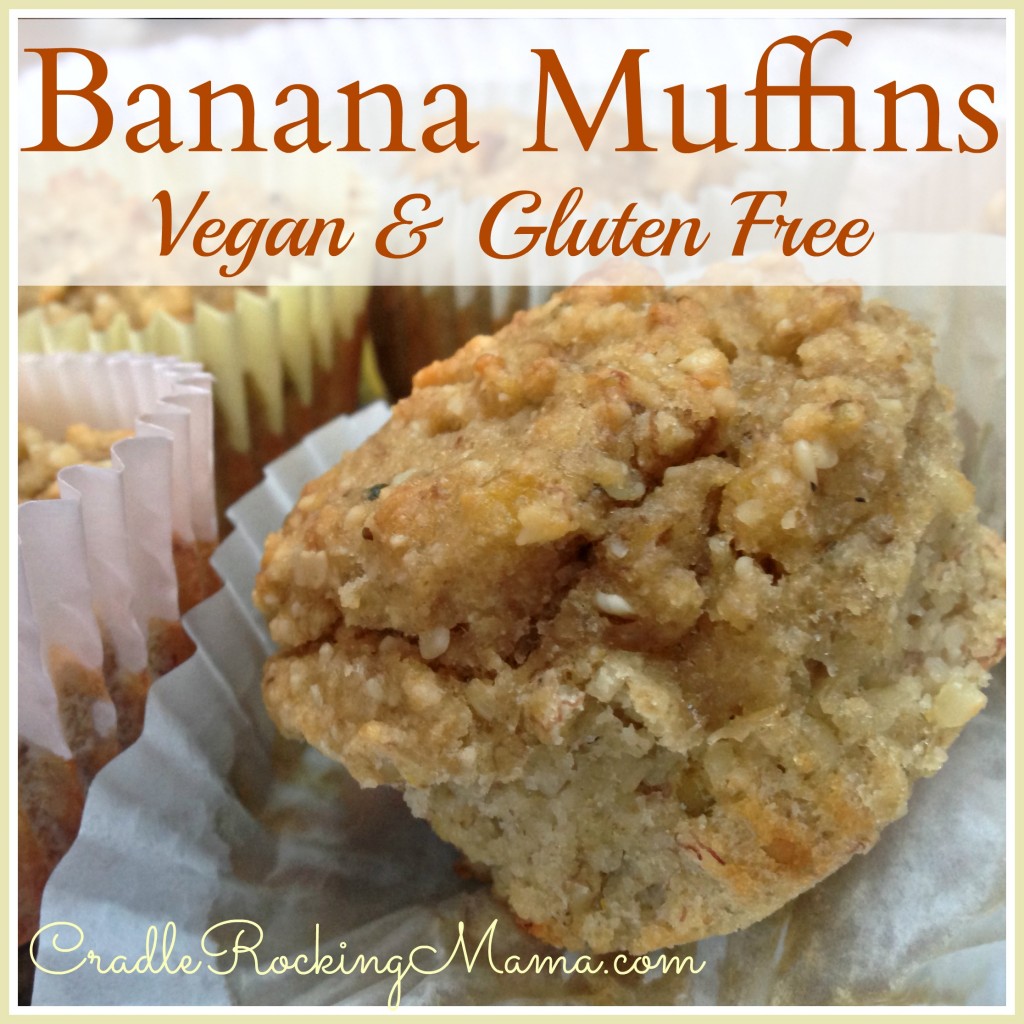 Pre-FPIES and pre-fructmal, one of the most delicious creations to come from my kitchen was my vegan banana bread. ALL of us loved this bread!
It was flavorful, sweet but not too sweet, moist, and all but melted in your mouth.
It was still substantial enough to also withstand being slathered with jelly…if you had an inkling. Because really, it didn't need a thing to make it better!
We have greatly missed my banana bread, but baking wheat, egg, dairy, and fructose free has been a real learning curve for me, and I hadn't felt brave enough to tackle that recipe yet.
Until yesterday morning, when it dawned on me that – you know? I may not be able to pull off a bread, but I think I might be able to put together some banana muffins!
So I tried.
I succeeded!
These muffins hold together well, are moist and full of flavor, sweet but not too sweet…they're awesome.
Jed could not stop eating them! He ate half a dozen muffins all by himself yesterday! My Mom ate one and was surprised by how much she liked it (and she strives to offer no-holds-barred constructive criticism on my recipes, since she knows I can't taste them myself).
Here's how you do it:
Mash up two bananas in a bowl.
Make up your chia eggs. Just put 2 T of ground chia in a bowl with 6 T of water and whisk together until well blended. Then let it sit for a few minutes while you get the rest of your wet ingredients together.
Add to the banana your quinoa milk, maple syrup, and vanilla, then toss in the chia egg and whisk until everything is blended well.
Add your dry ingredients next: almond flour, millet flour, hemp hearts, psyllium husk and baking powder. (Make this top 8 allergy free by subbing out the almond flour!)
Stir until well mixed.
Line your muffin tin with liners and fill each cup about 3/4ths full.
If you want, at this point you could sprinkle some nuts, oats, quinoa flakes, or fruit on top for a little extra pizzazz. I went for plain and simple, though.
Then pop in the oven for about half an hour and enjoy the heavenly aroma that fills your kitchen!
When a toothpick comes out clean, the muffins are done. Take them out if the oven and let cool in the pan on the counter for about ten minutes.
Then remove the muffins from the pan, take off a paper wrapper, and enjoy a delicious, healthy treat!
Banana Muffins - Vegan & Gluten Free
Moist, delicious, tasty muffins that happen to be vegan, gluten-free, soy-free, fructose-friendly, and potentially top 8 allergen-free - and healthy!
Author:
Cradle Rocking Mama (Carrie Summers)
Recipe type:
Breakfast, Snack
Cuisine:
Vegan, Gluten-Free, Soy-Free, Fructose-Friendly
Ingredients
2 chia eggs (2 T. ground chia + 6 T. water)
2 bananas
¼ c. maple syrup
¼ c. quinoa milk
1 tsp. vanilla
½ tsp. baking powder
1 c. almond flour (sub this out to make nut-free muffins)
½ c. millet flour
¼ c. hemp hearts
½ tsp. psyllium husks (optional)
Instructions
Pre-heat oven to 350 degrees F.
In a small bowl, make the chia egg. Mix completely and set aside.
In another bowl, mash both bananas.
Add the maple syrup, quinoa milk, and vanilla to the banana and stir together well.
Add the chia egg to the wet mixture and whisk until well blended.
Add the almond flour, millet flour, baking powder, hemp hearts, and psyllium husks (if using) to the wet mixture. Stir together completely.
Line a muffin pan with paper liners and fill with batter to ¾ full.
Bake for 25-30 minutes, until a toothpick comes out clean.
Remove from oven and let cool on counter for ten minutes.
Enjoy your delicious, healthy muffins!
Do you just love banana bread, too?