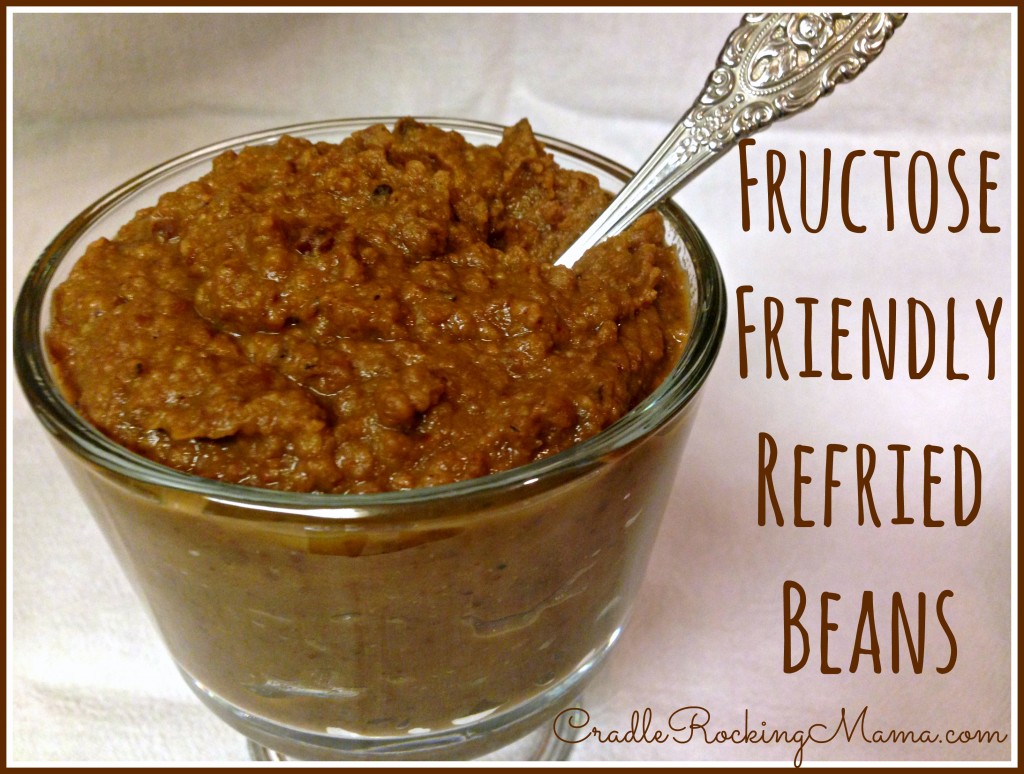 Well, I underestimated how much time and effort would be needed to complete my BIG SURPRISE PROJECT (kids, anyone?), and it's not quite ready yet. Sigh.  Soon, I promise!
In the meantime, how'd you like some refried beans?
Sure, you can go to the store and buy a can (even though those are usually disgusting), and there are tons of tutorials online for how to make excellent refried beans. I could even give you an excellent recipe that I've used for ages that starts with simple, dried pinto beans.
One problem: if you deal with Fructose Malabsorption, pinto beans can be…problematic. 
Sad as it is for us to accept, Jed can't tolerate pinto beans. (Of course not! They're only $1 per pound!) So we've been living "refried bean-less" for many months.
Until last week, when I saw a can of Fava beans in my pantry and thought "Why not?" It made a decent hummus…why couldn't it make a decent refried bean?
So I tried it. And it worked. Kind of.
Darrel says they were good, but they don't taste like traditional refried beans. He went back for more, though, which I always take as a good sign!
Jed has a case of the Tremendously Terrible Three's and has been refusing to eat ANYTHING I offer him lately. So, he might actually like this one day. If I can get him to eat it. (Very ready for this phase to be over with!)
If you can eat pinto beans, by all means, make the original. I miss pinto beans. They're wonderful.
But if fructose or pinto beans in general are a problem for you, give this a shot: it will work perfectly on a tostada, taco, or other delicious dish!
One word about the spices: feel free to double them. Seriously. Darrel and Jed are notoriously sensitive to spicy foods, so I always try to keep the spices on the lower side in my cooking. I wouldn't be surprised if this NEEDED to be doubled to be considered delicious by most people, but since I didn't make it that way, I don't want to accidentally burn your taste buds off by recommending it from the start.
Try it with the amounts I've listed, let it cook for a bit, and then taste it to see if you need to kick it up a notch. Leave me a note if you find the seasoning needs a bit of tweaking, please! Thanks, and enjoy!

Fructose Friendly Refried Beans
Refried beans made with an unconventional bean for the fructose-sensitive.
Author:
Cradle Rocking Mama (Carrie Summers)
Recipe type:
fructose-free, side dish, dip
Ingredients
1 can Fava Beans
1 tsp. cumin
½ tsp. paprika
¼ tsp. chili powder
¼ tsp. salt
⅛ tsp. black pepper
2 c. water
Instructions
Rinse and drain the beans.
Add the beans and water to a saucepan.
Add the seasonings, and simmer for half an hour.
Get out an immersion blender or potato masher and mash those beans up as much as you like.
Enjoy your non-pinto refried beans!
Have you made refried beans out of a non-traditional bean before? How did that work out for you?