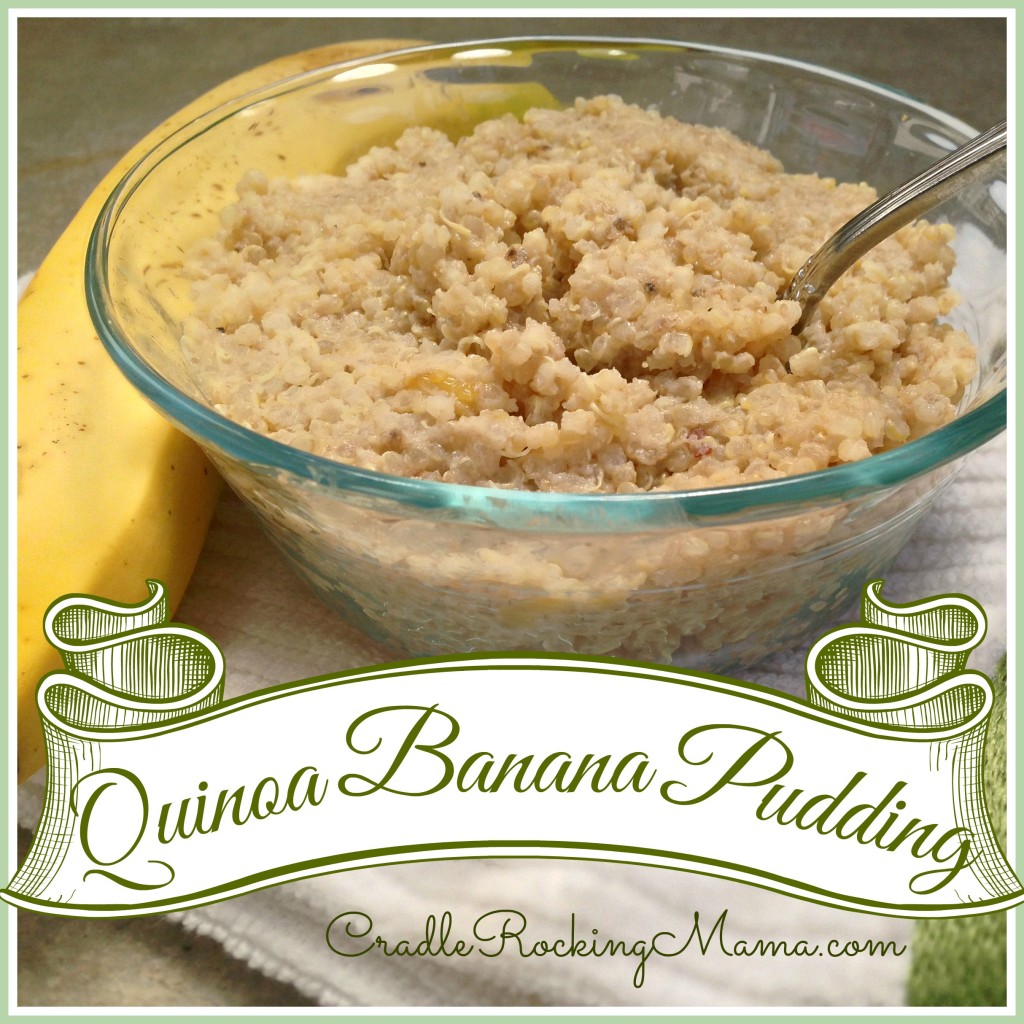 For my next "simple quinoa" recipe, here's a recent development in my kitchen: Quinoa Banana Pudding.
Well, sort of. Kinda. You'll see. 
With bananas in our diet now, I thought there had to be a way to make a banana pudding for Zac. He's past the pureed foods stage, of course, but come on – who doesn't like pudding, right?
But most pudding additions are o-u-t in our household, at least for Zac. No starches or thickeners are safe for him yet.
Then I thought "Rice pudding…huh. There's an idea."
But, of course, rice is o-u-t in our household, too.
Quinoa, though…quinoa is the safest, most awesome-est food in the world! (At least to us!)
Surely there was SOME way to make this work!
So I experimented.
Since this is a new recipe, I haven't fully tweaked it to my satisfaction yet. However, the calls for "simple quinoa recipes" were too strong to resist, so I'm sharing what I've got so far – and I'll tell you what I'm going to try next time.
It really is pretty good the way it is, so I'm not sharing something that stinks! But I think a few minor adjustments and this would be better.
Start by rinsing the quinoa. I know Ancient Harvest says their seeds are pre-rinsed, but trust me, it makes a huge difference!
Then put the quinoa and your safe milk in a pan to cook.
Aside from using milk instead of water, cook it exactly as the instructions say to. Bring it to boil, then drop the heat, cover, and let simmer for an additional 15 minutes.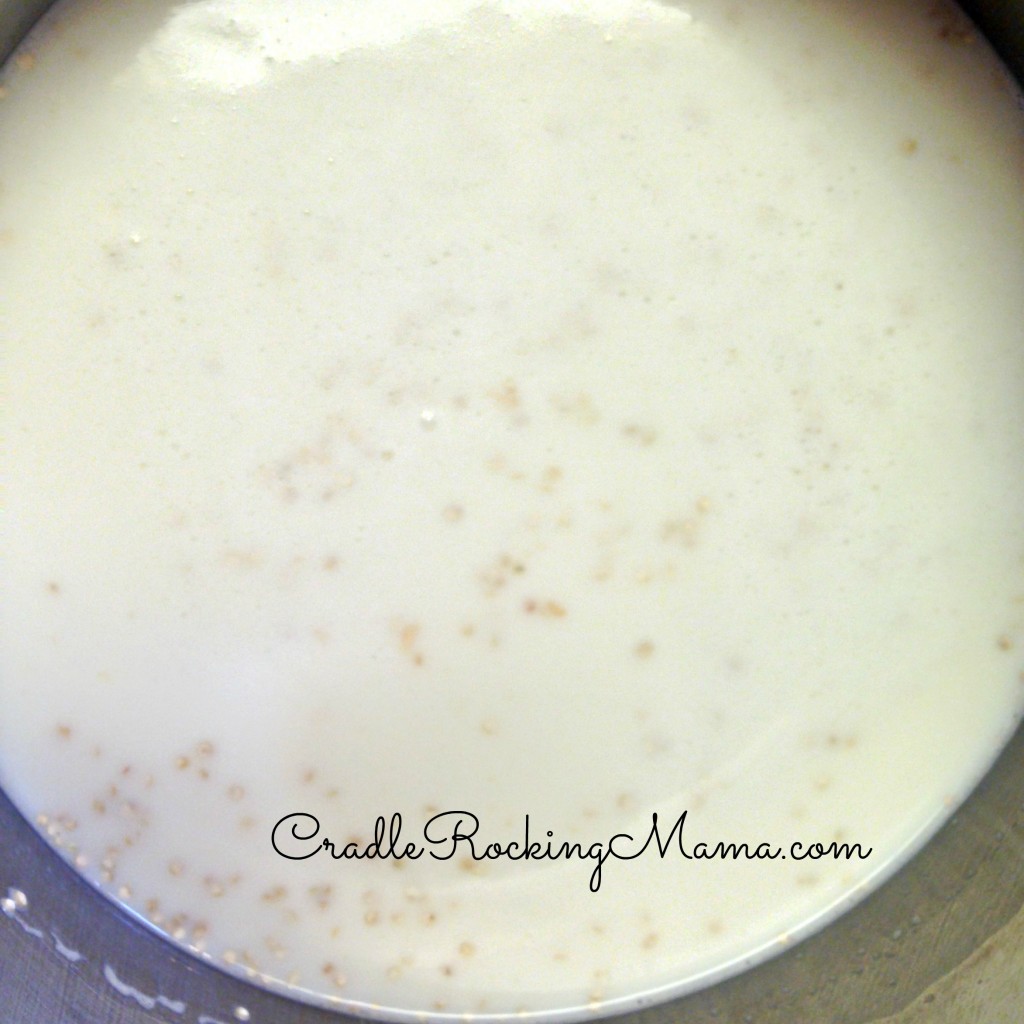 While that's happening, grab some bananas. I only had frozen bananas at the time, but this would surely work with plain, unfrozen bananas.
Throw them in a food processor and process until smooth. It took almost 2 cups of bananas to make 1 cup of banana puree.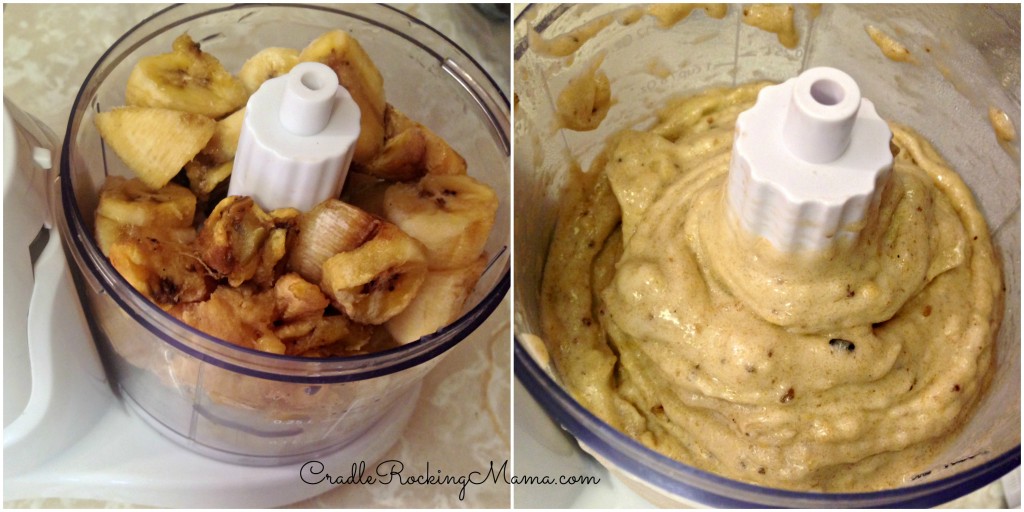 When the quinoa has cooked, dump the banana puree in the pan with the quinoa and mix it together.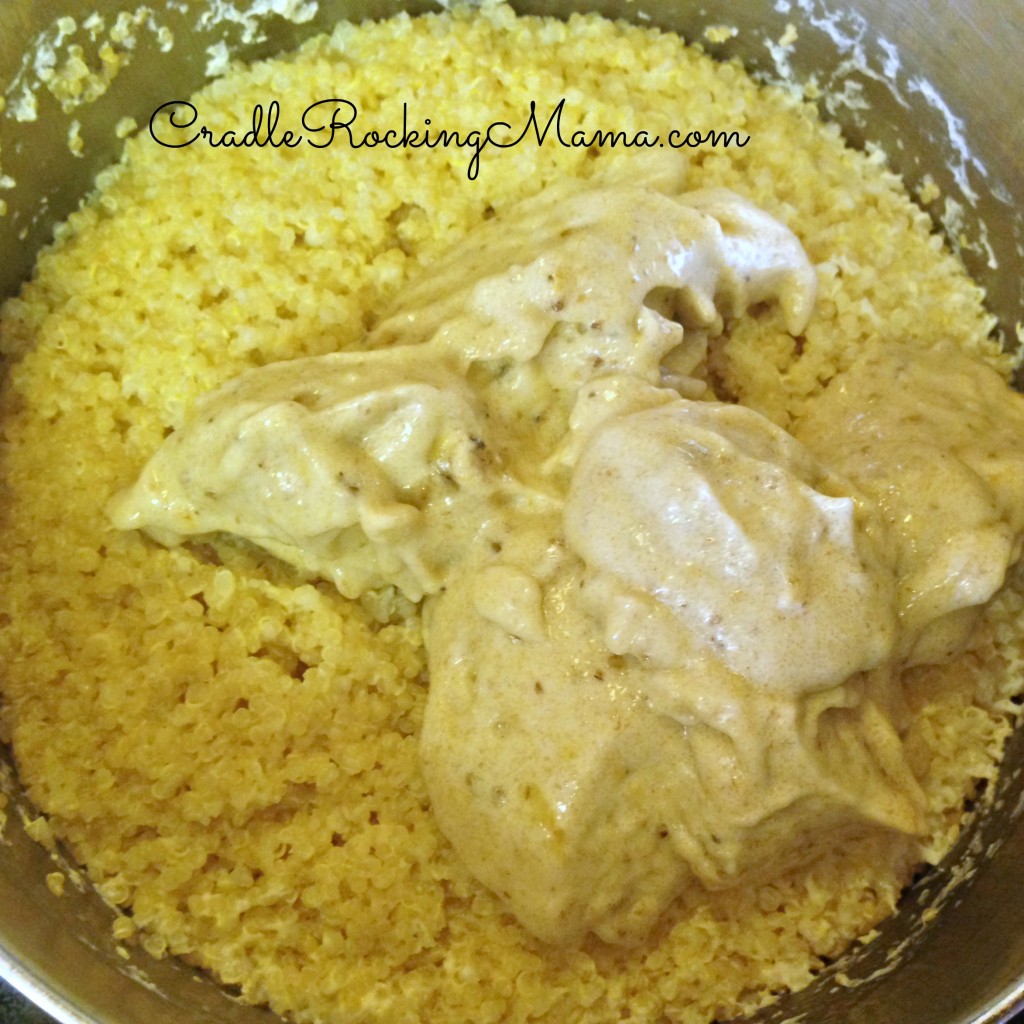 And just like that, you've got Quinoa Banana Pudding!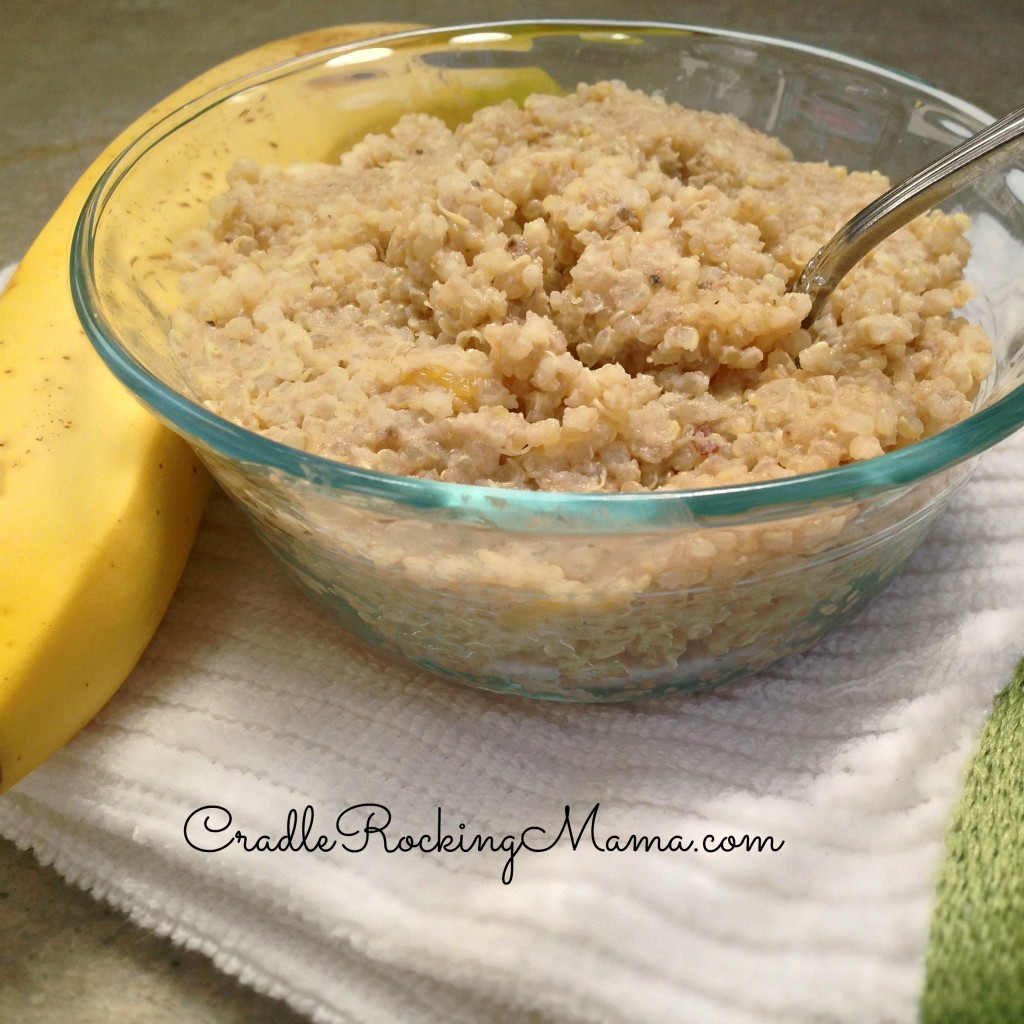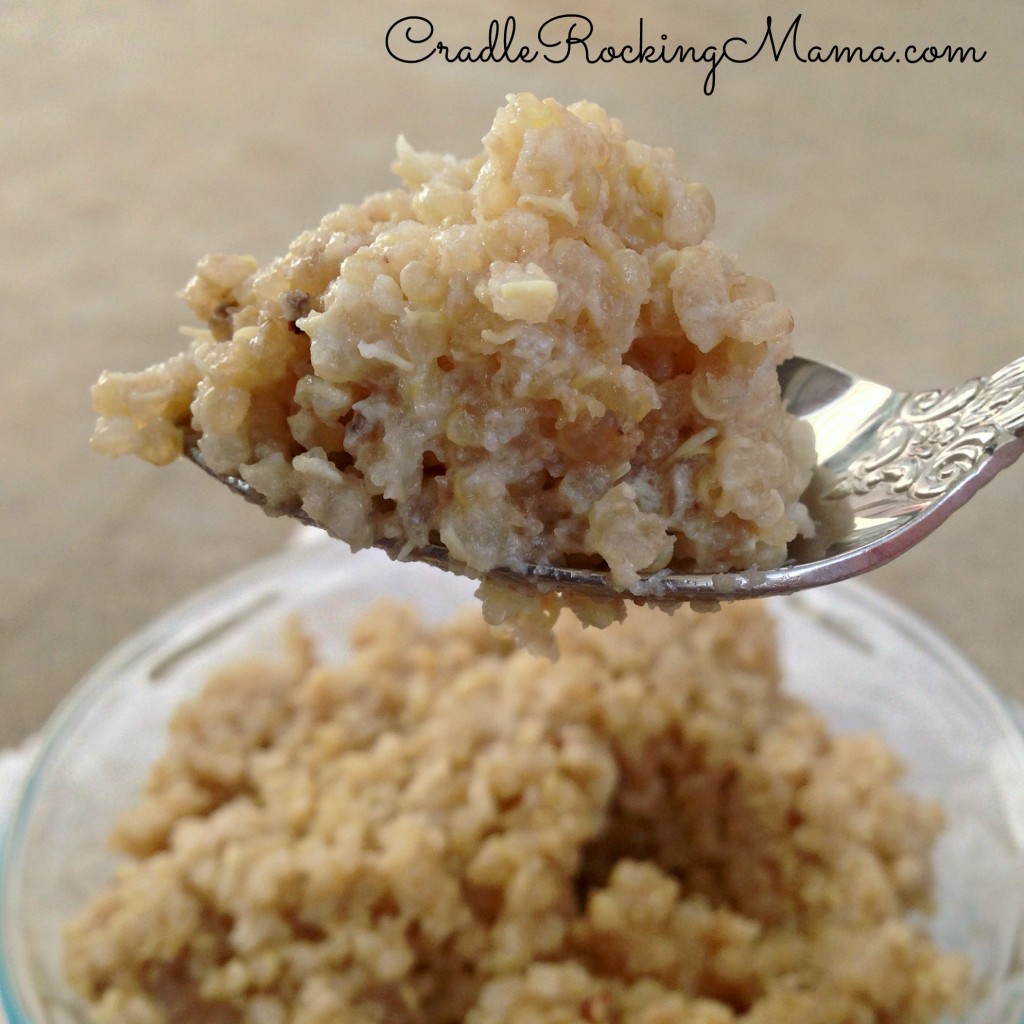 You can serve it warm, or chill it in the fridge for a cold dish. Either way, it's pretty good!
Now, for the changes I'd make next time:
It wasn't as creamy as I'd like, so I will first try to add more milk to the quinoa when cooking. I followed general cooking instructions and did twice as much liquid as quinoa seeds; next time, I'll add at least two and a half times as much milk as seeds.
If that doesn't make enough of a difference, I'm going to try adding more banana puree. I'll start with 1/2 cup more and go from there.
I may also try putting half of the final mix in the blender and processing it until smooth, then hand mixing the other half back in for a really creamy treat.
And of course, if you've got any safe sweeteners or spices, be sure to add them! This wasn't bad, as I said, but Darrel said it was sort of bland. (I made this before I could eat bananas so I didn't taste it. It might be sweet enough as is, if you're sugar free!) That's not something that can be fixed with technique, but some cinnamon and/or maple syrup would fix that right up!
As soon as we get more bananas in the mailbox, I'll make this again and perfect the recipe.
I'll update and share when that happens, but this should get you started as an excellent way to trial some simple foods with quinoa.
Enjoy! And please let me know if you make any tweaks that work!
Banana Quinoa Pudding
A simple quinoa banana pudding recipe, perfect for food trials or as a healthy dessert option!
Author:
Cradle Rocking Mama (Carrie Summers)
Recipe type:
pudding, side dish, dessert, snack
Ingredients
1 c. uncooked quinoa seeds
2½ c. milk
1 c. banana puree
Cinnamon (optional)
Maple syrup to taste (or other safe sweetener - optional)
Instructions
Rinse the quinoa seeds in a fine mesh sieve.
Put the seeds and milk in a sauce pan and bring to a boil.
Immediately reduce heat, cover the pan, and let simmer for 15 minutes.
Put about 2 c. of bananas in a food processor and process until smooth.
When the quinoa is done, add the banana puree, spices and sweetener, and mix together.
Serve warm or chill in the fridge for two hours.
Enjoy your healthy treat!