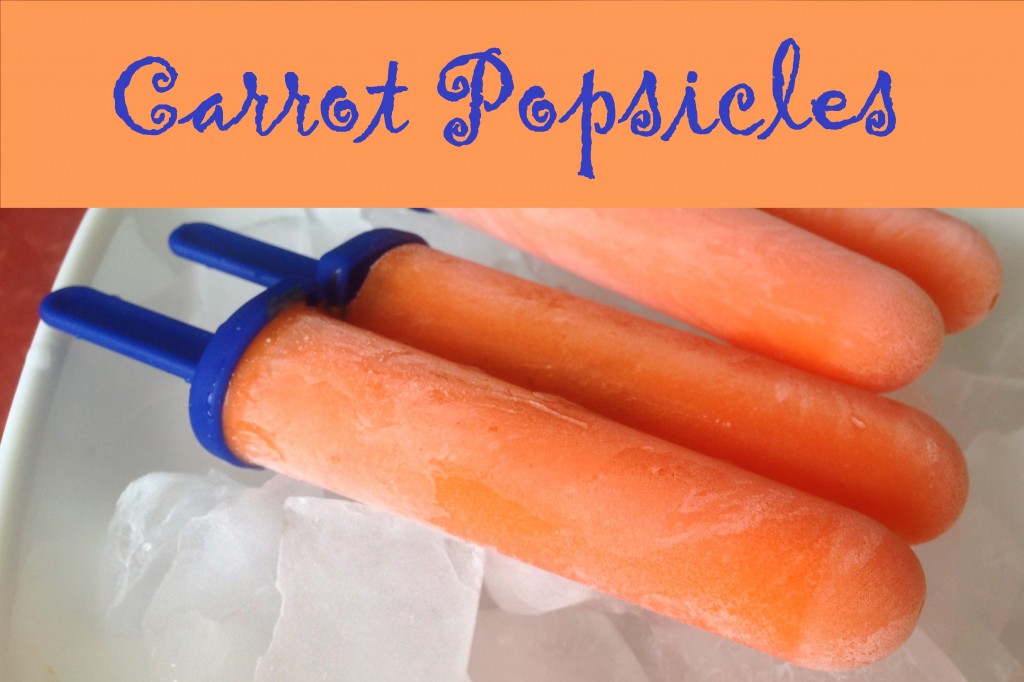 I've spent the last year devoted to making delicious, safe and nutritious food for my kiddos. Feeding myself is sort of an afterthought, even while on the TED. Most of my efforts on that front are simply making sure I get enough calories and that the food isn't disgusting.
Okay, maybe that's a bit of an exaggeration; after all, I LOVE pot roast and hamburgers, even after a year of eating almost nothing but those things!
But really, once I had "basic sustenance" covered for me, all my efforts have gone to making treats and delicious goodies for Jed – and for a short time, Zac.
So I had a total brain shock a couple weeks ago when I was browsing the other recipes shared on Gluten Free Fridays and saw a recipe for Carrot Cakesicles.
Seriously, it felt like a head slap! "Wait – I can eat carrots! You  mean I can turn them into a DESSERT??"
So I read the recipe with glee and gusto, and quickly realized that on my TED, I could not make them the way the original recipe creator did. However, it certainly got me thinking about how I could make myself a treat out of carrots!
Last week I finally got the chance to give it a try.
Here's what I did:
I didn't have large carrots, so I peeled 7 smaller carrots and chopped the ends off. Then I chopped them into large chunks and put them in a pot, covered in water.
Then I cooked them until they were fork tender.
Once they were soft enough, I threw the carrots and the water into my blender. I added a heaping scoop of stevia* and let 'er rip!
I had to add some more water to help it blend, and in the end I had a nice, pourable puree, which I poured into popsicle molds and froze.
SO simple, right?
Verdict: well, they aren't the best frozen treat I've ever eaten in my life (nothing compares to chocolate ice cream!), but for such basic ingredients they're surprisingly tasty! They don't taste like frozen carrots…they really are an icy treat – that just happens to be carrot flavored.
They will certainly hit the spot on hot days when MAMA would like an after dinner treat!
Still, I look forward to the day when I can spruce them up a bit, as the original recipe calls for. Some spices and creamy milk additions will certainly send these through the roof as one of my favorite summer treats.
Until then, though…MAMA'S FINALLY GOT A SAFE TREAT!!
*Oh, and one word about the stevia; I use KAL Stevia, which I'm very happy with. I've heard, however, that it is incredibly strong compared to other stevia extracts. Since I'm not well-versed in the difference in potency between brands, you may want to add sweetener gradually and adjust the sweetener to taste. Of course, if you aren't restricted as I am, you could easily use some honey, maple syrup, or a simple syrup for extra sweetening!
__________
CARROT POPSICLES
– 7 small or 3 large carrots
– water
– 1 scoop of stevia (to taste) (or other sweetener of choice)
Peel the carrots and chop the ends off. Cut into smaller pieces.
Put the carrots in a pot covered in water and boil until fork tender.
Pour the carrots and water into a blender and add sweetener.
Puree until nice and smooth (you may have to add a bit more water to achieve this!).
Pour into popsicle molds and freeze.
Enjoy a very healthy frozen treat!
__________
I can think of a ton of options with this: milk, coconut milk, spices, different sweeteners…how will you make your carrot popsicles?
__________
This post shared with: