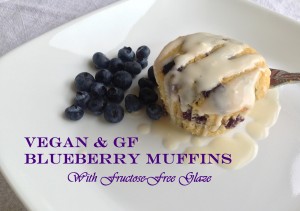 I am DYING to eat one of these!
OK, so when you take out dairy, and eggs, and butter, and wheat, and sugar, well, you start to wonder if you can ever have a baked good again!
After many trials (and lots of errors), I finally tweaked my old, regular blueberry recipe to satisfy Darrel and Jed's taste buds AND our overwhelming dietary restrictions.
Then I went and outdid myself and created FROM SCRATCH a lemon glaze – and it has no confectioner's sugar, regular sugar, or fructose AT ALL!!
(Not only that, but do you see that picture up there? Is that not divine? I took that all by myself with my iPhone! See? I'm improving in my food photos! Now ignore how icky the rest of the photos are going to look, please!)
OK, so here's what you do:
Mix together your flours, baking powder, and salt until well blended.
Then toss in your liquids: maple syrup, almond milk, olive oil, lemon juice, and vanilla.
Stir it together – but not too much!  Then fold in the blueberries. You can use frozen; I had fresh, so that's what I used this time. Word of caution with frozen blueberries: in my experience, frozen blueberries are more prone to coloring your entire batter purple-ish if you stir them too much.  So, don't stir them too much!
I didn't take pictures of those steps because, well, it's pretty self-explanatory!
What I DID photograph was my kitchen helper! After all, do you know why  we made muffins? Because Jed ran around screaming for "ma-hins!" all morning and I finally caved. So the stinker was sure going to help me out in return for all the mind-blowing whining I endured all morning!
He put the paper muffin wrappers in the muffin tin for me…
He poured measuring cups full of ingredients into the bowls for me…
And he stirred for me…because if you STIR, then you get to LICK the SPOON! Of course!!
Then it was just a matter of pouring out the batter, popping the pan in the oven, and waiting!
And here they are, fresh from the oven!
Then let them cool, dump 'em out, and EAT!
OK, a couple of things:
I finally found the easiest way to pour batter into muffin wrappers without making a huge mess is to use a soup ladle. Duh, I know, but it took me until recently to figure it out and maybe there's someone else out there that hasn't caught on to that trick!
With gluten-free baking, a mix of flours is usually best. If you only have one safe flour, by all means use only that flour! I've made these with just one flour and they were fine. But they're better if you can use two or more flours blended.
As for flours, one time I made these I experimented with dextrose as my sweetener (to make them fructose free). Darrel commented that they tasted "gritty". So last time I used maple syrup as my sweetener. Darrel STILL commented that they tasted "gritty". So I figured out that it is the RICE FLOUR that makes them taste gritty. I've heard that before about rice flour, but no one in my house ever complains of that texture issue when I use rice flour in pancakes so I figured it wasn't an issue. Apparently, it makes a difference in muffins. This is fine by me, as rice is a major FPIES trigger! So, don't use white rice flour as one of your flours in this recipe.
The original recipe I started with called for 1 cup of blueberries. That wasn't enough for us, but 2 cups is a tad too much. I use 1.5 cups and it's perfect!
This recipe is easily adaptable for FPIES Mama's! As long as you keep your flour, sweetener of choice, a little fat and liquid, you can make these muffins. Change out or omit the fruit, and make them however you need to for your little one!
The muffins finally cooled enough for Jed to eat them, and he could hardly stand his little self! He held his muffin close to his body like someone was going to steal it from him! Hilarious!!
Well, that would have been good enough, to be honest, except…I got to thinking…wouldn't it be nice to "dress it up" a bit? And since I can't taste these, I really don't know if they're moist enough for my particular taste preferences. I hate dry muffins!
So a glaze would be lovely here!
Only problem: every glaze recipe I know calls for confectioners sugar in some way! Not in this household!!
So I started experimenting with coconut. First I used some coconut oil. I melted it, mixed in lemon juice and maple syrup, and got…a brown looking, runny liquid. Ick. I tried refrigerating it to see if it would look better as the oil solidified.
It didn't. It just separated; syrup and lemon juice on the bottom, with a layer of coconut oil hardened on top.
Not. Appetizing.
So I grabbed some coconut MILK and messed with that.
BINGO!!!
It looked gorgeous! But…it was too runny to be a glaze; it would have soaked in almost immediately and disappeared into the muffin.
Then I had a brainstorm and found my Secret Ingredient…and it turned out perfect!
Jed called it "milk" and kept screaming to eat the "milk"! Darrel took a taste and his eyes got big and said "That's really good!" – and he had no idea what it was or what was in it! (Yes, I often just walk up to him with food on a fork or spoon and make him eat it with no warning or preamble. I'm fun that way.)
I was calm, cool, and collected, but inside I was an Olympic gymnast doing backflips of joy! THIS was a total "from scratch" creation, and I have high hopes I can turn it into something A-MAY-ZING later this month! (I'll share it if I can!)
So I hope you enjoy blueberry muffins! This delicious, vegan, gluten and fructose free muffin, with a fructose free lemon glaze will satisfy even a non-allergic person!
__________
VEGAN/GF/FRUCTOSE-FREE BLUEBERRY MUFFINS
– 2 c. total of safe flour(s) *see note above
– 1 c. dextrose OR 2/3 c. maple syrup
– 2 tsp. baking powder
– 1/4 tsp. salt
– 2/3 c. safe milk (we use almond)
– 1/4 c. fat (we use olive oil; shortening, butter, coconut oil are all suitable)
– 2 T. lemon juice
– 1 tsp. vanilla
– 1 to 1.5 c. blueberries
1. Mix your dry ingredients together in a bowl; sift well.
2. Mix your wet ingredients together in a bowl.
3. Pour your wet ingredients into your dry ingredients and mix together.
4. Fold in the blueberries.
5. Pour batter into muffin tins (spray first or line with paper liners) and put into a 400 degree F oven.
6. Bake for 20 minutes, or until a tester comes out clean.
7. Eat as is, or add a glaze and enjoy!
__________
FRUCTOSE-FREE LEMON GLAZE
– 2 T. coconut milk
– 2 T. potato starch (the secret ingredient!)
– 1 T. maple syrup
– 2 tsp. lemon juice
1. Whisk all ingredients together until smooth and creamy.
2. Pour over muffins.
3. Be amazed at how good they make your muffins!
__________
Happy breakfasting!!
__________
Frugal Days, Sustainable Ways, Healing With Food Friday and Real Food Wednesdays