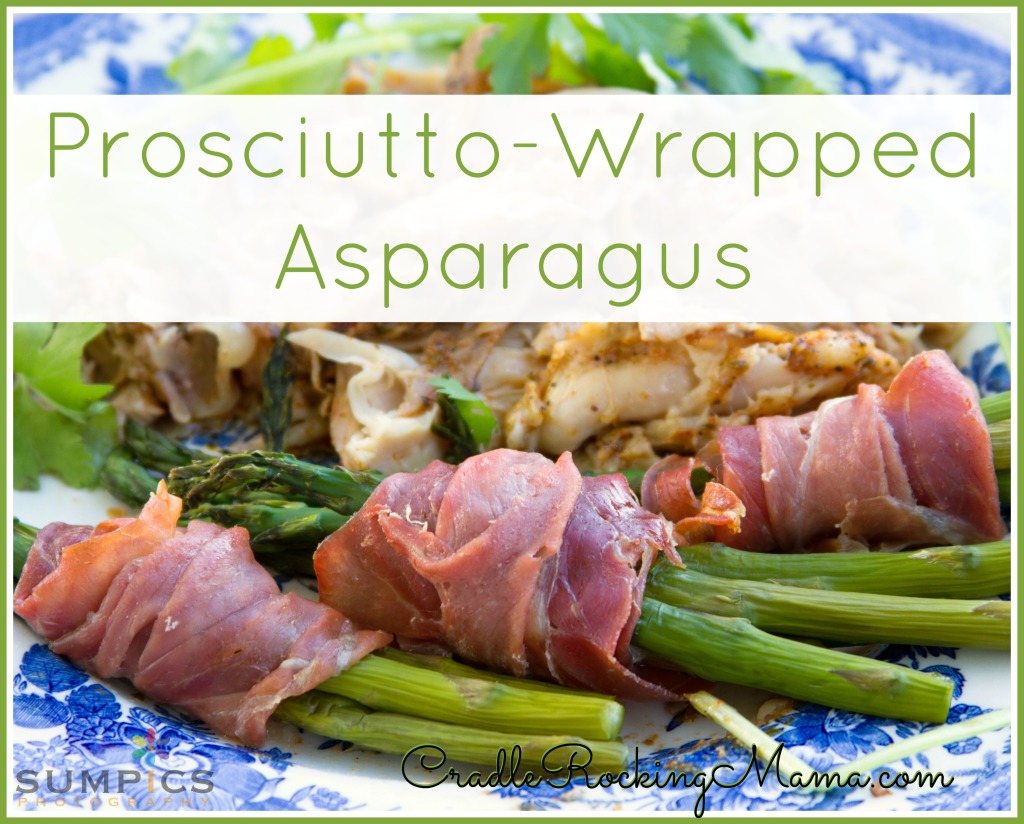 Last week we trialed asparagus on Jed. Thanks to the accidental lollipop ingestion the next day, I wasn't able to get a good "read" on whether asparagus was safe or not.  So I decided to try it again this week.
I've also been seeking out safe bacon for him. I know that table sugar is technically "safe" for fructose malabsorption, but I would really prefer to stay away from it as much as possible. There's a large history of diabetes and other inflammatory diseases in our families, and straight table sugar is an inflammatory food. Better to not develop a taste for it at a young age, right?
And there's no real need for it, most of the time! Maple syrup is a delicious sweetener that typically subs out for table sugar just fine.
Except it is exceptionally hard to find bacon that is sweetened with anything but sugar, brown sugar, or honey.  So poor Jed has been bacon-deprived for months now. (And this is a child who loves bacon so much he would eat his weight in bacon every morning of his life and be quite happy!)
I was about to bite the bullet and say "OK, I give. He can have bacon once a week and just a few slices at a time" when I saw a package of prosciutto at the store. Ingredients: pork, salt, water. And prosciutto is sort of like bacon, right? Worth a shot!
But I didn't really know what to do with it. Everyone I asked basically said to wrap fruits or cheeses in the prosciutto and that it was delicious that way. One problem: Jed can't have most suitable fruits for wrapping or any cheeses!
So, on a whim I asked my parents if they'd ever wrapped a vegetable in prosciutto. Notably, asparagus. They hadn't, but they said it would probably be delicious. And just like that, a recipe was born.
Here's what I did:
I grabbed my asparagus and snapped the ends off.  You could cut them, if you like, but why dirty a knife when it's just so darn satisfying to snap the little suckers!  Then I washed them and put them in a steamer basket on the stove.
I cranked it up to high, and when they'd turned bright green I pulled them out of the basket and brought them to the counter.
While they were steaming, I got out a cookie sheet and a piece of parchment paper. I opened up the prosciutto package and pulled off a couple thin strips. This was a little tricky; I don't know if this is normal, but the package I bought had the prosciutto slices sort of folded over each other in weird ways. So, it wasn't as smooth and pretty as it could have been.
Oh, well. It was edible and still looked good to me!
Then I laid 4 spears of asparagus on the prosciutto, wrapped the little piggy strips tightly around the spears, and placed them seam-side down on the parchment paper.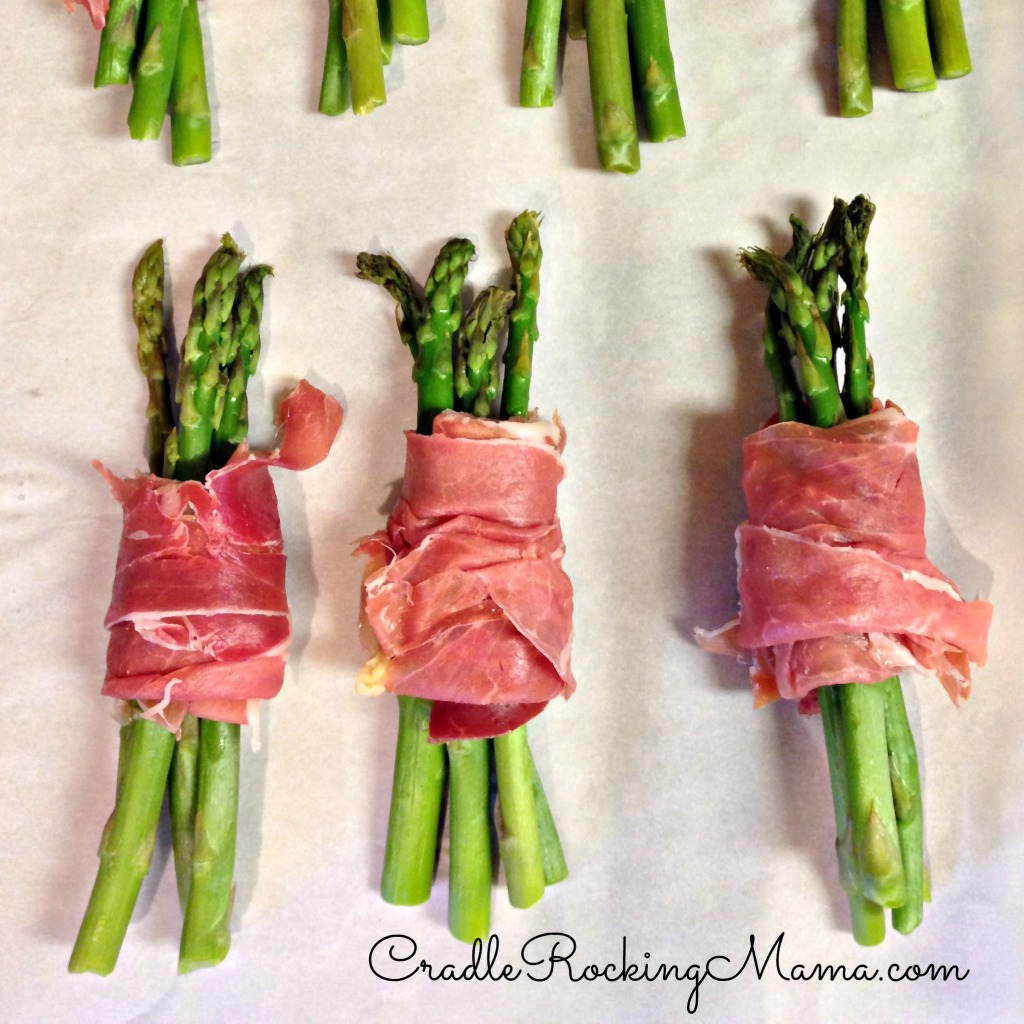 Drizzle a little olive oil and black pepper on top to enhance it, but do not add any more salt! The prosciutto is salty enough as it is – it doesn't need any help!  Probably garlic powder would be lovely here, too, but Jed can't have that, so I can't speak from experience.
Then I tossed them in the oven for about 13 minutes.
They came out looking good!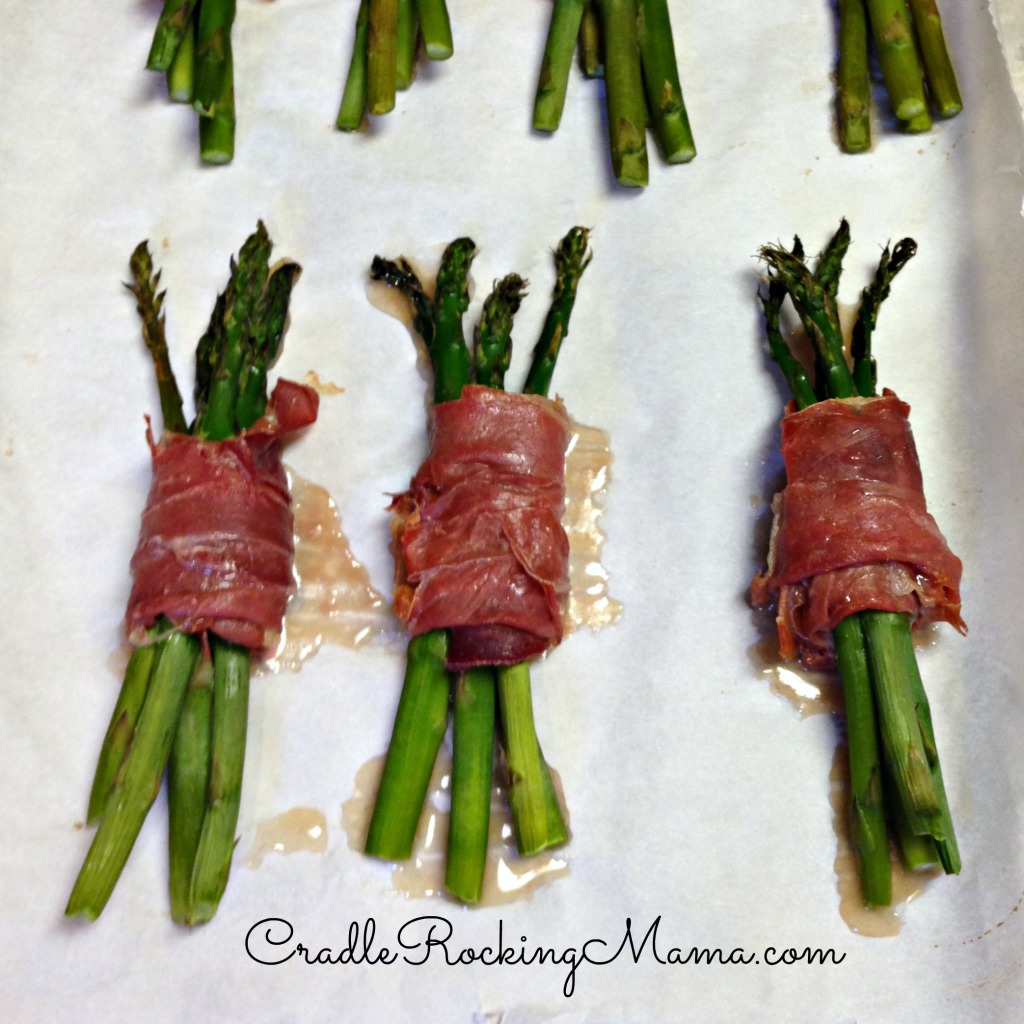 And once again, Jed wolfed down the asparagus.  I served this as a side dish to some Cilantro-Lime Crockpot Chicken, which I know he loves, and he only ate a few bites of the chicken in favor of eating as many spears of asparagus as we would give him! (Only 11 last night. I want to see if he can tolerate that much before I move on to larger servings.)
So here's a simple, allergy-friendly, beautiful, fancy-pants looking side dish that is delicious as can be!  Enjoy!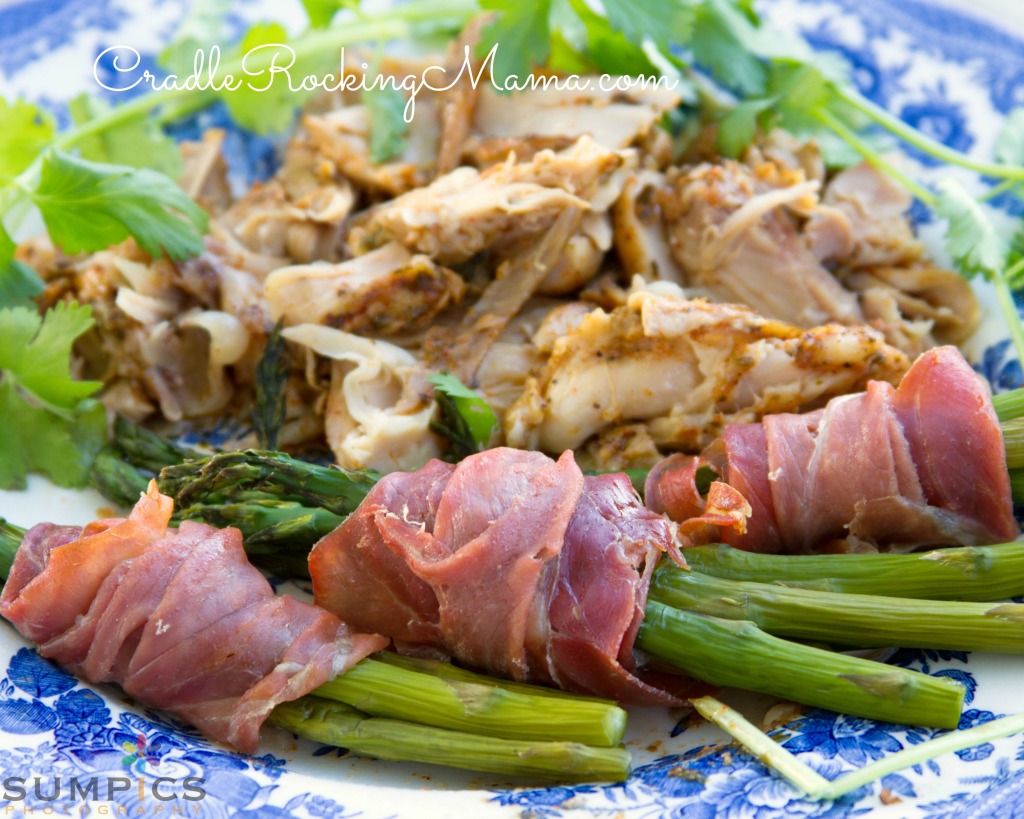 Prosciutto-Wrapped Asparagus
Author:
Cradle Rocking Mama (Carrie Summers)
Recipe type:
side dish, appetizer
Ingredients
asparagus (however many you want in multiples of 4 or 5)
prosciutto strips (one or two strips for each bundle)
black pepper
olive oil
Instructions
Snap the ends off your asparagus, wash and set in a steamer basket on the stove.
Steam just until the asparagus turns bright green.
Lay out a sheet of parchment paper on a cookie sheet.
Wrap 4 or 5 asparagus spears in 1 or 2 prosciutto strips tightly.
Lay seam side down on the parchment paper.
Put a 400 degree oven for 13 minutes.
Serve and enjoy!
Now I'll get to see if I can make prosciutto into a breakfast dish for Jed! How do you use your prosciutto?
---
This post shared with: