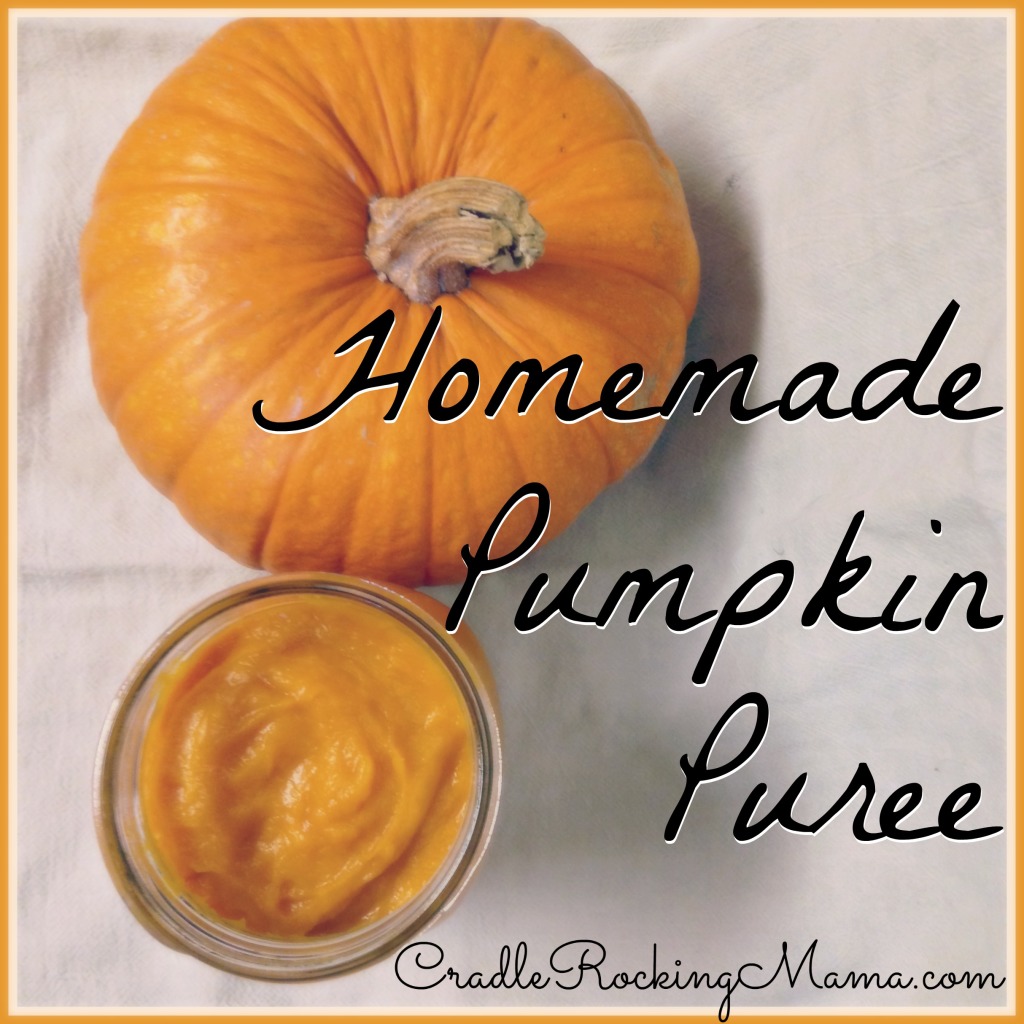 You know those recipe blogs where everything is perfect, the pictures are all gorgeous, and the process of cooking is always flawless?
Yeah, I'm annoyed by those blogs, too.
I'm more of a Julia Child sort of cook. When you make a mistake, just fix it if you can and move on!
And don't edit it from your show.
I don't actually have a show; I just have this little blog. But I don't hold back from all the realities of cooking new recipes with small children in the house. (See here and here for examples!)
So maybe you'll understand why I chuckled to myself the whole time I made my pumpkin puree.
See, I'd first read up on how to do it by visiting two awesome cooks online: Alton Brown and the Pioneer Woman. While Alton certainly has a flair and makes it interesting with his cleaver gag, they both make it look so easy and effortless!
And it really is!
Except for those little things that pop up in life.
So here's what I did, and how even with bumps and mild mishaps, you can still make perfect pumpkin puree for yourself.
Of course you start with a pumpkin. For puree, you'll want those itty-bitty, adorable mini-pumpkins, which are typically labeled "pie pumpkins" in the store.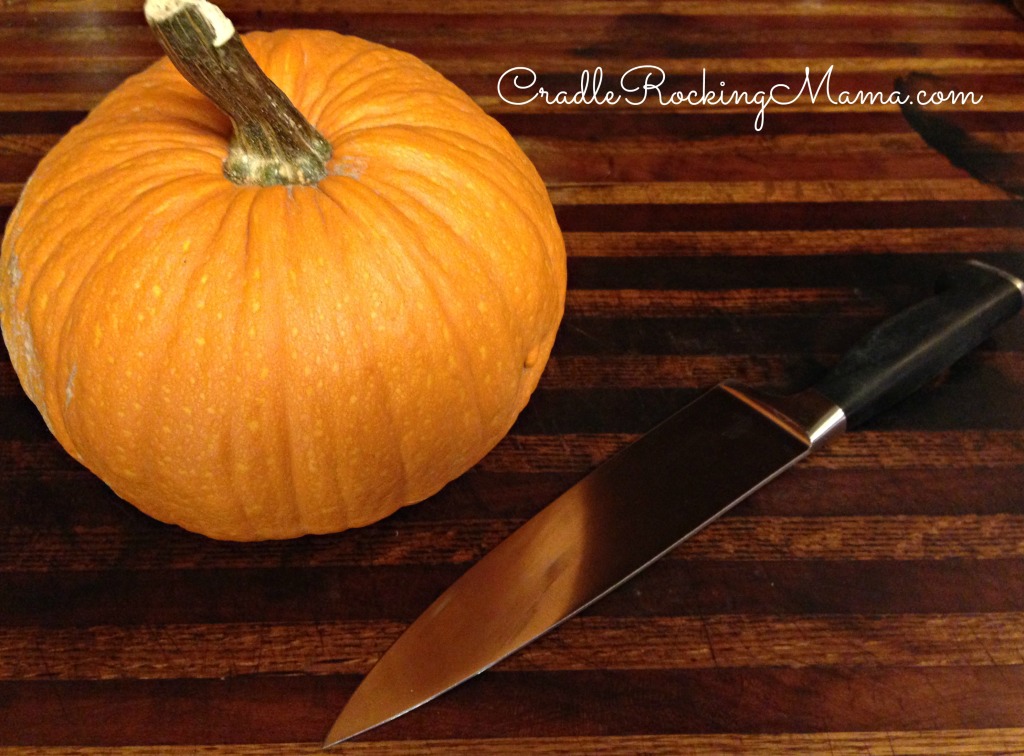 I didn't have a cleaver, so I thought I'd try the whole "cut a slice out of the side of a pumpkin so it lays flat and won't roll while you cut it in half" thing.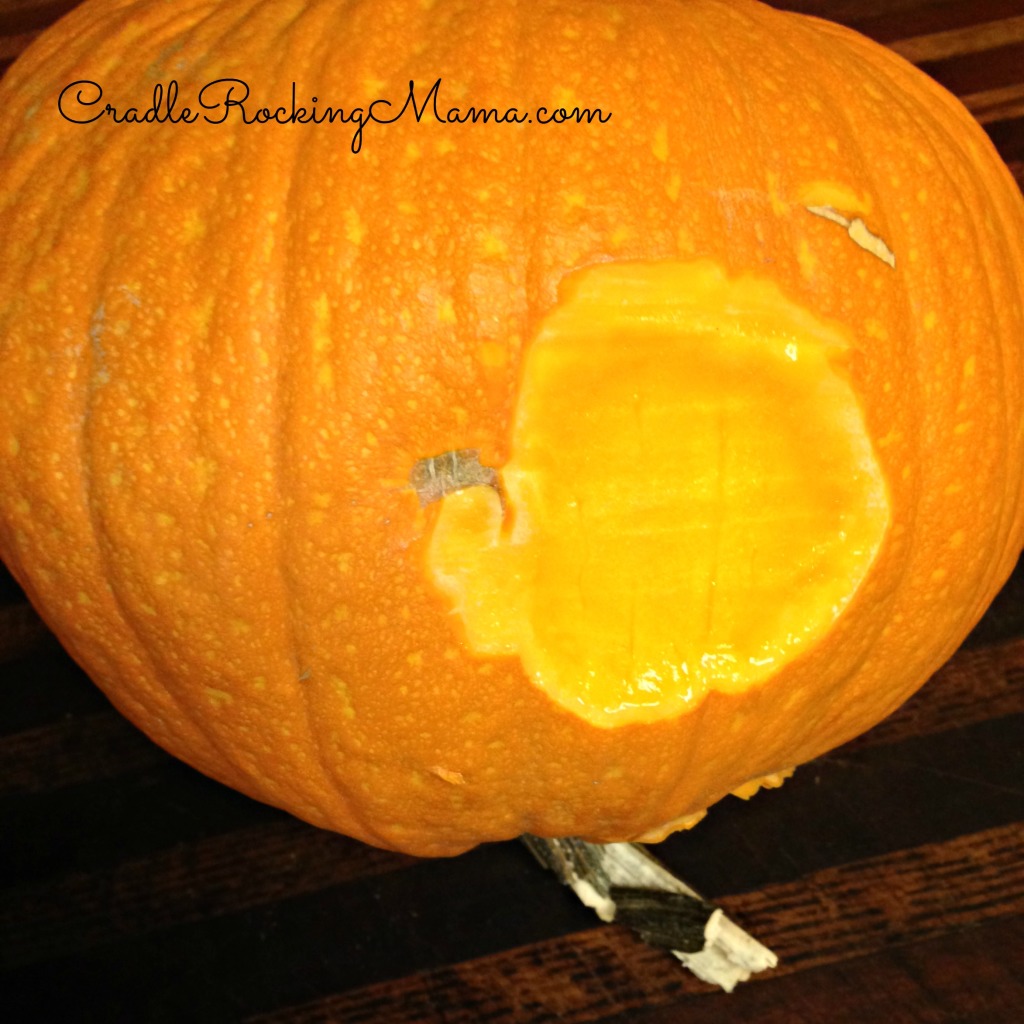 It was quite challenging to slice that little bit off the sides; this pumpkin had a fairly tough exterior.
Still, it worked. The pumpkin laid nicely on its side and didn't roll.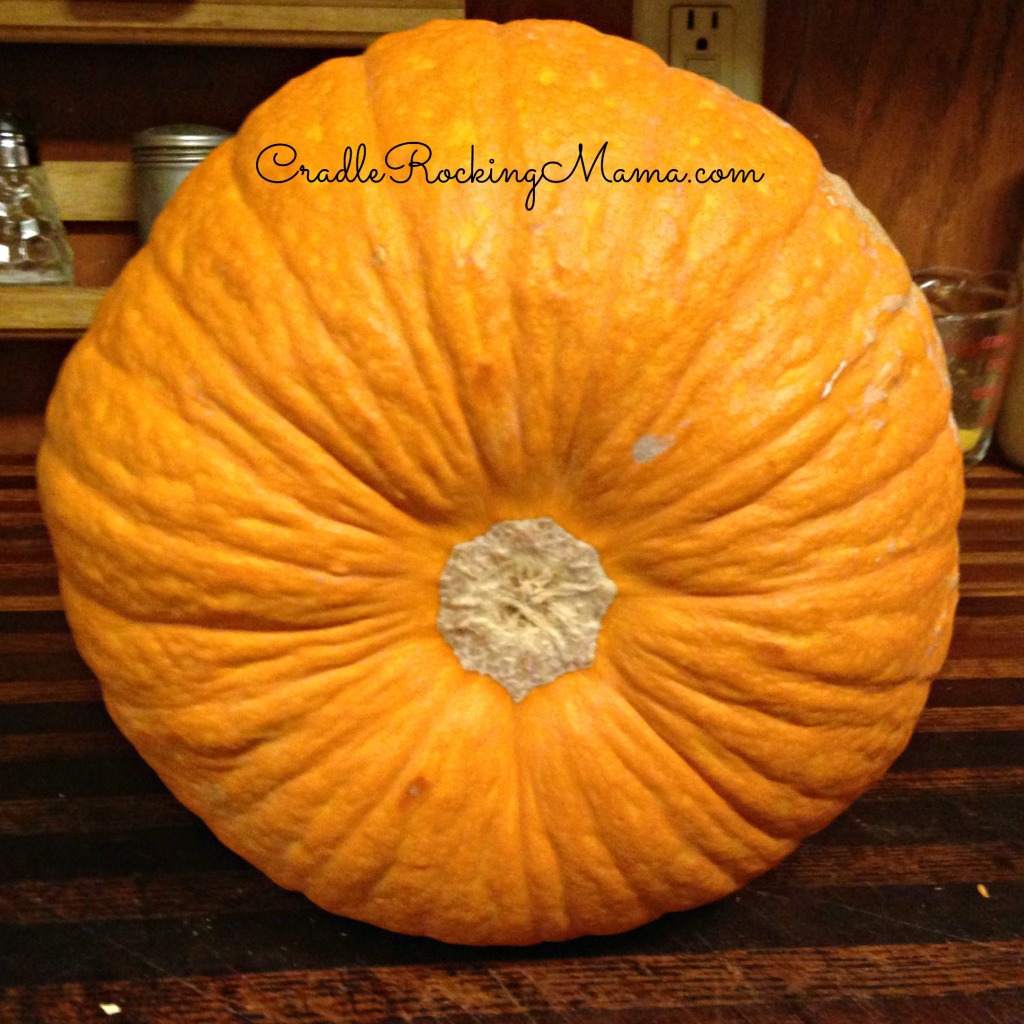 Oh, and you may be wondering why I didn't just cut the pumpkin in half from the top. Well, that's because the stem is in the way, and it's pretty hard and could throw my knife off angle.
Or so I thought.
The next step is simple: cut the pumpkin in half.
I had two kids standing on a step stool next to me, a tough pumpkin, and a knife that wasn't as sharp as I thought it was.
When I pressed the knife in to the pumpkin, it went about two inches in…then stopped. I could NOT get that knife to go any further into the flesh!
So I tried to pull the knife out.
It was stuck.
Remember when I mentioned my right arm is hurting me quite a bit? Yeah. I didn't have the hand strength to manhandle that knife.
So I wound up literally holding the knife with the pumpkin stuck to the blade and beating the pumpkin against the counter.
Five or six good whacks and wouldn't you know it? The pumpkin split in two!
Not very neatly.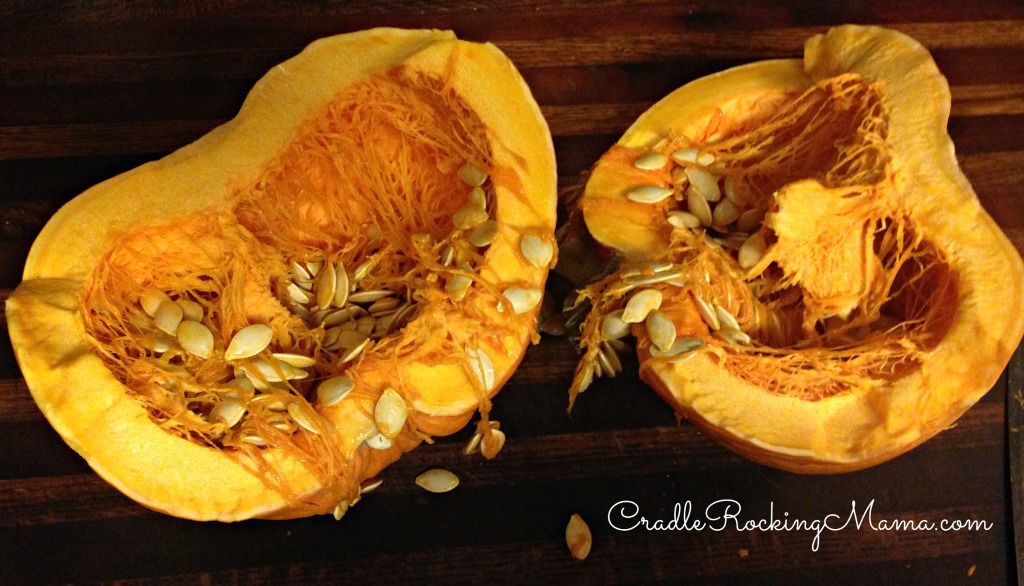 Oh, well.
The next step is also simple: scoop out the gunk on the inside, just like you do with a Jack-o-lantern.
Again, a little mishapping happened for me.
I had two kids who very much wanted to help me scoop goop. They both got highly offended if I went behind them and did more scraping.
Since I'd read that leaving some of the membrane stuff in the pumpkins wasn't the end of the world, I just left it at that and moved on.
So my pumpkins didn't end up nearly as pretty as the ones I saw on other websites.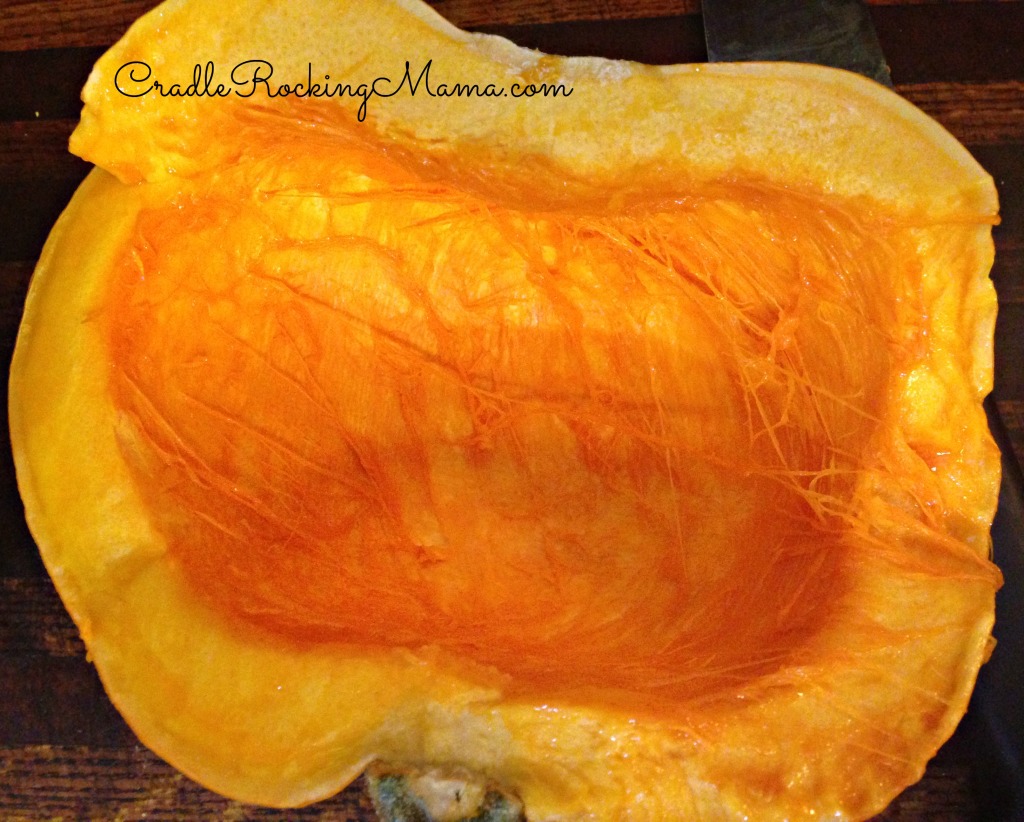 Again, that doesn't really matter. In the end it all got pureed together anyway. (And I think they did a pretty good job considering they're only 4 and 2 years old!)
Oh, and don't throw out the goop! It has the makings of some lovely roasted pumpkin seeds!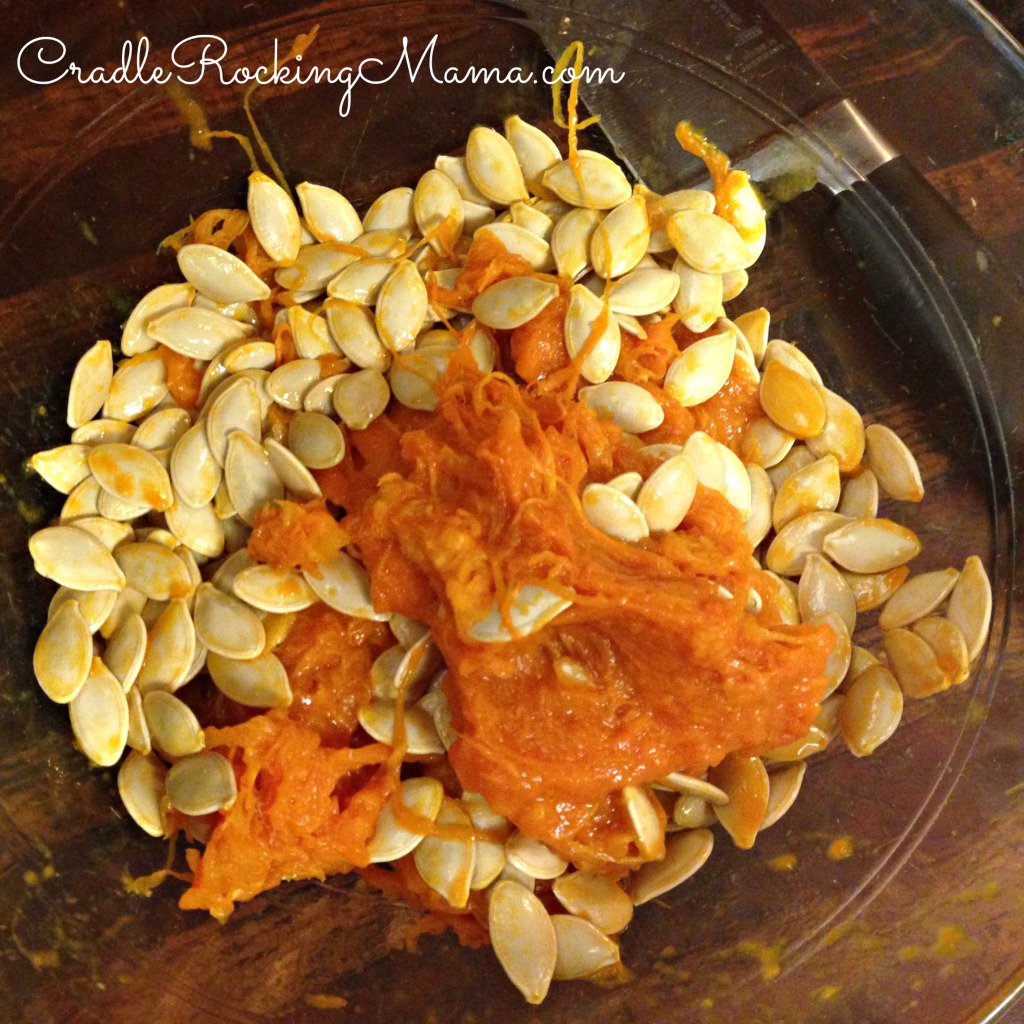 When I'd finished cutting up the first pumpkin, I went for a second one. The second one wasn't nearly as aggravating as the first one: it sliced right in two from top to bottom.
Turns out, you can cut them in half right next to the stem and it works just fine!
After scooping the goop out of the second one, I cut the stems off both pumpkins and got them ready to bake.
That's pretty easy. See?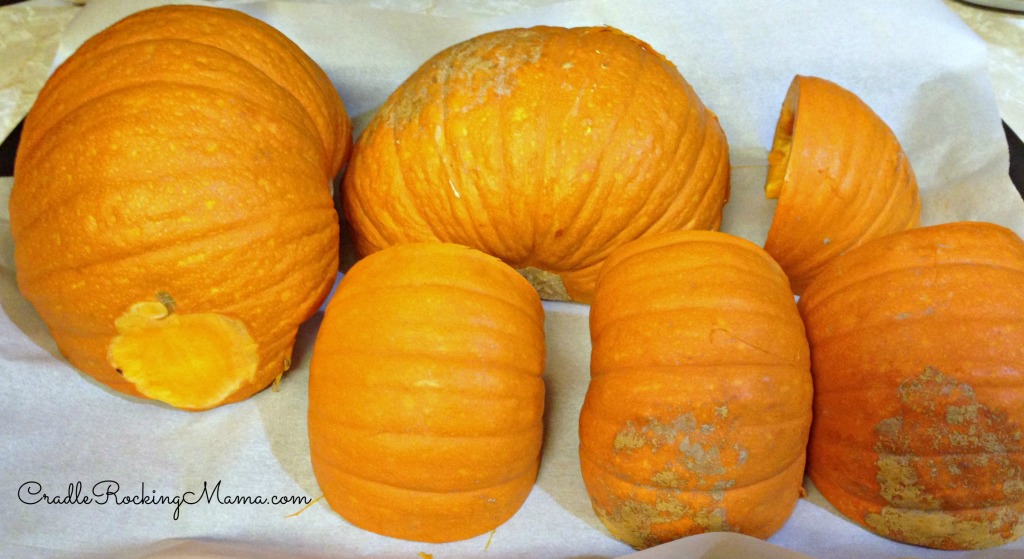 Just lay them out on a parchment lined cookie sheet. Up or down, doesn't matter. Cut into smaller pieces or left in halves, doesn't matter.
See? Easy.
Then bake them for 40 minutes (or until you can stick a knife in without resistance) and ta-da! Baked pumpkins!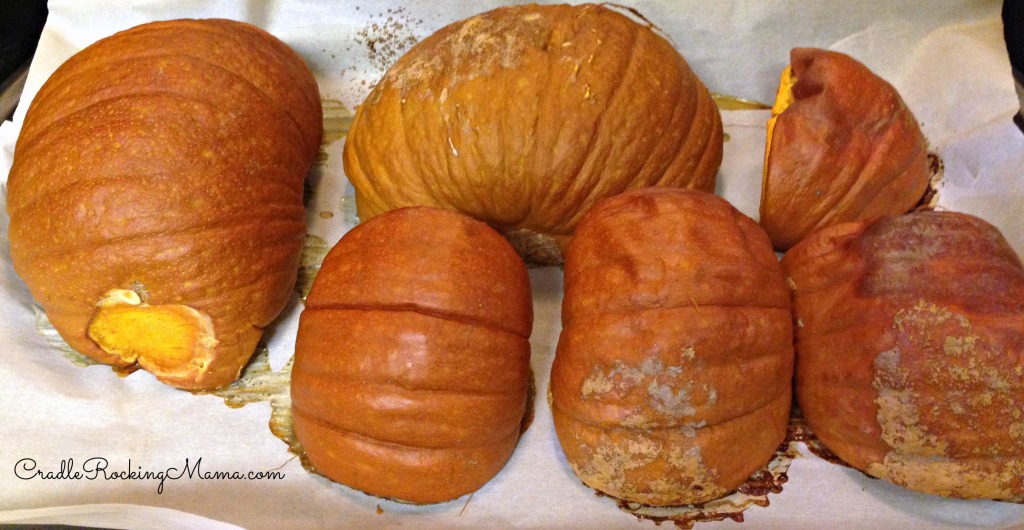 Now, I had another little mishap with this part. The timer for the oven went off at 40 minutes, but I was in the middle of nursing Zac to sleep and couldn't get loose from him…so my pumpkins baked for more like 55-60 minutes.
Know what? They were fine!
Once the pumpkins are out of the oven, you'll want to let them cool for at least an hour so you don't burn yourself on the hot flesh. Once they're cool enough to work with, you simply scrape out the softened flesh from the inside of the pumpkin, leaving the firm exterior intact.
When you're done scraping, you'll have this left behind: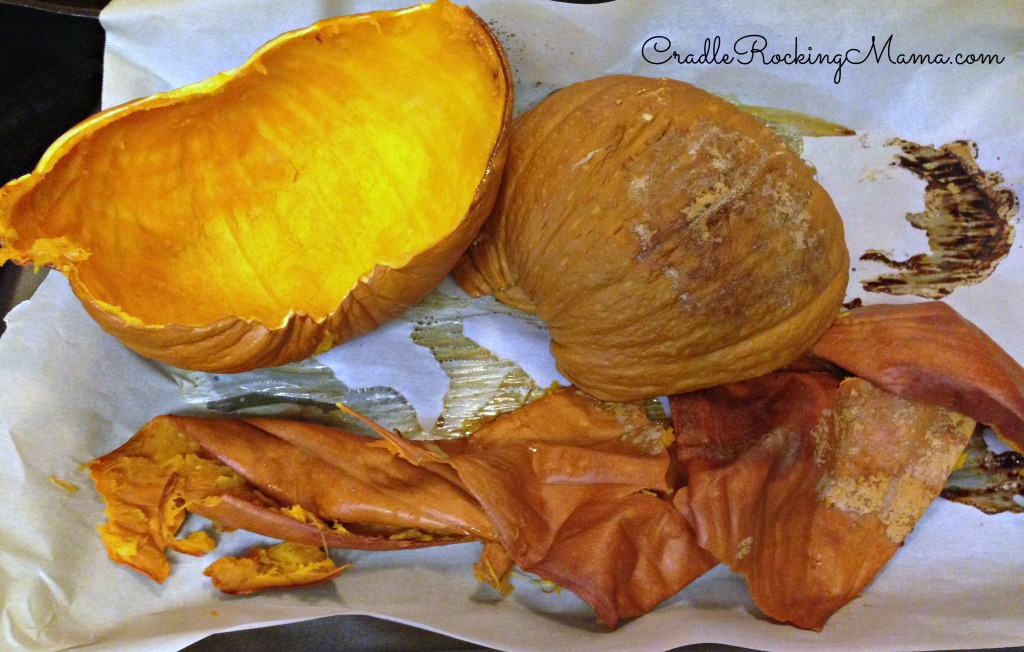 Here's where another "life moment" happened.
The kids were in bed, asleep.
The living room was overrun with toys that needed to be culled before the gift giving season started.
I had the time to tackle the living room, and no distractions other than pumpkin puree making.
So I ditched pumpkin puree making and attacked my living room with a trash bag, a donate box, and a "take no prisoners" mentality.
It was glorious when I finished!
It was also after midnight, and I really didn't feel like dealing with the pumpkin puree.
So I scooped that lovely orange flesh into a bowl, stuck it in the fridge, and said "goodnight".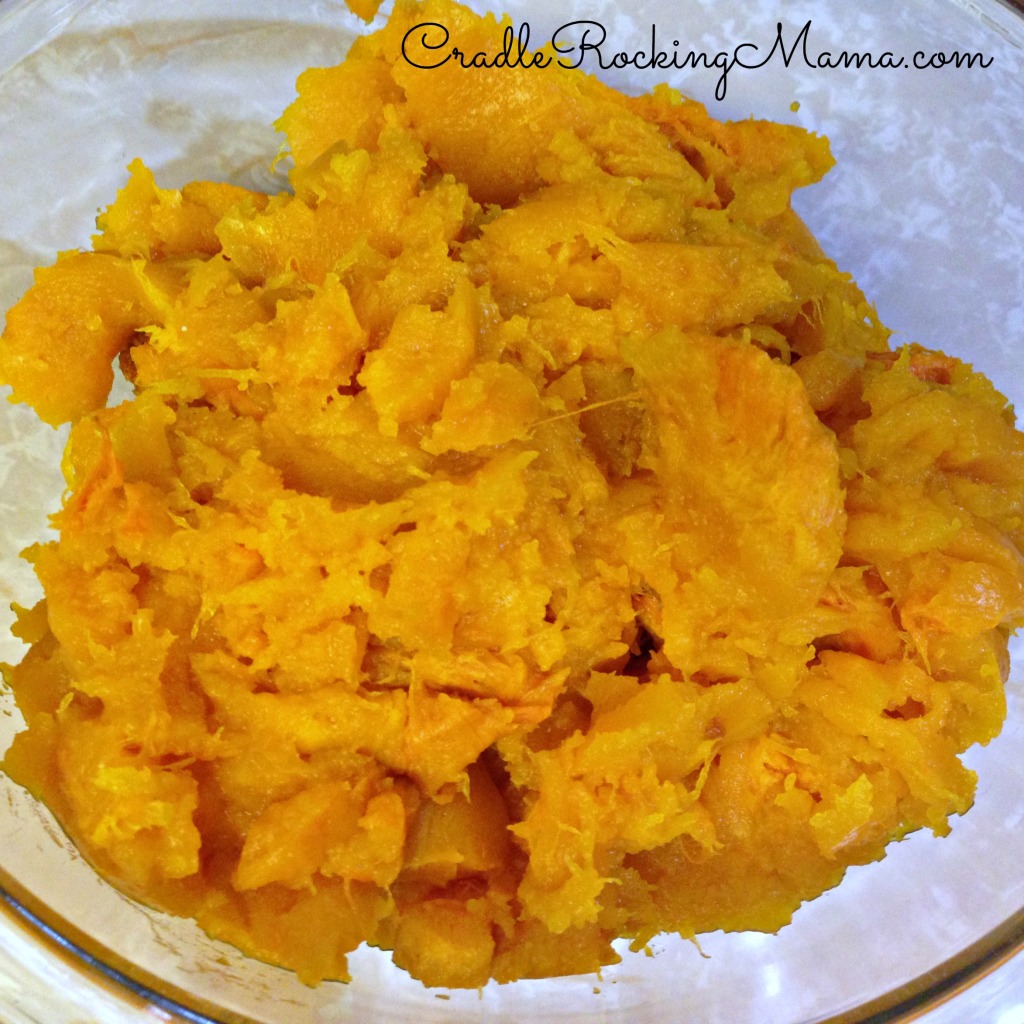 The next day, I dumped the flesh into my food processor and let it rip. It took a while, since I'd filled it so full, but in the end: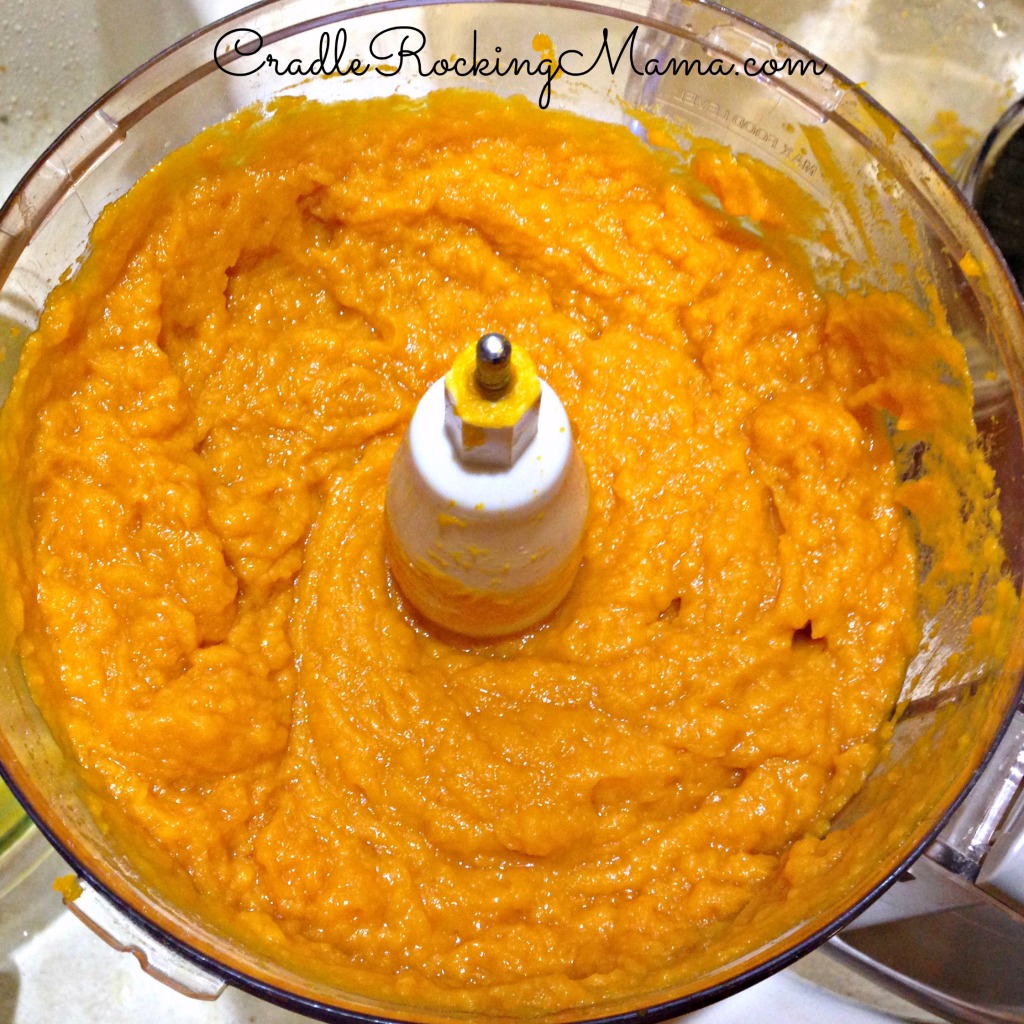 Pumpkin puree!
At this point you can freeze the puree or can it. Since I'm going to be using this for pumpkin pies this week, I just scooped it all in a canning jar and stuck it in the fridge. It should keep for up to a week that way.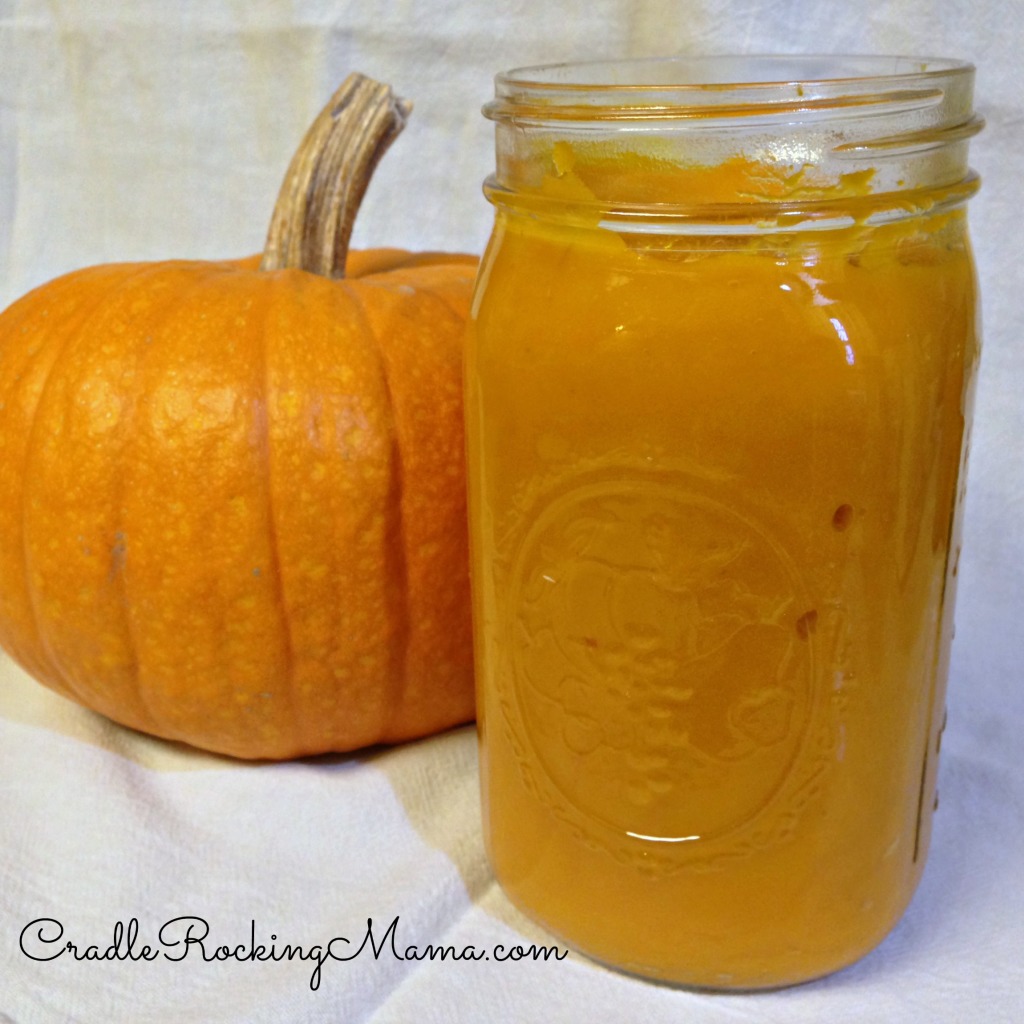 Isn't it pretty?
It looks exactly like the stuff I always got in a jar: same color and same texture.
I can't wait to see how well it works in a pie!
While this wasn't nearly as messy or fraught with screw-ups as my bread or goat milk butter making experiences, it wasn't exactly smooth sailing from start to finish, either.
And still, I ended up with perfect pumpkin puree!
So make some for yourself; it's easy and healthy!
And don't be deterred in the kitchen if things don't go perfectly. 
They don't go perfectly for anyone all the time!
Homemade Pumpkin Puree
So easy to make, you'll never buy canned stuff again!
Author:
Cradle Rocking Mama (Carrie Summers)
Instructions
Preheat the oven to 400 degrees Fahrenheit.
Cut the pumpkin in half.
Scoop out the seeds and fibers on the inside. Set them aside to make roasted pumpkin seeds!
Remove the stem from the pumpkin.
Lay the pumpkin on a parchment lined cookie sheet.
Bake for 40 minutes, or until a knife easily inserts into the flesh of the pumpkin.
Let cool for one hour.
Scoop the flesh from the pumpkin into a food processor.
Process until smooth.
Store in the fridge for up to 1 week, or freeze or can the puree.
Enjoy your delicious, homemade pumpkin puree!
---
Since tomorrow begins the great Thanskgiving Cooking Frenzy, I'm going to take the rest of the week off from blogging to spend time with the family I'm grateful for, and keep my days from being so overwhelming that I forget to actually BE grateful for them!
Have a wonderful Thanksgiving, and see you next Monday! 
---
This recipe shared with: