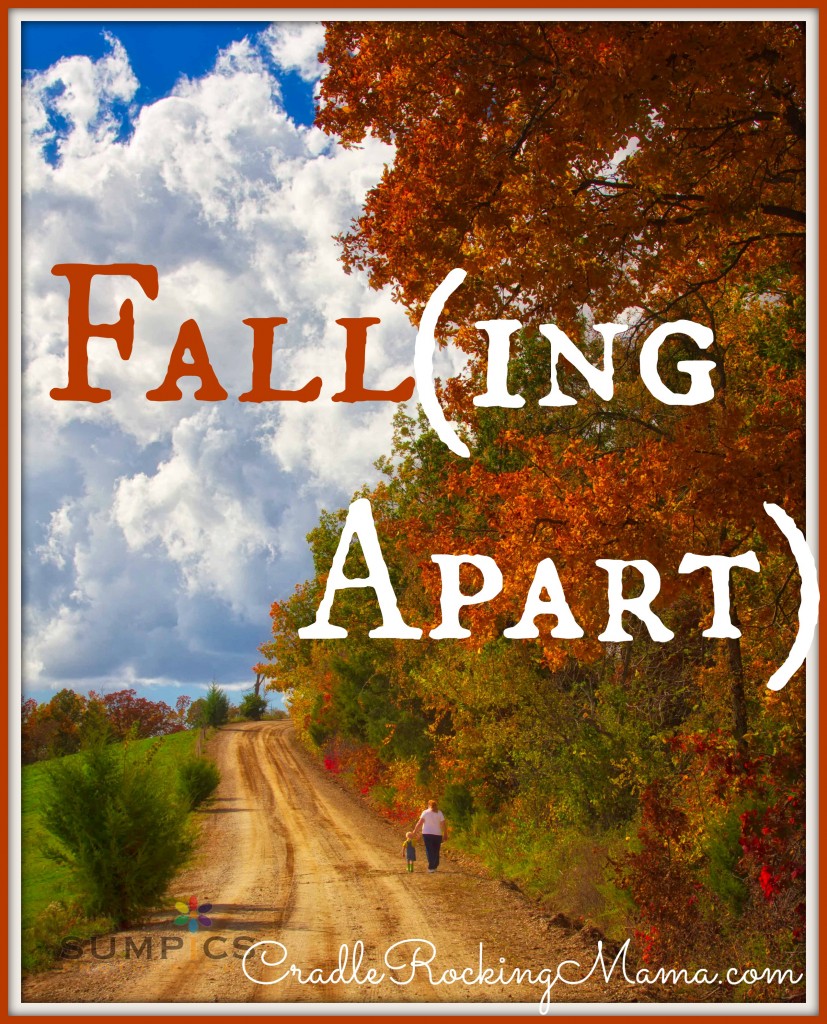 Last year I wrote about how fall always makes me feel like cleaning the house; like it's time for a fresh start.
Usually I do feel that way each fall.
Not this year, though.
Instead, this year I feel like I'm falling apart.
Physically, we've dealt with being sick for a few weeks now. Between the stomach bug that wiped out my family (and then took out my parents), and the cold/allergies that took root immediately after, well, it has not been fun, and there's been no energy for my usual "fall renewal cleaning".
In addition to those two nasty things, I'm feeling strained in other ways.
Early this summer, while at work, I started experiencing sharp, horrible pain in my right elbow.
It only happened when I did certain things with my arm, like gripping anything with my hand, and wasn't constant.
By mid-August, though, the pain was constant. Still only when I did certain things with my arm, but I no longer got weeks or even days of reprieve.
Since we're broke, I have been hesitant to go to the doctor. Going will cost $40 in a co-pay, and any testing the doctor recommends will end up costing us hundreds of dollars that we just don't have.
Even if physical therapy is the only treatment, that will cost $40 co-pays. Heaven forbid if surgery is required! That would be thousands of dollars.
So I did some online investigating, and the most likely explanation was tennis elbow and/or golf elbow. (It actually seems like I have both at once.)
The medical advice for those ailments? Rest the arm, use ice and heat, and it will resolve on its own. If it doesn't, go see the doctor.
So I did that, and also bought an arm brace for tennis elbow, and those helped. It didn't eliminate the pain, but it knocked it down a few notches and made it easier to work.
The 3 days I was absolutely unconscious from the stomach bug seemed to help my arm quite a bit. I came out of the stomach bug fog feeling horrible, but happy to realize that I had NO pain in my right elbow at all!
One day of being active, though, and the pain returned…with a vengeance.
This week I gained a new pain: my left shoulder.
I think I just pulled a muscle somehow; whenever I extend my arm I feel a sharp stabbing pain all through the front of my left shoulder.
So really, I'm in perfect functioning health…as long as I don't try to grip anything with my right hand or extend my left arm at all.
Try avoiding either of those activities with two kids. Or working as a Flight Attendant.
Riiiight.
Darrel isn't faring much better. He has an old knee injury from the Army that has been flaring up with the weather changes and spends many nights unable to sleep because he can't get comfortable with the pain.
Between the two of us, we just may have enough working parts to make one fully functioning person. Maybe.
I'm also feeling strained emotionally.
This stomach bug has dropped Zac's current known safes down from our hard earned 11 foods to a measly 5 foods. (And yes, I realize that last year at this time I fantasized about having 5 foods…but going backwards just…)
We planned on continuing to feed him cauliflower and cucumber, but he's refused those absolutely.
Last week his diapers returned to normal, thank God, but he is so congested in his nose that he isn't sleeping well and is just miserable.
And we can't re-trial foods when he's not at 100% health.
So we're in an FPIES holding pattern for now; worse, it's a place we were at months ago.
We lost months of progress and traction in one fell swoop, and I'm disheartened, discouraged, and, frankly, ticked off.
Financially we're feeling strained, too. On the 2nd, I looked over our budget for the month and asked Darrel, "Honey? Do you think we can make it the rest of the month without spending a dime?"
He laughed, until he realized…
I wasn't actually joking.
We'll figure something out; we always do. And I never forget God's providence. I've been saved from many a financial disaster by the divinely timed arrived of funds from an unexpected place. Our bank accounts will survive somehow.
We'll muddle through the physical pain, doing what little we can without medical intervention to manage the symptoms until funds are better and we can actually go to the doctor for help.
We will re-trial foods for Zac as soon as he returns to 100% health again, and hopefully we'll discover that he didn't actually lose any foods from the stomach bug. Hopefully he just had a sensitive tummy and couldn't handle certain foods for a short while, but they're still, overall, okay for him.
But it just feels like almost every aspect of our lives is just falling apart right now, and I'm tired, y'all.
Really tired.
On the plus side of things, being so tired and broke meant we didn't have a lot of fresh ingredients in the kitchen and I didn't have the desire to really put out a lot of effort in cooking last week.
Why is that a good thing?
Because poor Jed's diet was entirely devoid of any food that is even remotely suspicious for fructose malabsorption or salicylate sensitivity.
It was a very boring diet; I'm talking "meat and potatos"-style here.
But he has been an absolute ANGEL all week!
Funny. Sweet. Loving. Brave. Smart. Teachable. Agreeable.
He's the child I KNOW is in there, so often hidden by his food intolerances.
It's so wonderful to spend time with Jed when he's not reacting. He's an amazing person!
This week he's asked  to do worksheets to practice handwriting and finally  answers correctly every time when we ask him to count to 10 (he's known how to do it for ages now, he simply refused to cooperate when we asked for proof).
For the first time, he's shown an interest in learning his alphabet and spelling.
When Jed is off fructose and sals, I look at him and think "Man, one day he's going to be one helluva good husband and father. He's just a good person."
When he's ON fructose and sals, I want to pull my hair out in frustration and I worry about his future.
It's a stupendous transformation.
So I guess not everything  is falling apart. Unless you count the fact that obviously, we haven't truly figured out Jed's diet yet (even two years into this) if we were able to see such a noticeable transformation this week.
(shaking it off)
Whatever. I'm going to hold on to the sweetness that is Jed.
A Mama's gotta have something, right?
__________
I wrote this post before bed last night. A few hours later, Zac woke up to nurse. As he finished nursing and rolled over, he suddenly leapt up in bed, screaming, rubbing his eyes vigorously.
I tried to get him to lay down and nurse again, but he refused be held or calmed. Finally I grabbed him and ran to the living room to look at his eyes.
They were swollen shut.
His eyelashes had turned completely under; I couldn't see them at all. (And if you've noticed from any of his many photographs here, he has astoundingly long eyelashes.)
I screamed for Darrel, thinking "Dear God, he's having an IgE reaction." without having any idea what he could be reacting TO.
When Darrel came out, we quickly decided to give him a dose of dipenydramine (Benadryl).
Zac has never had dipenhydramine before, so we were risking an FPIES reaction to it
But if he was truly having an IgE reaction, we had to risk the FPIES reaction.
We grabbed the allergy kits with the Epi-pens and dipenhydramine and gave him a dose.
By coincidence, I had been texting with a fellow FPIES mama while nursing Zac, and since I'd just disappeared from the conversation and I knew she would understand what we were dealing with, I sent her a quick message saying Zac's eyes had swollen shut.
She asked if I had taken a picture. I hadn't. But that suddenly seemed like a very good idea for documentation purposes.
So about 4-5 minutes after the dose of dipenhydramine, Zac's eyes looked like this: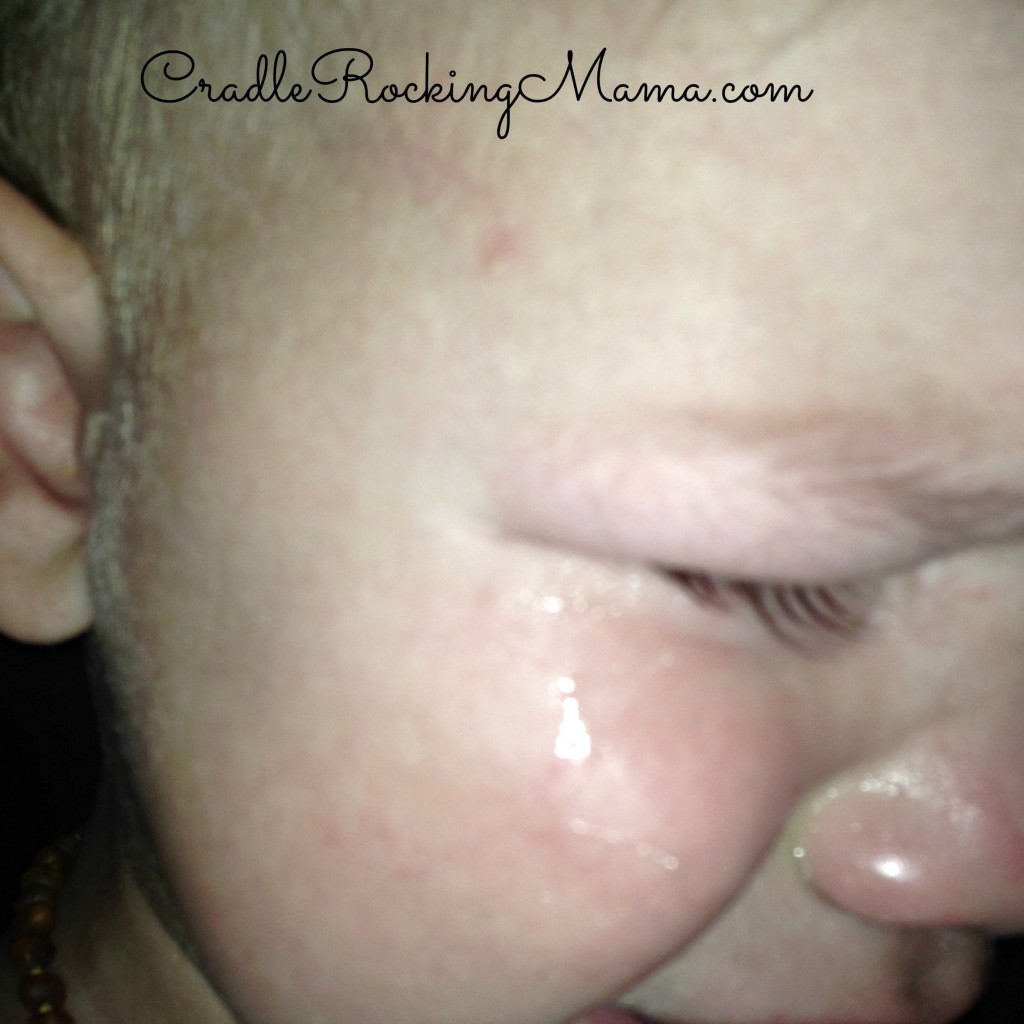 Not too bad, right? But that's a WHOLE lot better than they looked before.
Before the dipenhydramine, he couldn't open his eyes at all. A few minutes after this photo, he was able to open his eyes.
Dipenhydramine works fast, y'all.
But he was still screaming, rubbing his eyes viciously, and not actually acting like he was getting much better.
So I called the on-call nurse at his pediatricians office.
During the course of the phone call, Zac quieted. He stopped screaming. He stopped rubbing his eyes as much.
One problem of having a child with complicated medical issues like Zac is that when you call the average on-call nurse, she has no idea what his issues are or what complicating factors could be in play.
However, upon hearing that he hadn't eaten anything new, that none of the sheets or clothing I was wearing were different, that he hadn't played outside that day, and that he had a cold the last week or so, she decided that he was probably just experiencing his cold morphing into his eyes.
She suggested I might see eye drainage in the morning, and encouraged me to keep an eye on him overnight and re-evaluate in the morning. If his eyes still seem to be a problem, I'm to call his pediatrician and see if we can arrange some sort of safe eye drops for him.
Zac finally fell asleep on the couch. I've been watching him breathe ever since.
I'm still a nervous wreck.
Anything that even HINTS at being an anaphylactic reaction scares the life out of me.
The nurse is probably right. It's probably just that his eyes suddenly started experiencing the cold his nose has suffered with, and the vigorous rubbing didn't help matters.
But I think I won't feel calm and certain until we get him checked out by an allergist. I'll probably arrange for both boys to be seen at Jed's annual allergic check-up this year.
Seriously. Falling apart here.