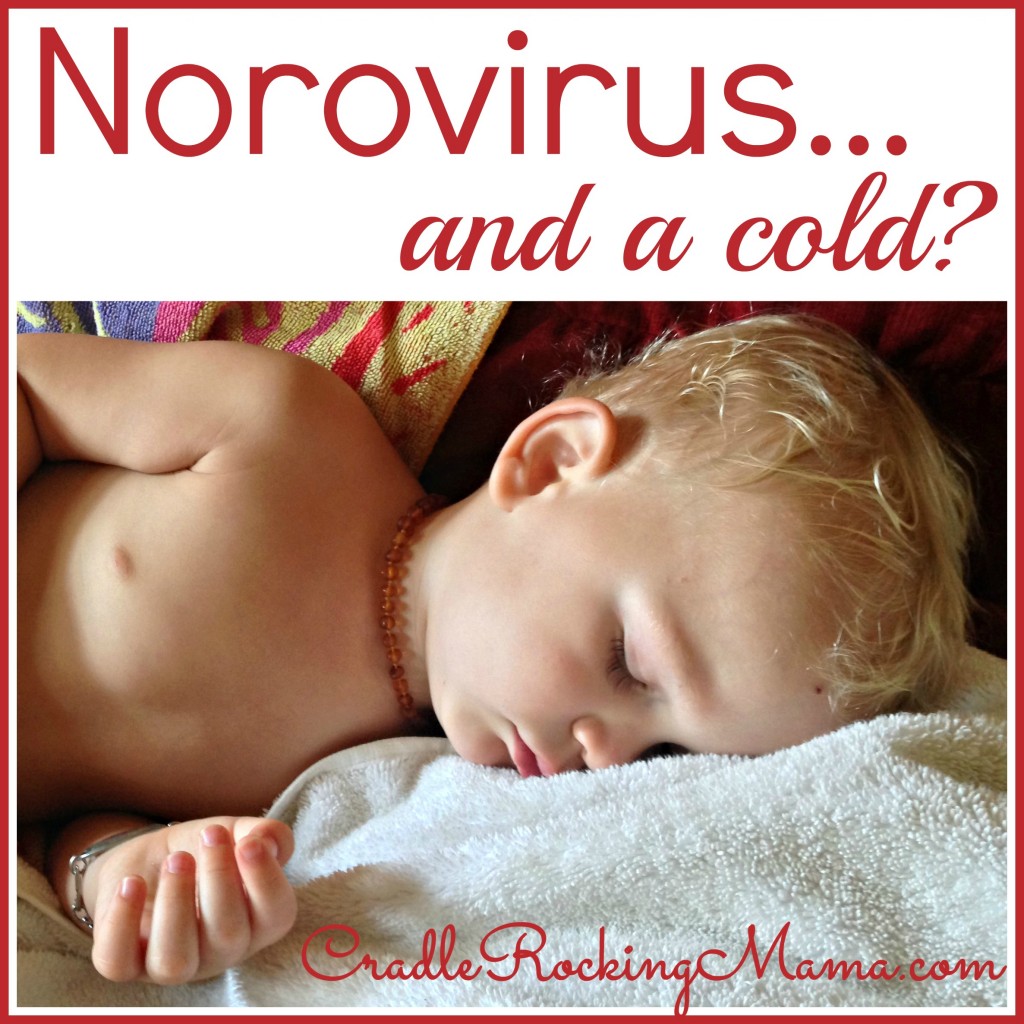 Well.
What. A. Week.
I wrote the last post Sunday night before bed, scheduled it to post bright and early the next morning, and went to sleep.
Unlike Saturday night, Sunday night Zac would not/could not sleep without me laying right next to him.
Preferably with a boobie in his mouth.
At 2:50 a.m., Jed woke up next to us in bed and began vomiting.
He vomited again 20 minutes later.
Then again an hour after that.
With all that fun sick kiddo stuff going on, I just didn't have the time to go in and edit the post (where I asked for your prayers) to reflect the fact that it did  already appear that we had actually gotten hit with a stomach bug.
I spent the day taking care of kiddos, of course, but was steadily typing an update post into my phone every chance I got when…
The stomach bug got ME.
Monday night I started vomiting. Unlike the boys, my norovirus experience wasn't limited to vomiting. I suffered from diarrhea, stomach cramps, chills, and body aches as well.
Fun stuff, lemme tell ya. 
Seriously, the only people in the world I would wish this on are Hitler, Mengele , Pol Pot, Stalin, and maybe a few living politicians I won't name because I'm sure I'd offend someone.
It was quite terrible. One of the worst sicknesses I've ever endured in my life.
As of Wednesday night, I stopped having the chills. By Thursday night, I still had the other highly unpleasant symptoms, but I also hadn't eaten anything since Monday morning. (Well, nothing that hadn't made me immediately clench in pain.)
I could no longer figure out if I was sick or just starving.
Mashed potatos finally did the trick; I only ate about 1/3 c. of some mashed potatos before my stomach started rebelling, but it didn't make me sick. Just more of my stomach saying "Whoa! You expect me to work, lady?"
So that was a huge improvement.
Darrel had been holding down the fort, for the most part single-handedly, but he also struggled with stomach cramps and body aches and finally, on Wednesday night, he succumbed, too.
Fortunately, though we both still feel like death warmed over, we're slowly on the upswing. (Not in time to save my paycheck for September, but that's another issue entirely!) I still feel weak, get dizzy frequently, and have a strange sensation in my tummy sometimes, and my body is still terribly sore from the severe clenching it did during the chills, but I'm getting better every day.
Hopefully I'll be well enough to go to work this week. I'd hate to go to work in a weakened condition and wind up sick with something else!
Not that I needed it, but I managed to lose almost 7 more pounds this week. Percentage-wise, that's about the same that Zac lost from his tummy bug, right?
So, on the plus side, it appears we were hit with the norovirus.
On the negative, we were hit with the norovirus.
But I still don't know if we're out of the woods for FPIES or not. 
A couple of Zac's diapers from Monday and Tuesday tested positive for blood, so I don't know what to think about that. Inflammation from the stomach bug? Residual leftovers from a combined FPIES/stomach bug reaction?
And since the boys have gotten better (because really, you'd hardly even know they had been sick from the way they bounced back – unlike their parents), Zac had a disturbing moment where he ate a nice, big bowl of banana ice cream, and an hour later got hiccups.
About half an hour after that, he almost vomited.
I could hear the vomit coming up his esophagus; his eyes got big and wide, and he started swallowing rapidly. So he didn't vomit.
But his body was trying to. 
An hour or so after that, he cried and cried, and finally answered 'yes' when I asked him if his tummy had an owie. His little stomach was rock hard.
And no, we haven't re-started oats yet.
One common lament I've read over the last two+ years on the boards from other FPIES Mama's is "Can a child LOSE safe foods after a stomach bug?!"
The answer is always a resounding – and sad – YES. 
So we may have lost one or more of our safe foods thanks to this horrendous virus.
Please, God, if we have lost a safe food, please make it NOT be bananas! 
Zac loves  his bananas.
And I love the ability to hide other foods in his bananas for trials.
His poops haven't again tested positive for blood since Tuesday, but none of them have looked very good. Soft and mushy and full of mucous…it's clear his tummy is not back to 100%, no matter how good his behavior.
Before we can do anything else, we have to get back to baseline. 
So for now, we've dropped his diet down. He now eats quinoa, goat milk, eggs, chicken and sea salt. We're still trying to feed him cauliflower and cucumber, but he has so far refused any foods I've hidden those two things in.
The rest of his safe foods will require a re-trial before moving on.
So we won't get around to re-trialing oats until…somewhere around November.
bad words bad words very very bad words
In case I haven't mentioned it, I really, REALLY hate stomach bugs.
Oh, and to make things even more fun?
The boys bounced back almost instantly from their respective vomiting episodes…but each came down with sneezing, runny noses, and coughs within a day of getting better.
My Mom heard that and warned me about an uncommon respiratory virus she'd heard about on the news that has hospitalized one baby in our area. It's EV-D68, and guess what?
It has symptoms almost exactly like a cold, or the lingering remains of a stomach bug. Body aches, sneezing, cough, runny nose, and possible fever.
Those are the mild symptoms, though; the severe cases go into respiratory distress, almost like an asthma attack.
So we've been watching the boys for any signs of labored breathing all week.
You know, in between vomiting, racing to the toilet, and shivering in bed.
Seriously. I would only wish this crap on the likes of Hitler. For reals.
On the plus side, I learned some more tips on how to make life bearable when your whole family is sick, and I'll be sharing those with you tomorrow! (Gotta be a bright side, right?)
So…how was your week? Have your kids ever lost foods after a stomach bug? How did it happen? Did you have to stop trialing for a while or actually re-trial all your safe foods?