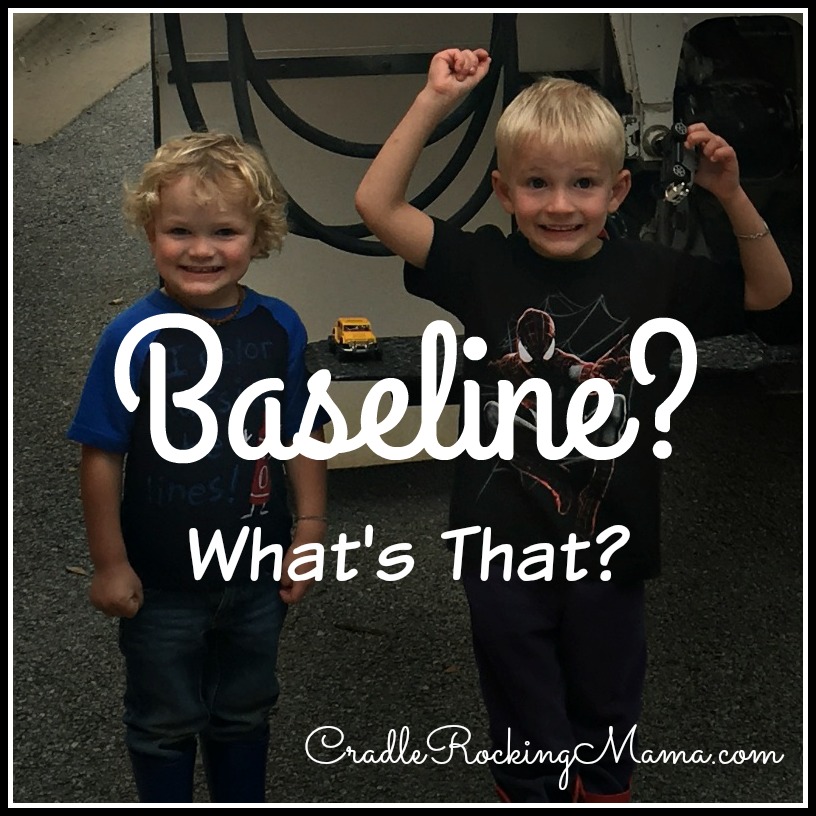 This. Is getting. Ridiculous.
Last month, we all got sick after our Chicago trip. Jed and Darrel bounced back quickly, but Zac and I had a harder time recovering.
We had barely begun feeling better when, about three weeks ago, we all got the stomach bug.
Seriously?
Apparently, every Fall our family will get hit with a stomach bug. It happened last year (forcing us to re-trial almost all of Zac's previously safe foods), the year before that, and the year before that.
At least this year Zac hasn't appeared to lose any safe foods, but he is far from baseline. His diapers are a mess (yes, potty training reverted completely; in fact, he is now SCARED to poop in the potty…advice?), his sleep is poor, he's napping more frequently, and instead of weaning by the end of September, as I suspected he would, he comfort nursed through mid-October.
Ugh. Ugh. Ugh.
We've given up entirely on any food trials, but since it has now been two full months of "food trial hiatus", we've gotten sort of…weird. Despite being so incredibly strict about every morsel of food he's eaten his entire life, lately, when he asks to try something untrialed that we are eating, we just shrug and say "Sure!"
I'd be more worried about this if he actually ATE any of the things he requests.
He doesn't, though, so our "hands thrown in the air in surrender" insanity hasn't caused any further problems with his tummy. Thank God.
Further proving the last two months have driven me insane, I broke a cardinal rule of FPIES: attempting to purposefully trial a food when he had not returned to baseline.
For a Halloween party a couple weeks ago, I made him some gummy treats made with blueberry, beef gelatin, and maple syrup, figuring that we might as well trial maple syrup…even with his stomach out of whack.
He helped me make the treats and was so excited! "Mommy? You making these for me?"
"Yes, baby. These are for you."
Big eyes, big smile, and "Thank you, Mommy!"
And guess what? When they were ready, he picked up a piece of gummy treat, scrunched up his face, dropped it, and insisted on washing his hands.
He never ate a bite.
We didn't get a chance to reintroduce them the next day, either, because Jed snuck into the fridge and ate ALL of them when I wasn't looking.
Since I also made Jed some safe candies, and he chowed down on those at the party, I'm left unsure which item caused his complete Meanie attack that day. The blueberries? The maple syrup? The food coloring in the candies?
I don't know. I'm leaning towards maple syrup, but whatever the cause, two Monday's ago Jed was in full-blown meltdown mode.
It's been so long since we've had a Meanie episode, I didn't recognize it for what it was at first. I was scared.
Finally, I figured out it was the Meanies, and, true to form, once Jed realized he had the Meanies, he calmed down considerably.
I'm still somewhat amazed that my 5 year old son can control himself so well once he knows he's being affected by his food.
Sigh.
It's been a long two months.
Not only were the kids sick in September (colds) and October (stomach bugs), I was sick with those things, too. Between the kids sicknesses, my sicknesses, work, and the other 'stuff' of life, I'm just tired, y'all.
Even better, last week Jed came down with another  cold. My cough still hadn't completely gone away from the cold I had back in September. Thanks to the lack of sleep I experienced last week (due to work and sick kiddos), my cough has come back with a vengeance.
I have no other symptoms, which means I can't justify calling out sick from work, but don't ya know it makes my passengers feel so good to have a Flight Attendant serving them while sounding as though she has the plague??
For Jed, we had no medicine to safely give him and no time to go search out anything at a store, so I resorted to homemade therapies. Unfortunately, almost every homemade cough/cold remedy requires very fructose-y ingredients.
Eventually I settled on garlic chopped and simmered in water, then strained of all garlic cloves. To that, I added some raw honey, had him drink it three times a day, and prayed his fructose reaction wouldn't be too terribly bad.
He DID react, but far less than I predicted to the (fructose bad boy) honey.
On the plus side? It worked! He's almost completely over his cough. I'm hopeful that with some good sleep, I'll bounce back again, too.
Just so you don't think I've forgotten about him, Darrel has also been under the weather frequently the last two months. Fortunately, he never quite devolved as badly as the rest of us. Mostly he just suffers from feeling tired and worn out.
I'm sure taking care of all of us has helped him feel so unenergetic.
I don't know when we'll all be back to baseline, but we'll just plod along until we get there.
One thing I do know for sure?
I have grown to hate Fall and Winter. 
---
Anyone else get sick every year in the cold weather?