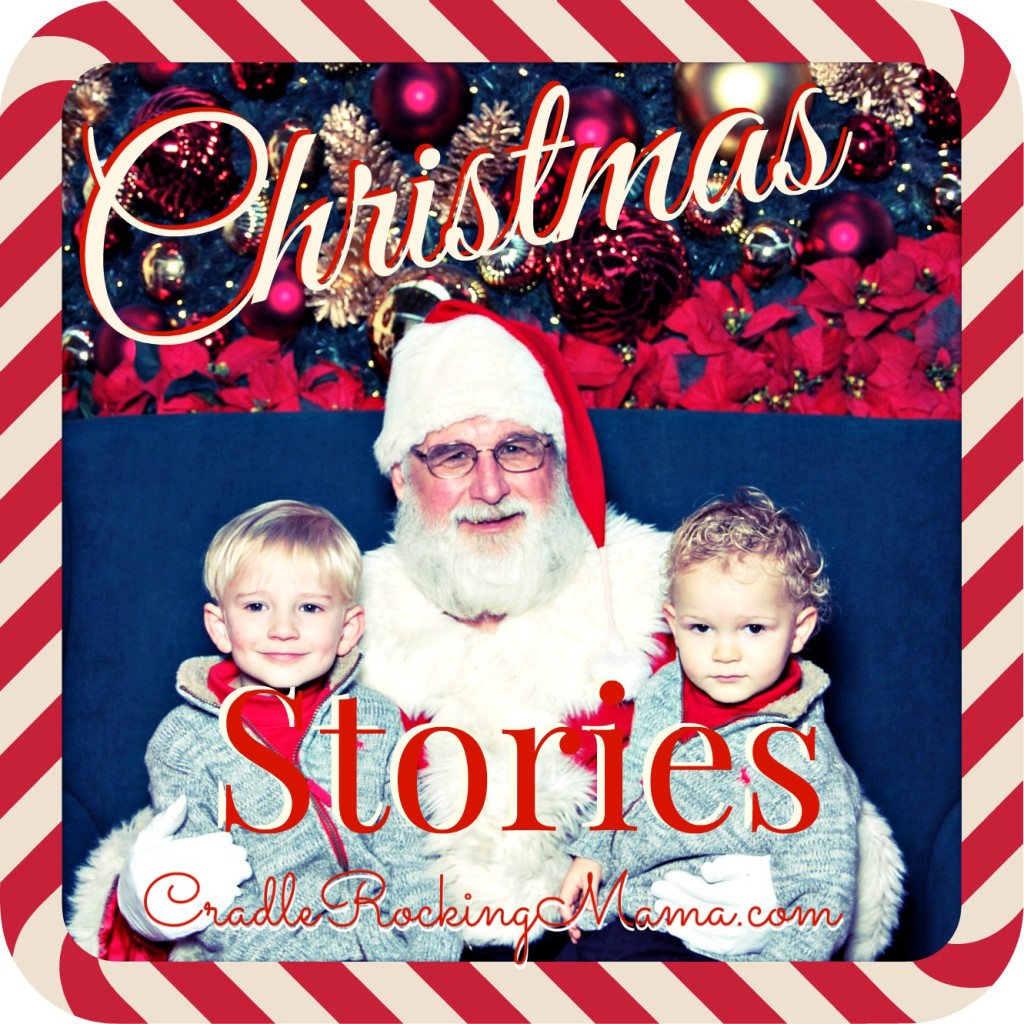 The end of the year was so busy around here I didn't write much. Just to keep the story-telling flow going, I figured I'd fill in the gaps for the last few weeks.
When I last updated about the boys, Zac had vomited and we didn't know why.
We still really don't know why; only that salmon proved to be safe after a few days, so our likely candidate is some unknown trace that he picked up or a baby virus. He bounced back and was just fine in short order.
With that scary experience under our belt, and facing two or three weeks of holiday mayhem, though, we decided to halt all food trials and simply sit back and punt, waiting for baseline and gut rest.
The week before Christmas week, I worked the whole time. After arriving back home on Sunday night, I had a mere 3 days of Christmas prep time to do far too many things with the boys, but we managed to get almost everything done.
---
We baked cookies. LOTS of cookies! (Though not nearly enough to satisfy Jed, who is STILL asking for more sugar cookies to this day.) In fact, I managed to tweak my Wannabe Snickerdoodle recipe to be even better (though I haven't yet updated the recipe online…I'll let you know as soon as I do) AND created two roll out cookie recipes.
One is a bare-bones, 4 ingredient quinoa recipe that is absolutely boring and bland. That's because it's FPIES safe for Zac, of course; with some stevia or some additional tweaking, it could easily be made delicious! (Remember that Zac has  no safe sweeteners as yet for me to play with.) However, as boring as it is, it IS a bonafide, roll it out and cut out fun shapes with cookie cutters cookie, and that is something I'm immensely proud of.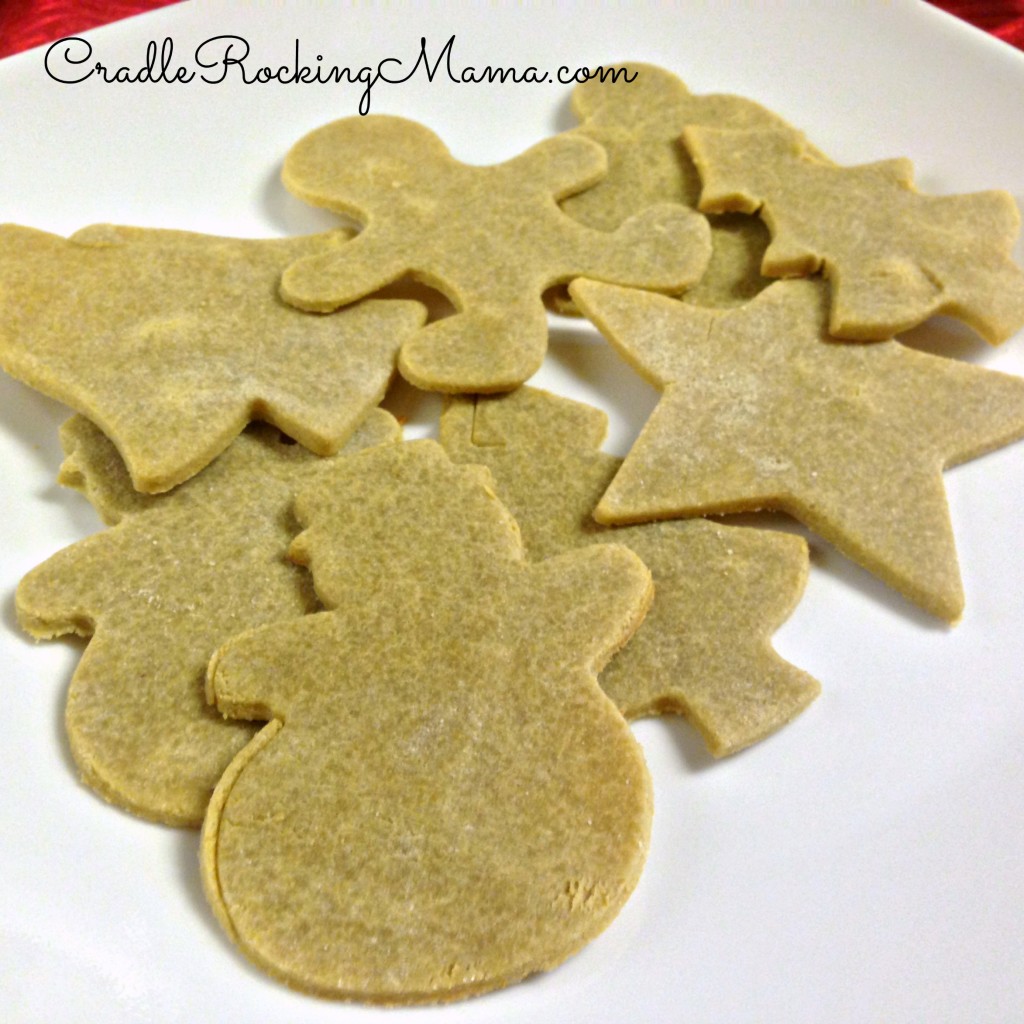 The other is a dairy free, egg free, fructose free roll out cookie that tastes awesome! Jed couldn't get enough of them, and I had to do a little "wine tasting" taste test to verify (take a bite, chew for a minute, then spit it out and rinse my mouth like crazy). This little jewel tastes JUST like the sugar cookies I remember from my youth…and it's completely allergy safe!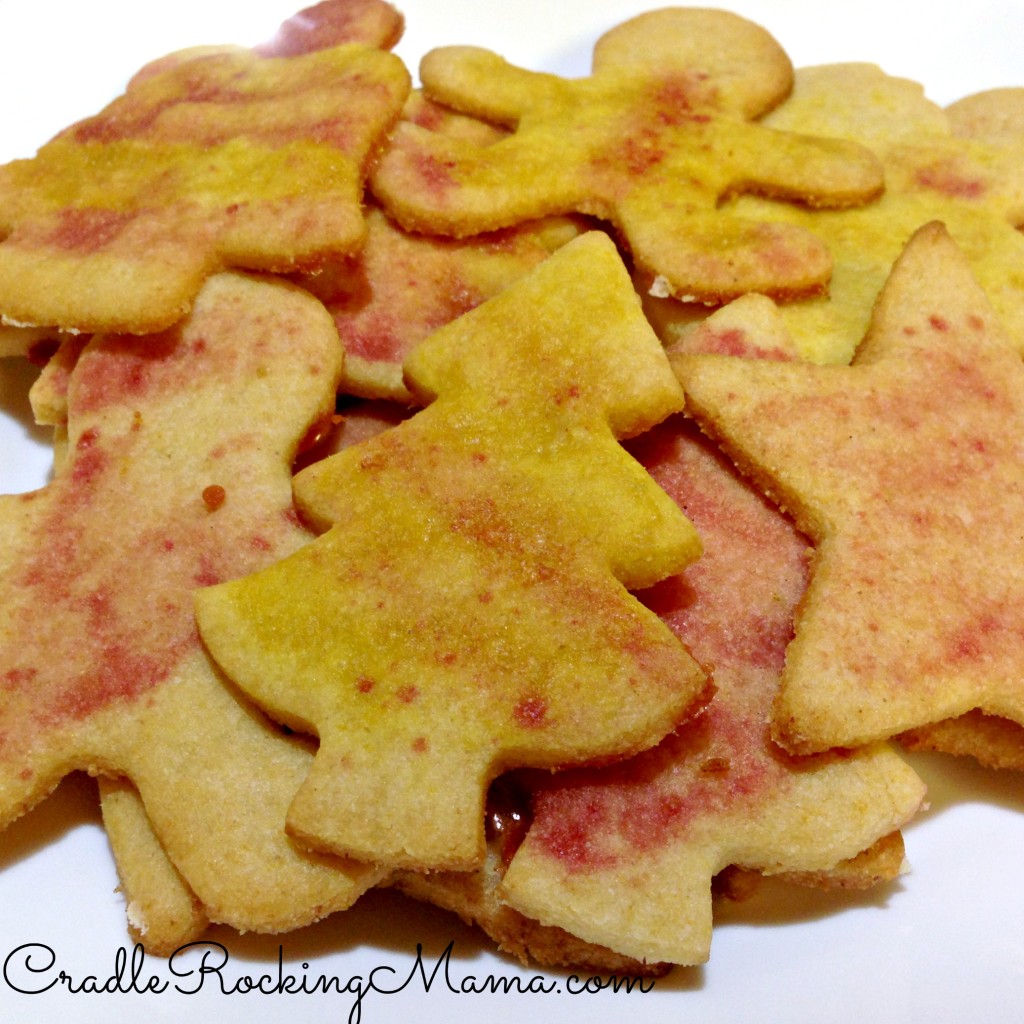 I even figured out how to make a safe cookie decorating "sugar" for Jed, too!
It was a very satisfying week in the kitchen, let  me tell you. 
Since I didn't have time to write and share those recipes before Christmas, I'm planning to get them all ready to share in the weeks prior to Valentine's Day…another holiday that often has sugar cookie roll-outs. So stay tuned – and bookmark those recipes for next Christmas!
---
We also paid a visit to Santa. 
This is the first year Jed has really understood about the whole Santa/Christmas thing. He was very excited at the prospect of meeting Santa Claus! His excitement transferred to Zac, who really had no idea what was going on but was giggling and bouncing all the same.
They couldn't wait! I had to constantly restrain them from running up to Santa before it was our turn. Finally, after this photo was taken…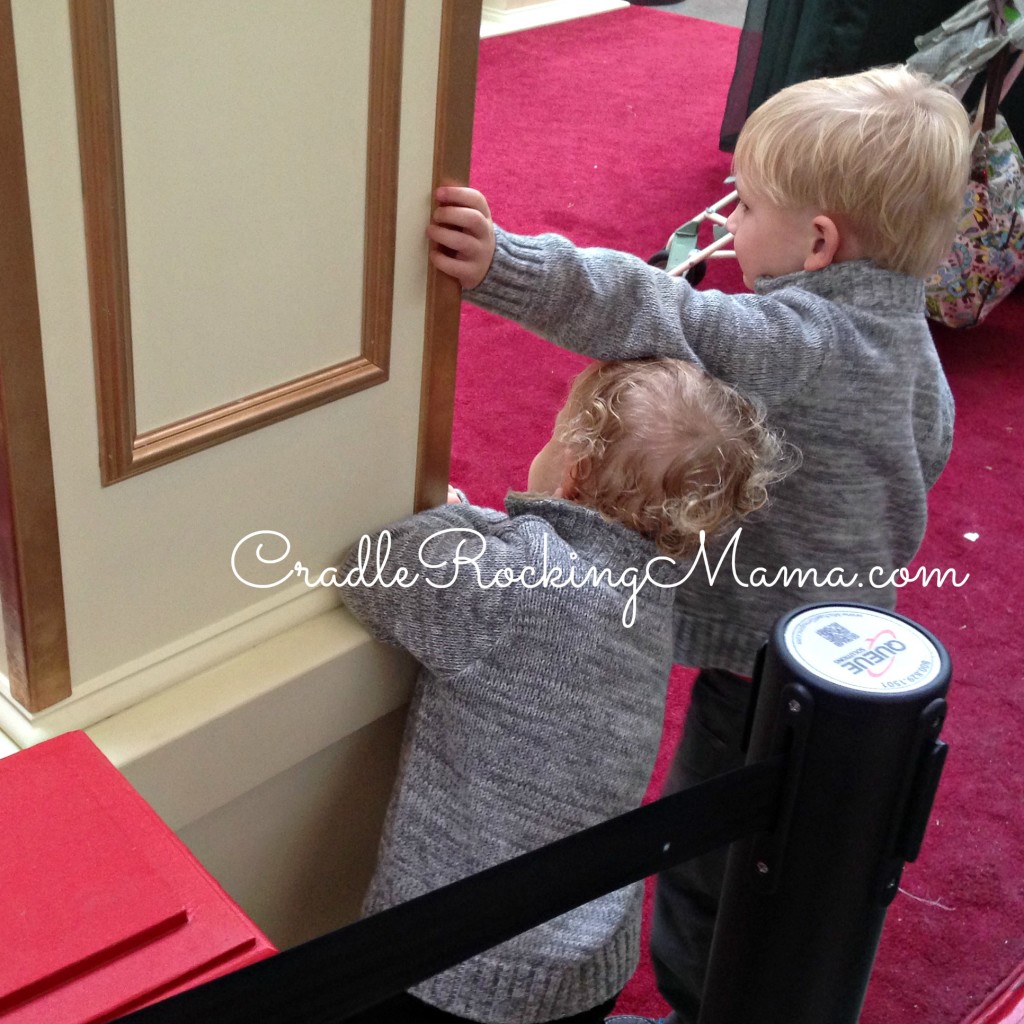 and I once again told the boys to get back, Jed informed me that "Mommy, we just HAVE to PEEK!"
So as long as they stayed on our side of the column, I let them peek. I love seeing them so excited.
Our local mall has had an awesome Santa for as long as Jed has been alive, so that's who I expected to see again this year. It was quite a surprise to see a NEW Santa sitting in the place of honor…but it turned out to be a good thing.
This new Santa is the type of Santa who lets the kids sit on his lap, take their picture, and then TALKS to them! Jed got to actually TELL Santa in person how good he had been all year (cough cough) and what he wanted for Christmas. The prior Santa was awesome looking, but the kids never got to talk to him. So this was a welcome treat!
I especially loved it when Santa reached for my hand when I gathered up the kids and told me what a good job I was doing with the boys, that they were sweet and adorable. I'll take that Christmas gift any day!
I'm thrilled that I got a great photo of the boys!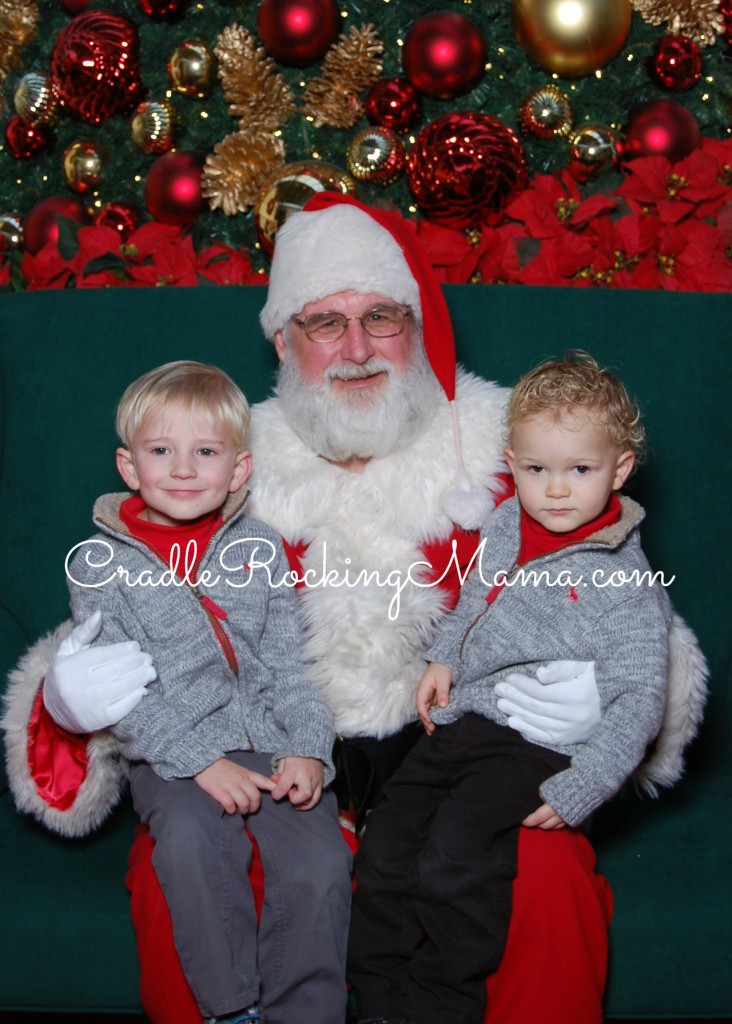 For the record, our version of the Santa story is that Santa was so inspired by all the love and charity taught by Christ that he decided to make it his life's work to spread love, cheer, and gift-giving to children as a celebration of Christ's birth. To me, it's the best of both worlds: we keep the true meaning of Christmas alive and well, but still allow the kids to participate in the fantasy of Santa Claus.
---
Later on, the boys helped me make gifts to give to their grandmothers and my aunt (and me!):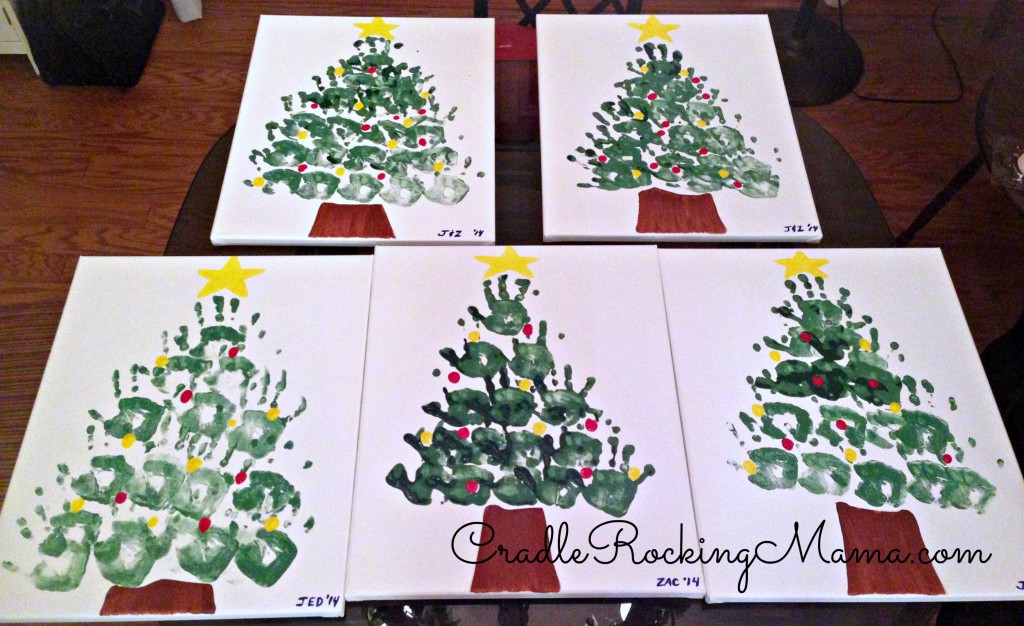 I saw the idea on Pinterest and the boys had SO MUCH FUN making these trees! My sole contribution to these canvases is the tree trunk painted at the bottom and the star at the top. Oh, and their names and date written in the bottom. Jed and Zac did all the rest by themselves (with guidance, of course). Even the fingerprint ornaments!
Jed did one tree all by himself, and Zac did one by himself. Those I kept. The other three I helped Jed do the bottom half and Zac do the top half for a joint effort painting; those were the gifts to grandma's and my aunt.
I've really enjoyed looking at those prints on my wall for the last couple of weeks!
---
One of Jed's favorite Christmas movies is a Veggie Tales story, "Merry Larry and the True Light of Christmas". Larry the cucumber sings a funny song halfway through the movie about "wrapping himself up for Christmas", where he shows up completely wrapped, head to toe, in wrapping paper.
So it shouldn't have come as a surprise that when I pulled out the wrapping paper to wrap the gifts for grandparents, Jed jumped up and down and begged to be wrapped up for Christmas!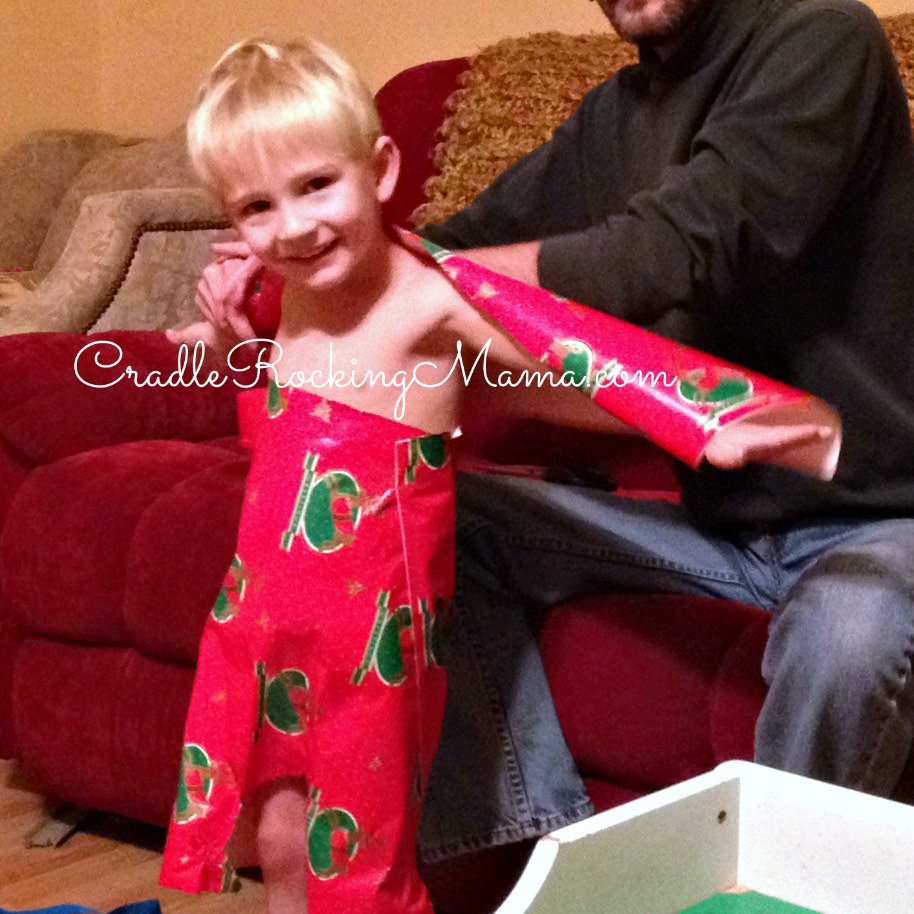 He had a blast being wrapped, but once it was finished, he wasn't quite convinced it was a good idea…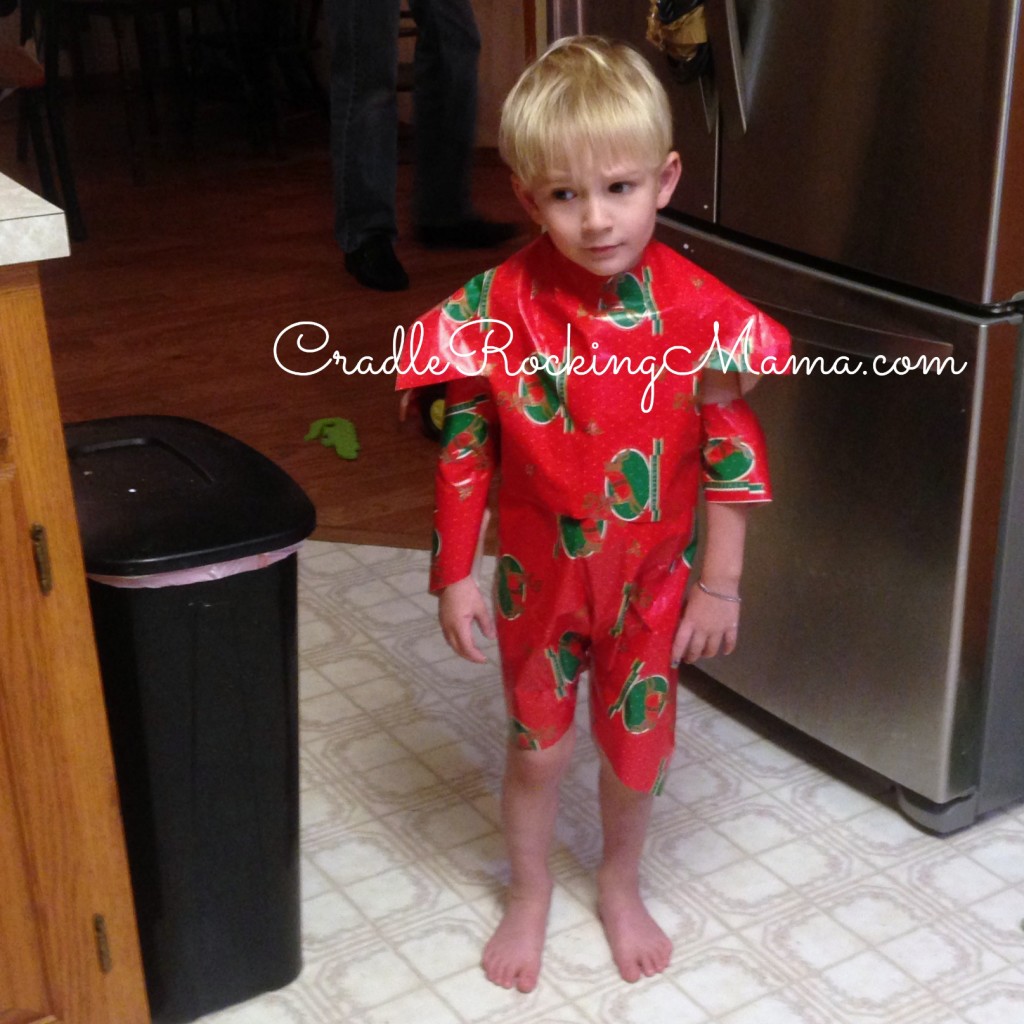 I thought it was funny, though!
---
Christmas morning dawned bright and early, and found the entire Summer's Family still abed. My parents and aunt showed up and had to wake us up! None of us had gotten to bed early the night before, and we were all plum tuckered out.
When we all finally roused, this was the sight of the Christmas over-abundance we faced: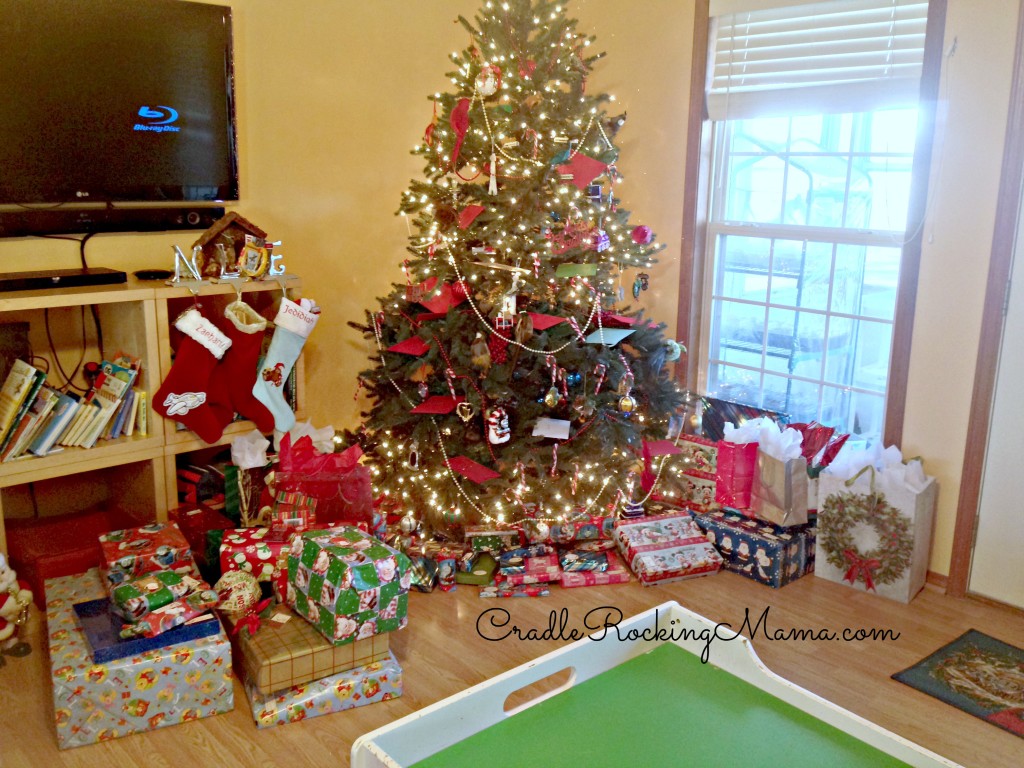 I have one word for you: RIDICULOUS.
There were so many gifts, the boys didn't even want to open them all! At one point I looked down and saw this: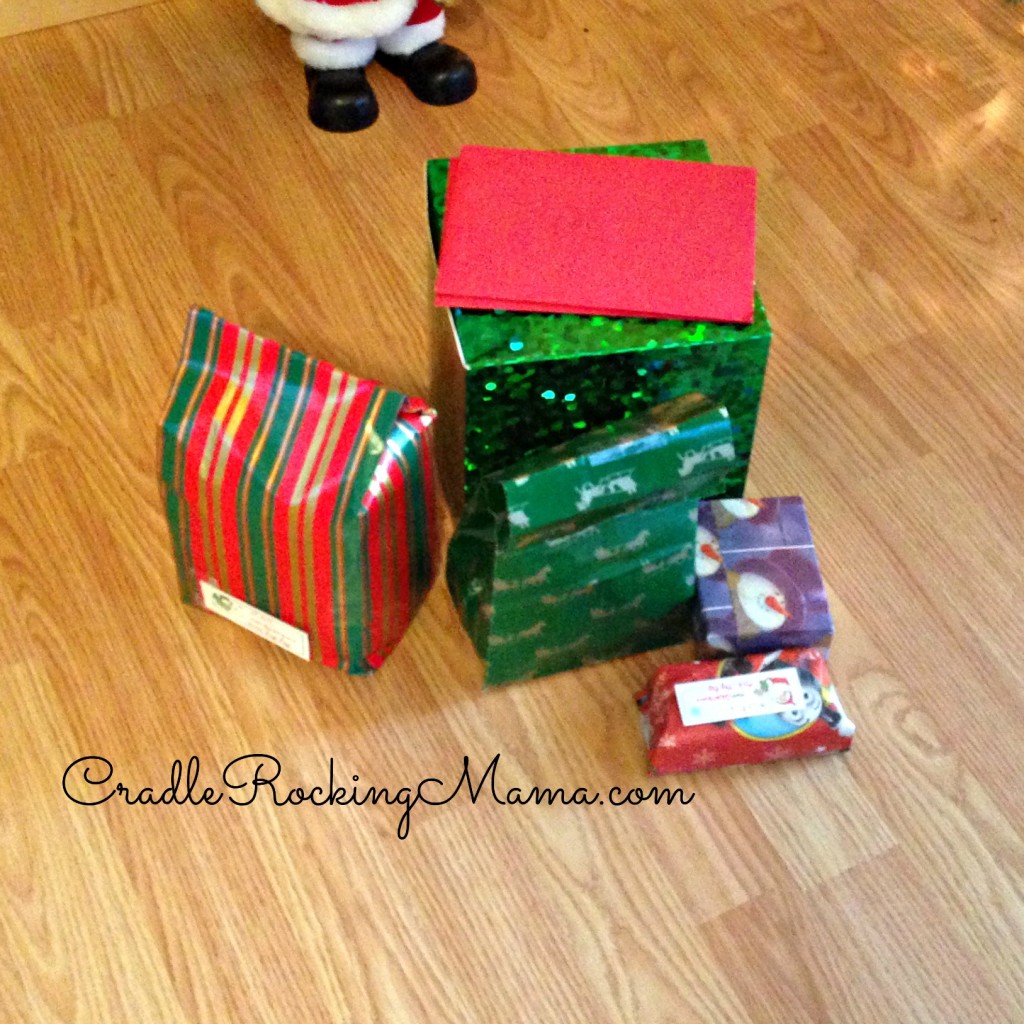 A sad little pile of gifts that the boys flat refused to open. They had too much to play with already and didn't want to stop playing to open more gifts!
Eventually they did, but still. Ridiculous. (More about the lessons from that one later.)
I know I've mentioned severe money troubles here before, so I bet you're all wondering how I managed to obtain such a ridiculous amount of presents, right?
Well, part of the pile is from my parents and aunt, so I'm not to blame for all  of the abundance. The majority of our gifts under the tree were actually purchased TWO YEARS AGO at a going out of business sale Darrel and I found at a local toy store. Everything they had in the store was 75% off – including the wooden Thomas the train stuff! (Mama's of Thomas fans will appreciate how expensive those toys are and how heart-thumping a 75% sale is on those things!)
We bought a bunch of stuff, stuck it in a closet, and planned to give it last year for Christmas. Then Zac had so many reactions to the wood and paint on all of Jed's wooden toys that we had to put them all in storage, and there everything has sat all this time.
This year, finally, Zac is no longer eating everything in the world that he finds, so we decided to give back all the trains we took away and go ahead and give all the stuff we bought at that sale two years ago. 
Which is how Christmas got totally and completely out of hand faster than some runaway troublesome trucks!
It was actually pretty cute; Darrel overheard Jed telling another little boy that "We had to send all my wooden trains to Santa because they made my brother sick, but Santa is going to bring them back to me this year!" All together now…AW!
Even with our accidental largesse for the kids, our money situation really isn't all that great right now. So I'll let you in on a little secret, ladies. You don't have to spend a lot of money to make your husband happy! This is a typically G-rated blog, but I'll share with you what I got Darrel for Christmas: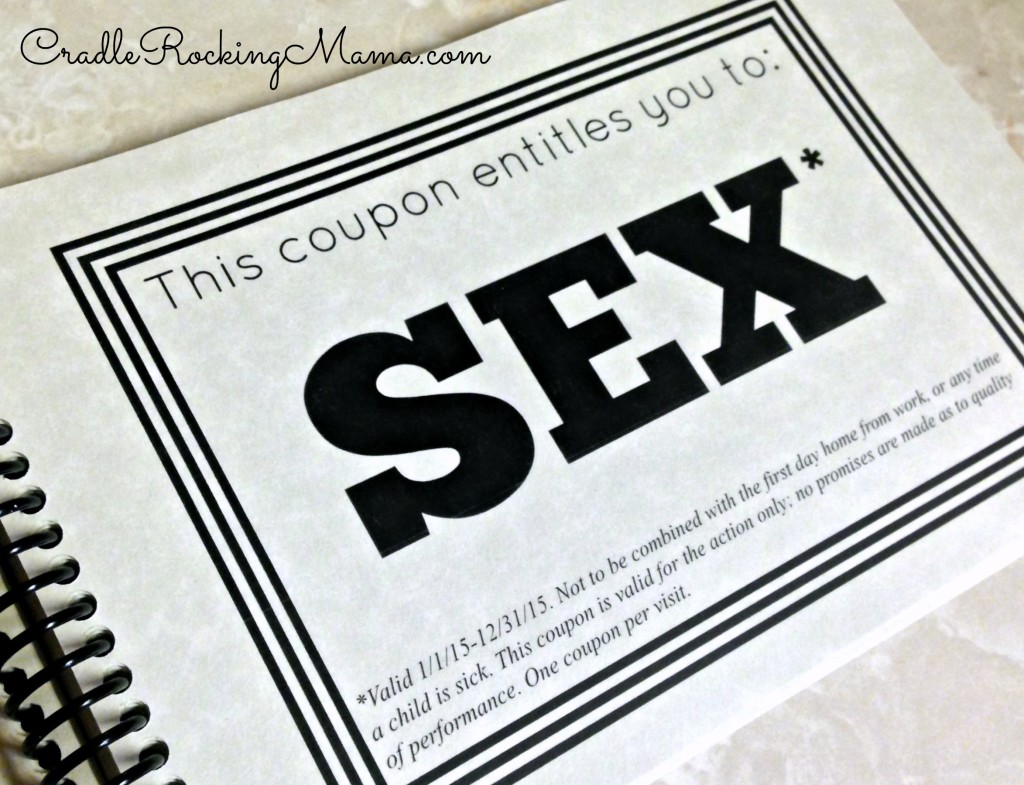 Yep. A coupon book made Darrel smile bigger than I've seen in a long time. And even with the copying and binding costs, it was still under $10. (Feel free to borrow this idea if you're broke. I got the idea from my Mom!)
---
Just for amusement, here's a shot of the Christmas tree the day I put it up and the day we took it down: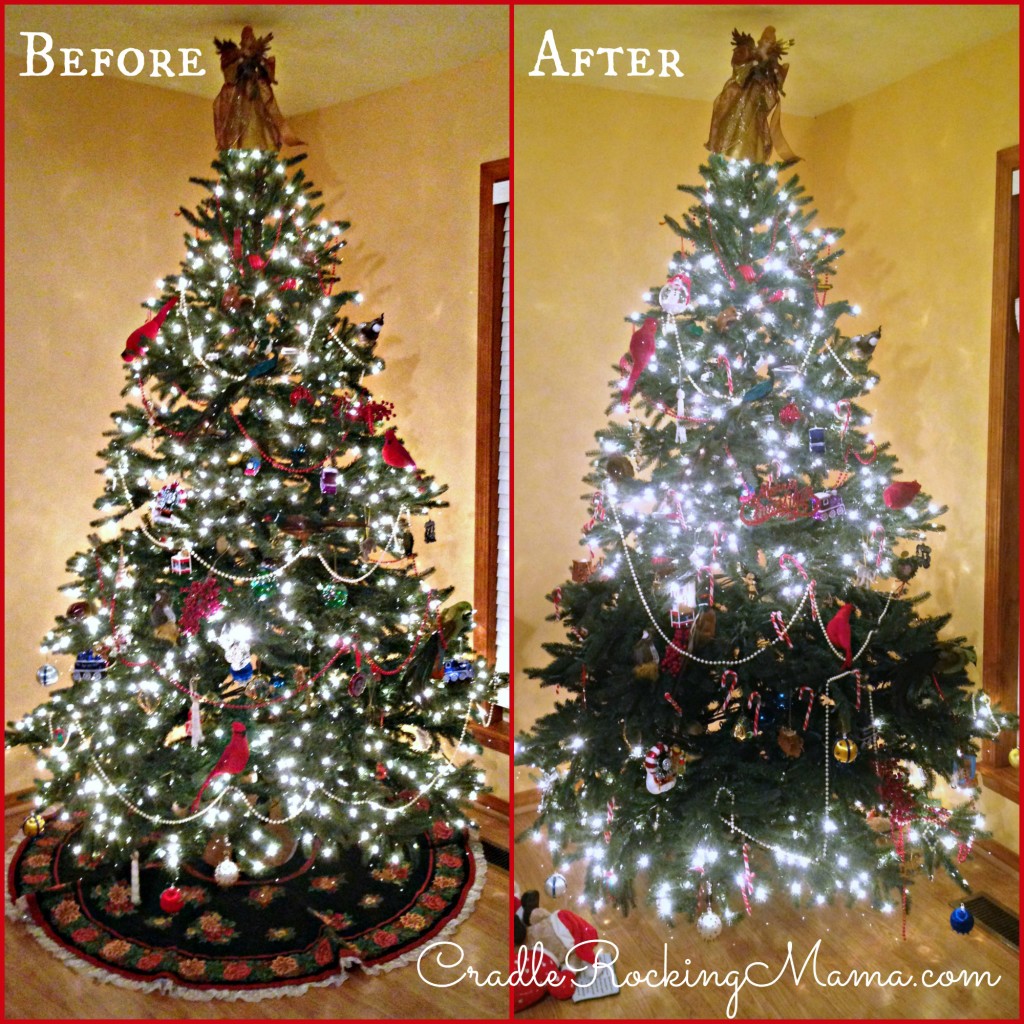 Yes, a Christmas tree is no match for two determined small boys. Angel askew, garlands drooping, lights broken, tree skirt removed due to too many broken ornaments caught in it's folds, ornaments rearranged, birds hanging upside down…I'd say this tree was well loved this year!
---
With Christmas behind us, we're moving back into normal life (or as normal as it gets). Zac had a weird moment on New Year's Day but has been perfectly fine ever since, so we resumed the beef trial on Saturday night.
He had a little bit of weird sleep that night, and a little bit of mucous in a couple poops the next day, but nothing else at all concerning. In fact, Sunday afternoon he ate his hamburger patty and proceeded to LICK THE PLATE before running to me, screaming for more!
So beef is looking pretty good, at the moment. 
Poor Jed, though…since he's had some strange reactions to cocoa in the past, I bought some carob powder to trial on him. After the first cup of hot carob (with goat milk, vanilla, and maple syrup), he seemed okay…but after the second day of drinking two cups per day he was definitely  reacting.
To test it out and see if it might be the maple syrup causing the problem, I made his next days carob with dextrose powder instead.
Nope, it was the carob. 
Sad as that is, the good news is that we had a bit of a breakthrough as a result!
As he once again completely lost his cool and had a tantrum that went from zero to volcanic explosion level in an instant, I managed to stay calm.
I went to him, picked him up and held him, trying to comfort and calm him. When he finally stopped yelling and crying, I leaned back and spoke gently with him. I told him that I knew EXACTLY how he was feeling, because I have problems with my food, just like him, and when I eat some foods I get really mad, too.
So I explained that the carob was making him feel this way, and that I knew just what he was experiencing, and that it was awful.
He listened to me, then, as if trying to make sure I really understood what he was feeling, said, "I'm just MEAN." Usually, when he's angry, my dedicated Thomas the train fan tells me "I'm very cross" (a la Sir Topham Hatt). So saying "I'm just MEAN" is something different.
He recognized that what he was feeling was NOT typical angry. 
I latched on to that; I said, "I know, honey. When you eat some foods, they give you the Meanies. It's lousy to have the Meanies. Everyone makes you mad, right? Everything frustrates you, right?" He nodded his head after every question.
So I went on. "That's why Daddy and I are so careful to feed you food that is safe for you, so you don't ever have to have the Meanies."
He actually leaned forward and hugged me after I told him that!
Within a few minutes, he was back to normal Jed mode, smiling and happily helping me in the kitchen. We talked about how even when we have the Meanies, we still don't hit other people, and we try not to say things that will hurt other peoples feelings.
That part is still a work in progress, I'm sure! But I'm just SO relieved to have finally made the breakthrough to Jed that he is allergic to some foods, sure, and if he eats them he has to go to the doctor and "get poked", but that there are more foods out there that he can't eat because they'll give him the Meanies.
He finally connects his emotional state to his diet, and that is something I've been struggling to figure out how to teach him. So, yay for the breakthrough!
And boo for the fact that my sweet boy can't have ANY rich, chocolate-y type drink at winter. Boo.
---
So that's our last few weeks. Thanks for staying with me through the many empty days of no posting – and the lengthy update to share what happened in that time!
I have some new recipes coming up soon, plus some other kiddo updates that I think you might find interesting.
---
How did you make the connection between emotions and food with your kiddos? Do you have a phrase like "the Meanies"? How was your Christmas?
---
Don't miss new recipes or tips!
Subscribe here.