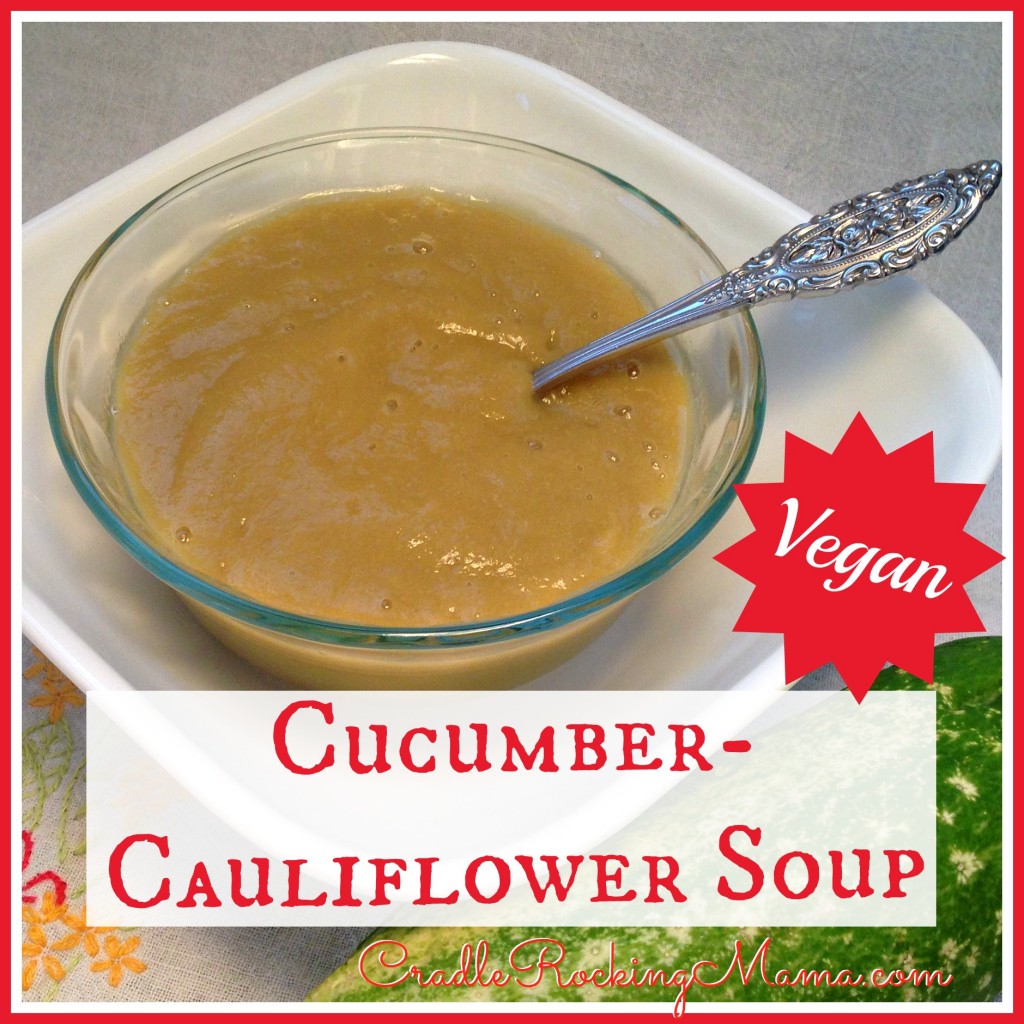 Once the stomach bug left, taking with it many of Zac's safe foods (hopefully temporarily), I found myself trying to find a way to get him to eat cauliflower and cucumber.
Despite wolfing them both down with gusto when we first introduced them in trials, he has since become rather picky and refuses anything with cucumber in it, and most things with cauliflower (unless I hide it well).
Since his diet has been reduced so much, I really  wanted him to continue eating those two healthy, nutritious vegetables. 
A friend suggested making a soup of some kind with the cucumber, so I went to the internet to find a recipe.
A quick glance through the top five recipes for cucumber soup was discouraging; every one of them called for far more ingredients than are currently safe for Zac.
Even condensing my search by adding "vegan" to the terms brought discouragement. Every one of those  recipes called for adding avocado. Avocado hasn't been trialed yet, so that's not an option for us.
Not for nothing, though, am I an FPIES cooking mama! I know that to achieve a creamy soup base, I can use cauliflower instead of avocado!
Do you know what you get when you Google "vegan cucumber cauliflower soup"?
NADA. 
Not one single recipe.
(Though, I'm assuming THIS recipe will now pop up if anyone chooses to search those terms!)
So I made my own cucumber-cauliflower soup recipe, and it turned out rather well!
Now, I didn't actually make this vegan, since I used chicken broth as my base. But if you're looking for a cucumber soup recipe with no dairy (and no avocado), use my recipe and simply use vegetable broth instead.
Here's how to make it:
Dump two cups of broth in a pot. I had frozen broth, and it was still halfway frozen when I tossed it in. That worked fine.
Add the cauliflower and cucumber and some sea salt.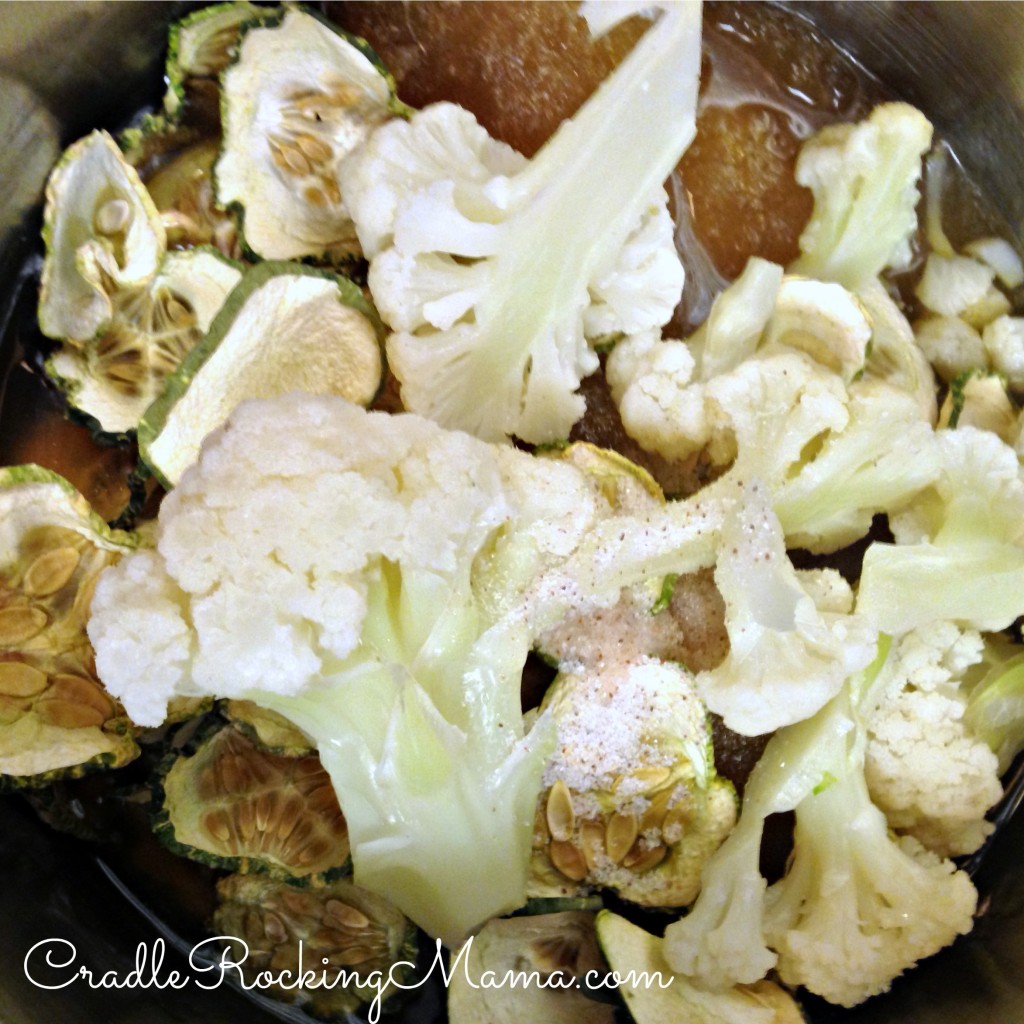 I was pretty tired (still a little sick, actually), so I didn't feel like chopping up fresh cucumber. I used some dehydrated cucumber chips. May I just say: if you don't feel like snacking on your dehydrated cucumber chips, this is an excellent way to use them!
But fresh would work great, too.
You can use frozen or fresh cauliflower, too.
Turn on the heat to medium, put a lid on it, and let it cook for about 30-45 minutes, until vegetables are soft and tender.
Take the soup off the heat and either use an immersion blender to puree it, or dump it in a blender (carefully – it's hot!) and process until smooth.
Ta-da! You have soup!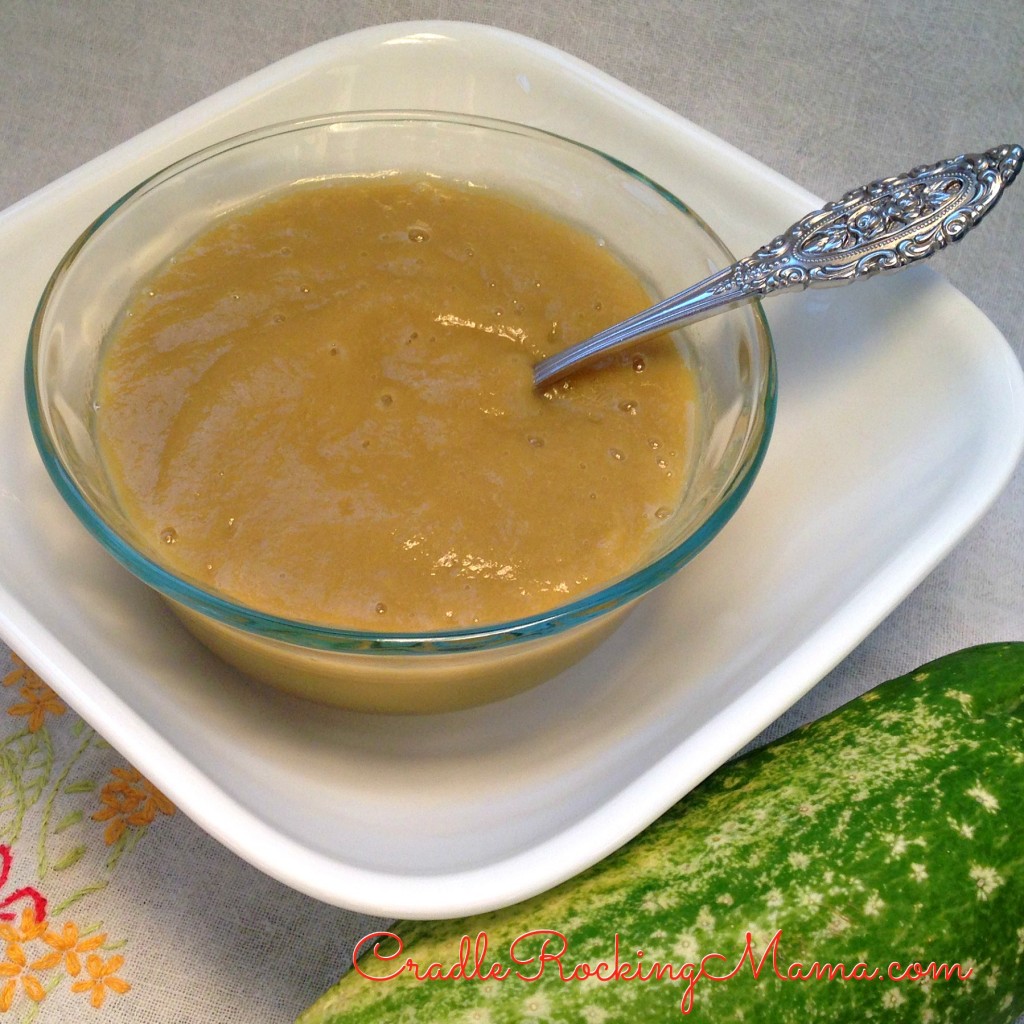 Now, this is a VERY basic recipe. It tastes okay as-is, but it's very "cucumber-y" and could really benefit from some seasonings. 
I can't experiment with seasonings at this point for Zac, but I still wanted to share this because it is a unique twist on a cucumber soup.
Most cucumber soup recipes call for the addition of garlic and/or onion, some lime juice, and I've seen some that go in other directions with savory herbs added.
So take this base recipe and add seasonings to taste for yourself. If you're hesitant, you can season one bowl at a time until you find a flavor combination that appeals to you.
I hope this helps meet some needs: a non-avocado, possibly vegan cucumber soup, and a way to use up some of those excess cucumbers in your garden!
Oh, and Zac? Refuses to eat the soup.
That's okay, though, because I like it.
Happy cooking!
(By the way, the prep time in the recipe may be off by quite a bit for some of you. It depends on whether you use frozen, fresh, or dehydrated ingredients in the soup!)
Vegan Cucumber-Cauliflower Soup
This is a rich, creamy cucumber soup just packed with nutrition! Add seasonings to taste for your own unique creation.
Author:
Cradle Rocking Mama (Carrie Summers)
Recipe type:
dinner, soup
Ingredients
2 c. broth (chicken, or vegetable to make this vegan)
1 c. fresh or frozen cauliflower florets
1½ c. fresh cucumber slices (or ½ ounce of dehydrated cucumber slices)
1 tsp. sea salt
seasonings to taste
Instructions
Put all ingredients in a soup pot and set on medium heat.
Cover and cook for 30-45 minutes.
Use an immersion blender (or pour carefully into a regular blender) and process until smooth.
Serve and enjoy!
 What seasonings do you like to add to cucumber soup?
__________
This recipe shared with: