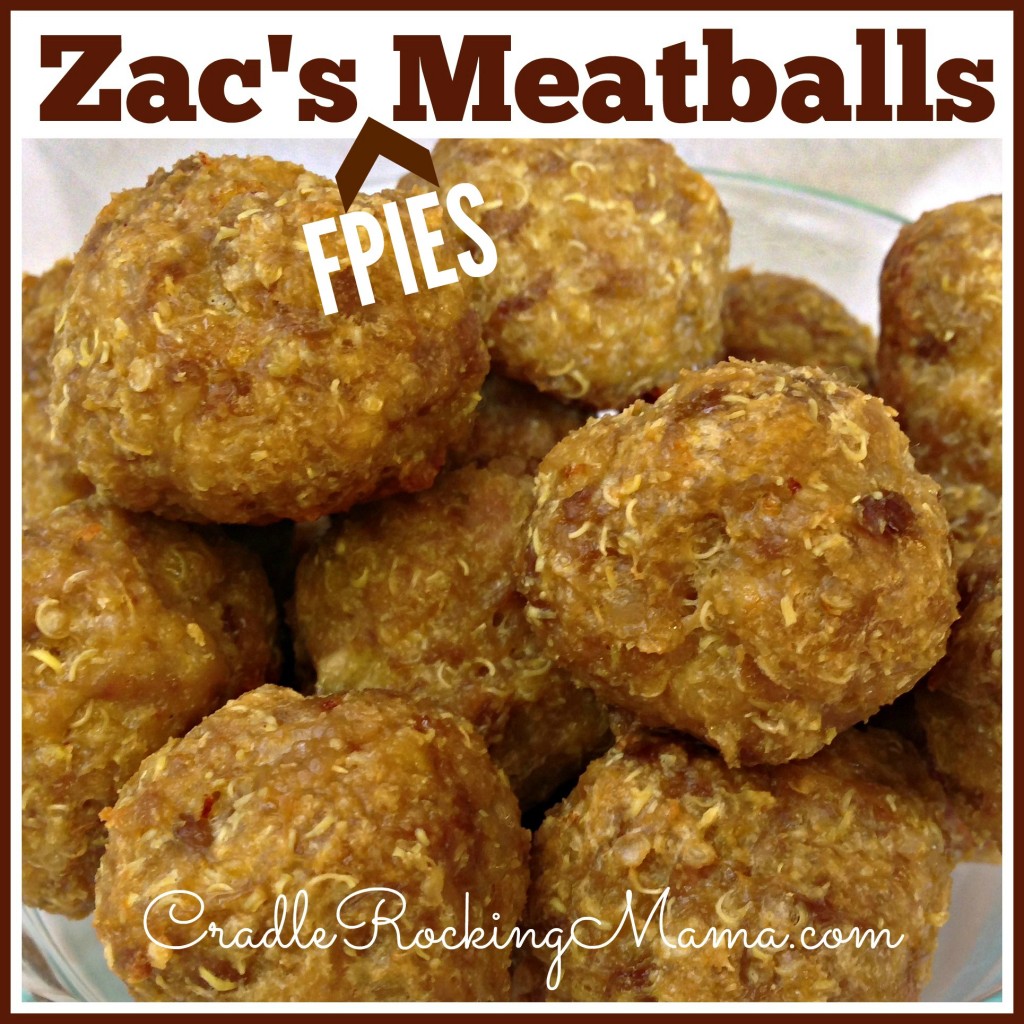 I have a toddler who has lately been refusing to go to sleep at night. He also refuses to play happily in the living room during the time between when his brother goes to sleep and when he is finally ready to go to sleep.
So I've been forced to sit in the living room for hours every night with Zac while he unwinds.
It's nice to get some one-on-one time with him. However, after the kid's bedtime is when I usually get the kitchen cleaned and ready for the next day, write, and get any kind of downtime.
Because of this weird sleep pattern of Zac's, I can't even start to do any of that until sometime between 10:00 p.m. and midnight. Which makes bedtime for ME sometime between midnight and 2:00 a.m.
Then he wakes me frequently throughout the night and both kids are up and ready to play at 7:30 a.m.
I. Am. Exhausted.
Two nights ago I tried to write this post and I seriously stared at the computer screen for about ten minutes trying to remember how I made the meatballs. After half an hour, I finally just gave up. My brain feels like mush.
Does anyone else struggle with this sort of thing? What did you find that worked? Everything I've read on sleep training a co-sleeping child involves weaning, which isn't an option for us. Ugh.
Anyway, all that is to say, please offer some words of wisdom….and that's why I didn't have a post yesterday. Mush brain couldn't write!
At any rate, on to today's recipe!
These are the meatballs I made for Zac during our egg trial. He LOVES them! He'll eat ten at a time, and that's a win in my book!
I'm guessing these could be made egg-free, and in fact, I will probably try that soon for Jed. But for those of you with limited diets who are trialing eggs, these worked great for Zac – and will surely work well for your whole family!
Start with ground meat. We used pork, obviously. I didn't buy ground pork, but turns out, the KitchenAid Meat Grinder does a fabulous job of grinding pork!
So either grind up or go grab some ground meat and throw it in a bowl.
Then add some quinoa flakes.
After that, crack two eggs into the same bowl. Now would also be the time to add any optional ingredients, like spices and seasonings.
Then mush it all together well. I suppose you could use a spoon, but I just used my hands.
Once you have a nice meat mush, start scooping out smallish pieces of meat to roll meatballs. I was aiming for about 1 1/2 inch meatballs, and they mostly wound up about that size.
I decided to bake these, so I laid them out on a parchment paper lined cookie sheet. Then I threw them in the oven at 350 degrees. Since I've never made meatballs of any type before (I know, right? Pre-FPIES I was not very adventurous in the kitchen!) I set the timer for 15 minutes and kept checking on them until I decided they were done. In the end, it took 25 minutes to bake them completely.
And there you have it! Very plain, very simple meatballs.
These could be made with beef, lamb, or any meat you have. You could throw in spices and seasonings; I'd imagine oregano and basil would be delicious in these! You could probably even add some shredded veggies for a more nutritionally complete meatball.
These freeze fabulously after they're cooked; my next experiment is to freeze them before I cook them to see if I could "get ahead" on another food for Zac.
We just fed these to Zac plain. They'd be great in a more traditional noodles and sauce presentation, I'm sure!
Someday, little Zac, someday…I promise you will taste my spaghetti sauce!
So happy meatballing! I hope your littles like these as much as Zac did.
Oh, and my first attempt at egg-free will be to simply omit the eggs without substitution, in case anyone would like to try that before I get a chance to post about my results. Jed might not get eggs, but he'll get all sorts of seasonings in his, so I'm sure they'll be fabulous for him, too!
Zac's FPIES Meatballs
Three ingredient meatballs ready to thrill your kiddos at dinnertime! Simple, tasty, and a potential make-ahead freezer meal!
Author:
Cradle Rocking Mama (Carrie Summers)
Recipe type:
dinner, lunch, gluten-free, fructose-free, dairy-free, allergy-friendly
Ingredients
1 lb. ground meat
½ c. quinoa flakes
2 eggs
sea salt (optional)
black pepper (optional)
seasonings (optional)
Instructions
Preheat the oven to 350 degrees F.
Put the meat, quinoa flakes and eggs (and any optional ingredients) in a bowl.
Mush it together until well-blended.
Take small amounts of meat mixture and roll into 1½ inch sized balls.
Lay the balls on a parchment paper lined cookie sheet.
Bake for 20-25 minutes, until done.
Enjoy your delicious, easy meatballs!
What are your favorite additions to meatballs?