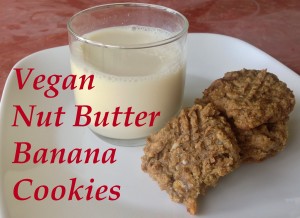 This last week on Pinterest I have found some amazing recipes that were completely safe for my family – as written! Our specific needs are so, well, specific, this is almost an impossible task. And I've found TWO dessert recipes that I really don't have to do anything to in order to make them for Jed. Amazing!
The one I'm sharing today I *did* tweak a little, but only in the addition of a few things. Jed loved these cookies, and I don't think I've ever been so excited about a recipe I couldn't eat!
The brilliant mind behind this recipe is Nutritionist in the Kitch and I must say I'm already reviewing her recipes to glean knowledge and inspiration beyond the cookies – what an awesome website! Seriously, go check it out!
So here's how you make these insanely simple and delicious cookies the way I did it:
First, you mash up a banana.
Then, you add your butter – you can use peanut, almond, sun, or whatever nutbutter floats your boat. To stay top 8 Free, of course, you'd need to use sunbutter. That's what I had, so that's what I used.
Darrel wasn't a fan of the sunbutter in cookie form, for whatever reason, so I think next time I'll throw some almond butter in the mix for a blend of flavors.
I may not bother, though. Honestly, these are a treat for Jed and the kiddo CAN NOT eat them fast enough! (And this is another recipe that screams "treat" that I'm happy to feed him for breakfast!)
At this point, the original recipe would have you add spices and be done. I decided to 'up' the nutrition of these a bit with some additions: quinoa flakes and sliced, blanched almonds. I had them in my kitchen, they're healthy and good for Jed, so why not, right?
Then I did exactly what the genius inventor of these cookies suggested: mix it together, drop little balls of it on a cookie sheet and bake!
I used a fork to make the cross marks on the top of the cookies and make them uniformly sized, and that was the most time-consuming part of this whole thing. Start to finish: 20 minutes! 
As someone who lives in the kitchen, I can wholeheartedly get behind recipes that take 20 minutes from start to finish!
Seriously, you've GOT to try these – with so few ingredients, I'm looking forward to eating these by the end of the year myself!
Thanks again to Christal at Nutritionist in the Kitch for this amazing recipe!!
Vegan Nut Butter Banana Cookies
Vegan, gluten-free, fructose-friendly cookies that taste amazing!
Author:
Cradle Rocking Mama (Carrie Summers)
Recipe type:
dessert, cookie
Ingredients
1 small banana
½ c. of nut butter – or sunbutter
¼ tsp. cinnamon
¼ tsp. nutmeg (optional)
¼ c. quinoa flakes (optional)
¼ c. nuts (optional – I used almonds)
Instructions
Pre-heat oven to 350 degrees.
Mash the banana in a bowl.
Add the rest of the ingredients; mix well with a spoon.
Drop by spoonfuls on a parchment paper lined cookie sheet.
Use a fork to press a cross pattern in the top of the cookies.
Bake for 12-14 minutes (I went 13 and they were perfect).
Enjoy a really healthy, delicious treat!
What would you add to this recipe? Or would you make it just the way the original recipe called for?
__________
This post shared with: