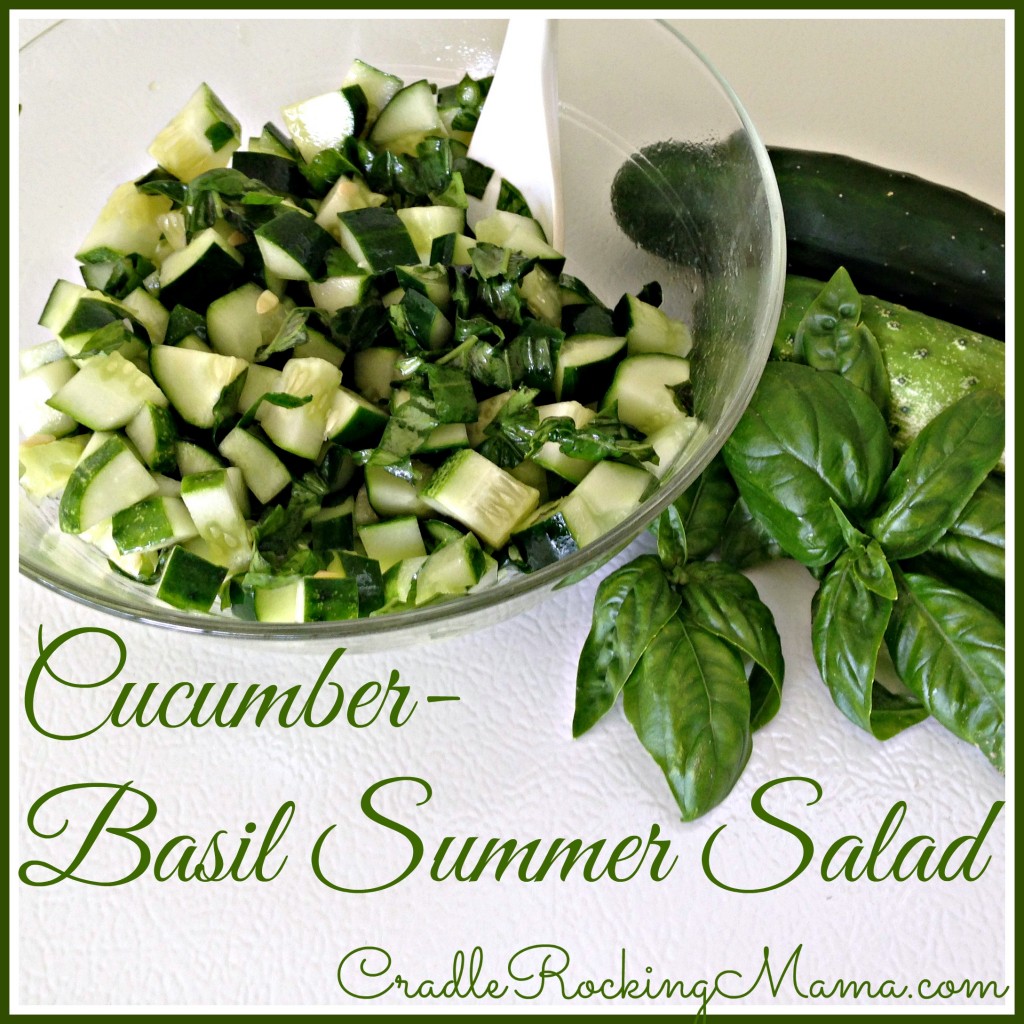 This is a winner.
Simple, classic, fresh, delicious.
Remember when I said the farmers at the market gave me some cucumbers last time? Well, I didn't really know what to do with them.
Pre-FPIES, I was never a big veggie eater. If it wasn't on a pizza or deep-fried, I didn't really eat it. Eating healthy, real foods is still somewhat new to me.
Those cucumbers sat on the counter overnight, and the next day Darrel and my parents built the swing set. I was working on cauliflower preserving in the kitchen, and since I wasn't outside doing heavy manual labor, feeding the workers was my responsibility.
I'd been staring at the cucumbers all morning, and when it was time for me to start making lunch I decided to throw some things together and see how it went.
Out in the garden, I harvested some fresh basil. After rinsing it and picking off the leaves, I cut them in a chiffonade.
The cucumbers got a rinse and scrub, then were diced into nice little squares.
I tossed the cukes and basil in a bowl, added olive oil and lemon juice, and called it done.
Since I can't eat it, I didn't want to salt and pepper it and accidentally overdo the spices!
I called the sweating worker-bees in for lunch, and the salad was a hit! They all added salt and pepper in varying degrees, but they all enjoyed it.
Darrel liked it so much, I've since made it for him again, and he even made it for himself last weekend when I was at work!
With such rave reviews, I really wish cucumbers and basil were already safes for Zac so I could try this!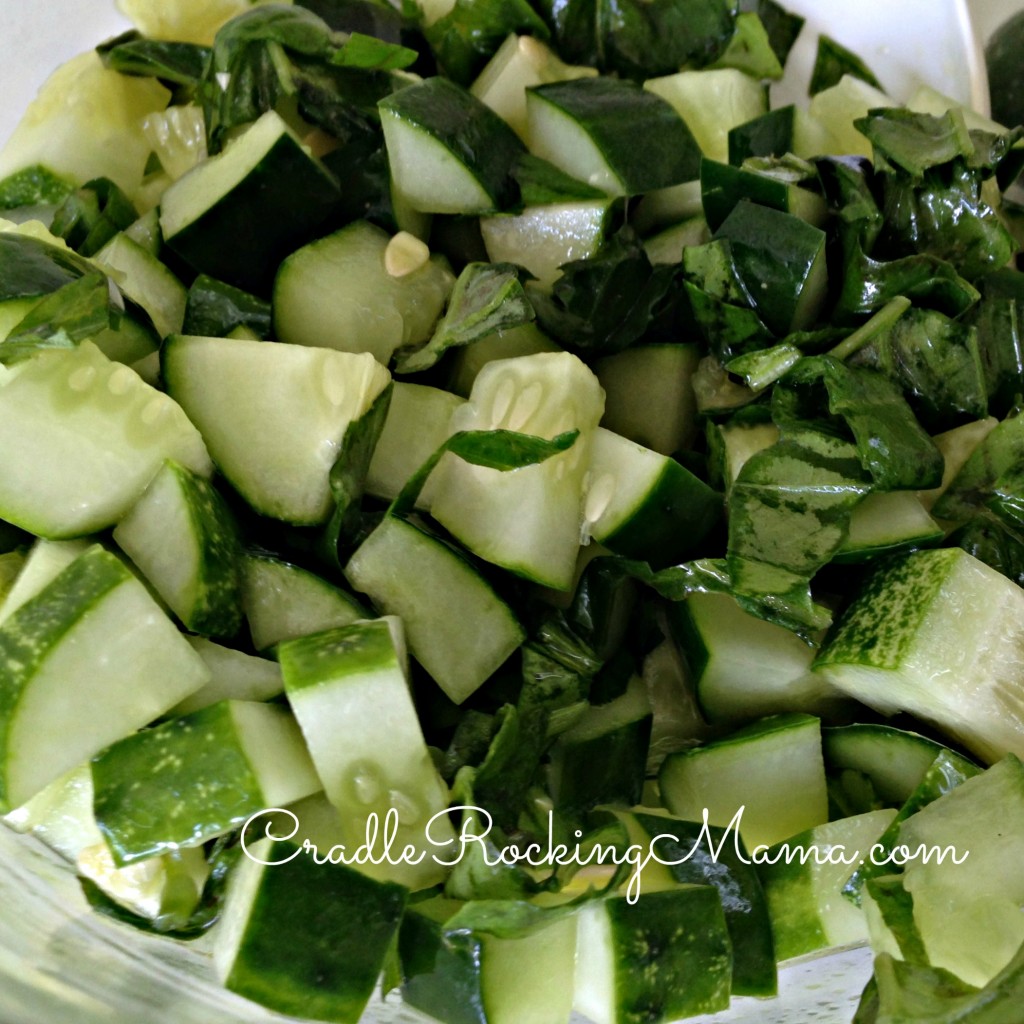 I'm sorry there are no step-by-step pictures, as is usual for me. Jed wanted to help me in the kitchen that day, and a small child wielding a knife puts me on high alert. Grabbing the camera for each step wasn't exactly on my mind right then!
But it's terribly easy to do.
The second time I made the salad, I diced the cucumbers, salted them, and put them in a colander to drain for a few hours before prepping the rest. The cucumbers released some of their moisture and made for a less "wet" salad.
I also made it ahead of time and let it chill in the fridge for a couple of hours before serving. Darrel didn't comment that it made it any better, but I'd like to think it helped.
After all, a crisp summer salad just sort of needs to be cold, don't you think?
Since cucumbers and basil are growing in such abundance right now, this is a fabulous way to enjoy them – fresh, raw, crisp and flavorful!
Plus, this would be a perfect side for a 4th of July cookout. Oh, wow! This must taste heavenly next to some grilled goodies!
Yum!
What's your favorite way to eat cucumbers?
Cucumber-Basil Summer Salad
This vibrant, fresh summer combination will thrill your taste buds and is kind to both allergies and general health!
Author:
Cradle Rocking Mama (Carrie Summers)
Recipe type:
side dish, salad
Ingredients
2 medium cucumbers, diced
2-3 T. fresh basil
1 T. olive oil
2-3 tsp. lemon juice
salt and pepper (to taste)
Instructions
Wash and dice the cucumbers.
If you want, salt the cucumbers and let drain in a colander for a few hours. It isn't necessary, though.
Put in a pretty serving bowl.
Wash the basil and pull off the leaves. Chiffonade (cut into long strips) the basil leaves.
Add the basil, olive oil, lemon juice, salt and pepper to the cucumbers and toss.
Chill for a few hours in the fridge, or serve immediately.
Enjoy a fresh feast from your garden!