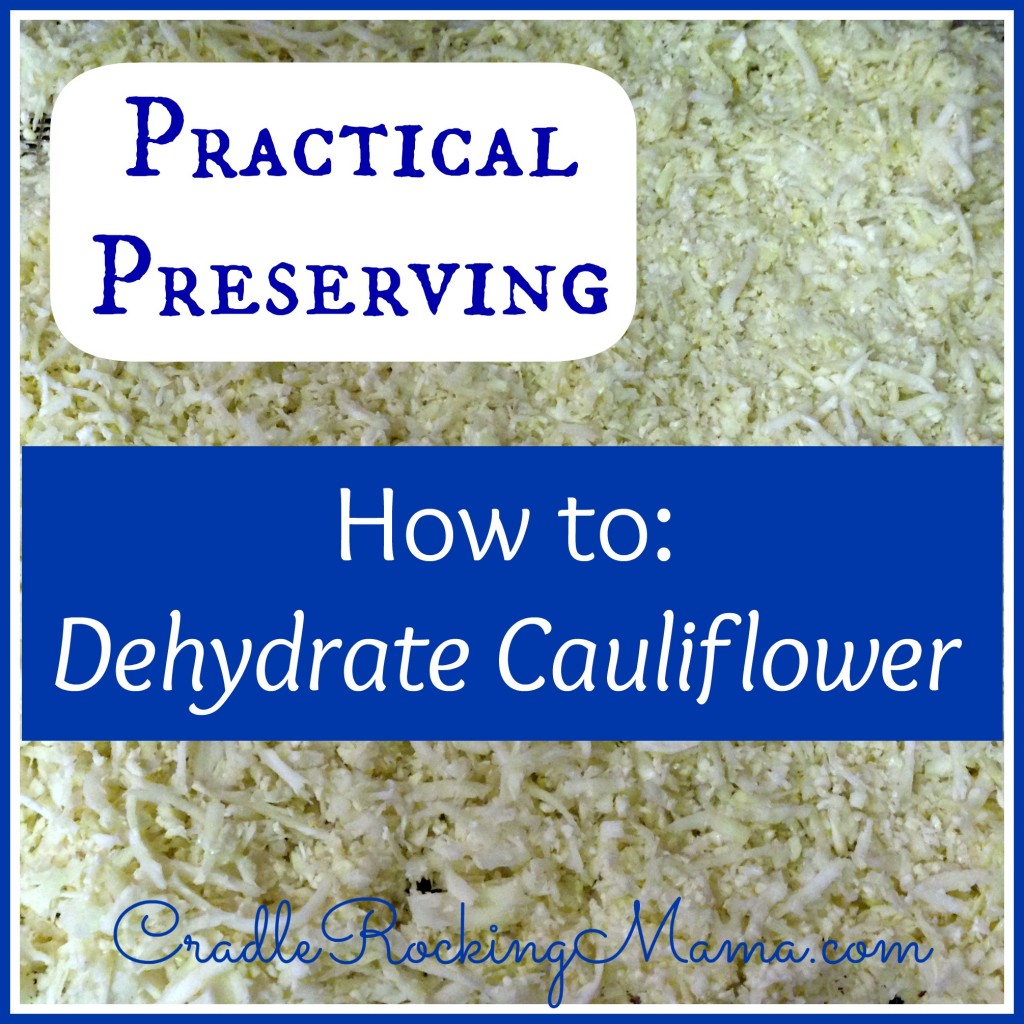 Freezing cauliflower is great, but if you either have limited freezer space or, like us, are trying to preserve an entire years worth of cauliflower in one fell swoop, you might just run out of room in the freezer for more cauliflower!
That's when it's time to turn to my favorite toy: the dehydrator.
Now, I know I made a big deal about blanching the cauliflower in the freezing cauliflower post. It IS probably best to blanch the cauliflower before dehydrating it, too. I had heard, however, that it wasn't necessary, and that the dried cauliflower came out just fine without blanching.
As tired as we are of seeing cauliflower (140 pounds of it!), I decided to go the easy way and NOT blanch.
To be honest, it does discolor a bit without the blanching. However, the taste doesn't change as far as I can tell, and if you're going to be using the cauliflower IN something where the natural color would be undetectable, I see no harm in skipping that laborious step.
But, you know, it's up to you. 
Before you begin, refresh yourself on the caveats I stated in the freezing cauliflower post: clean the kitchen, and get the freshest cauliflower possible. Clean it, use the salt water bath if you can, and remove all the leaves and as much of the stalk as you like. 
For my purposes, I decided to dehydrate riced cauliflower.
You could cut the florets into 1-inch thick slices and dry it that way, of course. For me, though, I'm probably going to use the dehydrated cauliflower more for an add-in to baked goods or for recipe experiments like cauliflower pizza crust. So ricing it made sense.
If you decide to rice your cauliflower, take a look at how much cauliflower you will be working with.
If it's just a head or two, get out the box grater and grate the heads on the larger sized blades.
Any more than that, and get out your food processor!
Put the grating blade in the food processor and run that cauliflower through in record time.
Keep in mind, though, that you'll likely have a little bit of a mess to clean up when you're done: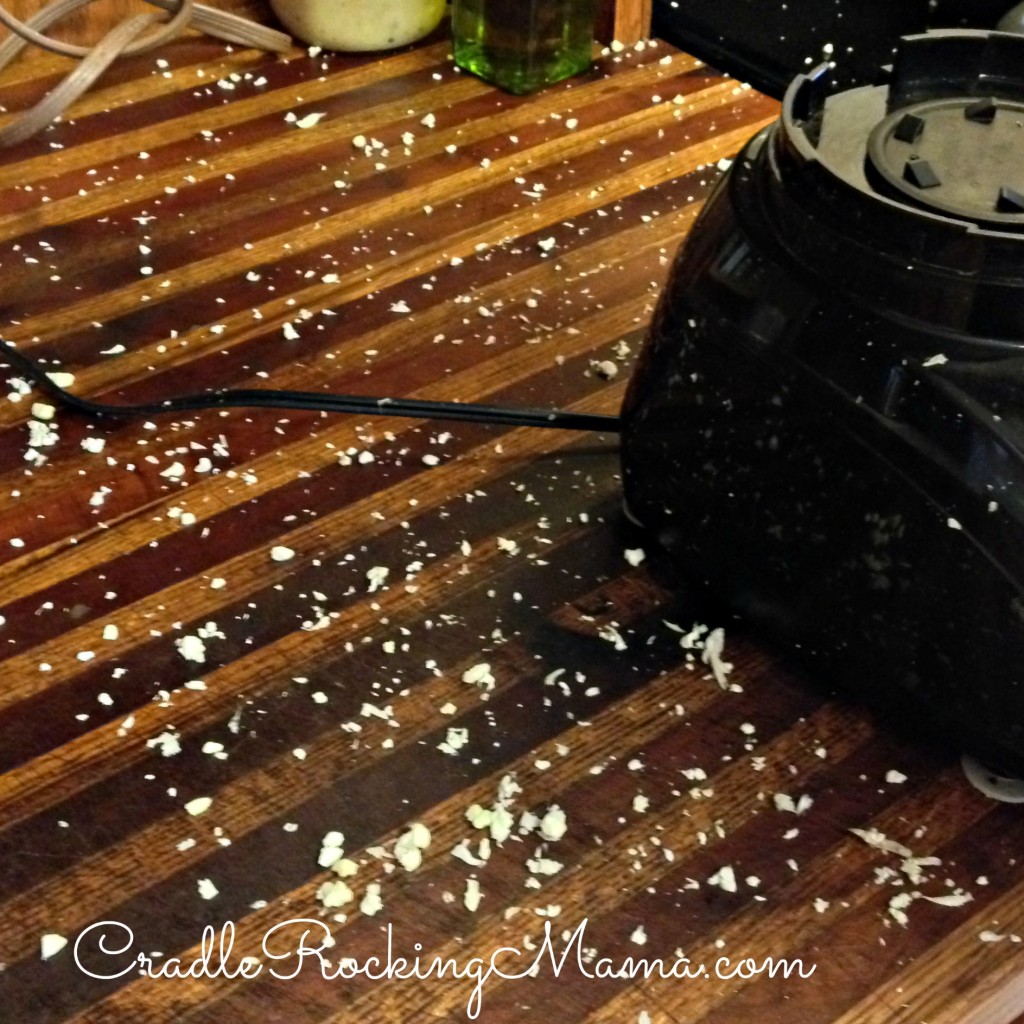 Food processors tend to throw bits of food out the small opening in the cover with surprisingly good aim!
When dehydrating, it really is good practice to leave space around your food for better and quicker drying.
When you're dehydrating over 30 pounds of cauliflower, though, you say "to heck with it – it'll dry eventually!" and layer that riced cauliflower 1/2 an inch thick on every tray!

You know what?
It dried just fine!
I set the dehydrator on 125 and turned it on. As is typical for me, I got busy and didn't get back to it for a whole day.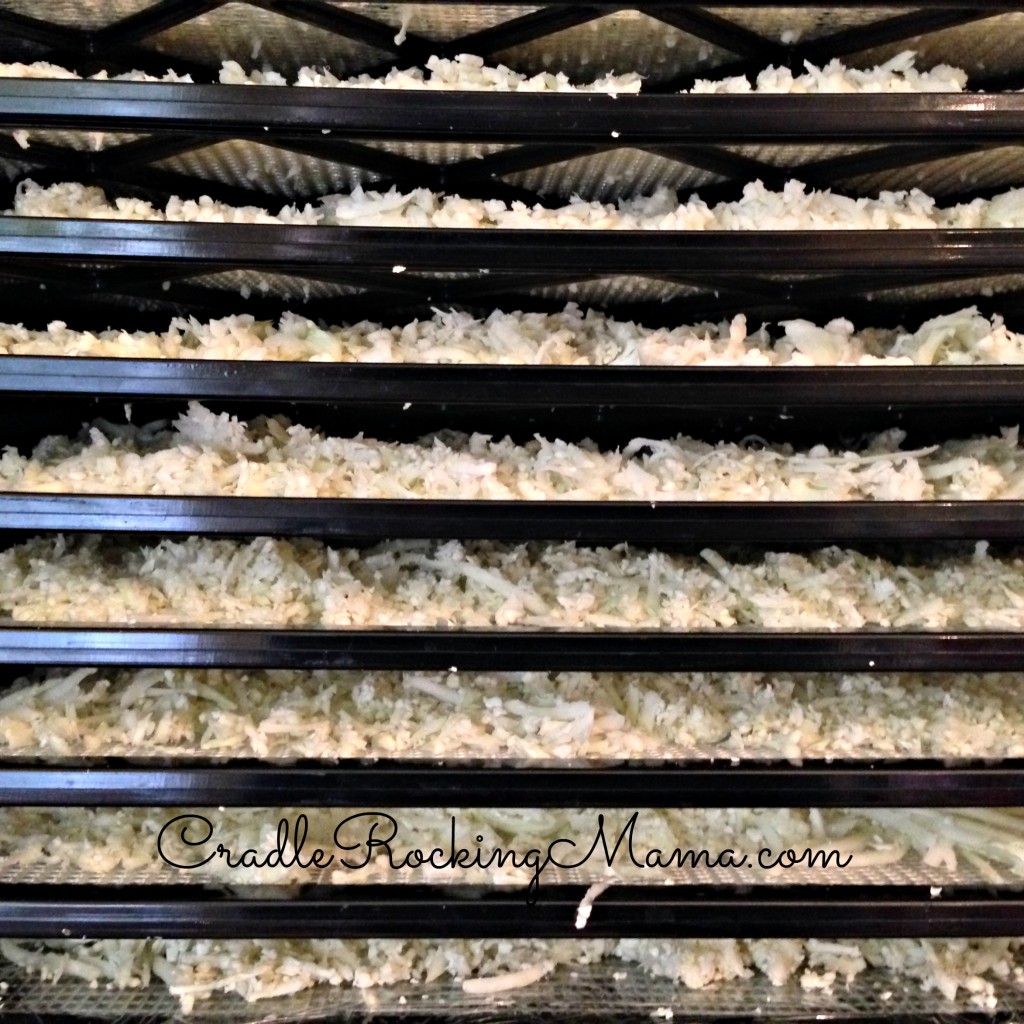 24 hours in the dehydrator didn't do it any harm, though.
Before I began, I measured out one cup of riced cauliflower and dried that on a separate tray.
Fresh, riced cauliflower measured to 1 full cup weighed 3 ounces.
That same cup dehydrated didn't quite fill a 1/4 measuring cup, and weighed a whopping 1/4 ounce!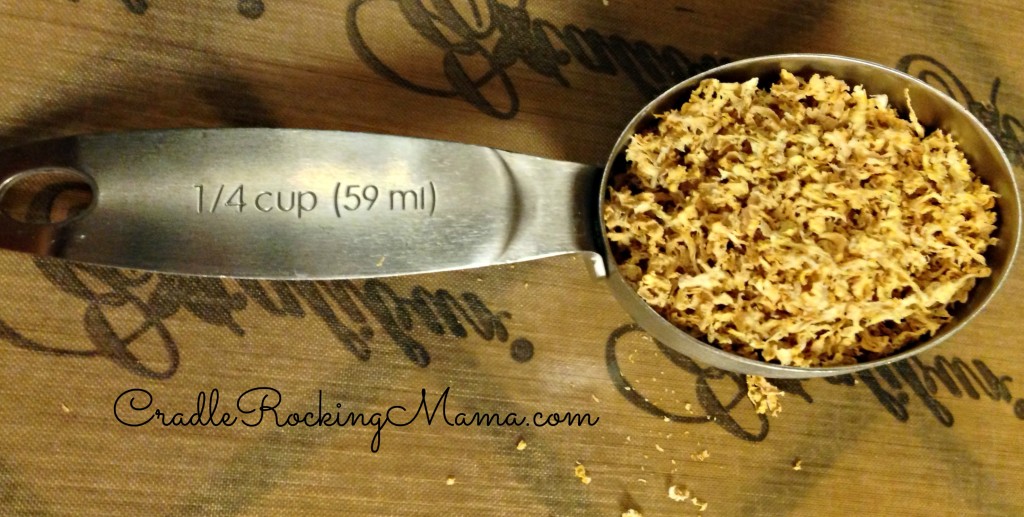 Once you have dehydrated the cauliflower, the next step is to store it properly.
Again, I can't recommend a FoodSaver enough for this step!
I measured out 4 rehydrated cups worth of dried cauliflower (1 ounce worth of dried) and placed it in a FoodSaver bag. Zac helped. Isn't he cute?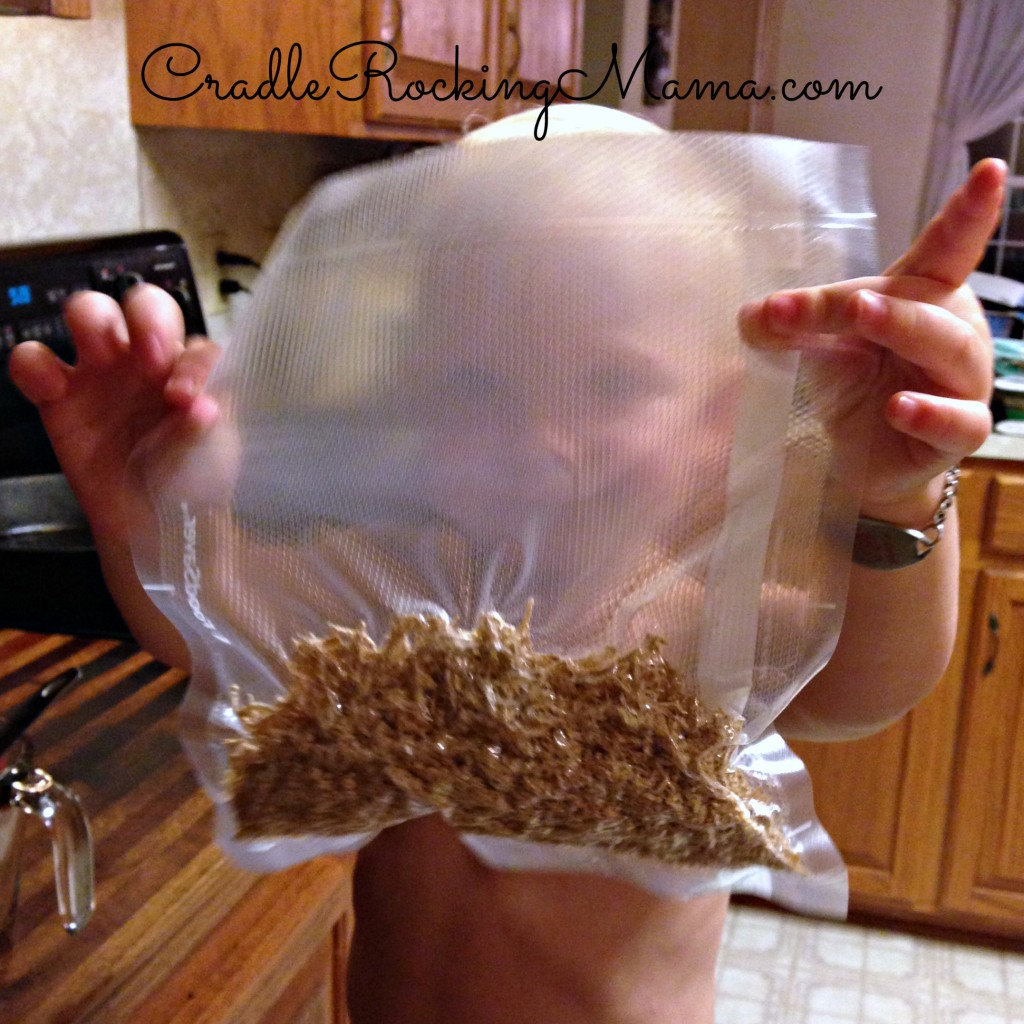 The first time I sealed one of these bags, I was worried the cauliflower would be too light and airy and the vacuum suction would suck it right out of the bag.
It didn't, though, so no additional steps were necessary.
Each bag got labeled and placed in a 1 gallon ziploc bag for storage in my spare room. It's the coldest room in the house, and we never use it so the lights are always off.
Nearly ideal long-term food storage conditions!
When you're ready to use that dehydrated cauliflower, it will have to be rehydrated first. 
To do so, you have some options. If you're making a soup and want to add some riced cauliflower (or florets, if that's how you dried it), then just dump them in at the beginning with an extra cup or two of broth. Easy!
If you're using the cauliflower in a casserole of some kind, I would experiment with just adding the dried cauliflower and extra liquid to it (depending on the type of casserole, of course) to see if it will rehydrate and cook all at the same time – saving a lot of effort in the process!
But if you simply must have cooked, separate cauliflower, you'll just need to add hot water.
I took 1/4 ounce of dried cauliflower and put it in a pan with 2 cups of water.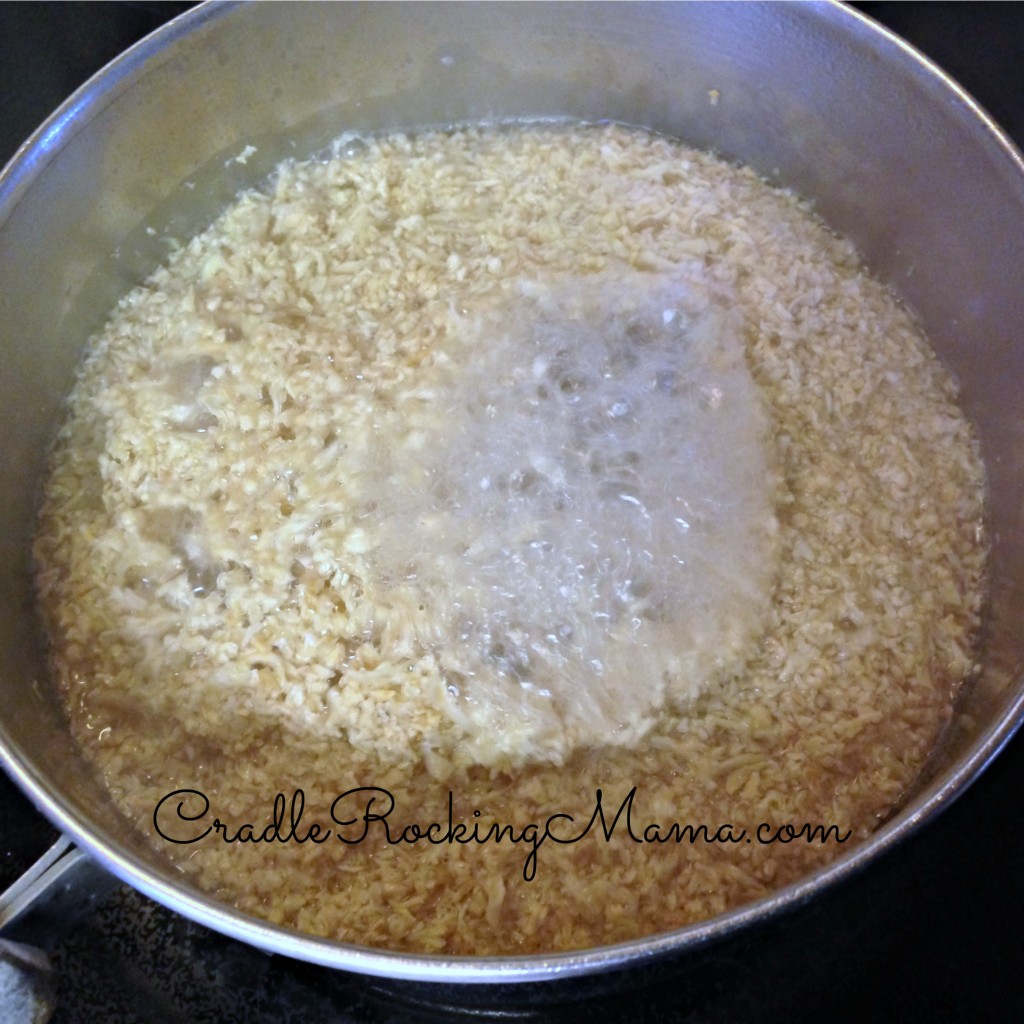 Brought it to a boil, then dropped to a simmer. After about half an hour, I had cauliflower!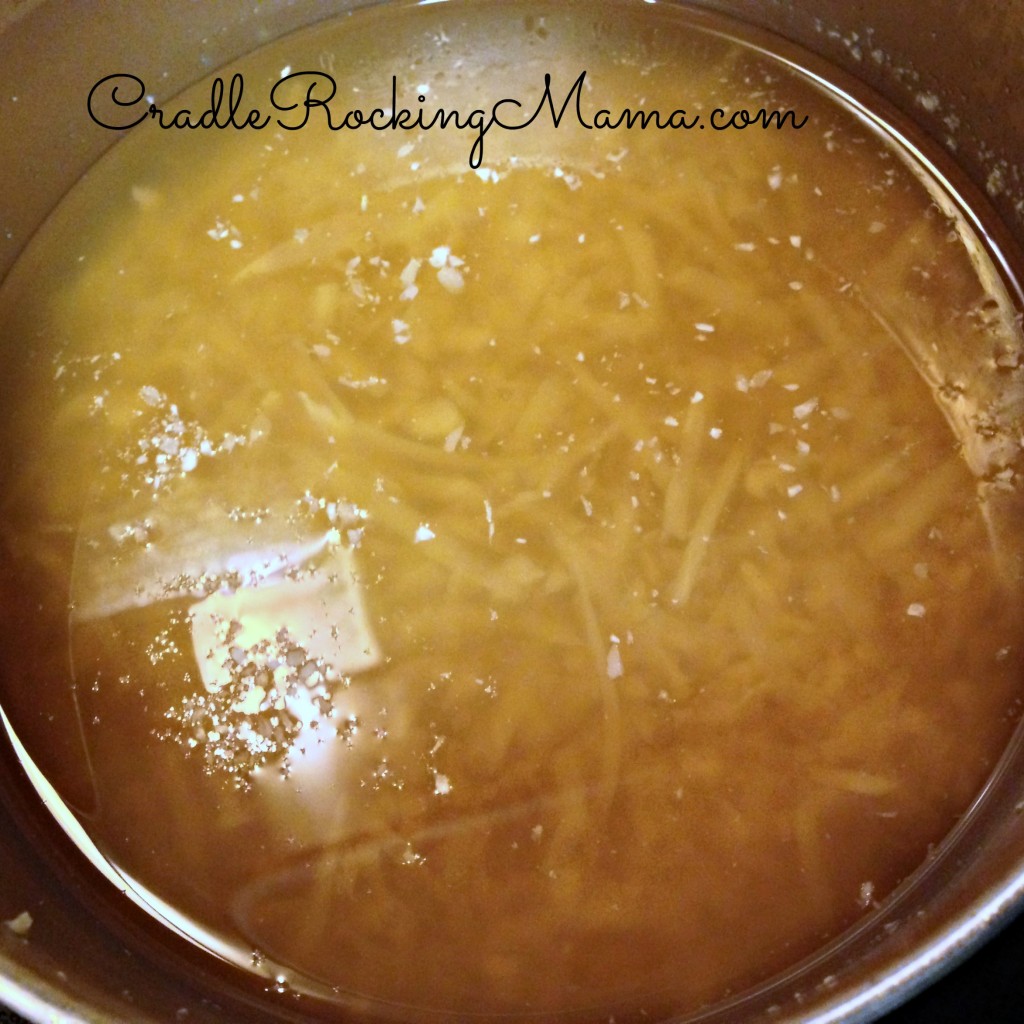 I know, that looks REALLY brown! But here it is after straining: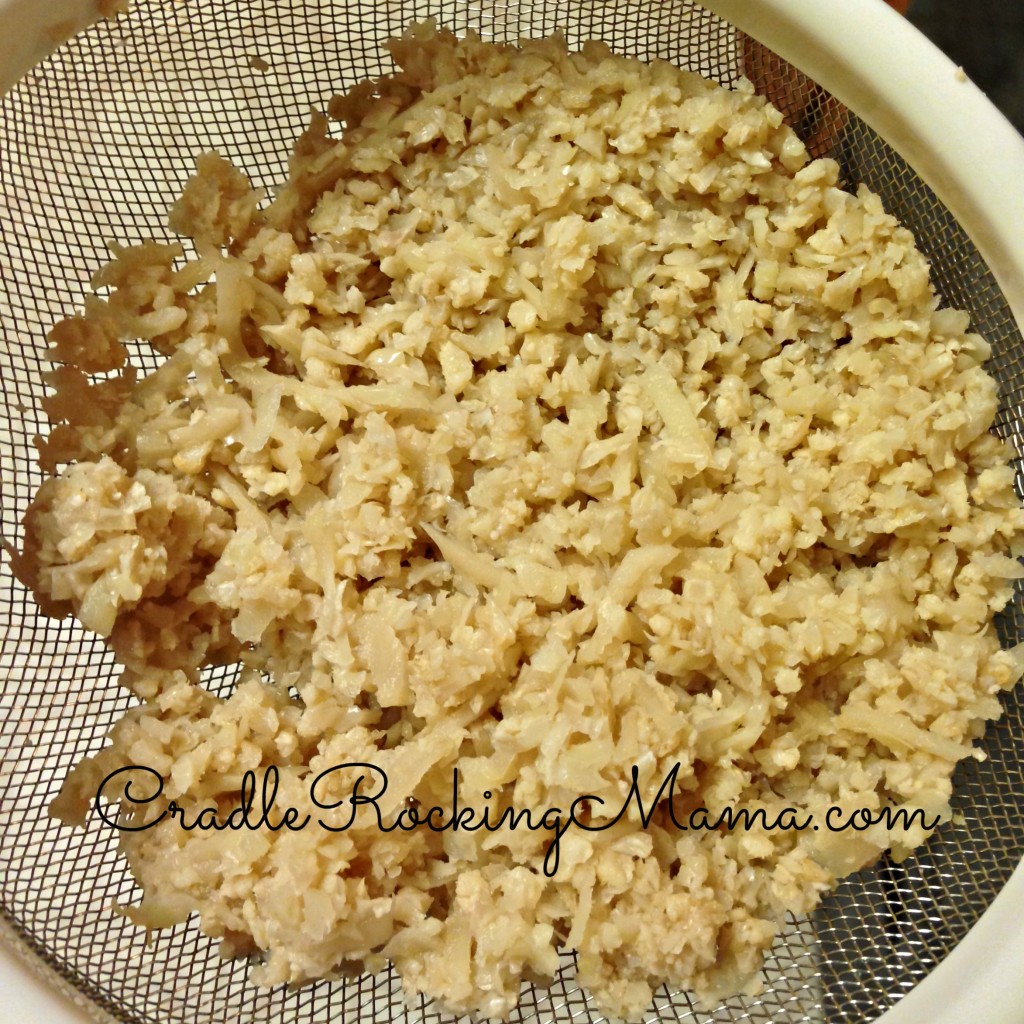 Certainly not the bright white of store-bought, fresh cauliflower, but absolutely NOT noticeable in the cauliflower-egg tortillas I made for Zac that night! (Recipe coming soon!)
So that's it! How to dehydrate cauliflower for long term storage. It's really pretty easy.
If you're easily amused, like me, every time you rehydrate some of your dried food, you'll be a little giddy at the awesomeness of dehydration. It's like magic to me!
(Hey, you have to take your little pleasures where you can, right?)
Happy Preserving!
Have you ever dehydrated cauliflower? How do you like to use it? Any great tips on rehydration?