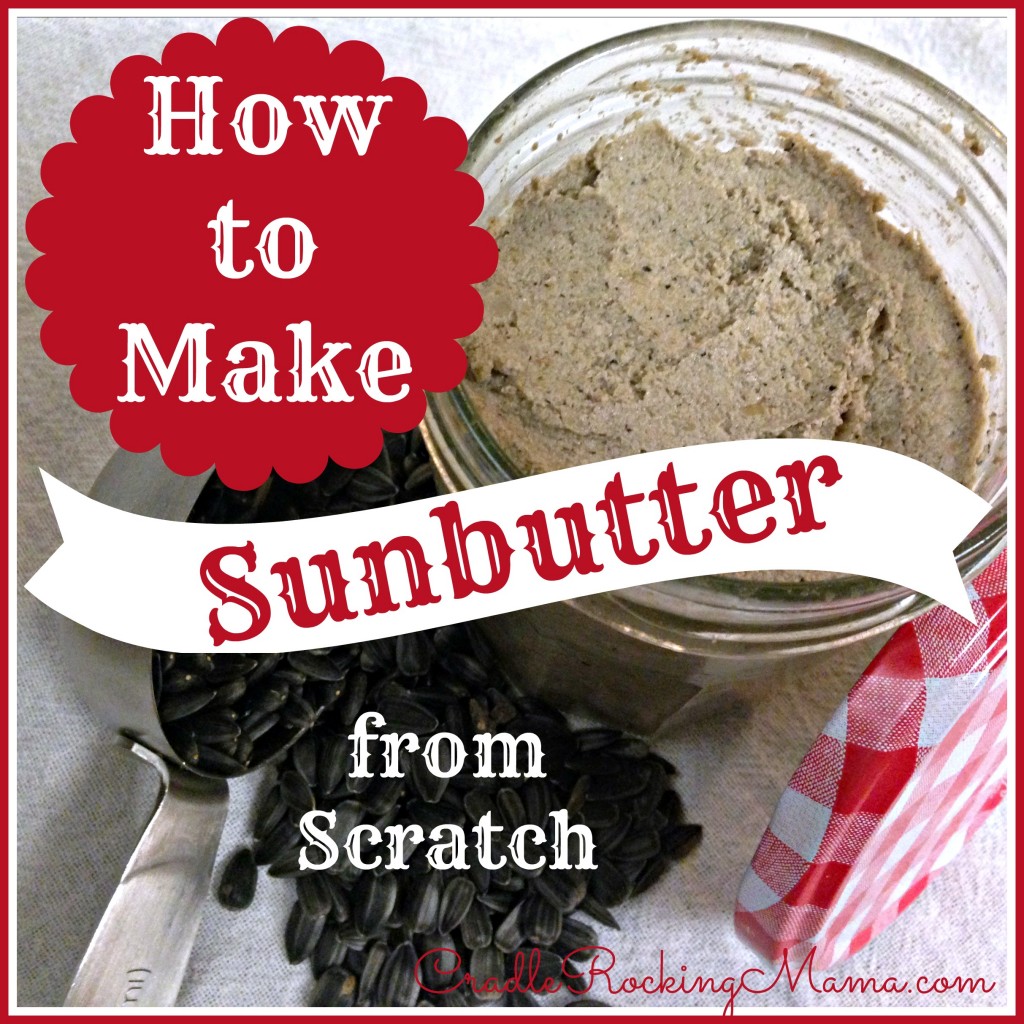 And I do mean from scratch!
I'm talking raw seeds to creamy sunbutter here.
For those of you just joining me on this journey, let me fill you in on why I'm going through this ordeal.
My son, Zac, is severely reactive to corn and soy. I have hunted and searched for months for sunbutter and/or sunflower seeds that are free from corn and soy cross-contamination to no avail.
If the seeds aren't grown and harvested with corn and/or soy, they're roasted or in some way processed on equipment that also processes soybeans.
So I was thrilled when I finally found some seeds that might not be 100% cross-contamination free, but are probably the least soy and corn contaminated of any that I could find (hence the lack of recommendation here – I'm not sure they're completely 'safe' so I don't want to lead anyone astray!).
After ordering 4 pounds of them, I was left with a problem: how on earth do you de-seed 4 pounds of sunflower seeds in a hurry?
Even worse, I've since learned that what I purchased are oil seeds, not confectionary seeds. Meaning, these are wonderful seeds for expressing oil or feeding to chickens but not very well suited to shelling.
Since they're the only ones I've been able to find that might be okay for Zac, I don't have much of a choice but to continue, now that the food trial has begun (unless we decide to just shelve this food trial, which, honestly, we can't afford to do).
I think my plan to grow sunflowers will make this whole process a lot easier, since I'll be growing confectionary sunflowers. So just a few months of this, hopefully!
Because y'all, I have to honestly say that it was painful to be in my kitchen in the beginning of this encounter! Darrel and I hand picked seeds for 30 minutes and thought we were going to go insane.
Not from the 30 minutes, but from the size of the bag of seeds sitting in front of us that was not diminishing in size whatsoever no matter how long we worked!
I found some tips and tricks on the internet, and in the end Darrel and I figured it out: you can't just follow any one internet tutorial on this one – you have to combine their wisdom to make it work!
For all my corn and soy sensitive peeps out there, pay attention! There's no need to make yourself insane like we did.
Here is how you take many thousands of raw, in the shell sunflower seeds and turn them into homemade, creamy sunbutter!
Start by lining a cookie sheet with parchment paper and dumping about a cup of the raw seeds on the sheet.
Here's a helpful tip: snip off any excess parchment paper from around the edge of your cookie sheet. That way it won't touch the heating coils on the top of your oven and scorch. (Not that I have any personal experience with this! A-hem.)
Turn on your oven to 400 degrees and move a rack up to the highest spot in your oven.
Roast those seeds for 2-3 minutes. No joke. I lost track of time and went about 6 minutes once and it burnt the seeds until they were pretty much inedible.
Take the pan out of the oven and let sit on the counter until they cool.
Dump the now-roasted seeds into a gallon sized Ziploc bag. I would strongly recommend using a freezer bag. They're thicker and more likely to survive a few uses before screaming for mercy.
Squeeze out as much air as you can, or even leave one small part of the bag unsealed. Grab your rolling pin and start rolling away!
If possible, get your husband to do it for you, or get a ladder so you can really add your whole upper body weight in to this task. I tried this on my own twice with NO success before watching Darrel do it, and I realized that, strong as I am, I wasn't smacking those sunflower seeds like they insulted my children. Get rough with them! Break them into tiny pieces!
After all, you're not shooting for pretty, eatable sunflower seeds here. You just want the shells OFF!
When it looks like a broken mess, dump the whole bag into a bowl of water. Give it a good stir and let it sit for just a minute or two. That will give it time to separate.
And separate it will! The shells and junk will float to the top, and the seeds will sink to the bottom.
Very, very cool.
Now just scoop off the crap on top, put it in your compost pile, and strain the rest of the stuff through a mesh sieve until you're left with this:
If you want to get all fancy, you could spread this out on a cookie sheet and painstakingly pick through to remove every tiny bit of non-seed. Honestly, I painstakingly picked through to remove as much as I could in about 5 minutes and called it good enough.
At a certain point, you have to say "good enough" with homemade things, and this is one of those points.
Then scoop the seeds into a food processor, add some oil (and whatever other add ins you want) and let 'er rip.
Here's another point where this will get easier for us; once sunflower products are a safe food for Zac, I can use my much stronger, much better food processor – or even my Vitamix – to make the sunbutter.
Right now I'm using my "food trial throwaway" mini-food processor to avoid cross contamination…and it takes for-ev-ah  and never really gets it as smooth and creamy as I would like. Oh, well. It tastes good, according to Darrel and Jed!
In the end, it took 6 cups of sunflower seeds to produce just over 1 cup of sunbutter, so this most certainly qualifies as "The Most Expensive Sunbutter In the World" (based on what my hourly wage at work is in comparison to the time involved).
In other words, don't ask me to do this for you or I will charge you $150 for 1 cup.
Obviously, this is a TOTAL pain in the tushie to do!
So I called my supplier and asked to place another order, only this time, pretty please, could I have shelled sunflower seeds?
Sadly, they don't have shelled sunflower seeds. They don't have the equipment to de-shell the seeds, since they typically make sunflower OIL (which doesn't require de-shelling) and not sunbutter.
So for as long as Zac eats sunbutter, Darrel and I will spend hours every week smashing sunflower seeds with a rolling pin and scowling at the process.
But I still really want this to be a pass for him! (Right? I do, right?)
Oh, and as far as how sunflower products are doing for Zac so far, stay tuned for tomorrow. I have a really funny (and sad) story from this weekend to share!
Long story short, folks: if you can just buy shelled sunflower seeds, making sunbutter is super duper simple and well worth the effort.
If you can't buy the seeds shelled or you grow your own, make sure you grow (or buy) confectionary sunflower seeds, and be prepared to work  for your sunbutter. But take comfort from the fact that it can be done! 
Sunbutter From Scratch
How to start with sunflower seeds and end with creamy, homemade sunbutter
Author:
Cradle Rocking Mama (Carrie Summers)
Ingredients
6 cups of raw sunflower seeds in the shell
1.5 to 3 T. sunflower oil
sea salt (to taste - optional)
sweetener of choice (to taste - optional; I'd recommend anything BUT white sugar)
Instructions
Heat oven to 400 degrees F and move a rack to the uppermost slot in the oven.
Line a baking sheet with parchment paper.
Put one cup of raw seeds on the baking sheet.
Roast the seeds for 3 minutes.
Remove from oven and let cool on the tray for a few minutes.
Put the seeds in a heavy duty gallon sized Ziploc bag.
Using a rolling pin, roll, smash, and crush the seeds until all the shells are broken.
Dump the broken seeds into a pot; cover with water.
Stir well, then let sit for 1-2 minutes.
Using a slotted spoon, immediately scoop the broken shells from the top of the water. (Do not stir! The usable seeds will sink to the bottom - you just need to scoop off the unusable bits from the top!)
Repeat this process for the remaining cups of raw seeds.
When all the seeds have been sifted in the water bowl, pour the usable seeds through a fine mesh sieve and rinse.
Pour the usable seeds out on a flat surface and pick through to find any bits of shell that didn't separate in the water.
Take the usable seeds to a food processor and dump them in.
Add the oil; start with 1 T. and add more as needed to achieve consistency.
Add sea salt and sweetener, if using.
Process until smooth and creamy.
Scoop into a glass jar with a lid and store in the refrigerator.
Savor every bite of your hard-earned, delicious sunbutter!