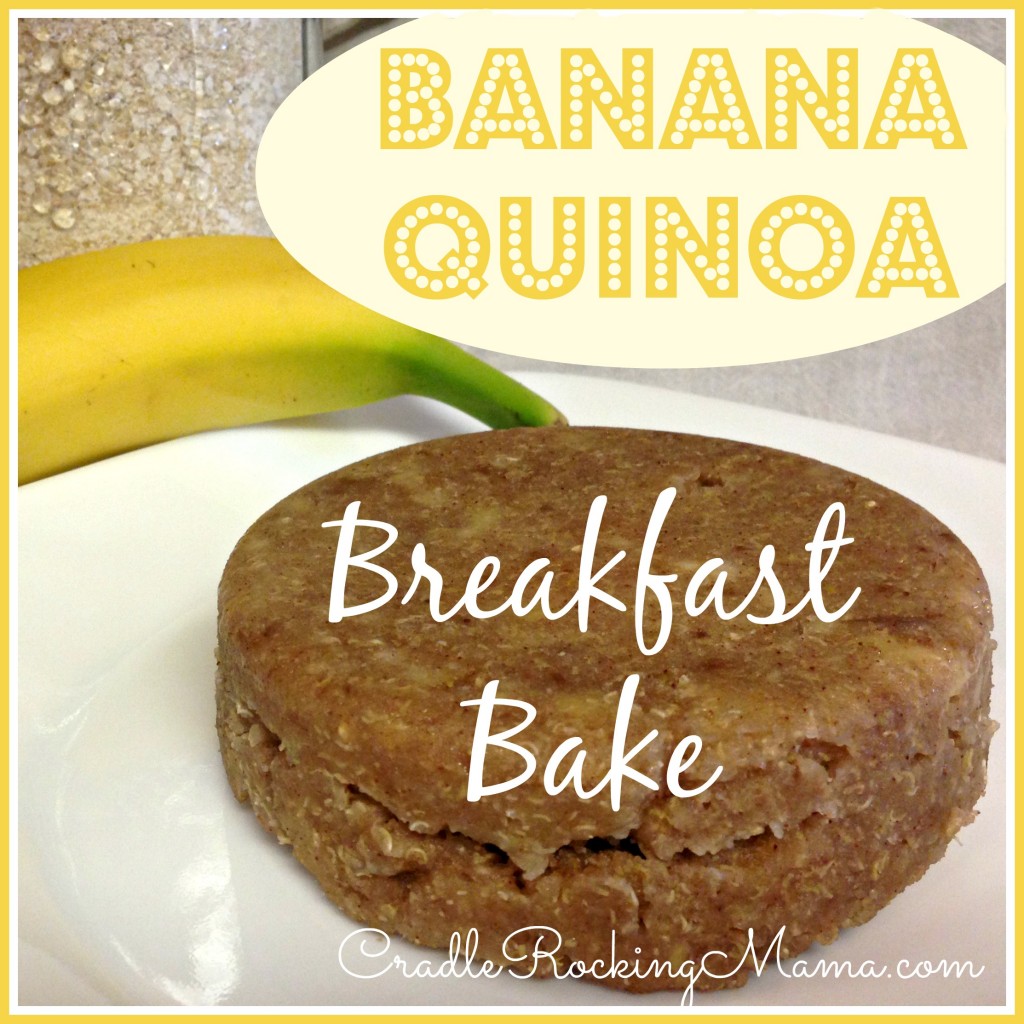 A while back, one of the moms on the FPIES boards asked for quinoa recipes. Another Mama recommended the website Healthful Pursuit, saying she had a ton of quinoa recipes! Always on the lookout for new recipes – or inspiration for creating my own – I checked it out.
Am I ever glad I did!  
She has lots of delicious, healthy looking recipes on her site, but the biggest boon to the Cradle Rocking Kitchen is her idea of a "breakfast bake".  I made her Pumpkin Spice Quinoa Breakfast Bake (with MANY modifications) for Darrel and Jed and they both loved it!  Darrel did say it was very "heavy", but very yummy and filling.
Still, right after I served it to them, Jed started having some fructose-y reactions, and we weren't sure where they stemmed from.  Was it the coconut I put in something he'd had the day before?  The peanut butter in another recipe?  The ginger or the pumpkin in the breakfast bake?
We didn't know. So we decided to pull back and trial each ingredient individually.  (For the record, it was the coconut. Boo.)
In the meantime, I hated the idea of giving up an excellent breakfast idea!  Breakfast has gotten pretty boring around here, what with our many dietary restrictions.
I perused the rest of Leanne's breakfast bake recipes, but they almost all were heavy on the fructose!  The reason I made the pumpkin one in the first place was that it was the easiest to eliminate fructose from; none of the others that I saw were nearly as easy to modify.
So, I decided to get creative and make my own breakfast bake…inspired by the brilliant mind of Leanne at Healthful Pursuit.  Somehow, I think she'd be pleased with what I wound up with.  (Well, I hope, anyway!)
So here's what I did:
First, I mashed up one whole banana in a bowl.
Then I added 1/3 cup of quinoa flakes, and topped that off with 1 T. of sunbutter, and 2 T. of maple syrup.
Threw in about 1/4 cup of almond milk.
Mixed it all together and threw it into a greased dish.  Ta-da!  Ready to go into the oven!
I thought I'd try the microwave to see if it would work like the inspiration recipe did.
It did!
3 minutes later, and I had a CAKE!!
Jed certainly scarfed it down.  In fact, it's one of the few new recipes I've tried that he will eat every.single.time we serve it.  It's really cute, actually – he'll come to the table, look up and see I'm bringing him the Banana Bake, and scream "CAKE!!" and start bouncing in his chair.
I sure like it when my kiddo goes NUTS over HEALTH FOOD!!
Since the first time I made it, I've messed around with it a bit.  I now add some vanilla, and that usually means I have to increase the quinoa flakes to compensate.  Since everything is better with vanilla, though, I think it's worth it!
I hope you like it, too – it sure makes getting breakfast on the table in the morning a whole lot faster and easier!

Banana Quinoa Breakfast Bake
A moist, delicious "cake" that's actually a fabulous breakfast food!
Author:
Cradle Rocking Mama (Carrie Summers)
Recipe type:
breakfast, top 8 allergy free, fructose friendly, gluten free
Ingredients
1 banana
⅓ c. (plus ~1 T.) quinoa flakes
1 T. sunbutter (you could easily use peanut butter if that's safe)
2 T. maple syrup
¼ c. milk (whatever milk you can safely use)
2 tsp. vanilla
1 tsp. baking powder
Instructions
Mash the banana in a bowl.
Add the other ingredients.
Mix until well blended.
Use some oil to grease an oven and/or microwave safe bowl.
Pour your batter into the bowl.
Zap it in the microwave for 3 and a half minutes, or bake at 350 degrees for about 30 minutes.
Enjoy health food that masquerades as a CAKE for breakfast!
If you'd like, top this with a safe whipped cream and REALLY feel indulgent!
__________
Do you have any creative breakfast bake ideas?  Please share!
__________
This post featured by Tessa the Domestic Diva at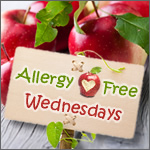 And shared with Real Food Wednesdays