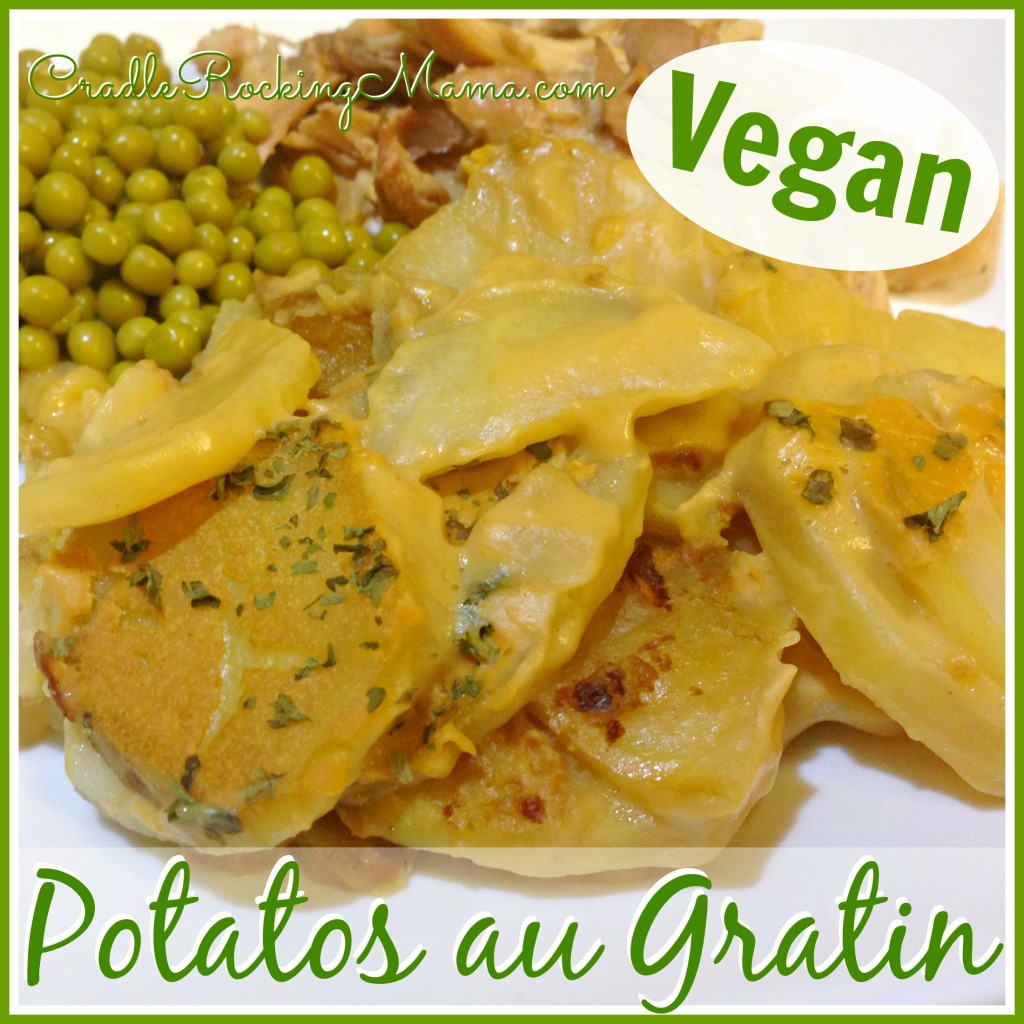 A couple of weeks ago Darrel went to the grocery store for me. While there, he sent me a strange text message. All it said was "potatos au gratin".
When he got home, I asked him why he sent me that particular text. He said it was because he'd had a brainstorm at the grocery store and didn't want to forget to tell me. His bright idea?
Make potatos au gratin using my cauliflower cheese sauce. 
So I gave it a try.
Can I just share that my husband is brilliant? This recipe is awesome!
So here's what you do:
Start by making just the cheese sauce part of my Vegan Mac 'n Cheese recipe. (Click on the link for the recipe. You won't need the noodles, but you'll need everything else.)
That part takes the longest, but while the cauliflower is steaming you could get to work on the potatos. Peel them and slice them thinly. A mandolin is perfect for the job; otherwise, you'll spend a LOT of time cutting potatos! I set my mandolin for 1/4 inch slices.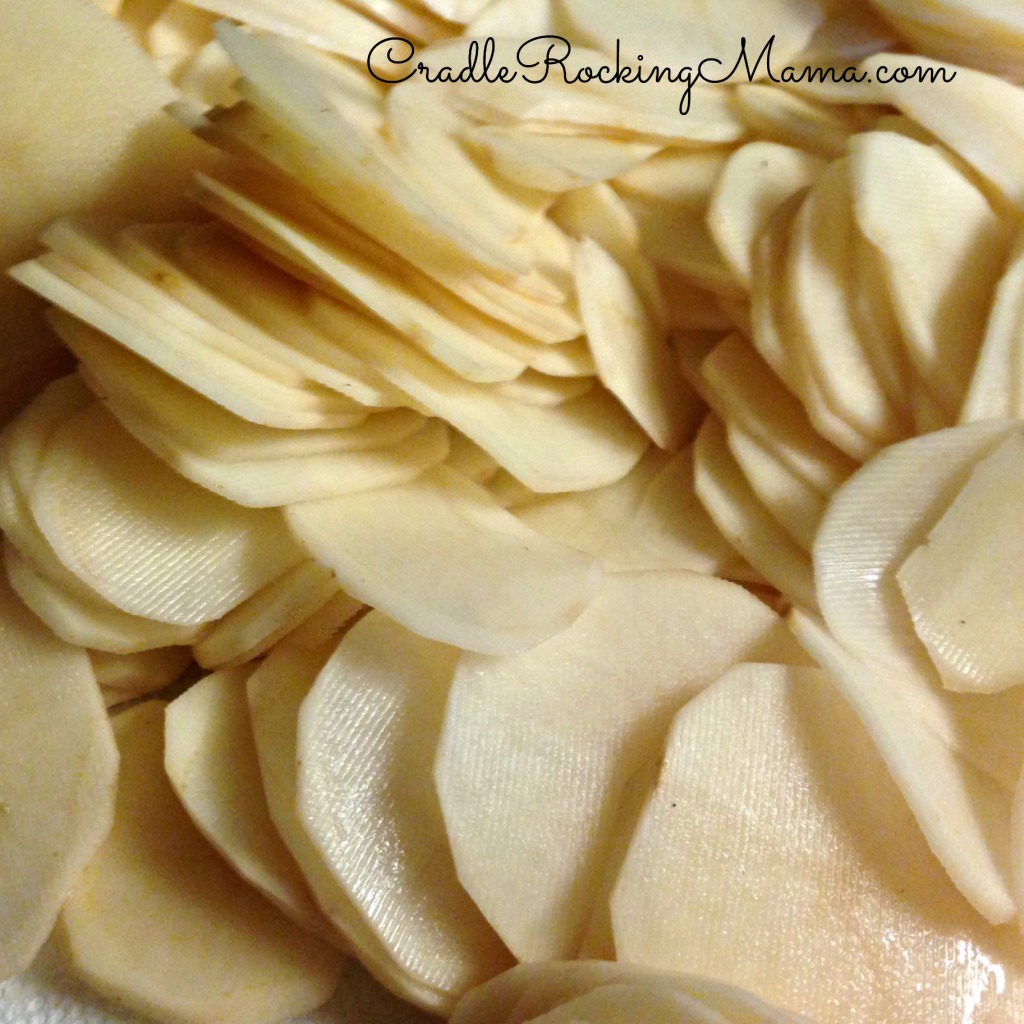 Once you've got your mess of potatos, lightly oil a cast iron pan. I've made this a few times now, in both glass pyrex casserole dishes and in the cast iron skillet. It turned out MUCH better in the cast iron than it did in the glass pan.
If a glass casserole is all you've got, don't fret! It was still good when baked in those. It just took longer, so you'll have to adjust your cook times a bit.
Whether glass casserole or cast iron, oil it lightly, and begin laying your potatos down.
You'll want to overlap the potatos just a bit, as seen here: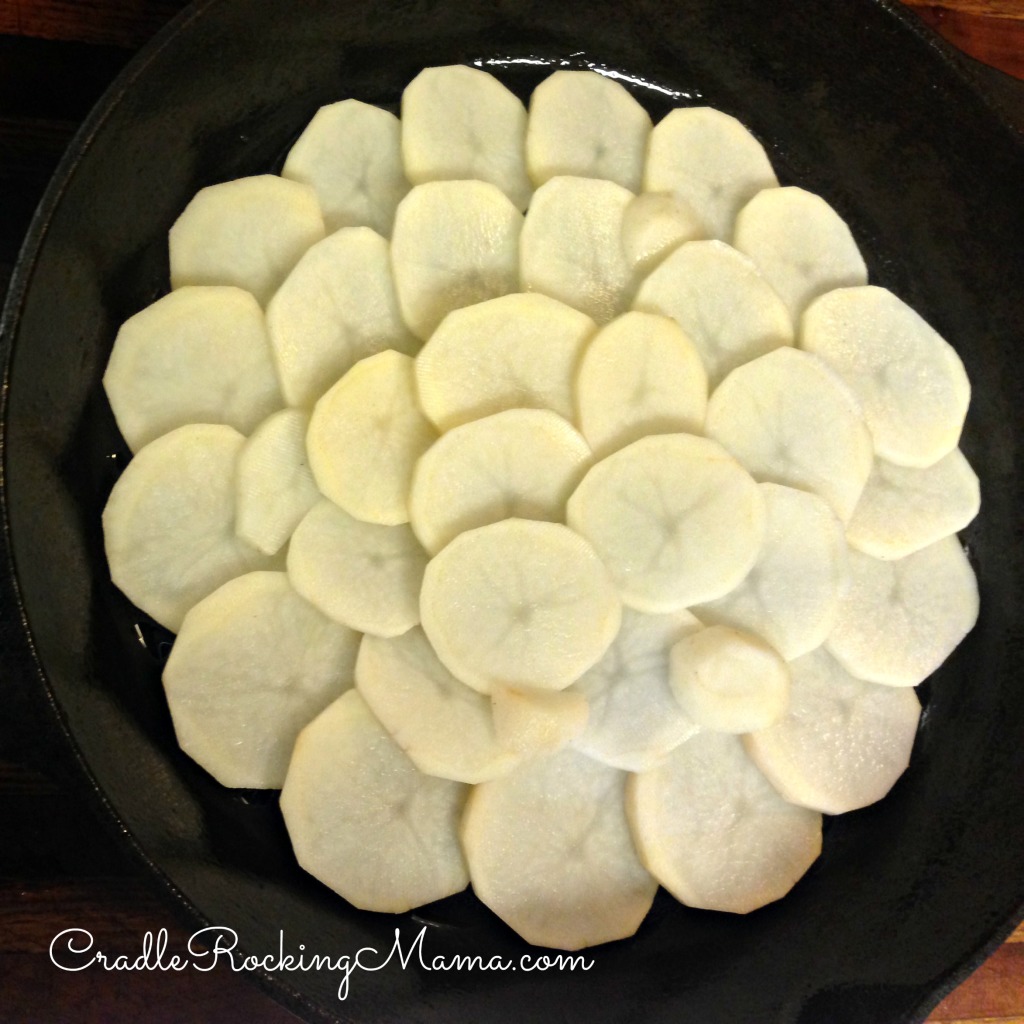 Finish off your cheese sauce if you haven't already, and scoop some of it on top of the potatos. I ended up using between a third and a half of a cup. Smooth the sauce around to cover the potatos as much as possible.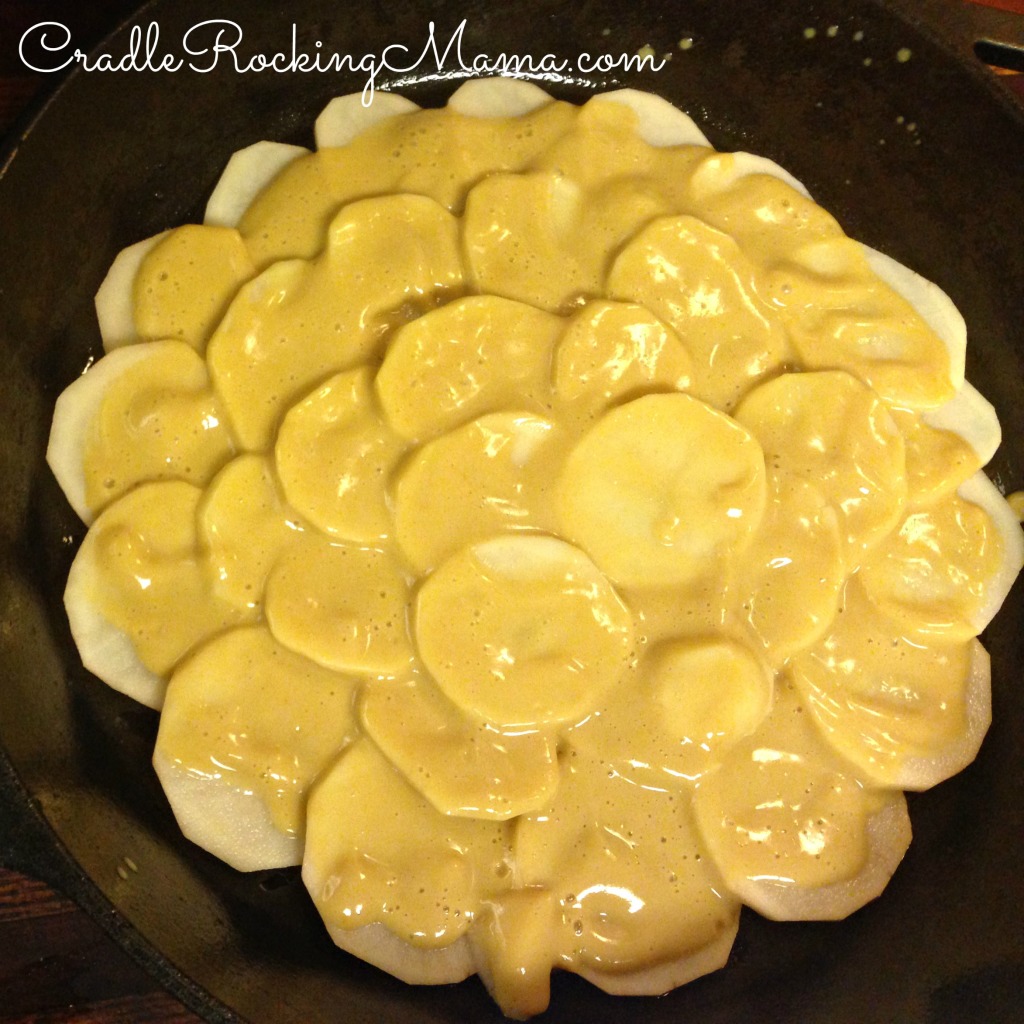 Then put down another layer of potatos, followed by another layer of cheese sauce. Keep layering until you can't fit any more layers in your pan – or you run out of potatos!
Whenever that happens, though, stop with a layer of potatos. Don't put cheese sauce on top on the final layer yet!
Then cover the pan with foil…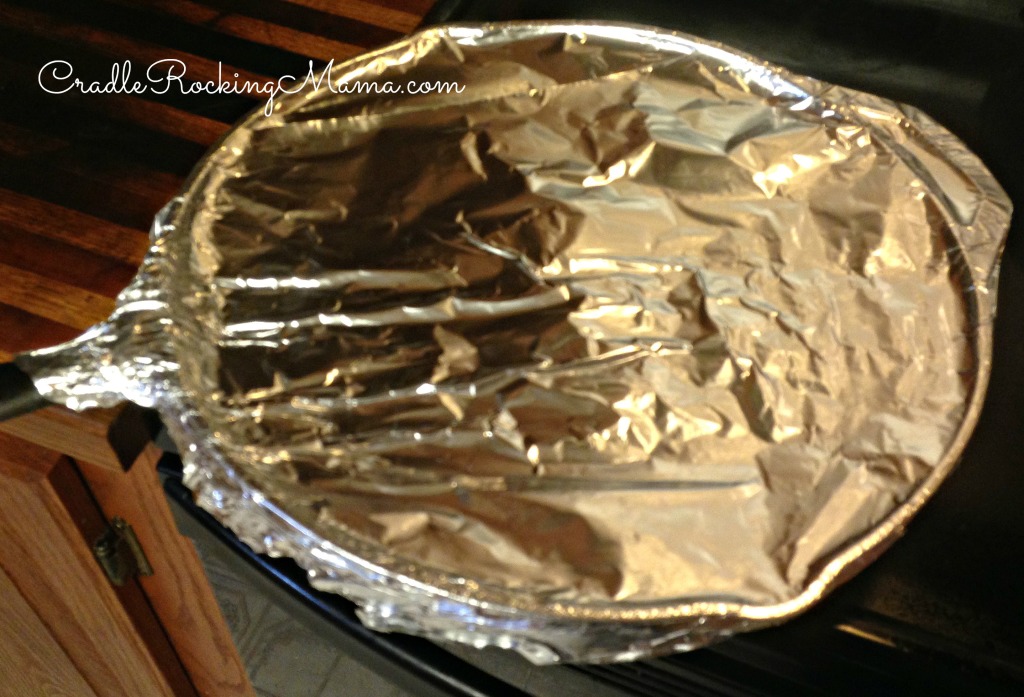 and toss it in the oven for 45 minutes, or until the potatos are almost done, but not quite. (This is where the cast iron comes in handy. At 45 minutes, they were perfect in the cast iron. It had to bake for up to an hour in the glass pyrex casserole.)
Then take it out, remove the foil, and put the last layer of cheese sauce on top. I sprinkled some parsley on top, too, just to make it purdy.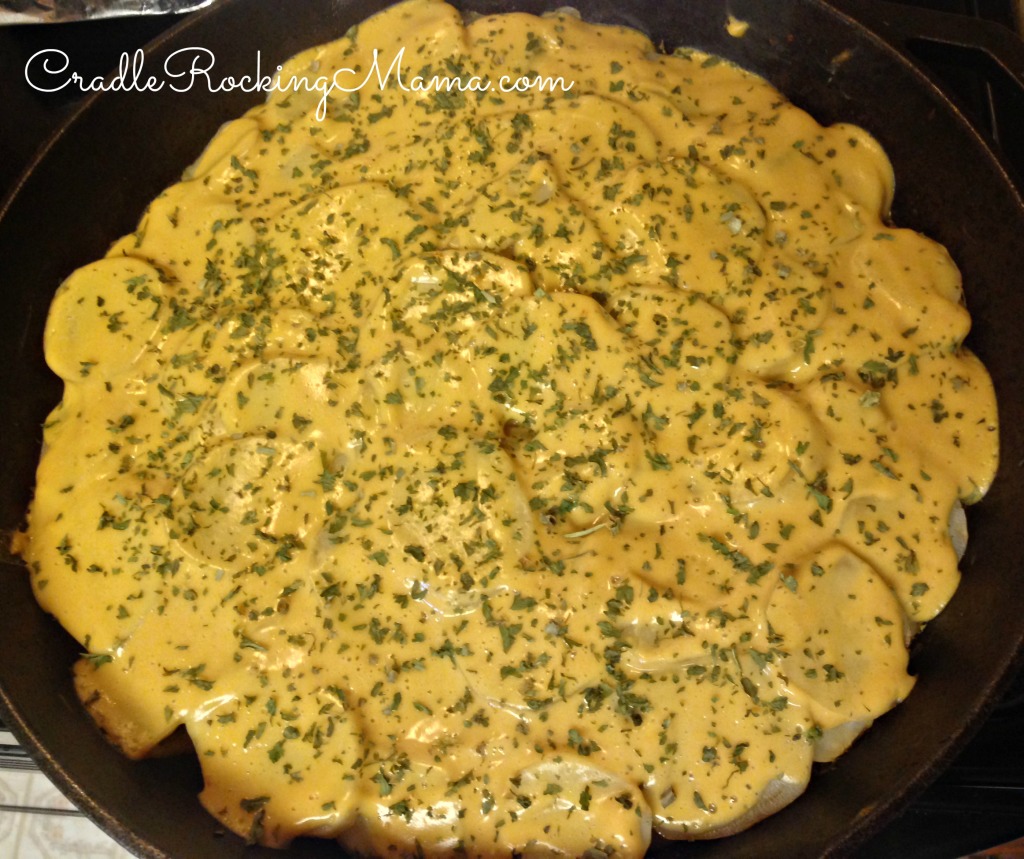 Toss the pan back into the oven, uncovered, for another 15-20 minutes, and ta-da! Vegan Potatos au Gratin!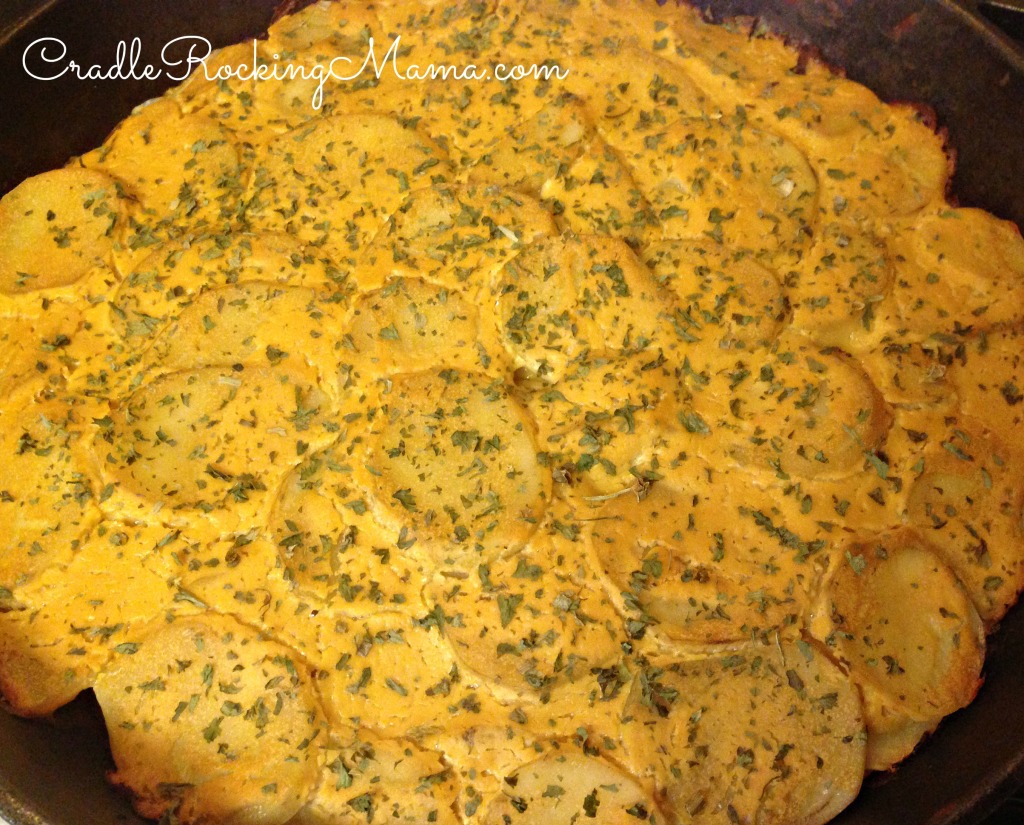 Let it cool a bit and then slice out a hunk for a delicious side dish sure to please.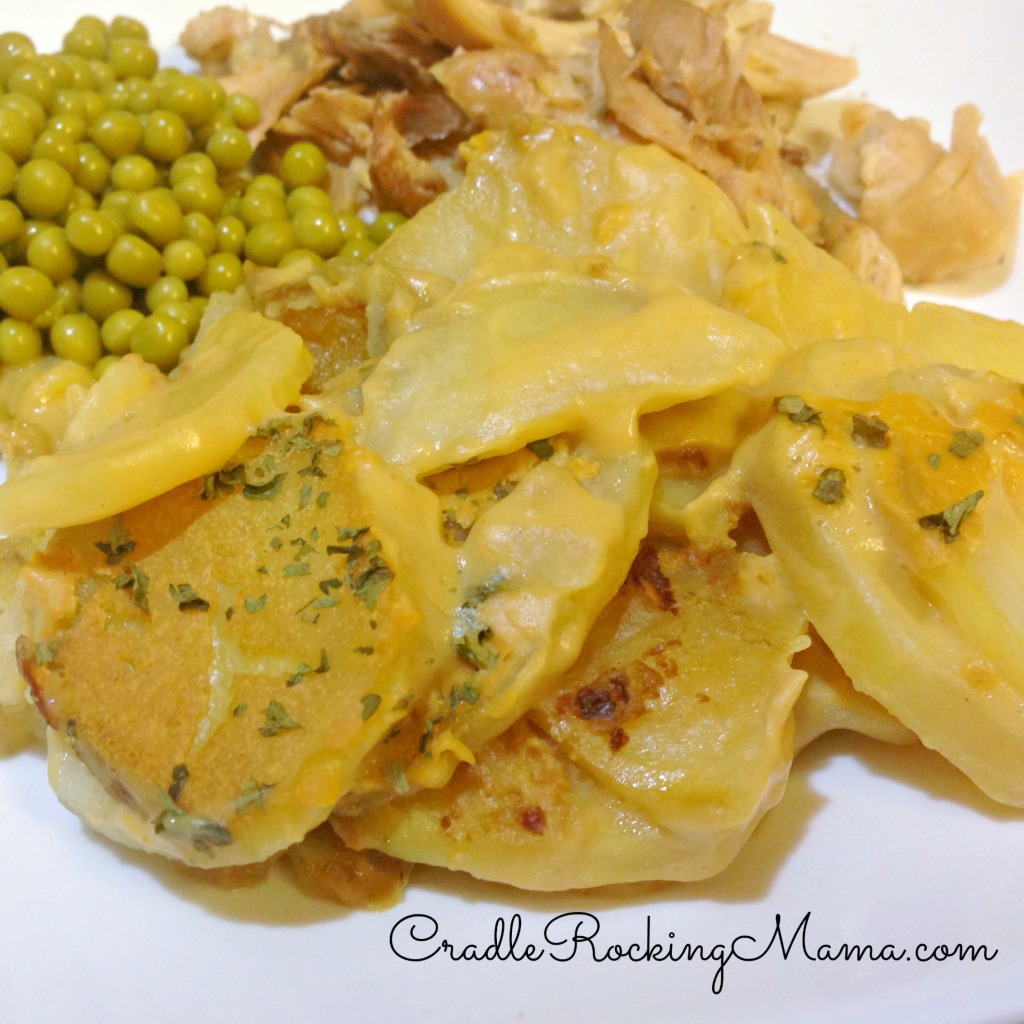 Here's what the layers look like when it's cut: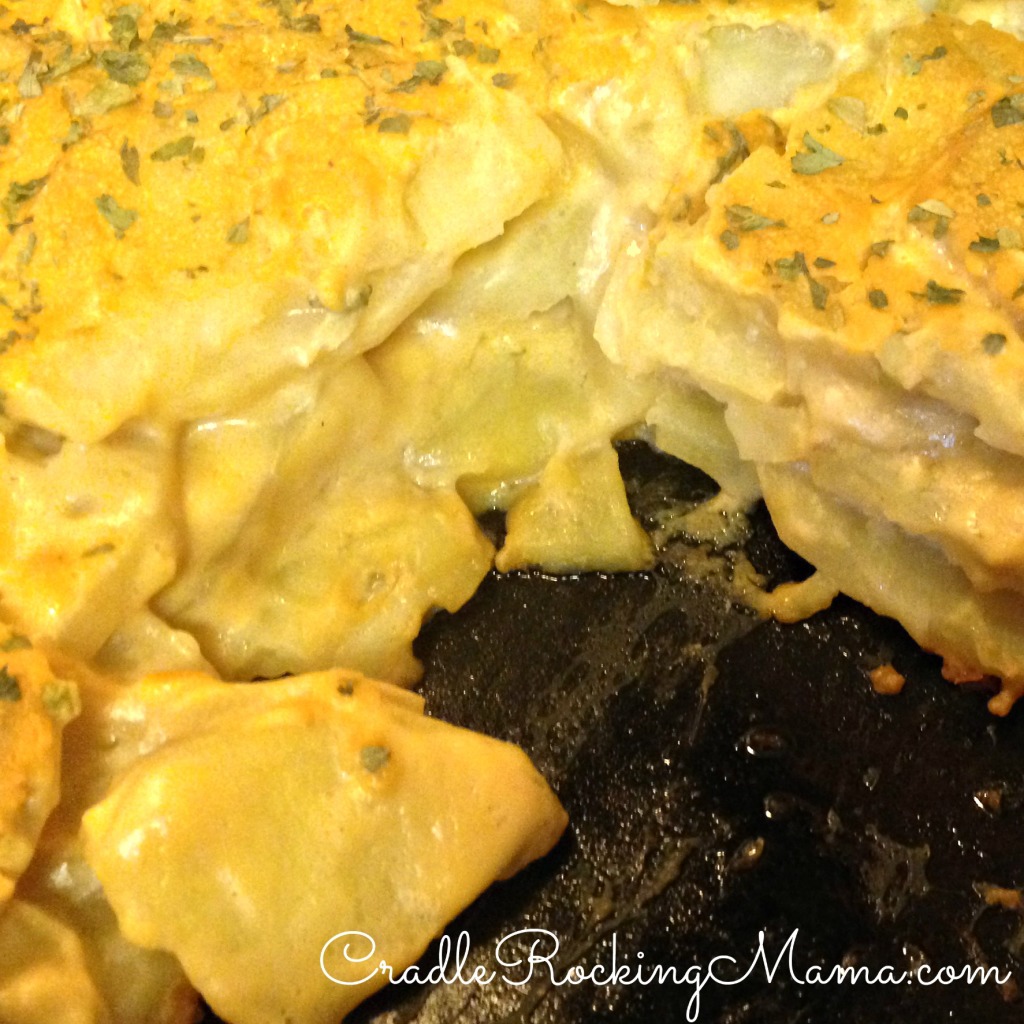 That's just good eatin', right there!
Darrel loves this recipe, and says it tastes just as good as regular dairy-filled potatos au gratin. 
Jed, however, is four. Despite helping me make it every single time I've made it, he still tells me "it's yucky and I don't like it". Since he told me that before  he ever took a bite to try it, though, I take that statement with a shakers worth of salt.
Whatever child expert said that kids are more likely to eat a food if they help prepare it needs to be told they're a big, fat, poopy-faced liar. It has NEVER worked for Jed. Not once. 
Sigh.
That's okay. I'll keep serving it to him, and one day he'll try it and realize it's delicious.
You should try it, too!
Vegan Potatos au Gratin
This is a delicious, allergy-friendly version of potatos au gratin that even non-allergic people won't be able to stop eating!
Author:
Cradle Rocking Mama (Carrie Summers)
Recipe type:
side dish, casserole
Instructions
Make the cauliflower cheese sauce . Set it aside.
Heat the oven to 350 degrees Fahrenheit.
Peel and slice the potatos to ¼th an inch thick.
Lightly oil a cast iron skillet or a glass casserole dish (cast iron is better).
Layer the potatos with just a slight overlap on the bottom of the pan.
Spoon ⅓-1/2 cup of cheese sauce over the potatos, spreading it to cover the potatos thinly.
Continue layering potatos, cheese, potatos, cheese, until you run out of potatos or room in the pan. DO NOT put cheese on top of the final layer of potatos yet!
Cover the pan with foil and bake for 45 minutes.
Remove the pan, remove the foil, and spoon a final layer of cheese sauce over the almost-done potatos.
Sprinkle with any herbs you would like at this time, too.
Put the pan back in the oven, uncovered, for an additional 15-20 minutes.
Remove from the oven, let cool, and serve.
Enjoy your delicious, allergy-friendly side dish!
---
This post shared with: