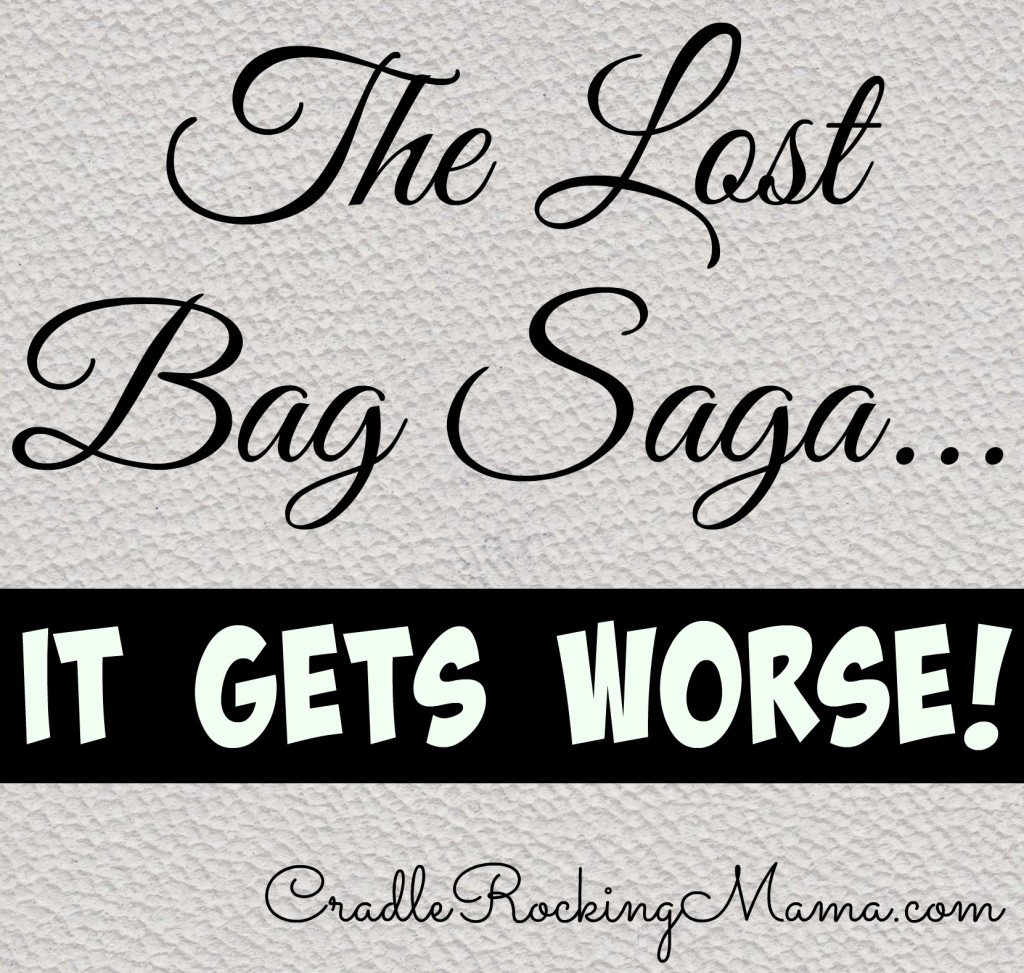 Now that I've finished reporting about Zac's FPIES reaction, I'm going to conclude the Lost Bag Saga. I'm sorry it's so long, but I want to finish this story (both in writing it and living it) so I can move on. (Read the whole story here, here and here.)
As of Tuesday two weeks ago, there was still no sign of my bag. I had to accept it was gone forever.
That night I sat down at my computer to write and upload some recent photos I'd taken, and got frustrated – again – at the lack of storage space on my computer.
The dratted thing has 110 GB of storage on it, and it constantly tells me I'm out of room! Every time I click on the "clean up your crap" link (paraphrasing, of course), it shows I only have less than 8 GB of "my crap" stored on my hard drive.
Obviously, some program is eating up a TON of memory…but I hadn't been able to figure out the culprit so I could pull the plug.
Now, those of you who have been reading my blog for a while know that Darrel is a computer geek. I've asked him to take a look at my computer and fix this before, but somehow, it's never been a high priority. (In all fairness, I usually get completely irritated by the situation after he's gone to bed, and forget to ask him to fix it the next day.)
Still.
This time, I was TICKED.
How many of those photos and videos would have been saved to my computer and NOT on the external hard drive that was lost/stolen if I had ANY computer hard drive space to speak of?
The next day, I had no choice but to start replacing the items in my tote bag. After buying a new external hard drive, I eagerly went home to use the cable to plug in the big hard drive Darrel and I keep at home for our BIG, total computer backups, to see exactly how much I had lost.
Remember when I said I'd be surprised if I had anything backed up after Christmas 2013?
It was worse.
FPIES has so overtaken my life that I had not backed up a single photo or video since – are you sitting down?
AUGUST 2012.
ALMOST ALL OF ZAC'S LIFE IS MISSING FROM PHOTOGRAPHIC RECORD.
Not to mention some of the most fun parts of Jed's life to date are all but gone!
I felt crushed. Completely heartbroken.
Mad at American Eagle. Mad at Darrel. Mostly, though, mad at myself. I KNOW better!!
As horrible as it is, there was nothing to do. I can't un-lose a bag.
But I can make sure this never, ever happens again.
First step: get Darrel to find out what's wrong with my computer. If I don't have to keep an external hard drive with me at work to store even a small home video, then I won't ever risk losing one again, right?
So Wednesday night Darrel took a look at my computer.
In about 20 minutes, he had the answer. iTunes.
iTunes had 5 full backups of my iPhone stored on my hard drive, each one consuming about 15 GB of memory.
He suggested I delete all but the most recent.
However, I had a thought. Wouldn't SOME of my photos and videos be stored in the iPhone backups? Maybe I could salvage some of those lost memories through that, right?
Darrel agreed, so I went to work.
Now. Anyone who ever deals with computer photos and videos will probably have a stroke at this next part: I had a grand total of 840 MB of hard drive space on my computer to work with.
Before I restored an old backup of my iPhone, I wanted to make darned sure I didn't lose anything I adored off my current iPhone setup. I needed to copy all of the photos, videos and voice memos currently on my phone to my new external hard drive.
My computer only has one USB outlet. That means that I had to plug in my phone, copy under 840 MB of photos/videos to my computer, unplug my phone, plug in the external hard drive, cut and paste the photos/videos onto it, unplug the external hard drive, plug in the iPhone, and repeat.
FOR HOURS.
I kid you not: I spent over 7 hours on that part alone!
Finally, everything I could think of that I really didn't want to lose was safely NOT on my iPhone. I made sure to create a backup of the current iPhone status before moving on, anyway.
Once the backup was complete, I restored the iPhone to the oldest backup currently eating up space on my hard drive.
I salvaged what I could, then restored it with the next backup.
And…repeat. For all five backups.
Y'all, I nearly cried. I found some of the last photos ever taken with my Nana and the boys before she died. Those would have been lost forever if I hadn't had those backups!
Finally, all I could find was saved securely onto my new external hard drive (and quickly copied on to the big external hard drive we keep at home, naturally) and it was time to bring my phone back to modern times.
I selected the backup I'd made before starting the old restores, and…nada.
"That backup is corrupt. Won't work. Too bad, so sad. Ain't gonna happen. HAHA!" (That's not the official iTunes message, just what it felt like in my head.)
Not only did I lose almost 3 years worth of photos and videos of my kids, but to top it off, thanks to this whole debacle, my iPhone thinks it's June 2013!!
Are you kidding me??!
Now, by this point it was 10:00 a.m. on Thursday morning. I'd been awake for over 24 hours by then. I was supposed to take Zac to speech therapy at 11:30 a.m., then race home, get dressed, and head to the airport for a 3:00 p.m. flight to work.
I didn't have much time left to mess with salvaging photos. Before getting ready for therapy, I checked the status of my flight to work and saw that it had been cancelled! Suddenly, I had LESS time to mess with it! Phone working or not, I had to RUN.
Fortunately, my mom was heading over early to help me get ready for work, so I was able to race to the airport for an earlier flight.
After getting to my hotel in Chicago, I started looking. Surely SOMEONE had experienced a corrupt backup for their iPhone and found a solution, right?
I eventually found a company that promises to fix corrupt backups for $30. Money is tight, but I need a working phone…so, sold!
After doing everything their program says to do, I attempted to restore my iPhone again and…it didn't work.
I sent an email off to the company saying "please make it work, but if you can't, I'd like my money back" and thus began the back and forth of "try this"/"nope"/"try this"/"nope".
By the time I made it to Saturday night, I was flat-out "fixing computer crap"-ed out. My phone was functional enough at that point; I'd just lost some data I REALLY wanted back.
The record keeping app I use to record ALL of Zac's nursing, diapers, reactions, and growth lost ALL data I'd stored since June 2013.
The note file I'd used to track both boys weight for the last two years – gone.
While there are a few more things missing I'd like to get back, those two things are the most important. They were worth the effort to me.
The company I hired for help with the corrupt backup is amazingly attentive. After hearing what I most wanted to retrieve from my iPhone, the lady there suggested I try their Backup Browser product. Using that, I was able to recover MORE photos and videos that had been lost! Plus, I retrieved all my "notes" files – including the boys weight tracker! Yay!
After utilizing that tool and getting everything I possibly could off the backups, I wanted to go ahead and try to restore my phone from the "fixed" restore again.
This time, and following the company tech's instructions, my iPhone restored itself as a NEW iPhone…meaning even MORE data was lost from my phone!
(Join me in screaming, please?)
Even better, iTunes can't "see" the backup of my phone I made right before I attempted the final fix (a backup that would have that lost data in it). It's right there, saved on my computer, but iTunes doesn't offer it as an option to restore. So I can't even try to take my phone back to June of 2013…it's stuck as a factory restore.
I'm just about sick to death of iPhones at this point. Anyone out there use a different smart phone that they like better? That does NOT do crap like this?
Fortunately, not all is lost. I asked our beloved speech therapist if she still happened to have any of the photos and videos she's taken of Zac over the last year or so on file, and she did! She sent some excellent photos of the boys last summer that I hadn't seen before.
My wonderful parents gave me a flash drive of all the photos and videos they've taken of the boys in the last three years.
Combined with what I salvaged off my phone with those memory-hogging backups, what I salvaged with the Backup Browser, and what Darrel has on his computer, well, it's not as hopeless as it seemed.
I still lost A LOT of photos and videos of my boys, but there is at least SOME pictorial evidence of the last three years.
It's better than nothing, and enough to make me cry with happiness when I look at it.
So, here's a general call out to anyone who knows my family personally: if you happen to have any photos or videos where my children feature – at all – from August 2012 until April 2015, would you please, please send me a copy? I'll give you big bear hugs – and maybe some sloppy kisses in thanks!
And yes, I've learned my lesson. Photos will now be saved in at least two locations. Print copies may be made as well. And I'm looking for other storage options for these precious, irreplaceable items!
And maybe I'll return to pen and paper for record keeping.
Perhaps one day my tote bag will just turn up and be returned to me.
I've accepted that it is gone, though. With the photos and videos I've salvaged, I can be sad, but content with what I've still got.
Now I just have to figure out how to replace all our tax documents and protect our personal information with the credit reporting agencies (in case my bag isn't just hopping around the country on random flights).
That one lost bag has cost me over 50 hours of time trying to salvage some of the data lost, not counting the time involved in buying replacements for the lost items. Adding up the time involved in the paperwork replacement, and I'm sure I'll spend at least 60 hours of my personal time dealing with what one incompetent ramp agent at American Eagle screwed up.
I'm working REALLY HARD at not being ticked off. Most of the time I manage to be accepting and even "zen" about it, but occasionally, I want a responsible heinie I can put my foot in.
I think that's pretty normal, though.
Oh, and every time I travel now?
I stand in the jetway and watch for my bags to be loaded or unloaded on the plane. Once bitten, after all.
---
Anyone else want to eschew technology at times and revert to pen and paper? Anyone else have an iPhone screw up like mine? Were you able to fix it?