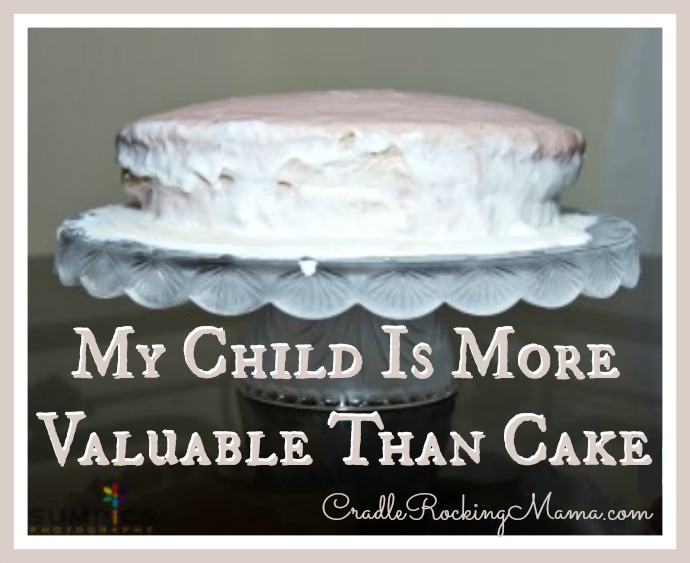 Sigh. This a-gain? Didn't we just DO this last year?
Why yes, yes, we did.
Renee Moilanen wrote about her discontent with her child's school birthday party. And I wrote my rebuttal. (Along with about a zillion other Food Allergy Mama's.)
All those heightened emotions…all that energy expended…and lookiehere: just ten months later and ANOTHER selfish clueless parent is complaining about the way food allergic children are sucking the joy out of her kids school birthday celebration.
This author, Carina Hoskisson, is much more subtle than Renee ever thought of being. Her article is titled "Why Do Your Kid's Allergies Mean My Kid Can't Have A Birthday?" and she doesn't  have the audacity to smugly tell food allergic parents that we should simply feed our kids their allergic food because they probably won't be TOO hurt by it, like Renee did.
No, she is sneakier than that.
She claims to have a food allergy herself, and to have known a girl in her hometown who died from a peanut allergy. So, you see, to a "certain extent, (she) get(s) it."
Uh-huh. Right. 
Then she goes on to discuss how she's "reaching the end of her rope" trying to accommodate all these different allergies, and speaks of the store-bought, preservative-laden foods she's being forced to bring instead of her homemade goodies and says "I don't want to."
(Does anyone else have a mental picture of a 4 year old sitting with arms crossed, a scowl on their face with a gigantic frown as they loudly proclaim "I don't want to!" when reading that comment?)
You don't want to, Carina? Really? Wanna hear something *I* don't want to do?
Deal with stupid people like you. 
I also don't want to deal with food allergies in children, but, unlike you, I have no alternative. Yes, my kids have food allergies, and reading articles like yours is equal parts heartbreaking and terrifying for me.
Here's the real deal, folks, in case you got lost in her subtlety and missed out on her main "reason for writing": she is upset because her precious snowflake can't eat whatever they want, whenever they want.
Not because her child has any food issues, but because she's been asked to kindly consider the lives of OTHER children.
And we all know: OTHER children are not as valuable as HER child's CAKE.
I'm sorry, I'm getting a tad snarky here. Let me try this another way.
There is no way for a Food Allergic Mama to read Carina's article and not conclude that this woman – and the 42 THOUSAND people who "liked" the article on Facebook – believe in some parts of their mind that our children's lives are less valuable than their child's birthday cake.
If that doesn't take the cake (pun intended) for the biggest slap in the face, the biggest threat to my child, then I just don't know what does.
Sigh.
This battle between Food Allergy Mama's and Non-Food Allergy Mama's is not likely to stop any time soon. Every ten months or so, someone else will come out with a new article that will get everyone all riled up, and create an internet buzz for a week or so.
But here are a few things I thought of when reading this particular article:
First, do you know who typically does NOT have a problem with NOT eating a cupcake in order to keep a child alive and safe?
The other children in class. 
Small children generally like to help and make things better. They usually don't have a problem with doing something different if it means their friend can continue to play with them.
So it's not the kids who have a problem with not having a cupcake on their birthday, it's their parents who have a problem.
If the kids are happy with a food-free classroom birthday celebration, then why is this even an issue?
Second, it is no wonder our country is so prone to obesity, when every activity, celebration, or event is centered around food.
It's not that food is present at these moments, it is that the food is obviously the central focus of these events. 
It would never occur to some non-allergic people that a child could happily celebrate their birthday at school with a rousing rendition of "Happy Birthday!", a card exchange, and perhaps sharing a few silly trinkets or tokens (like whistles or stickers).
It would never occur to some non-allergic people that Valentine's Day could be celebrated in the classroom without copious amounts of candy being shared.
(As an aside, I remember Valentine's Day when I was in Elementary School: we would spend our art session the day before decorating a shoe box; the next day, everyone would bring their Valentine's in and distribute them amongst the boxes. IF anyone brought candy, we were always instructed that we could not eat it then and had to wait until lunch or after school. When did that change?)
Nowadays, though, there is no escaping the seemingly insatiable desire to stuff kids faces with food, regardless of whether it is the proper time or place for said face-stuffing.
Third, to continue that thought, when did food become normal in classrooms, anyway?
Not to age myself, but when I was in school we did this bizarre activity called "learning"…and it almost never involved eating! Eating was something you did at lunch time or after school, not something that was normal in the classroom. It wasn't until I was in middle school that food ever made an appearance in the classroom, and that was incredibly rare.
Classrooms are not the proper place for food. If the kids are focused on eating, they aren't thinking about learning. If the teacher is focused on the kids eating and not making a huge mess to clean up, then the teacher isn't focused on teaching.
Why can't food simply be banned in classrooms for educational reasons?
Fourth, all of this is moot, anyway, because – newsflash for you, Carina and Renee – ACCOMMODATING ALLERGIES IN SCHOOL IS THE FREAKING LAW.
Allergies and Asthma are covered under the Americans with Disabilities Act. A disability is defined as "someone who has a physical or mental impairment that substantially limits one or more major life activities, or is regarded as having such impairments. Breathing, eating, working and going to school are major life activities."
Most Food Allergy Mama's have a 504 plan in place for their child. This plan outlines exactly how the school will make school a safe place for the child to fully engage in their education.
So if the non-food allergy parents are mad at the school for imposing these restrictions, well, tough cookies. The school is following the law.
If they're mad at the parents for imposing these restrictions, well, tough cookies again. No Food Allergy Parent is going to send their young child off to school without the protection of a 504 plan.
Obviously, if left up to people like Renee and Carina, those irritating food-allergic children would be sent to the principal's office for all celebrations, and they'd probably do a half-assed job of wiping down all the surfaces food touched…rolling their eyes at the necessity of a thorough scrubbing and calling a quick water wipe down "good enough".
So, deal with it, ladies. We can't count on your kindness and empathy, so we will count on the law to keep our children safe. 
Now, I read a lot of comments about how Food Allergy Parents are "insulating" their children from "the realities of life" and that these kids must be taught to self-advocate.
I couldn't agree more. 
Here's the thing, though: it's one thing to send your 15 year old food allergic kiddo off into the world, navigating pizza parties, ice cream socials, and birthday parties…it's an entirely different story when discussing a 5, 6, 7 or even 8 year old (depending on maturity level).
Children at that age are not helpless imbeciles; they understand they have limitations (probably better than anyone!) and that not all food is safe for them. The problem at that age is that they often are not quite confident enough in their label reading and awareness to realize what foods are 'hiding' their allergens. 
They count on their parents to keep them safe, while teaching them how to navigate their allergy.
Their parents count on basic human decency from other parents during this "transition" phase to help keep the child safe.
And that is why these "Renee's" and "Carina's" are so distressing to Food Allergy Mama's. If you can't count on the support of other mothers, either because of basic human decency or because of compliance with the law, you will live in fear every time your child goes to school.
Because you know, even while your child blissfully skips off to class, that the life of your most precious gift – your child's LIFE – is considered less valuable to those other school moms than a Wal-mart sheet cake. 
And that is terrifying.
My children are more valuable than cake. 
And so are yours.