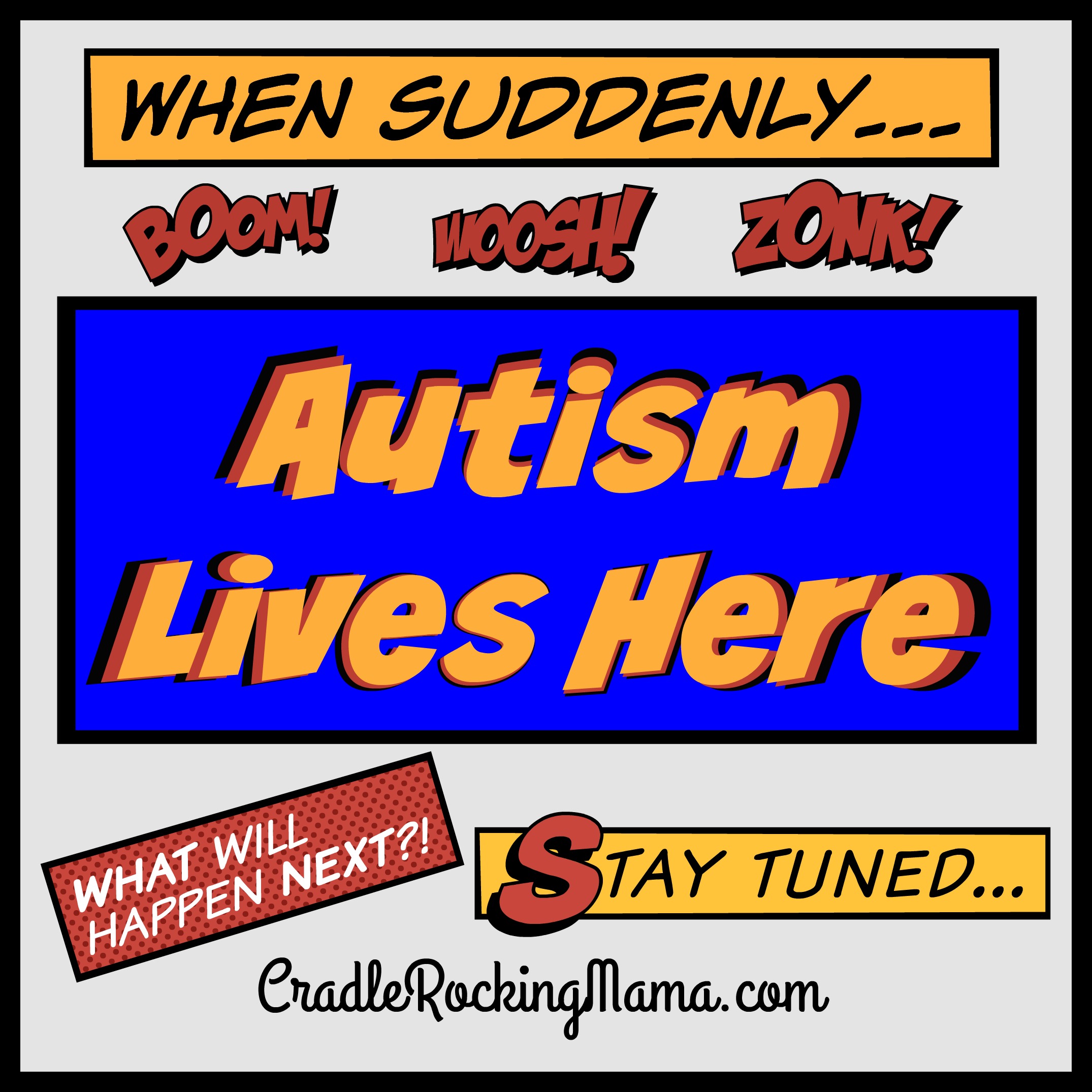 When we left the doctor's office three weeks ago, he sent home 9 tests for us (parents and grandparents) to fill out. I returned them 5 working days later. Our follow-up appointment was not scheduled until February, but to our surprise, we were called late one afternoon last week and told the good doctor had a cancellation; could we come in the next morning?
Absolutely!
We shuffled schedules, prepped food for a long day in town, and were ready to go the next morning.
Before the appointment even began, the doctor got to witness a typical Jed meltdown. I mentioned that at our first appointment, the receptionist took the kids down to play in the playroom so the doctor and I could talk undisturbed. They do have a very nice little playroom for kids, but I was confused. One of the other therapists has an office full of "kid stuff" right across the hall from the playroom; obviously, she primarily counsels children.
Jed and Zac were having a grand time playing in the therapists office when I gathered them at the end of the first visit. At the time, I didn't realize this was a therapists office…I thought it was the playroom.
Before we went to the second visit, I explained to the kids that Daddy and I would be talking with the doctor while they played in the playroom. Jed, like me, thought the playroom was the big therapists office.
When we got there, we were led to the actual playroom. The therapist was in session on this day, and they couldn't play in her office. Jed had a full blown meltdown over being told he had to play in the smaller playroom. His expectations didn't match reality, and he simply could not adjust easily to the change.
This is normal for Jed.
We finally got him unhappily calmed in the smaller playroom and went to chat with the doctor.
He kindly and thoroughly went through every test we completed on Jed, explaining what the test was looking for, how it was scaled and rated, and what the results meant. Then he summarized all of the test results and his personal observations into a final diagnosis.
The verdict?
Jed has been diagnosed as Autism Spectrum Disorder, Level 2 "requiring substantial support", AND Attention-Deficit/Hyperactivity Disorder, Combined Presentation, Severe.
Oh, and a nice little Oppositional Defiant Disorder thrown in for good measure. Fortunately, that one is deferred. The doctor believes that treating the other two conditions will correct the ODD without having to focus attention on it directly. Obviously, we will reevaluate over time to ensure that prediction proves accurate.
The doctor did not  diagnose Jed with SPD. He basically said that he saw it in Jed, but believes it is a symptom of the autism. He officially recommends Jed be evaluated by an OT for assistance with Sensory Issues.
Since the OT has already evaluated Jed and diagnosed SPD, my son now has as many labels as a Monsanto vegetable should  have.
Autism
SPD (Sensory Processing Disorder)
ADHD (Attention-Deficit/Hyperactivity Disorder)
ODD (Oppositional Defiant Disorder)
IgE to Egg and Peanut
MSPI (Milk/Soy Protein Intolerance)
Fructose Malabsorption
Salicylate Sensitivity
and a Partidge in a Pear Tree!
Yes, I'm making pathetic jokes. I'm desperately clinging to my sense of humor to avoid a total crying jag.
As a nifty bonus, the good doctor agreed with my self-diagnosis of Autism. While he was NOT evaluating or testing me at this time, the similarities between Jed and myself are so strong that he concurred with my self-assessment. He said the decision to proceed with testing and evaluation for myself was purely a personal decision, but that it was probably safe to say that I am on the spectrum somewhere. Where exactly on the spectrum I fall is unknown without testing.
Personally? I don't feel compelled to pursue testing for myself at this time. It's strictly a logical decision. I would LOVE to know exactly where I fall on the spectrum. (Autism, after all. I like to know the truth, the facts, and the rules. Ambiguity is intensely uncomfortable for me.) However, this testing and treatment for Jed is quite expensive. Any spare money we can come up with needs to go to helping my son, not towards satisfying my own curiosity.
Obviously I have developed coping mechanisms throughout the years that have enabled me to have a long term, successful career in a very people oriented job; a happy, stable, and satisfying marriage; and to be an excellent mother to my children. While I'll be the first to say that I could probably benefit from some treatment/therapy, well, the truth is, I can do without.
My son cannot.
At the end of the session, the doctor said he would like to see us back to go over treatment options for Jed. Obviously, we are pursuing Occupational Therapy for him, but the doctor would like to speak with us about other assists: therapy and medication.
I have concerns about that.
While now it is quite clear I am autistic, in my teens I was diagnosed as Bipolar and depressed, and placed on myriad medications that completely whacked my body out. (I am NOT Bipolar, so lithium at any dose was toxic for my body. Antidepressants at the lowest possible dose completely numbed me out so I felt…nothing. No sad. No mad. No happy. No joy. I was numb. Not acceptable.)
I won't even begin  to dissect the horrible counseling and therapy I've had over the years. <shivers>
Needless to say, while I have a very good feeling about THIS doctor, my overall experience with anyone who has a "psych" at the beginning of their title (psychiatrist, psychologist) has been overwhelmingly negative. Sending my son into that world at his tender age makes my blood run cold.
Not to mention my dislike of unnecessary medication for children. I stand by my earlier statements that sometimes medication is necessary for children. But until I'm convinced that it is absolutely necessary for Jed, I find myself reluctant to even consider "drugging" him.
Sigh. There's a lot to consider, and much of it, I fear, is going to completely destroy my comfort zone. While I'm on record saying I dislike medication for children, being uncomfortable with psychotherapy for children, and will probably also dislike many of the other treatments presented to us, I truly don't need any reminders that the ONLY thing that matters here is what is best for Jed.
I believe it's pretty clear, by this point, that there are no lengths I will not go for my children. If that means weekly session at a psychotherapist for Jed and daily pill popping, I'll go there.
Even if the thought of it makes my skin crawl.
I'll do what is best for Jed, but I'll make damn sure it IS the right thing before I sign on for any treatment plan.
Oh, and for a bit of levity, here's a thought: maybe I need to go into psychotherapy as a career! I now have a really high track record regarding diagnosing my boys. I suspected ADHD years ago but was told not to worry. I've commented on ODD as a possibility. I spotted SPD. I figured out most of the food issues. Yeah, I missed autism, but overall?
I'm pretty good at this for a layman.
Damn. I hate it when I'm right. Sometimes. 
Now here's a scary thought: how much MORE pronounced would Jed's symptoms be if we hadn't already discovered his food issues? We've already connected ADHD-type behavior to fructose, and ODD behaviors with salicylates. (The Meanies, anyone?) He would have been SO out of control that he probably would have gotten all these diagnoses earlier, but that means we would have almost certainly had to drug him at far higher doses than we will have to do now. OMG.
By the way, in case anyone is wondering how I'm handling all of this…well, I've withdrawn almost completely. I'm sort of obsessing on autism reading and research right now. Having this diagnosis is a simultaneous relief and sucker-gut-punch. Finally there is an explanation for MY ENTIRE LIFE! Finally there is an explanation for some of the struggles Jed has! Relief!
But now we're Labeled. (I have one helluva story to share about THAT already!) Now we have MORE to deal with. Now we're in a whole new Special Needs World that I need to navigate, while also continuing to navigate everything else we deal with.
There's a part of me that is wondering how much more I can take. There's another part of me that is part stubborn witch (ahem), part Uber Mama Bear, and part rebellious teenager that's saying "Bring it, baby! I'll take you all on with both hands tied behind my back!". And there's another part of me that is suddenly reliving my youth through repressed memories and feeling incredibly vulnerable and off kilter thanks to re-feeling those anxious fears and confusion I used to live with on a near constant basis.
I'm having to do a lot of mental shuffling and balancing to make sure my personal demons don't interfere with ensuring Jed gets what he needs. That will get easier with time; I've proven I can self-heal, and that I can go to battle for my kids. It'll be okay. We just need a little time.
---
Obviously, we have to confer with our doctor…but I'd love to hear any useful input from those who have walked this road before. ADHD meds? Yay or nay? What do we need to know?